Turkey Mushroom and Pancetta Risotto - A great way to use up that leftover Turkey!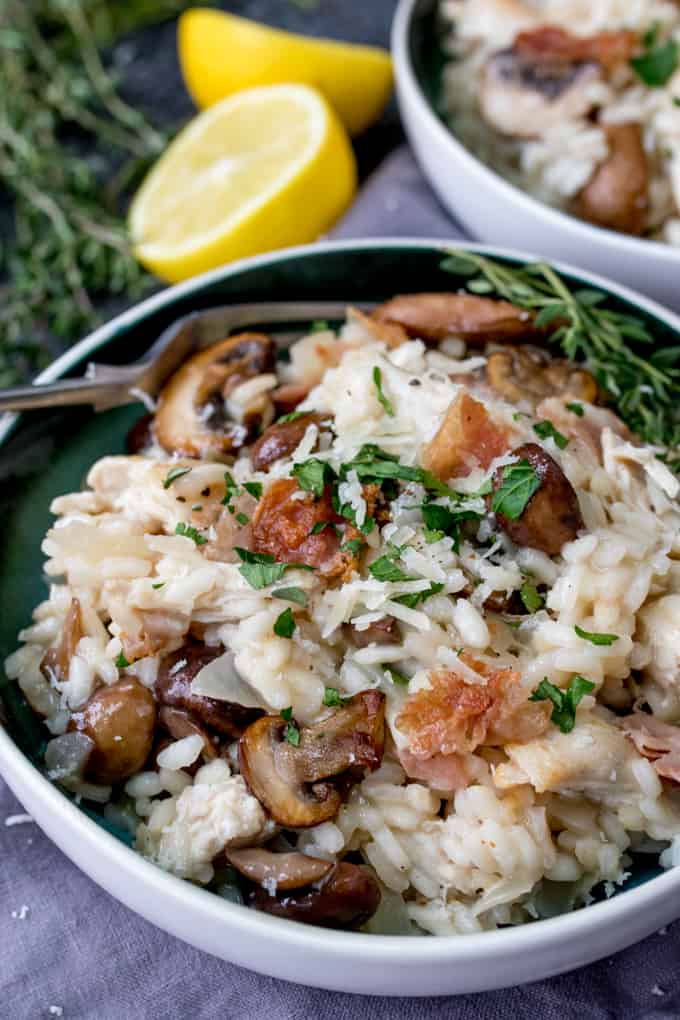 This recipe was sponsored by Essential Cuisine stock - Tastes just like homemade stock.
Hope you had a fantastic Christmas and you're still kicking back and relaxing!
Come on, how big was that turkey you bought? Big enough to feed a small army?
Christmas wouldn't be Christmas without the leftover turkey butties.
In fact, I bought a turkey to cook even though we had Christmas dinner at my parent's house!
My Turkey leftovers go something like this:
Day 1 - Christmas day evening: Turkey and stuffing sandwiches (salted butter and white bread - so naughty!!)
Day 2 - Boxing Day: Turkey Thai Curry
Day 3 Lunch: Turkey and vegetable soup (remove any turkey meat, wrap and refrigerate, then boil up the turkey bones. Add in some Essential Cuisine chicken stock powder to make the soup go even further).
Day 3 Dinner: Turkey Risotto with crispy pancetta and mushrooms
So good!
Check out my video of the recipe here:
https://www.facebook.com/mykitchensanctuary/videos/667890930047333/
I've been testing out the Essential Cuisine stocks recently, and I'm so impressed with the taste. You only need one heaped teaspoon per 500ml (2 cups), so a little goes a long way.
As well as using the chicken stock in this risotto and in homemade chicken soup, I've also used the beef stock in cottage pie. The flavour is rich and really homemade-tasting.
They're both gluten-free too (a lot of the Essential Cuisine products are gluten free - but always check the label), which is always a bonus!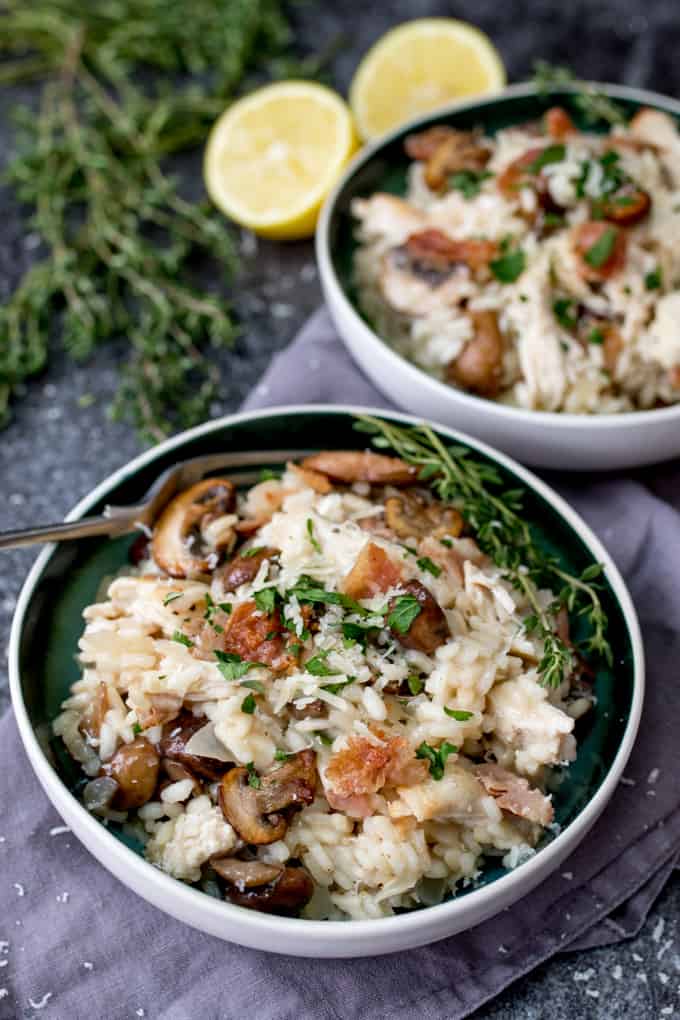 Enjoy those turkey butties, the risotto too, and hopefully as many Ferrero Rochers as possible 🙂
Leftover Turkey Mushroom and Pancetta Risotto Recipe: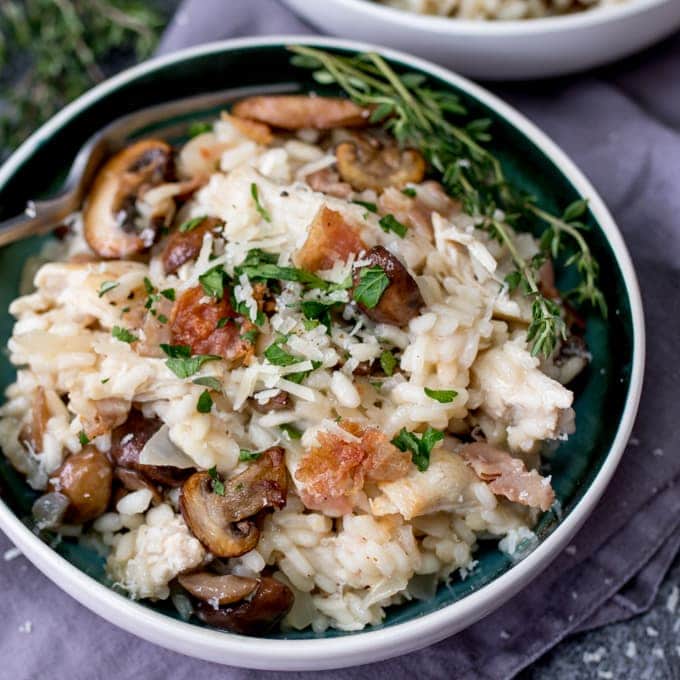 Leftover Turkey Mushroom and Pancetta Risotto
Rich and creamy turkey, mushroom and Pancetta Risotto - A great way to use up that mountain of leftover Turkey! It's also gluten free!
Ingredients
1

tbsp

butter

2

tbsp

olive oil

150

g

chestnut mushrooms, sliced

6

slices

pancetta

1

onion

-

peeled and chopped finely

1

clove

garlic

-

peeled and crushed

300

g

uncooked arborio rice

150

ml

white wine

1200

ml

hot chicken stock -

– I used boiled water and 2 heaped tsp of Essential Cuisine Chicken Stock Powder

250

g

cooked turkey (or chicken), shredded

¼

tsp

salt

¼

tsp

ground black pepper

50

g

parmesan, grated

Juice of ½ a lemon

Fresh thyme

Fresh parsley
INSTRUCTIONS
Add the butter and one tbsp of the oil to a large frying pan. Heat until the butter melts. Add the mushrooms and fry for 4-5 minutes until golden. Remove from the pan.

Add the pancetta to the pan, and fry, turning once until golden and crisp – about 1 minute. Remove from the pan and slice into small pieces.

Add the remaining one 1 tbsp of oil to the pan, add the onion and cook for 3-5 minutes until the onion starts to go translucent. Add in the garlic, stir and cook for a further minute. Add in the rice and stir until the oil has coated the rice. Add in the wine and stir. Wait for the wine to almost fully absorb (stirring regularly) and then add the stock a ladle at a time - ensuring each ladle has almost fully absorbed before adding the next. Ensure you stir regularly.

After about 17-18 minutes you should have 1 or 2 ladles of stock left. At this point, add in the shredded turkey, salt and pepper. Stir and continue to cook, adding another ladle of the stock. After another 2-3 minutes, taste the risotto. The rice should have softened but still have a slight bite to it. If it's too hard, add another ladle of stock and cook for a further couple of minutes.

Add in the cooked mushrooms and pancetta and allow to heat through for a minute, then add in the parmesan and lemon juice. Give everything a good stir then turn off the heat.

Top with a little grated parmesan, some black pepper, fresh parsley and a few sprigs of thyme before serving.
✎ Notes
Nutritional Information is per serving, using leftover turkey meat.
Nutrition
Calories:
464
kcal
Carbohydrates:
52
g
Protein:
15
g
Fat:
18
g
Saturated Fat:
6
g
Cholesterol:
37
mg
Sodium:
767
mg
Potassium:
313
mg
Fiber:
2
g
Sugar:
2
g
Vitamin A:
170
IU
Vitamin C:
1.8
mg
Calcium:
137
mg
Iron:
3.2
mg