Welcome to Kitchen Sanctuary where we strive to bring you beautiful recipes and food tutorials that are easy to follow. We're all about delicious family-friendly food.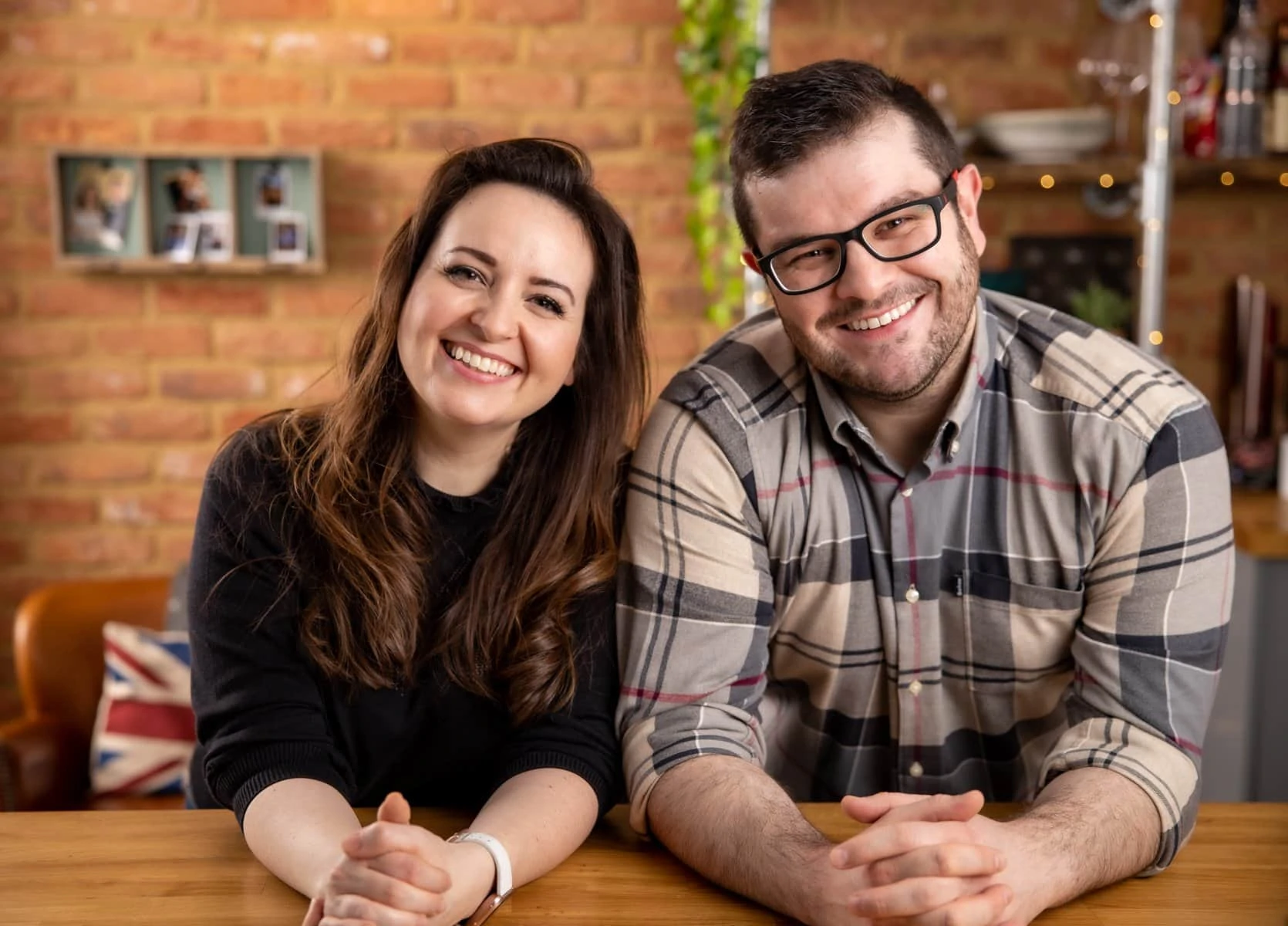 Hi I'm Nicky, and I run Kitchen Sanctuary with my husband Chris.
I started this website in 2014 after spending 14 years in the corporate world, and I managed to get Chris to join me full time on the blog in 2017.
I've always loved being in the kitchen and I started cooking from a young age – inspired by my Dad, who spent part of his childhood in Singapore, and my Mum who taught me how to make a roast dinner at the age of 11.
I'm a firm believer in sitting the family down at the table as often as possible for a nice home-cooked meal and a catch-up on the day. I generally cook quick and simple recipes during the week, saving the more complex or time-consuming cooking (as well as a bit of baking) for the weekend.
Why Choose Kitchen Sanctuary?
Our site is full of easy to follow family-friendly recipes.
All our recipes are tried and tested.
We are both big foodies and LOVE to cook.
We treat Kitchen Sanctuary as our cookbook, everything you find is the food we love to cook and eat.
We run a cooking show on YouTube to show you how to make the recipes.
We are based in the UK but also provide Imperial US measurements where we can.
We listen, we read every comment!
---
Fun Facts About Nicky:
I've always got food on my mind, and I'm constantly in the kitchen testing recipes for Kitchen Sanctuary or whipping up something delicious for the family.
I'm a total introvert, but I do come out of my shell every now and then – like the time I won the Neff Cookaholic competition by competing on stage. I won BTW 🙂
I've published a book - Seriously Good Salads – which is all about making salads into a full meal. It's not a diet book.
I've written and/or created content for many brands, websites and magazines including Neff, Brit + Co, The Telegraph, Superfood Magazine, The Vegetarian Society and Beautiful Home and Life Magazine.
I HATE offal. I've only ever eaten it to be polite.
My favourite treat is a Cadbury chocolate Easter egg that's been refrigerated to chocolate-cracking perfection. I've been known to buy Easter eggs for all of my family, then eat them all and have to buy them again.
I'm a bit of a food magazine and recipe book addict, so you'll find some recipes on here that have caught my eye (I'll always let you know the source) as well as lots of my own creations.
I love lists, schedules and time plans. But I also love a bit of spontaneity (like the time we booked a surprise trip to Disney just 2 weeks ahead of time and only broke the news to the kids when we got to the airport).
---
Fun Facts About Chris:
I used to work in a restaurant from a young age and LOVE cooking and eating OBVIOUSLY.
I'm a tech geek and love anything to do with photo and video.
Photography has been one of my passions for my whole adult life, I really enjoy travel, street and landscape photography the most.
I'm actually Nik's toyboy. She's 3 years older than me 😘
I once cycled from one side of the UK to the other in a coast-to-coast ride with my mate Lee - fuelled by pints of beer and Snickers bars.
I managed a multi-million $ budget and teams of people across 4 continents in my last role in the corporate world. Now even the cats don't answer to me (but I can live with it since I get to stay home with my beautiful wife all day (brownie points for me)).
The studio kitchen you see in our videos (and the wall and shelves behind me on my picture above) was built by me. My Dad's a builder - he built our kitchen extension and I built everything inside it.
I love football (soccer) and am the assistant coach for my son's team.
I'm a planner too and love a good process, especially if I can automate it 😉
---
What you

WILL

find on Kitchen Sanctuary ✔
Lots of delicious family friendly recipes like:
Comfort food recipes such as: Chicken and Bacon Pasta Bake, Creamy Chicken Puff Pie, Spaghetti Bolognese and Steak Diane Casserole
Asian inspired recipes: Sesame Chicken, Stick Chinese Pork Belly, Sweet and Sour Chicken, Sesame Prawn Toast and more
Curries: Like my slow cooked Beef Massaman Curry, Chicken Jalfrezi, Thai Green Curry, Chicken Madras and many more.
British classics such as: Lancashire hotpot, Toad in the Hole, Roast Beef Dinner, Yorkshire Puddings & Cottage Pie
Back to basics tutorials including: How to boil rice, how to roast a chicken, how to make rich gravy and how to make pasta.
What you WONT find on Kitchen Sanctuary ❌
Lots of sponsored posts. I very rarely write sponsored posts on my blog (a handful a year) and when I do, it's only with brands that I truly use and love.
Overly technical or complicated recipes. I'm a busy mum of two, I haven't got time for all that nonsense.
Recipes that include lots of packaged goods. I'll sometimes include the occasional curry paste, I do use pre-made pastry and I do like to add a stock cube here and there for added flavour, but you won't find me using chicken/mushroom soup as a sauce, relying on cake mixes or cool whip.
Healthy recipes that are lacking in flavour. I've got a few lighter recipes on the blog that I sometimes post when my jeans are getting too tight, but I NEVER sacrifice on flavour. If it doesn't satisfy, I don't want anything to do with it.
Some of our personal favourites:
What's popular now:
These recipes are super popular right now:
Before you go, stay updated
Sign up to the Kitchen Sanctuary email community. Enter your first name and email address in the boxes below and we will add you to our mailing list so you get updated when we publish new recipes.
We are also on social media too, Our favourite platforms are:
Instagram < we share some behind the scenes and other things on our stories so that's a great place to get to know is more.
YouTube < We are sharing step by step recipe videos on YouTube with new videos going live twice a week so be sure to subscribe and hit the little bell icon so you get notified every time we publish a new video.
You can also find us on Pinterest, Twitter and Facebook
Interested in learning how we create content?
Are you interested in learning how we take mouthwatering photos, want to understand how we make money and how we work through the challenges of blogging?
Did you know we also have a second blog called Living the Blog.
Chris and I both have such a passion for blogging. It's totally changed our lives and we're so thankful that our full-time job is something that we love. Living the Blog is where we help other people by showing them what we do and how we do it.
It includes lots on info on finding work, Food Styling and Photography, Video Production, income reports (a little un-British to talk about our earnings, but we learned so much from reading other peoples income reports), blogging schedules and how our blog grew from day 1.