Use up those leftover Christmas chocolates in these fudgy chocolate brownies!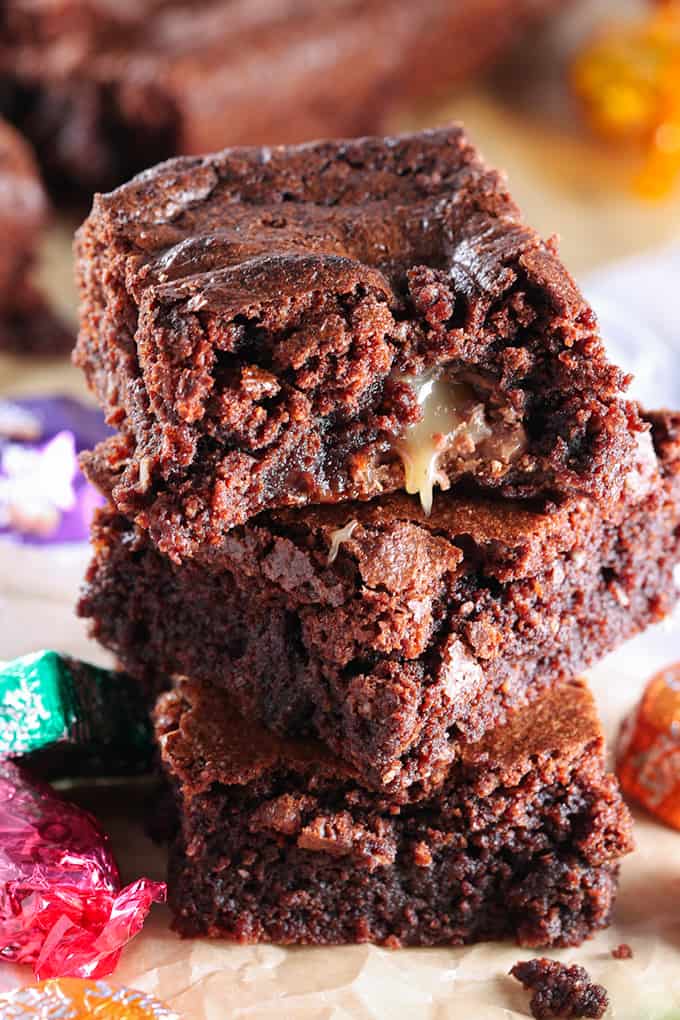 It hurts my heart to see those abandoned chocolates at the bottom of the chocolate box. Forgotten, unloved, and likely to remain there for at least another month when:
a) They'll be eaten all in one go by the person who's been trying to diet all month (that would be me)
Or
b) They'll be chucked away by the ruthless person who is sick of the sight of them cluttering up the sideboard
Well I'm here to give you a third option people!
Unwrap those toffee pennies and the ones in the green wrappers that you don't really like because the centre just appears to consist of an inferior lump of chocolate compared to the exterior chocolate.
Let's make brownies!
(for those of you in category 'a' - I'm so sorry. This will likely ruin your diet for a whole week instead of a 10-minute gorging session).
Anything goes in these brownies:
Ferrero rochers (I know there'll be none of the addictive regular ones left, but those dark chocolate ones....?)
Lindor chocolate balls - usually all eaten before Christmas even starts! but I did find a couple of those milk and white chocolate ones, and they were amazing in these brownies!)
Pull-your-fillings out toffees (although they'll still pull your fillings out baked into the brownies)
I haven't tried it, but I bet After Eights would be amazing too!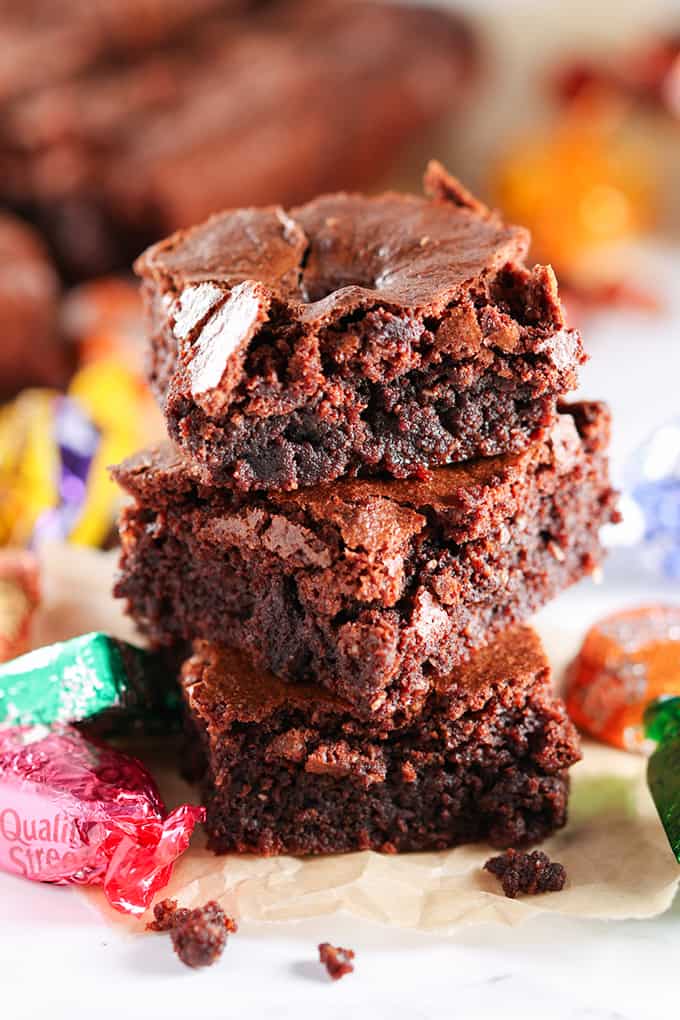 I'm even thinking of going Russian Roulette in these things. If I still worked in an office I'd soooo be hiding a black olive in one of them 😀
The Bottom of the Chocolate Box Brownies Recipe:
Bottom of the Chocolate Box Brownies
Use up those leftover Christmas chocolates in these fudgy chocolate brownies!
Ingredients
150

g

good quality dark chocolate -

or dark chocolate chips

180

g

unsalted butter

3

large eggs

265

g

golden caster sugar

60

g

plain/all purpose flour

40

g

cocoa powder

½

tsp

baking powder

60

g

ground almonds

20

leftover chocolate box sweets

-

about 180g/6.3oz
INSTRUCTIONS
Preheat the oven to 180c/350f and line a baking tray that's approx. 20cmx30cm and 3cm deep with baking parchment. Leave a little of the parchment overhanging the tray to make it easier to get the brownie out later.

Melt the dark chocolate and butter together in a bowl over a pan of simmering water (make sure the bowl isn't touching the water though). Or alternatively melt the chocolate in the microwave in 30 second increments, giving it a stir each 30 seconds. Then add the butter for the last 30 seconds to melt. Stir and leave to cool slightly.

Whisk the eggs and sugar on medium until thick and creamy in a large bowl using a mixer or hand whisk.

Slowly whisk again, and pour the melted chocolate butter in. Pour it at the side of the bowl in a thin stream, whisking all the time, so that the eggs don't scramble with the warm chocolate.

When the chocolate is thoroughly mixed in, sieve the flour, cocoa powder and baking powder over the mixture, and then add the ground almonds. Fold into the mix gently, in a figure of eight. This will help to keep the air in.

Pour the mixture into your baking tray, and use a palette knife to ensure it goes all the way to the edges.

Arrange the chocolates on top of the brownie mix evenly, so there is 1 piece per portion of brownie. Push the caramel into the mixture slightly and place the tray in the oven.

Cook for 25 minutes.

Take out of the oven and leave to cool in the tray. Lift the brownie out of the tray using the baking parchment and place on a chopping board. Use a sharp knife to slice the brownie into portions. It will crumble slightly when you cut it, but it crumbles less, the longer you leave it to cool.
✎ Notes
Nutritional Information is per serving.
Nutrition
Calories:
245
kcal
Carbohydrates:
27
g
Protein:
3
g
Fat:
14
g
Saturated Fat:
8
g
Cholesterol:
45
mg
Sodium:
29
mg
Potassium:
128
mg
Fiber:
1
g
Sugar:
20
g
Vitamin A:
275
IU
Vitamin C:
0.1
mg
Calcium:
39
mg
Iron:
1.6
mg
If you like these you will love my Turkish Delight Brownies!