My Chewy Amaretti Cookies are crisp on the outside, chewy on the inside, these Italian almond flavoured biscuits make a great gluten-free nibble to go with your afternoon coffee.




What do you do with those leftover egg whites after you've been making custard to go with your stuffed apples? or creamy lemon sauce to go with your Ricotta pancakes?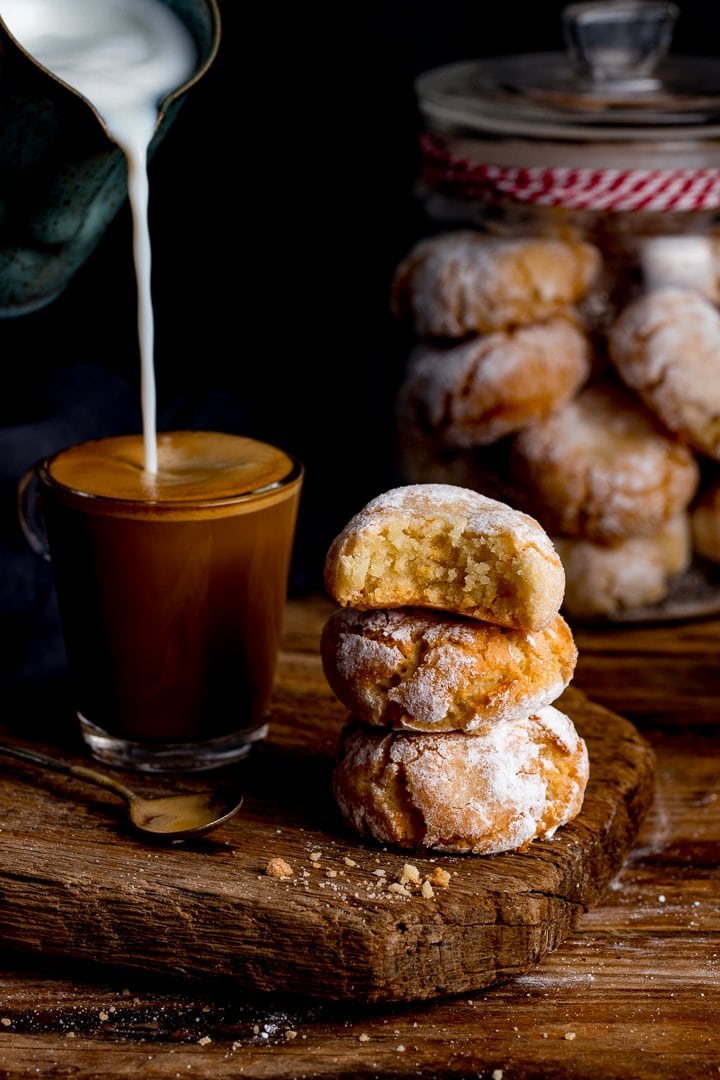 Meringue is usually the first thing that comes to mind.  But don't just stop there – add a few more simple ingredients to that whisked egg and you'll end up with a jar full of amazing Italian almond biscuits.
I was going to add 'that will last you for the next few days' on the end there, but then I realised that we ate all of ours in less than 24 hours.  Willpower is definitely a trait that Chris and I simply don't possess.
I really don't know how some people manage to refrain from enjoying excessive amounts of really tasty food when it's there – looking at them.
I probably shouldn't cook so many sweet things, but the little devil on my should whispers 'it's your job, you need to bake nice things covered in sugar'.
When I do read health & fitness articles (usually whilst eating a chocolate digestive), I often come across the phrase 'eat to live, not live to eat'.  That's usually enough to make me close down the article and go searching for pictures of Nutella brownies.
After all, Chris and I often plan our holidays around food!
He likes football, cars and gadgets.  I like cooking, reading and TV programmes that make me cry.
But we both L-O-V-E food (and each other of course!).  I think that's an awesome thing to have in common.
I'm not completely-out-of-control-bonkers when it comes to eating.  I still fit nicely into my UK size 12's (that's a size 8 in the US right? almost a reason to emigrate), but I guess that's not going to stay that way if I eat 11 amaretti biscuits whilst watching Fortitude on TV (which by-the-way I can't decide if it's going to be good or rubbish yet….).
Anyway, let's come back to the cookies.
You need to whisk up your egg whites to stiff peaks.  I used leftover egg whites that i'd stored in the freezer and then defrosted.
Mix in your other ingredients – which include a shot of Amaretto for that lovely almond flavour – and roll into balls.  Then roll the balls first in caster sugar, and then in icing sugar.
The caster sugar helps to add a bit of chewy crisp to the outside of the cookies whilst preventing the icing sugar from melting into the mixture.
Place the balls on a tray:
Squish them down a tiny bit, and then bake for 15 minutes.
They will expand ever so slightly in the oven.  They'll also flatten a little bit more too.  If they're still looking too round, you can carefully squash them slightly as soon as they come out of the oven.
Delicious served warm or cold.  If you are after a perfect savoury appetiser to go with these delicious Amaretti Cookies then why not try these amazing Cranberry Brie Bites.
Equipment:
In order to make these delicious amaretti cookies you will need:
The Chewy Amaretti Cookies Recipe: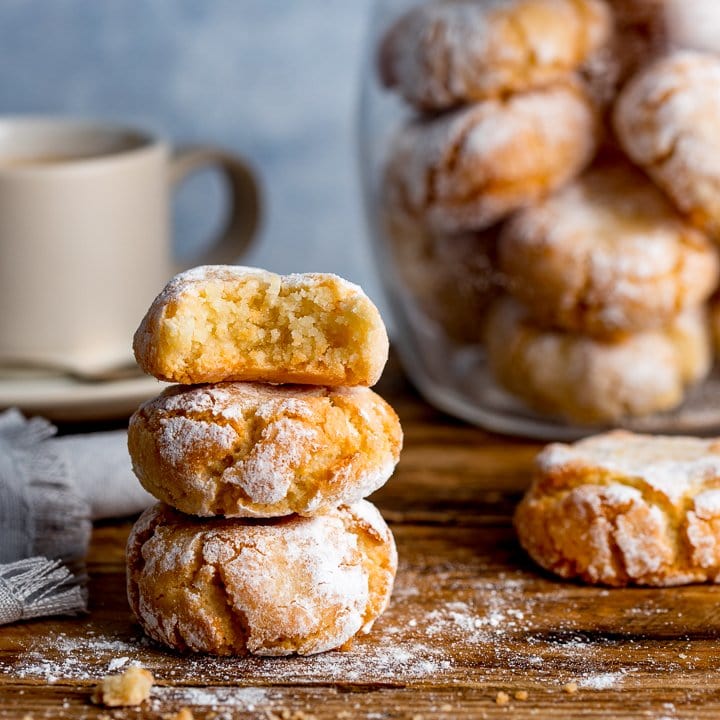 Chewy Amaretti Cookies
Italian Amaretti cookies - crisp on the outside, chewy on the inside. A great, gluten-free way to use up those leftover egg whites.
Print
Rate
Pin The Recipe For Later
Servings:
25
- 28 cookies
Ingredients
3

egg whites from large eggs

(about 90g of egg white altogether)

3

cups

(280g) ground almonds

** Note 1 **

1 1/2

cups

minus 1 tbsp (280g) caster sugar

(superfine sugar)

1/4

tsp

vanilla extract

2

tbsp

Amaretto liqueur
For rolling:
2

heaped tbsp

caster sugar

(superfine sugar)

2

heaped tbsp

icing/powdered sugar
Instructions
Preheat the oven to 170C/325F. Line two baking trays with a silicone mat or baking parchment.

Using a hand whisk or mixer, whisk the egg whites to stiff peaks. Fold in the ground almonds, caster sugar and vanilla extract. Slowly stir in the amaretto. Add just enough so that the mixture is a thick paste that can be formed into a ball in your hand (it should be very sticky though).

Place the caster sugar and icing sugar for rolling on two separate plates. Using a teaspoon, scoop out a chunk of the cookie mixture and roll it into a ball in your hands (about the size of a walnut - note, it will be sticky). Roll it in the caster sugar, then roll it in the icing sugar and place on the baking tray.

Repeat with the remaining dough until you've used it all up. Leave a bit of space between the cookie balls as they will expand slightly during cooking.

Use your finger to squash the cookie balls a little (they will crack a little at the edges - that's fine) then place in the oven to cook for 15 minutes.

Take out of the oven, leave to cool for 5 minutes then remove from the baking tray. You can serve them warm, or allow them to cool completely on a cooling rack.
Recipe Video
Recipe Notes
**Note 1 ** Ground Almonds:
It's best to use store-bought ground almonds (if you're in the US, use blanched almond flour - the fine grainy kind (NOT the powder kind that's like regular flour)) - for this recipe.
Please don't try using home-ground almonds, as grinding them yourself can result in ground almonds that are a little too fine, and slightly oily for the recipe - this can cause the amaretti to go flat.
I've tested this recipe with both regular UK ground almonds, and with blanched almond flour that I picked up in the US last time I was there. When testing the US almond flour, I used Full Circle Market Almond flour, and this produced the same results as the regular UK ground almonds.
Storing the cookies:
These cookies can be stored in a sealed jar at room temperature. They should last for at least 1 week (up to two).
.
Nutritional  information is per cookie.
Nutritional Information
Nutrition Facts
Chewy Amaretti Cookies
Amount Per Serving
Calories 137
Calories from Fat 63
% Daily Value*
Fat 7g11%
Sodium 6mg0%
Potassium 6mg0%
Carbohydrates 18g6%
Protein 3g6%
Calcium 28mg3%
Iron 1mg6%
* Percent Daily Values are based on a 2000 calorie diet.
If you are like me and LOVE the almond flavour of these amazing cookies then why not try this Rhubarb Amareti Cake:
or this Cherry and Almond Cake: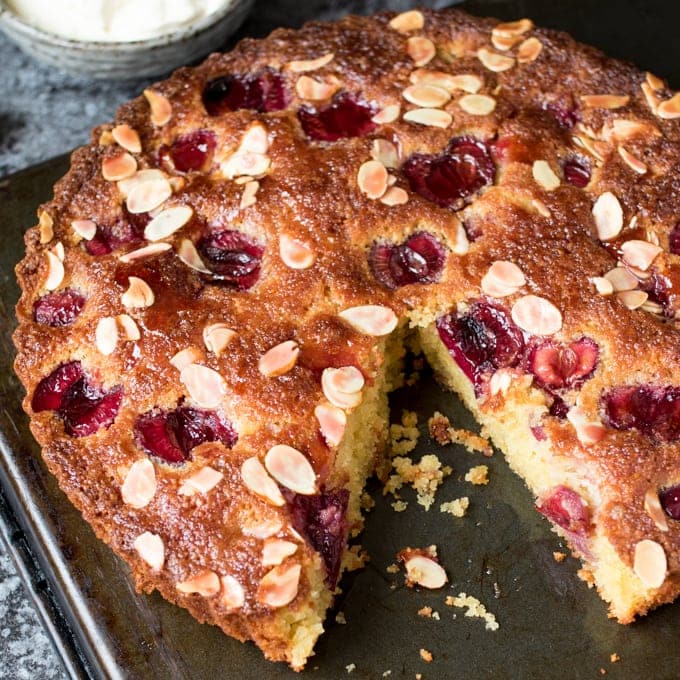 Some of the links in this post may be affiliate links – which means if you buy the product I get a small commission (at no extra cost to you). If you do buy, then thank you! That's what helps us to keep Kitchen Sanctuary running. The nutritional information provided is approximate and can vary depending on several factors. For more information please see our Terms & Conditions.