These Crispy Arancini are Tomato Risotto Balls, filled with creamy boursin cheese, coated in breadcrumbs and fried until golden and crisp.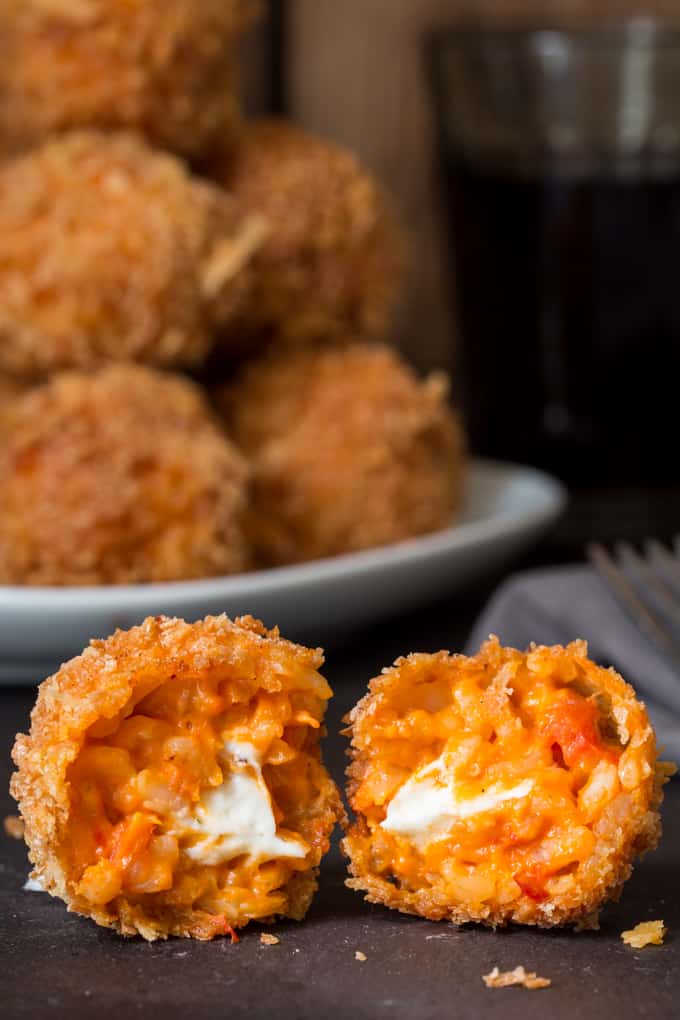 Now this is what I call vegetarian food for carnivores.
They're so good, it was almost enough to persuade me to buy that deep-fat-fryer that Chris wants us to get.
The lure of creamy, crispy delicious fried foods is calling me, with a little 'no don't do it' voice coming from the healthy part of my brain that loves the smoothies and the soups.
I think a fryer may well drag me away from my 'everything in moderation' motto, and over to deep frying anything-and-everything (I can see myself now, frying up Mars bars like I've heard they do in Scotland).
No, I'll stick with making these for treat, or when I happen to have some leftover risotto.
Speaking of which, I made the risotto for these Crispy Tomato Arancini balls using my Creamy Tomato Risotto with crispy garlic crumbs recipe.  It's a good idea to make double or triple and then have the risotto for dinner, reserving the rest for these arancini.
They're a little messy to make, but they're so tasty it's worth the mess.
Don't save these just for parties, they taste great served for dinner with a simple salad, or even with fish.
Once you've made and cooled the risotto, it's a simple case of taking a spoonful of the rice, flattening it in your hand and then placing a blob of creamy Boursin cheese in the middle.  Wrap the risotto around the cheese and then dip each arancini ball in seasoned flour, egg and breadcrumbs.
You can make them bite-sized (in which case you'll get more than 18-20) or you can make them golf-ball sized like I did:

Once they're all coated, fry them in batches of 3-4 in hot oil and drain on a rack over the top of some kitchen paper.
Eat them straightaway with a nice salad, or maybe just a large glass of wine 🙂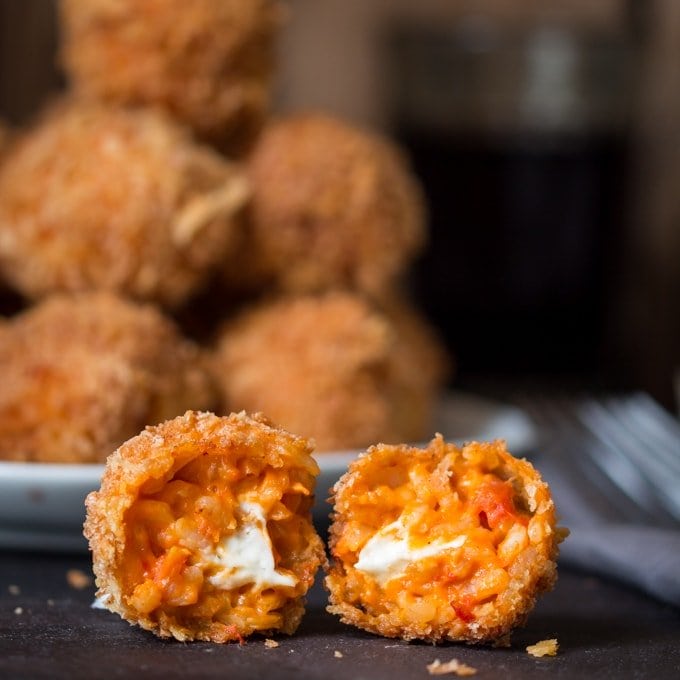 More Italian Recipes
Still hungry for more?  I have got quite a selection of Italian recipes, such as:
and for something sweet Chewy Amaretti Cookies
The Crispy Tomato Arancini balls Recipe: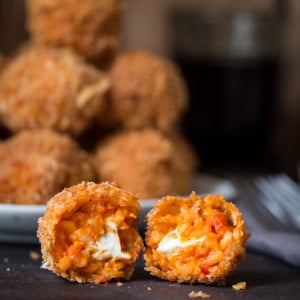 Crispy Tomato Arancini
Tomato Risotto Balls, filled with creamy boursin cheese, coated in breadcrumbs and fried until golden and crisp.
Ingredients
Risotto:
2

x 400g

tins of chopped tomatoes

400

ml

vegetable stock

2

tbsp

tomato puree/paste

2

tbsp

olive oil

1

large brown onion

-

peeled and chopped finely

2

garlic cloves

-

peeled and crushed

300

g

Arborio rice

150

ml

white wine

-

optional, replace with stock if you'd prefer

3

tbsp

double full fat cream

50

g

parmesan

-

grated (or other cheese if you prefer)

Juice of ½ a lemon

Good pinch of salt and black pepper
Remaining Arancini ingredients:
100

g

Boursin Garlic and Herb Cheese

2

eggs

-

beaten

100

g

panko breadcrumbs

120

g

plain/all purpose flour mixed with a pinch of salt and pepper

Vegetable oil for deep frying
INSTRUCTIONS
First make your tomato based stock. Take a sieve and strain the tins of chopped tomatoes over a bowl. Use a spoon to mush the tomatoes left in the sieve to a fine pulp, then pour this pulp back into the tomato juice in the bowl. Add in the vegetable stock and tomato puree and stir. Heat this stock in a small pan or in the microwave until almost boiling, then turn off the heat.

Heat oil in a large pan, add the onion and cook for about 5 minutes until the onion starts to go translucent, add in the garlic, stir and cook for a further minute. Add in the rice and stir until the oil has coated the rice. Add in the wine and stir. Wait for the wine to almost fully absorb (stirring regularly) and then add the tomato stock a ladle at a time. Ensuring each ladle has almost fully absorbed before adding the next. Ensure you stir regularly. This should take for 15-20 mins. Once you've used up all the stock, have a taste of the rice. It should be soft, but still have a bit of a bite to it (it will soften up a little further when you add the cream). If the rice is still far too hard, you can add in a ladle or so of water. When the rice is cooked, add in the cream, cheese, lemon juice and salt & pepper. Stir and then turn off the heat. Leave to cool in the pan, then cover with clingfilm (plastic wrap) and refrigerate for 30 minutes (or up to 2-3 days).

When you're ready to make your arancini put the beaten eggs, breadcrumbs and flour on 3 large plates.

Take the cold risotto out of the fridge and take a heaped tbsp. of the of the rice in your hand. Flatten it out and then place a tsp of boursin cheese in the centre. Wrap the risotto around the cheese and roll into a ball. Place the ball onto a plate and repeat until you've used all of your mixture.

Fill a large heavy-bottomed saucepan with the vegetable oil until it's about ⅓ full. There needs to be enough oil to completely cover the Arancini. Heat the oil on high.

Now dip each arancini ball in turn into the flour, egg and finally the breadcrumbs, shaking off any excess as you go.

Check the heat of the oil by dropping in a few of the panko breadcrumbs. If they immediately rise to the top and bubble vigorously, then the oil is ready. Turn it down to medium-high and carefully place in 3-4 arancini balls in the oil. Cook for 2 minutes until the Arancini is golden brown, then remove from the oil with a slotted spoon and place on a wire rack with some kitchen paper underneath to drain. Repeat until all of the arancini is cooked.

If you're serving straightway, the Arancini should still be hot enough. Alternatively you can keep them warm in a low oven for 15 minutes or so until you're ready to serve.
✎ Notes
You can make these arancini balls in advance and then reheat them in the oven.
They're not quite as good as when they're freshly cooked from the pan, but they're still crisp and delicious.
Simply allow the arancini to cool, then cover and refrigerate. Reheat in the oven for 15 minutes at 200c/400f.
.
Nutritional Information is per serving, (accounting for 2 tbsp of oil being absorbed during the cooking of all arancini).
Nutrition
Calories:
183
kcal
Carbohydrates:
24
g
Protein:
4
g
Fat:
6
g
Saturated Fat:
3
g
Cholesterol:
26
mg
Sodium:
233
mg
Potassium:
180
mg
Fiber:
1
g
Sugar:
2
g
Vitamin A:
280
IU
Vitamin C:
4.4
mg
Calcium:
65
mg
Iron:
1.9
mg