This Herby Lemon Risotto with Halloumi is fresh, light and so full of flavour even the carnivores will love it!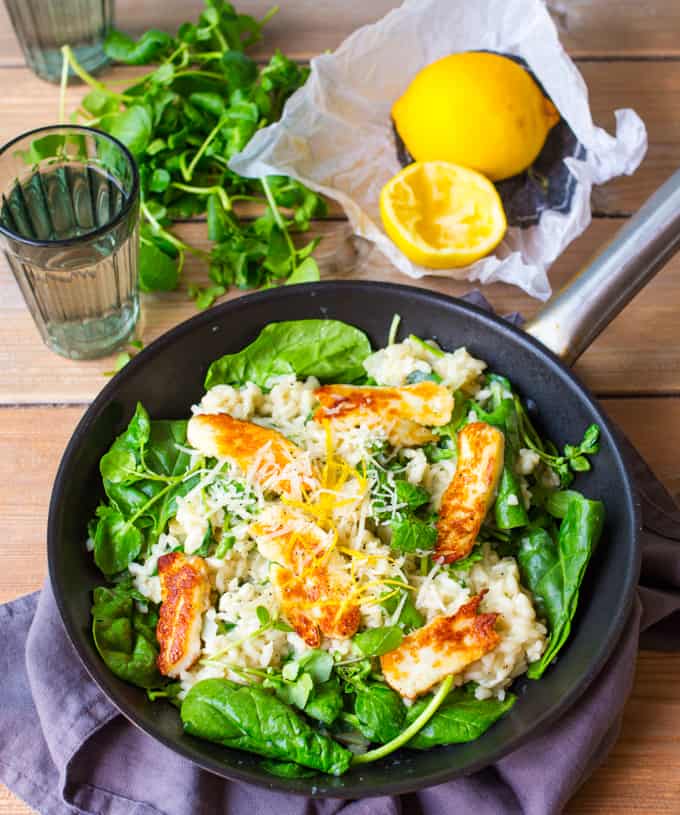 Oh man! Salty golden halloumi on a bed of zesty risotto and a mountain of fresh, green leaves.
A-M-A-Z-I-N-G!
This is Summer in a bowl.
And I don't care that it's not actually Summer yet.  I'm going to be eating this Herby Lemon Risotto with Halloumi through Spring, Autumn and Winter too!
I do love risotto, but I don't get to eat it very often as Chris isn't keen.  He calls it 'sloppy rice' and grumbles right until I put it in front of him.  Then he usually eats it happily!
I really like the lightness of this version, and to be honest, lightness is what I need.  I still haven't made it back to the gym regularly after Easter.  I hoped to be back in full swing last weekend, but I pulled a muscle in my shoulder whilst playing on the climbing frame with Lewis last week.
I guess I should leave climbing frames to the kids.
To console myself, I've been making far too many naughty things - like those raspberry ripple doughnuts and also rhubarb marshmallows, lemon doughnuts and florentines (all coming on the blog soon).
I only realised today that I'd been making so many naughty things.  That was when I was on my way home from the supermarket with crescent dough and Biscoff spread....
I think I need someone with me at all times to stop me.  I can't be trusted!  Maybe a whack over the head with a stick of celery whenever I stray towards the baking cupboard?
Actually, that'd make celery the enemy.  A whack with a bar of Dairy Milk might be better.
Oh dear, I think the sugar is going to my brain.
Need more light & healthy risotto!!
The Herby Lemon Risotto with Halloumi Recipe:
Herby Lemon Risotto with Halloumi
This Herby Lemon Risotto with Halloumi is fresh, light and so full of flavour even the carnivores will love it!
Ingredients
1

tbsp

olive oil

1

small brown onion

-

peeled and chopped finely

1

clove

garlic

-

peeled and crushed

150

g

Arborio rice

75

ml

white wine

-

optional, replace with stock if you'd prefer

600

ml

vegetable stock

-

use vegetable bouillon for gluten free

1

tsp

vegetable oil

½

block halloumi

-

sliced

30

g

parmesan

-

grated (or other cheese if you prefer)

Juice of ½ a lemon

Good pinch of salt and black pepper

1

packed cup

baby spinach

1

packed cup

watercress

Small handful of fresh basil

-

roughly torn

Small handful of fresh parsley

-

roughly torn
To Serve:
Zest of half a lemon

Squeeze of lemon juice

Freshly ground black pepper
INSTRUCTIONS
Heat 1tbsp of oil in a large pan, add the onion and cook for about 5 minutes until the onion starts to go translucent. Add in the garlic, stir and cook for a further minute. Add in the rice and stir until the oil has coated the rice. Add in the wine and stir. Wait for the wine to almost fully absorb (stirring regularly) and then add the stock a ladle at a time - ensuring each ladle has almost fully absorbed before adding the next. Ensure you stir regularly. This should take approx 15-20 mins.

Once you've used up all the stock, have a taste of the rice. It should be softer, but still have a bit of a bite to it . If the rice is still far too hard, you can add in a ladle or so of hot water from the kettle. Once the risotto is cooked, turn the heat down to very low.

Heat 1 tsp of oil in a small frying pan and add in the halloumi. Cook on a medium-to-high heat for 2 minutes on each side until golden brown.

Whilst the halloumi is cooking, go back to your risotto. Add in the parmesan, lemon juice and salt & pepper. Give everything a good stir then turn off the heat and gently stir in the spinach, watercress, basil and parsley. Divde the risotto between 2 plates and top with the fried halloumi.

Serve sprinkled with lemon zest, a squeeze of lemon juice and some freshly ground black pepper.
✎ Notes
Nutritional Information is per serving.
Nutrition
Calories:
658
kcal
Carbohydrates:
66
g
Protein:
24
g
Fat:
28
g
Saturated Fat:
15
g
Cholesterol:
10
mg
Sodium:
998
mg
Potassium:
163
mg
Fiber:
3
g
Sugar:
3
g
Vitamin A:
165
IU
Vitamin C:
4.5
mg
Calcium:
815
mg
Iron:
3.5
mg