Cornish Pasties with tender peppery chunks of beef mixed with melt-in-your-mouth vegetables, all wrapped up in buttery golden pastry.  The Cornish Pasty is one of the most famous foods to come out of the south of England, and I can completely understand why the Cornish folk have so much pride in this tasty hand-held meal.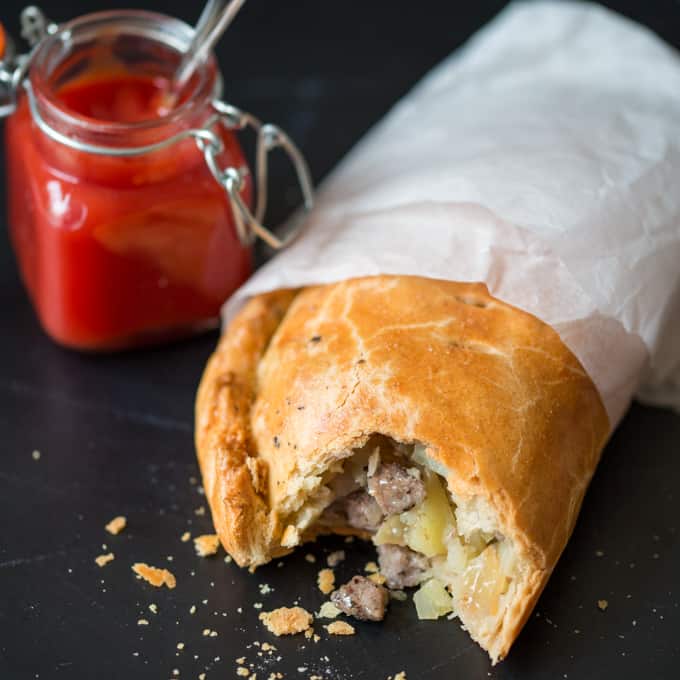 We recently got back from a week in Cornwall, and ate a fair few Cornish pasties whilst wandering around beautiful little coastal towns.  My daughter shockingly announced on one occasion that she'd rather have a Cornish pastie than an ice cream! She was delighted when I told her we could make some ourselves when we got back home.
The Cornish pastie goes back hundreds of years, but they're most commonly known to have been a staple food of the poorer classes going back to the 18th century.  Miners used to take the pasties into the tin mines, and they'd be nutritious and filling enough to keep the workers going all day.  The specific shape of the pastie was thought to have come around for good reason too.  The crimped crust on the side was used as a kind of handle.  The levels of arsenic in the tin mines meant that the miners hands would be grubby and likely covered in this highly toxic substance.  So the miners would hold onto the crust to eat their pastie, and then discard it.
Personally I love the crust, but I think I could be persuaded to chuck it away if it was covered in arsenic!!

These Cornish Pasties are filled with a mixture of well seasoned steak, onions, potatoes and swede (or rutabaga/yellow turnip if you're in the US). The meat and vegetables are placed in the pastry raw, with a really good pinch of salt and pepper, then sealed and cooked in the pastry.  There's no sauce inside the cornish pasty, but the cooked filling ends up so tender and moist that it's not needed.
I used a recipe from the Hairy Bikers for these pasties
Cornish pasties Recipe: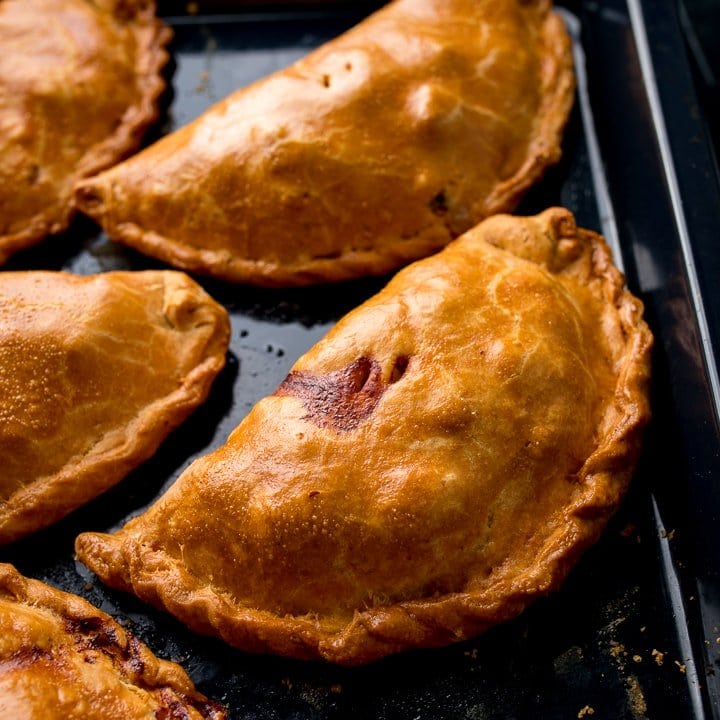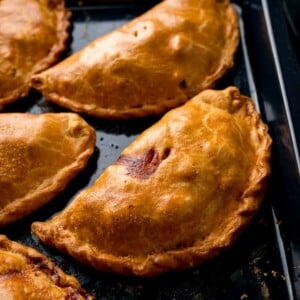 Cornish Pasties
Cornish Pasties - moist and tender traditional hand pies filled with steak, onion, potato and swede (rutabaga)
Print
Rate
Pin The Recipe For Later
Total Time:
2
hrs
20
mins
Ingredients
Pastry:
3 2/3

cups

(450g) plain (all purpose) flour

plus a couple of tbsp extra for rolling out the pastry and sprinkling on the tray later

2

tsp

baking powder

1

tsp

salt

1/2

cup

+ 1 tsp (125g) unsalted butter

chopped into chunks

2

egg yolks

1/2

cup

+1 tsp (125 ml) cold water
Filling:
1

lb

(450g) potato

peeled and finely diced

1/3

lb

(150g) swede/rutagaba

peeled and finely diced

1/3

lb

(150g) onion

peeled and finely chopped

2/3

lb

(300g) skirt steak or sirloin steak

finely chopped, with fat discarded (weigh the meat after discarding the fat)

1

tsp

salt

1

tsp

ground black pepper

3

tbsp

(or 9 tsp) unsalted butter

chopped into small cubes

1

egg

beaten
Instructions
First make your pastry. Place the flour, baking powder and salt into a food processor and give a quick mix.

Add in the butter and whizz until the mixture turns into breadcrumbs.

Add in the egg yolks and mix, then, with the motor on, add in the water a bit at a time until the dough comes together into a ball. You may not need all the water.

Take the pastry out of the food processor, wrap in clingfilm or wax paper (<--affiliate link) and refrigerate for an hour.

Preheat your oven to 180C/350F. Take two large baking trays and sprinkle them with some flour.

Take your pastry out of the fridge and roll out on a floured surface until you get a thickness you can cut, that won't tear easily. I find that's about 3mm.

Cut circles into the dough using a plate that about 20-21cm (approx 8") diameter as a template. I find that I get 3 circles out of the first lot. Then I re-roll and get 2 circles, and then I re-roll and get one final circle. You can place the circles stacked onto a plate so long as you have a sprinkling of flour between each layer.

In a large bowl, mix your potato, swede/rutagaba, onion, steak, salt and pepper.

Take one of your pastry circles and place it onto your work surface. Place a really good handful of the meat mix onto half of the circle, leaving a 2cm border around the edge. It'll look like a lot of mixture, but it needs to be packed full.

Dot 1 1/2 tsp butter (from the 3 tbsp butter) on top of the meat and veg pile.

Take your beaten egg, and using a pastry brush, paint a little of the egg wash around the edge of the circle. This will help the pastry stick together.

Now, fold the other side of the pastry over the meat until the edges meet and you have a semi circle. Seal firmly and crimp with your fingers (check out my video above to see how)

Place your pasty onto your baking tray and make a little hole in the top using a sharp knife to let out the steam. Repeat with the remaining pasties.

Brush the remaining egg wash over the top of the pasties and place in the oven for 50 minutes until golden brown.

Take out of the oven and leave to cool for 5 minutes before eating.
Recipe Notes
Can I make them ahead?
Yes, make and cook the pasties, then cool, cover and refrigerate them.
Reheat in the oven, uncovered, at 190C/375F for 30 minutes, until piping hot throughout.
Can I freeze them?
Yes, make and cook the pasties, then cool, cover and freeze.
Defrost in the refrigerator overnight. Reheat in the oven, uncovered, at 190C/375F for 30 minutes, until piping hot throughout.
Can I use shop-bought pastry?
Yes, you can replace the homemade pastry with shop-bough shortcrust pastry.
Best cut of beef for Cornish Pasties
Skirt steak, sirloin or ribeye are the best cuts for the most tender and juicy meat for a cornish pasty filling.
Note: skirt steak can be a little on the tough side, but small pieces that have been cut against the grain will still be plenty tender enough.
Don't be tempted to add braising/chuck/stewing beef or the meat will be chewy and tough.
.
Recipe Source:
Adapted from a Hairy Bikers recipe
Nutritional Information is per pasty.
Nutritional Information
Nutrition Facts
Cornish Pasties
Amount Per Serving
Calories 669
Calories from Fat 288
% Daily Value*
Fat 32g49%
Cholesterol 182mg61%
Sodium 1026mg43%
Potassium 821mg23%
Carbohydrates 72g24%
Protein 22g44%
Vitamin A 815IU16%
Vitamin C 16.7mg20%
Calcium 143mg14%
Iron 7.4mg41%
* Percent Daily Values are based on a 2000 calorie diet.
Some of the links in this post may be affiliate links – which means if you buy the product I get a small commission (at no extra cost to you). If you do buy, then thank you! That's what helps us to keep Kitchen Sanctuary running. The nutritional information provided is approximate and can vary depending on several factors. For more information please see our Terms & Conditions.