Use up those Christmas leftovers with this fantastic Turkey Pasta Bake with Ham and Cheese from your party cheese board!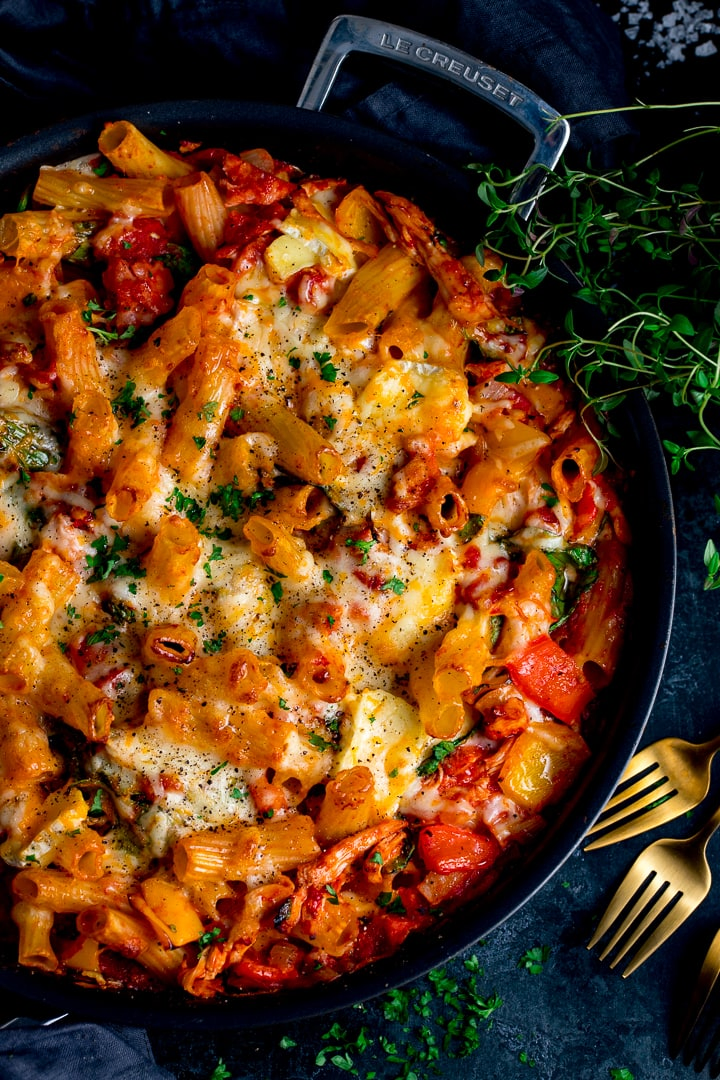 We're having Christmas dinner at my sister's house this year, and I'm looking forward to spending time with the family and eating lots of lovely food (best hide those Quality Street sis!).
But...
I'm still cooking a Christmas turkey at home.
It just wouldn't feel festive enough if I can't spend the days after Christmas day traipsing back and forth to the kitchen to make turkey sandwiches with stuffing and cranberry sauce, or to nibble on those leftover bacon-wrapped chipolatas.
So yes, I'm cooking turkey purely for the leftovers.
We'll also be stuffing our fridge like doomsday preppers for ad-hoc buffets and grown-up cheeseboard and wine evenings (Chris doesn't even really like wine, but it makes us feel grown up).
But whilst I'm greedily looking forward to all of it, I know there are going to be lots of food loose-ends, and a time when I'll just want to eat something more normal.
And that's where this leftover turkey bake comes into play. Leftover turkey, leftover baked ham, and 4 types of leftover cheese. Heck, why no throw in some of those chipolatas and a few sprouts too ;-). A lovely family dinner!
Quick run through (see more details in the recipe card at the end of this post):
We start by frying up some chopped onion in a little oil. Add in chopped bell peppers, salt, pepper and garlic and stir it all together until you can smell that onion-y garlicky goodness.
Then we add in leftover cooked and shredded ham and turkey, a little tomato puree (paste if you're in the US), a crumbled stock cube and some fresh thyme.

Now we're going to sauce it up with 3 tins of chopped tomatoes and a little sugar to balance out the acidity. Simmer for a few minutes, then add in cooked pasta and fresh spinach (yes, we're packing those veggies in!).
Mix it all together and top with grated or chopped cheese from your cheeseboard. It's great to use cheddar as a base, but in addition to that you can use any cheese you like.
Place in the oven and bake for 20 minutes, until the cheese is golden, then top with fresh parsley and thyme and sprinkling of black pepper.
SO good!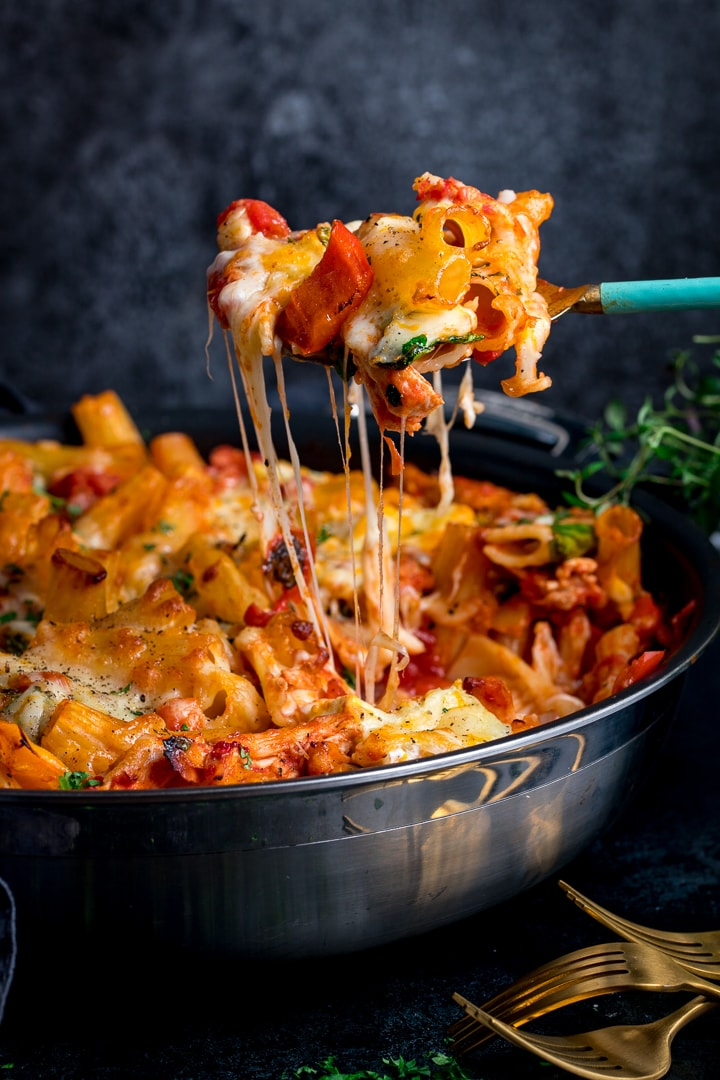 Pro Tips:
Can I add other leftovers?
Absolutely!
Add cooked leftover vegetables - such as carrots, green beans, brocolli, or leftover chipolatas (chop into bitesize pieces first) at the same time as adding in the pasta and spinach.
If you have leftovers from your buffet table, such as bacon, pancetta, salami, mushrooms or olives, they all work well too.
Cheese swaps:
Try not to use too many overpowering cheeses. Use a higher quantity of regular cheeses such as white or red cheddar, mozzarella, red Leicester and Gruyere, with a lower quantity of stronger cheese such as brie and stilton. Unless of course you love strong tasting cheeses - then go ahead 🙂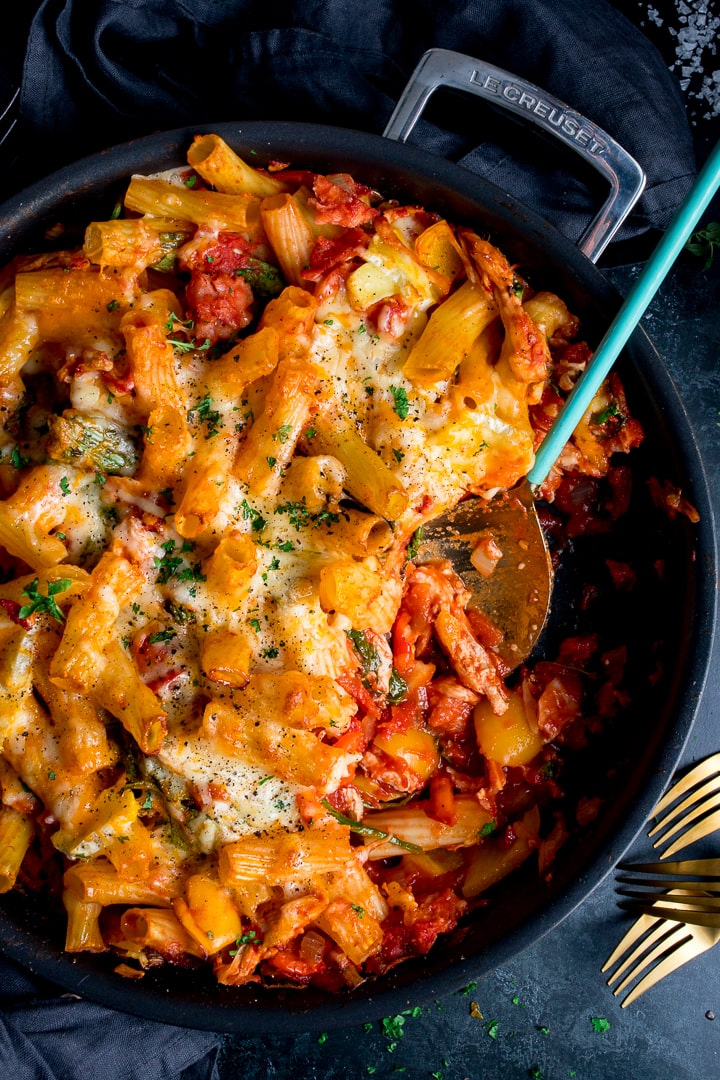 More recipes to use up Christmas and Thanksgiving Leftovers:
The Leftover Turkey Pasta Bake with Ham and Cheese Video:
The Leftover Turkey Pasta Bake with Ham and Cheese Recipe:
Leftover Turkey Pasta Bake with Ham and Cheese
Use up those Christmas leftovers with this fantastic Turkey Pasta Bake with Ham and Cheese from your party cheese board!
Ingredients
4 ½

cups

(400g) dried pasta shapes

-

(I used rigatoni)

1

tbsp

vegetable oil

1

large onion peeled and chopped

1

red bell pepper

-

de-seeded and chopped

1

yellow bell pepper

-

de-seeded and chopped

2

cloves

garlic peeled and minced

¼

tsp

salt

¼

tsp

black pepper

1 ⅓

cups

(200g) leftover cooked ham

-

cubed or shredded

2

cups

250g leftover cooked and shredded turkey

1

tbsp

tomato puree

-

(or tomato paste)

1

chicken or vegetable stock cube

-

crumbled

1

tbsp

finely chopped fresh thyme

3

x 14oz (400g) tins chopped tomatoes

1

tsp

sugar

3

cups

(100g) fresh baby spinach

2 ½

cups

(250g) mixed leftover cheese

-

(we used brie, cheddar, mozzarella and red Leicester), grated or chopped finely
To Serve:
1

small bunch parsley roughly torn

3-4

sprigs fresh thyme

1

pinch

of black pepper
INSTRUCTIONS
Preheat the oven to 190C/375F. Boil a large pan of water and cook the pasta for 1 minute less than recommended on the pack. Drain.

Whilst the pasta is cooking, heat the oil on a medium heat, in a large frying pan.

Add the onion and cook for 3-4 minutes until the onion is softened.

Add the chopped peppers, salt, pepper and garlic and cook for 2 minutes.

Add in the cooked ham and turkey, along with the tomato puree (paste), crumbled stock cube and thyme. Stir and cook for 2-3 minutes.

Stir in the tinned tomatoes and sugar. Bring to a gentle bubble, then add the pasta and spinach. Stir everything together, then transfer to a large baking dish.

Top with the mixed cheese, and place in the oven for 20-25 minutes, until the cheese is golden brown.

Remove from the oven and serve topped with fresh herbs and black pepper
Video
✎ Notes
Can I make it ahead?
Yes! You can make ahead up to the point you sprinkle the cheese on, then cool, cover with foil and refrigerate for up to a day.
Take out of the fridge for an hour before cooking it, to take the chill off the dish (otherwise you mind find you get a cold spot in the middle when baking it).
Keep the foil on and heat in the oven at 190C/375F for about 10 minutes, then remove the foil and continue to heat for a further 15 minutes, until hot throughout.
Note: the dish will be a little less saucy if you make it ahead, as the pasta will absorb more of the liquid. You can a few tablespoons of stock or hot water before heating the pasta to ensure it's still saucy if you like.
Can I freeze this pasta bake?
Yes, once cooked:
Cool quickly, cover and freeze. Defrost in the refrigerator overnight, then take out of the fridge for an hour before cooking it. Reheat in the oven (covered in foil) at 190C/375F for about 20-25 minutes until hot throughout.
Add a few tablespoons of stock or hot water when reheating the pasta to ensure it's still saucy.
Type of pasta to use for pasta bake:
I love to use rigatoni for this pasta bake, but you can use most pasta shapes.
Spiralli (pasta spirals), Penne (tubes cut on the diagonal), Fusilli (pasta twists) and Farfalle (pasta bows) all work particularly well, with no change in amounts or cooking times.
Gluten free version:
This recipe works well as a gluten-free dish with a few changes. Swap out the pasta for gluten-free pasta, use a gluten free stock cube or stock pot and ensure your tomato paste is gluten free.
Also, if you're using ready grated (shredded) cheese, ensure it's gluten free, as it can sometimes be tossed in a little flour to prevent it from sticking.
Nutritional Information is per serving.
Nutrition
Calories:
675
kcal
Carbohydrates:
72
g
Protein:
41
g
Fat:
26
g
Saturated Fat:
14
g
Cholesterol:
93
mg
Sodium:
1313
mg
Potassium:
1190
mg
Fiber:
7
g
Sugar:
13
g
Vitamin A:
3076
IU
Vitamin C:
89
mg
Calcium:
459
mg
Iron:
5
mg
Some of the links in this post may be affiliate links – which means if you buy the product I get a small commission (at no extra cost to you). If you do buy, then thank you! That's what helps us to keep Kitchen Sanctuary running. The nutritional information provided is approximate and can vary depending on several factors. For more information please see our Terms & Conditions.