An easy Christmas cake that turns out perfect every time. No creaming, beating or soaking of fruit required!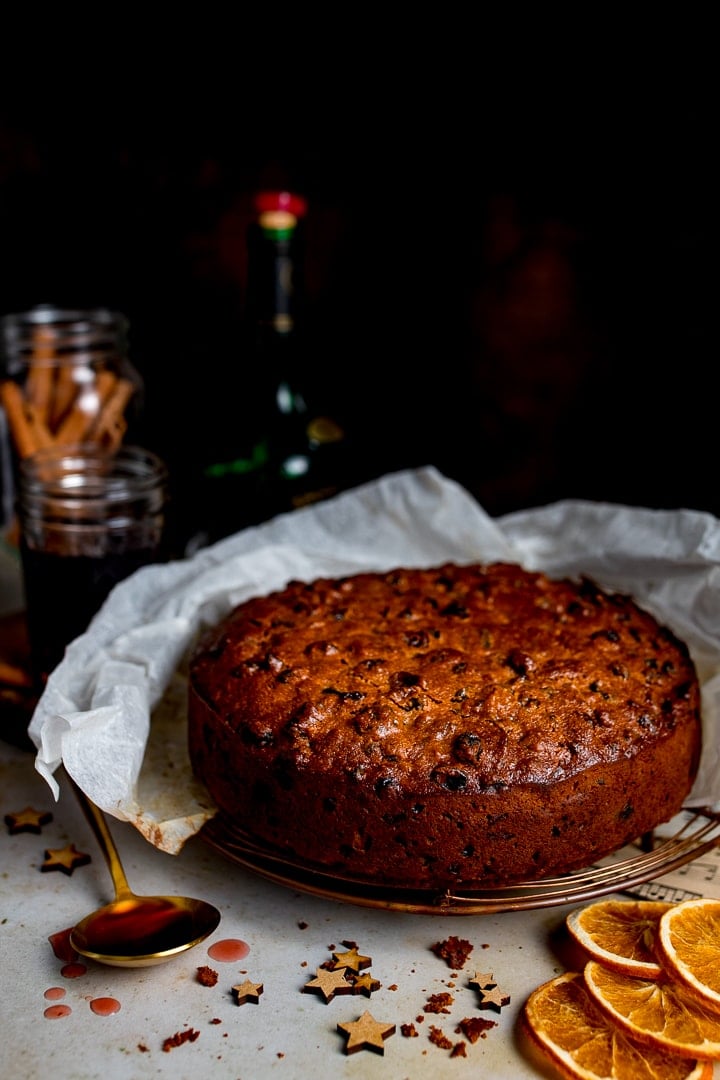 Arrghhh! How did it get past mid-November already??
Lewis mentioned earlier this week that there are only 5 more weekends until Christmas. What???
I still haven't put my flip-flops away from Summer yet.
After being faced with the reality that I'm going to have to start thinking about Christmas trees, house decorations, food and presents pretty rapidly, I decided to get going with my first festive tradition – the Christmas cake.
I usually plan to make my Christmas cake at the beginning of November, but so far I've never managed to actually do it before mid-November.
The earlier you can actually make it, the more opportunities you have to douse that thing in cherry brandy!!
My recipe for Christmas cake originates from the BBC Good Food website.  I tried this method of making it about 5 years ago and I've stuck to it ever since.  I only make a few small changes, and the result is a lovely, fruity, moist cake.
In fact I usually end up making one main cake, another smaller version for my mum and dad, and then two even smaller versions for the kids to decorate (check out last years creations here – could there be any more icing on those things! oh, and of course it's perfectly normal for my son to want to wear bunny ears for Christmas…).
I've even been known to make an additional one for Chris to eat right away – fruit cake fiend that he is.
No soaking of fruit, sugar & butter creaming, beating in flour etc. Most of the work is done by bubbling things up in a pan: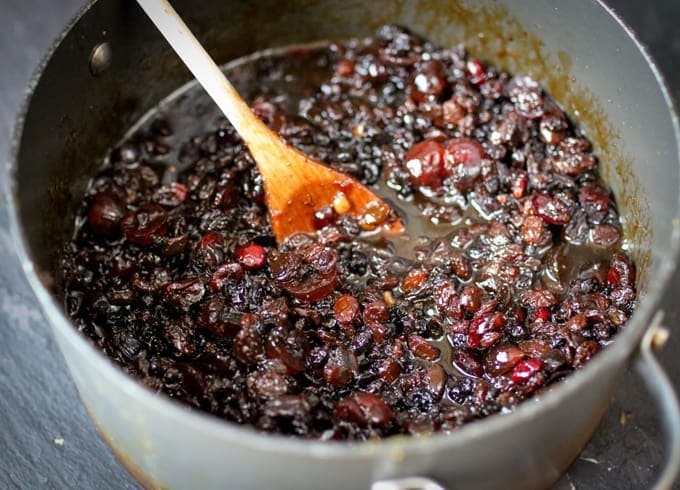 Adding ground almonds and eggs:
and then stirring in flour and spices before cooking in the oven for around 2 hours:
Beware, this cake does contain a reasonable amount of cherry brandy – both in the cakes mix and through feeding the cake more brandy afterwards. Personally, I don't think you can taste the actual alcohol – it just gives the cake a more fruity flavour and moist texture.
If you want a non-alcoholic version, i'd suggest replacing it with cold tea instead (just make tea in the usual way, steeping the tea-bag in the water for a few minutes, then take the tea-bag out and leave to cool).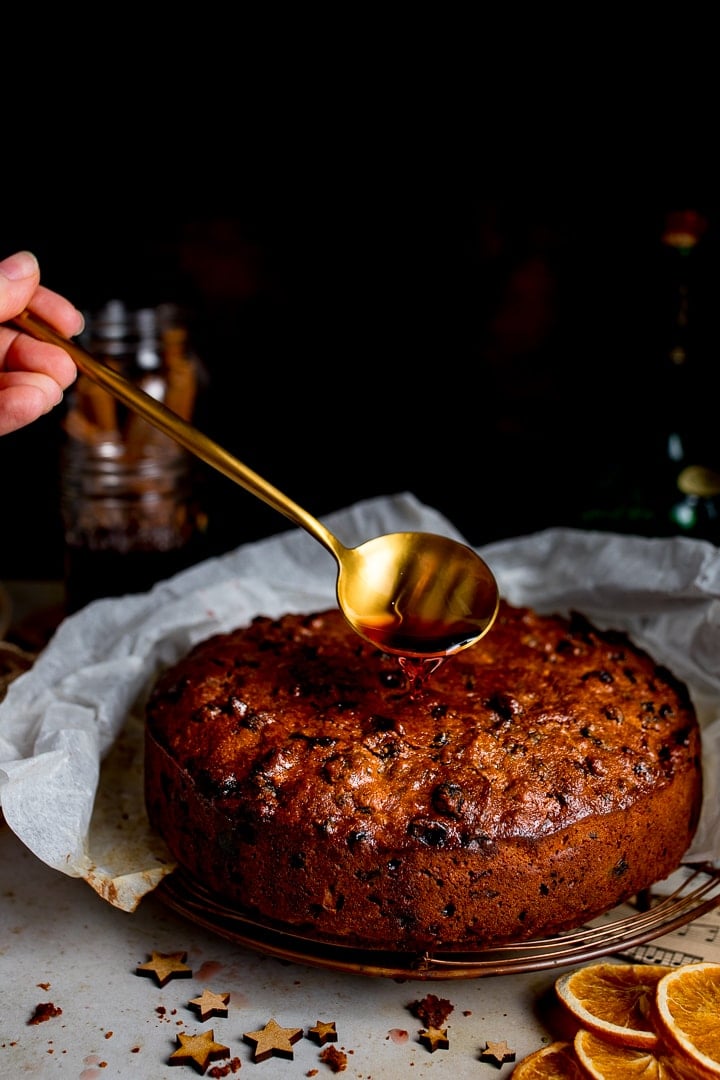 That's it – one cake that you'll want to eat every time you open it up to feed it.  Resist that temptation!
I usually marzipan and ice my cake a few days before Christmas.  I'm not much of a cake decorator (my sister is the one with the talent there), but I might share a couple of pictures once I've finished it – presuming I don't completely mess it up 🙂
The Easy Christmas Cake Recipe:
November is the time to make your Christmas Cake!
An easy Christmas cake that turns out perfect every time. No creaming, beating or soaking of fruit required!
Print
Rate
Total Time:
2
hrs
30
mins
Ingredients
175

g

unsalted butter, chopped

210

g

light brown muscavado sugar

400

g

mixed dried fruit

200

g

glacé cherries

roughly chopped

100

g

dried cranberries

Zest and juice of 1 orange

Zest of 1 lemon

165

ml

cherry brandy

3

large eggs

lightly whisked

85

g

ground almonds (coarsely ground - not the type that is like flour)

200

g

plain/all-purpose flour

½

tsp

baking powder

1

tsp

ground mixed spice

1

tsp

ground cinnamon

¼

tsp

ground allspice
Instructions
Take a large saucepan pan and add the butter, sugar, dried mixed fruit, glacé cherries, cranberries, orange & lemon zest and juice and all but 4 tbsp of the cherry brandy. Heat on a medium heat until the mixture comes to a gently bubble, then turn down the heat and simmer for 10 minutes, stirring occasionally.

Remove the pan from the heat and leave to cool for 30 minutes.

Preheat the oven to 150C/300F and line a 20cm spring-form round cake tin with baking parchment (I find it's easier to line the sides first so they're about 2" above the cake tin, then cut out a circle for the base and push it in).

Add the ground almonds into the slightly cooled fruit mixture and mix, then stir in the eggs.

Add the flour, baking powder and spices and fold together until everything is just combined.

Spoon the mixture into the tin and smooth flat with the back of a spoon.

Bake for 45 minutes, then turn down the heat to 140C/275F and cook for a further 1-1+1/2 hours, until the cake is dark brown on top and an inserted skewer comes out clean. Cover the top of the cake with foil if it starts to darken too much.

Take out of the oven, and whilst it's still hot, use a skewer to make about 10-12 holes all over the cake. Pour the 4tbsp cherry brandy all over the top of the cake.

Leave the cake to cool in the tin. then remove it and wrap in a double layer of baking parchment and then in foil. Place in an air tight container at room temperature.

Feed with 2-3 tbsp cherry brandy once a week* up until a few days before you marzipan and ice the cake.
Recipe Notes
Ideally you want to give the cake at least 3 feedings (over 3 weeks) altogether. if you're organised enough to make this cake 4 or 5 weeks in advance, then it will taste even more moist and delicious.
The cake will keep in a cupboard for up to three months or you can freeze it for six months.
.
Nutritional information is per serving.
Nutritional Information
Nutrition Facts
November is the time to make your Christmas Cake!
Amount Per Serving
Calories 378
Calories from Fat 108
% Daily Value*
Fat 12g18%
Cholesterol 54mg18%
Sodium 41mg2%
Potassium 77mg2%
Carbohydrates 59g20%
Protein 3g6%
Vitamin A 325IU7%
Calcium 45mg5%
Iron 1.2mg7%
* Percent Daily Values are based on a 2000 calorie diet.