Want to know the secrets to making perfect, foolproof Yorkshire puddings? I'm answering all of your questions in my step by step guide, PLUS a video to talk you through the process!
My Yorkshire pudding recipe has been tried and tested 100's of times and I've been making them this way for years.
Read on to understand why you cant use olive oil or self-raising flour!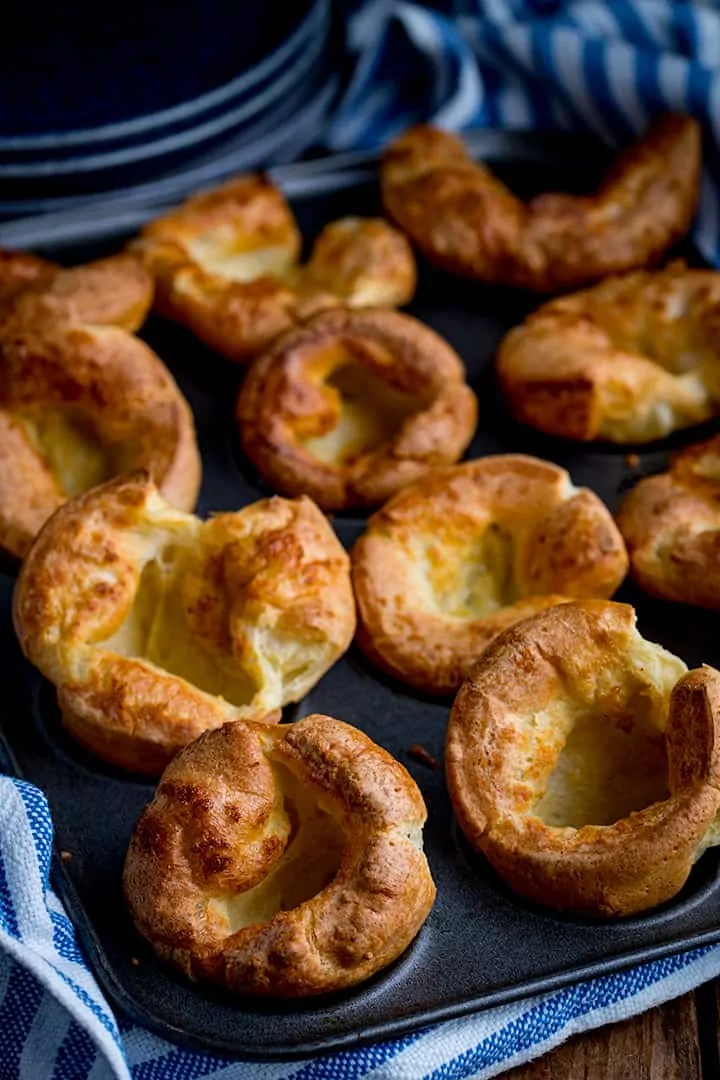 Jump to:
I've perfected Traditional Yorkshire puddings now but they eluded me for a long time. Flat ones, wonky ones, soggy-bottomed ones!
Occasionally I hit the right formula, and that was always cause for a bit of a celebration. But the next time, despite appearing to have followed the same process, they turned out flat again!
It turns out, the main problem was with my oven. I had an old oven (like 15+ years old) and the temperature wasn't always consistent, plus it used to lose heat really quickly when the door was opened. I didn't realise this at the time and continued to try different things to figure out that perfect formula.
Since having my new oven, my Yorkshires have turned out perfect every time.
No, I'm not suggesting you go out and buy a new oven as part of this recipe, BUT it's worth knowing that consistent temperature is a key ingredient for Yorkshire puddings.
You need your oven to maintain a temperature of 220C/425F. An oven thermometer is a great help in figuring this out.
Why are they called Yorkshire puddings?
You'd think it was because they were invented in Yorkshire, but the origins of Yorkshire puddings aren't fully know.
It's thought they did originate in the North of England, and we're called dripping pudding - as they were cooked underneath the meat - which was roasted on a spit - to catch the meat drippings. 'Puddings' were originally savoury dishes (like black pudding) until the late 18th century.
Using "Yorkshire" as a prefix was first used in a publication - "The Art of Cookery Made Plain and Simple" by Hannah Glasse in 1747.
Source: Historic UK
What's the difference between popovers and Yorkshire puddings?
The American equivalent to a Yorkshire pudding is called a popover. The recipe itself is very similar, but they're cooked in popover tins.
What do we need?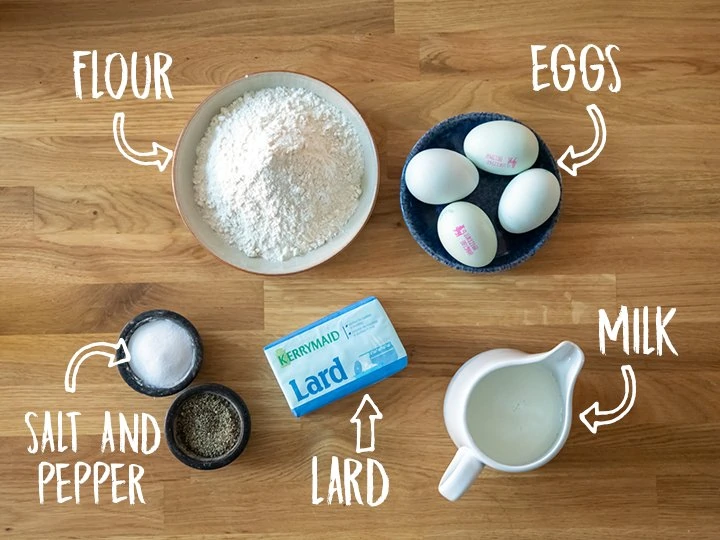 For the detailed list of ingredients with UK (metric) and US measurements see the recipe card below.
---
How to Make Them
To make the Yorkshire pudding batter, we start by adding plain (all-purpose) flour to a large jug then make a well. Add in the eggs and stir together to combine, then stir in the milk - the consistency should be that of double/heavy cream. Don't worry if it's a little bit lumpy at this stage.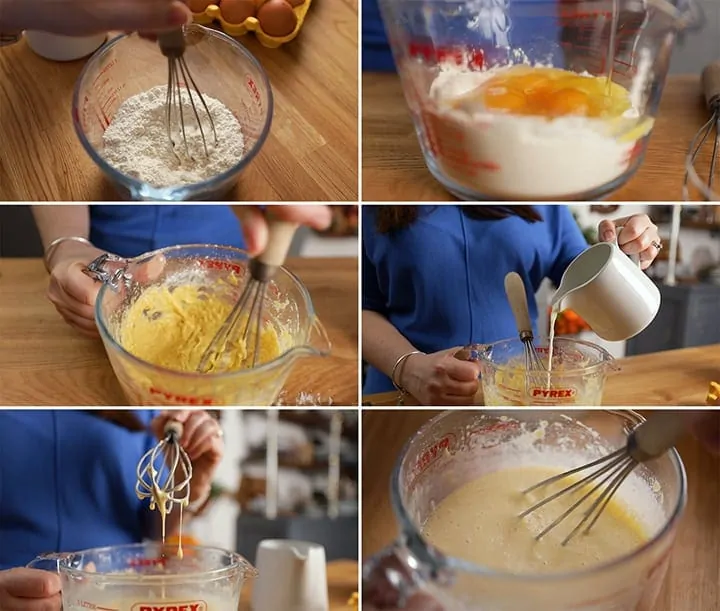 Then refrigerate for at least 30 minutes (up to overnight is fine).
That combination of cold batter hitting hot oil will result in a better rise. Also, resting the batter allows the starch molecules in the flour to swell - meaning you'll get a lighter, crisp and more even Yorkshire pud.
Next preheat the oven to a temperature of 220C/425F. and add lard or beef dripping to each hole in the tin.
Can I use olive oil?
I wouldn't recommend olive oil as it tends to give a little taste to the Yorkshires and has a lower smoke point. If you don't want to use lard or beef dripping then i would recommend vegetable oil for a vegetarian version. Vegetable oil has a much higher smoke point than olive oil which means that it is better for cooking at high temperatures.
Continuing on with the Perfect Yorkshire puddings, Place the tin in the oven for 10 minutes, you want to get the fat or oil nice and hot.
Take the mixture out of the fridge and stir in the salt and pepper.
Once the fat is really hot, you need to get the Yorkshire pudding mixture into the tin and back in the oven as quickly (and safely!) as possible.
If your oven loses heat quickly, then use a hob-safe Yorkshire pudding tin. Take the preheated tin out of the oven, close the oven door and place the tray over a high hob heat whilst filling the holes with the Yorkshire pudding mix from a jug. Then get it back into the oven as quickly as possible (please be careful though, you don't want to get burned by the hot oil).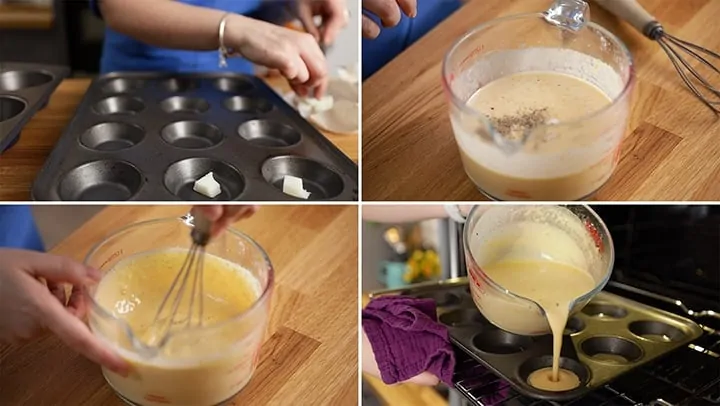 If your oven retains heat well whilst the door is open, then it's a good idea to slide the rack out with the Yorkshire pudding tin on, and use a jug to pour the mixture into the tray.
Place the tin back in the oven for 15-18 minutes, until the Yorkshires are risen and crisp.
NOTE: I've included instructions for making 6 larger Yorkshire puddings (rather than 12 small ones) at the bottom of the recipe card and in the video. The ingredients are the same, it's just an increased cooking time (25-30 minutes). It's also worth turning the Yorkshires over for the final 5 minutes to ensure a lovely crisp base.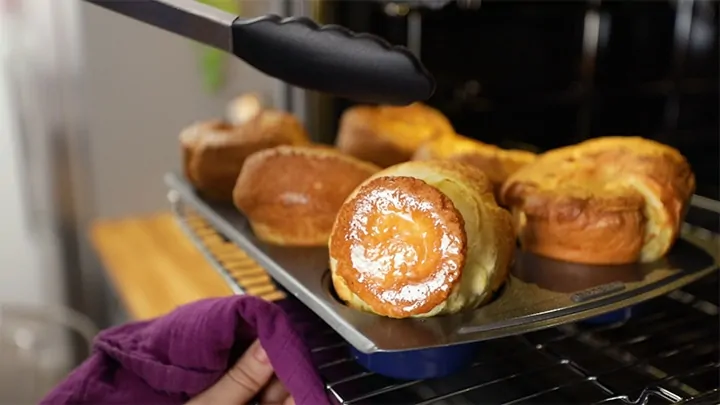 My Top Tips
So to sum up the pro tips for making the perfect Yorkshire puddings every time are:
Stir the mixture dont whisk to hard
Refrigerate for 30 minutes (up to overnight)
Check that your oven is actually getting to 220C/425F.
Get the oil really hot (smoking hot) in the tin.
If your oven retains heat well with the door open (like most modern ovens), pull the rack out and pour in the batter whilst the Yorkshire pudding tin is on the rack.
If your oven loses heat quickly, use a hob-safe Yorkshire pudding tin and pour the batter in the tin over a high heat. Make sure the oven door is shut to retain the heat whilst you're filling the Yorkshire pudding holes. Then get the tray back into the hot oven as soon as possible.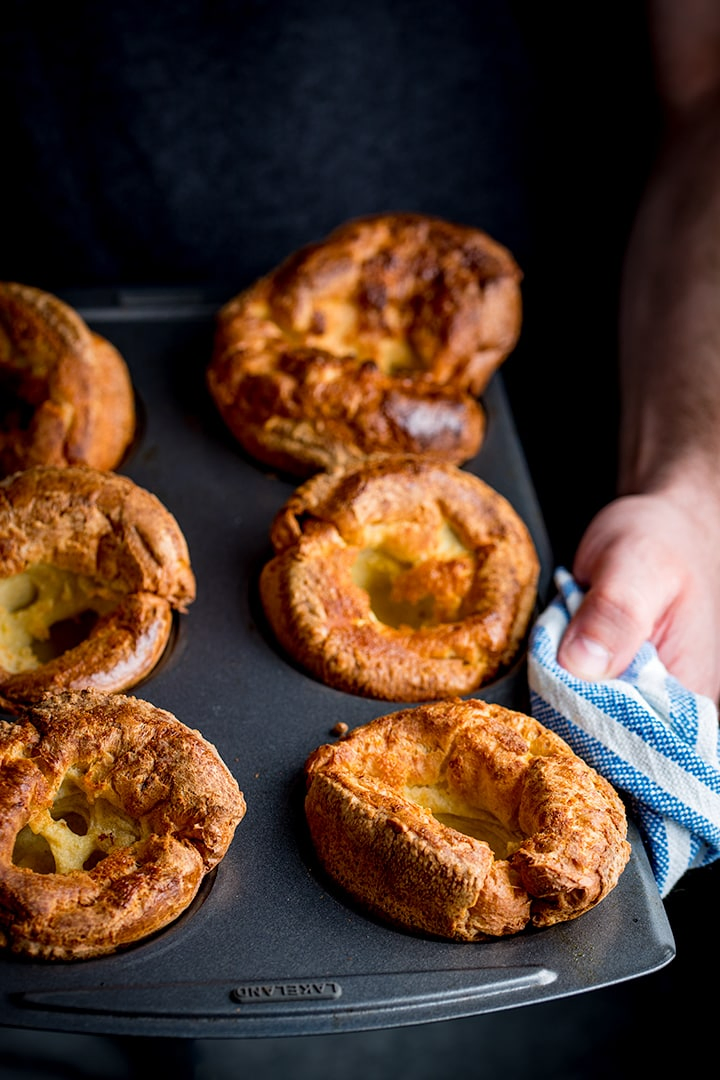 The recipe itself is easy. Plain (all-purpose) flour, milk, eggs and a pinch of salt and pepper. Cooked in very hot beef dripping or lard (I find beef dripping or lard works best as they can get to a really hot temperature without burning).
Use vegetable oil if you're cooking for vegetarians - it will still do a great job.
Bonus pro tip: If you're wondering 'Can I use self-raising flour for my Yorkshire pudding batter?' then stop! Don't try using self-raising flour or baking powder. I've tried these - hoping that the raising agents would result in bigger Yorkshires, but it doesn't. They end up flatter for some strange reason.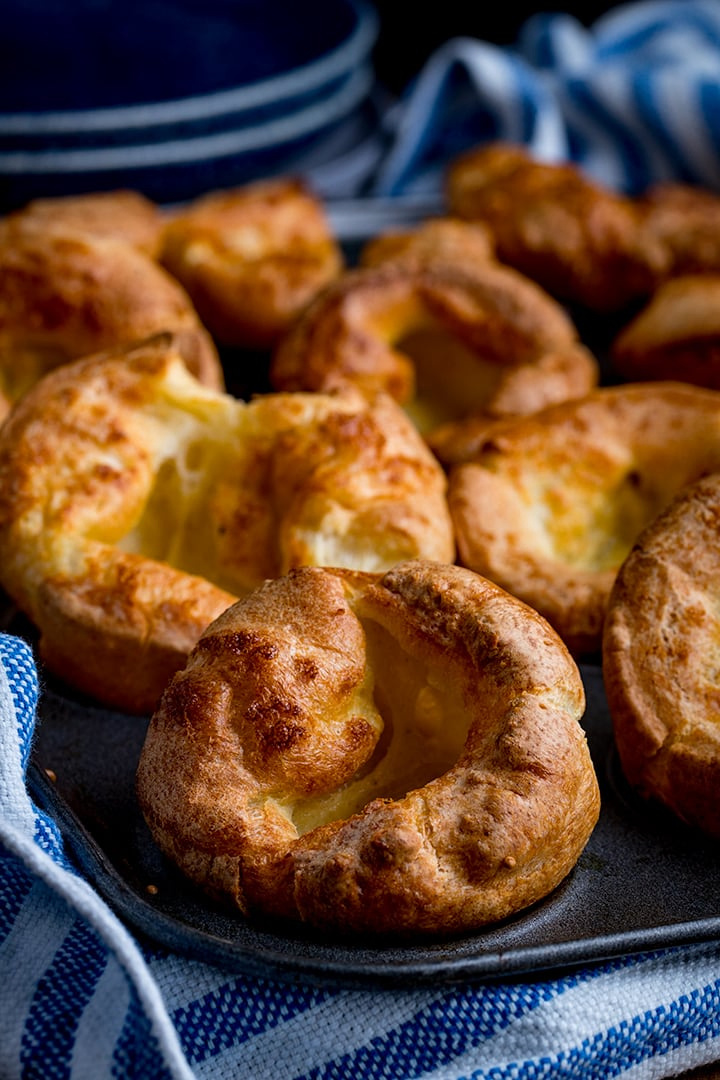 Troubleshooting
Why are my Yorkshire Puddings not rising? Here are my top tips for troubleshooting;
The fat isn't hot enough (it should be smoking hot).
The oven isn't getting hot enough (needs to maintain a 220C/425F temperature).
Your oven loses heat too quickly when you open the oven door and/or you leave the oven door open for too long whilst you're filling up the Yorkshire pudding tins with batter.
Too much batter or not enough fat in the tin.
You're not letting the batter rest and cool in the refrigerator.
Using incorrect ingredients (e.g self-raising/cake-flour instead of plain/all-purpose flour) and/or quantities.
Serving Suggestions
I have a whole Rost Dinner category dedicated to helping you make the perfect roast dinner for your family so make sure you check it out.
Step by step video of the process
Don't forget to follow us on INSTAGRAM, and subscribe to our YOUTUBE Channel to see our latest recipe videos!
---
Ok, let's get on with the recipe - I really hope this info helps you to make the perfect Yorkshire puddings every time!
Yorkshire Pudding Recipe
The secret to making perfect (foolproof) Yorkshire puddings! Should the batter be refrigerated? Can you make ahead? Your questions answered!
Ingredients
140

g

(1cup+1tbsp) plain (all purpose) flour

4

medium eggs

200

ml

(¾cup+1tbsp) Semi Skimmed milk

-

(I prefer to use semi-skimmed or half fat milk)

6

tsp

beef dripping or lard

-

(replace with vegetable oil for a vegetarian version)

¼

tsp

salt

¼

tsp

black pepper
INSTRUCTIONS
Place the flour in a jug and make a well in the centre.

Add the eggs and stir together with a balloon whisk, bringing the flour into the centre with the eggs bit-by-bit.

Add in the milk and stir again with the whisk until combined. It's fine if it's a little bit lumpy.

Place the jug in the fridge for at least 30 minutes (up to overnight) to chill. This is important to allow the flour granules to swell (also, cold batter hitting a very hot pan should result in a good rise).

Preheat the oven to 220C/425F.

Add ½ tsp of lard to each hole of a 12-hole metal bun tin(*see recipe note 1 below for larger Yorkshire puddings). Place in the oven to heat for 10 minutes.

Take the jug of Yorkshire pudding batter of the fridge, add in the salt and pepper and stir once more with the whisk.

Open the oven door, and if safe to do so(* note 2), pull out the tray and quickly (be careful, the melted lard will be very hot!), pour the batter into each of the prepared muffin holes. Close the door immediately and cook for 15-18 minutes until risen and golden.
✎ Notes
Note 1 - Larger Yorkshire puddings:
You can make 6 large Yorkshire puddings - rather than 12 small Yorkshire puddings with the Yorkshire pudding batter.
Use a large, deep Yorkshire pudding tin (<--affiliate link). Place 1 tsp of lard/dripping in each hole and heat in the oven at 220C/425F for 10 minutes. Divide the batter between the holes and cook for 25-30 minutes. Turn each Yorkshire pudding over in the pan for the last 5 minutes of cooking to ensure the base is lovely and crisp.
Note 2 - If you need to remove the tray from the oven:
If it's not safe for you to pour the batter into the trays on the pulled-out rail, then carefully remove the muffin tray from the oven and place onto a heat-proof surface.
Close the oven door to keep the high heat in, and working quickly (be careful, the melted lard will be very hot!), pour the batter into the muffin holes. Place back into the oven immediately and close the door.
Can you make them in advance and reheat?
Yes! Make the Yorkshire puddings, then cool quickly and freeze (I place mine in a sealed freezer bag). Place in the oven (from frozen) at 200C/400F for 5-7 minutes for small ones and 9-12 minutes for large ones, until crispy and fully hot throughout.
Nutritional info is per Yorkshire pudding.
Nutrition
Calories:
92
kcal
Carbohydrates:
9
g
Protein:
3
g
Fat:
4
g
Saturated Fat:
1
g
Cholesterol:
58
mg
Sodium:
31
mg
Potassium:
54
mg
Vitamin A:
105
IU
Calcium:
29
mg
Iron:
0.8
mg
This Yorkshire pudding recipe post was first published in June 2017. Updated in May 2019 with new photos, step-by-step photos, tips and recipe video. Update in Oct 2020 with new tips and for housekeeping.
Some of the links in this post may be affiliate links – which means if you buy the product I get a small commission (at no extra cost to you). If you do buy, then thank you! That's what helps us to keep Kitchen Sanctuary running. The nutritional information provided is approximate and can vary depending on several factors. For more information please see our Terms & Conditions.