Moist and Fruity Tea Bread - Packed full of tea-soaked fruit, this tea bread is beautifully rich and moist.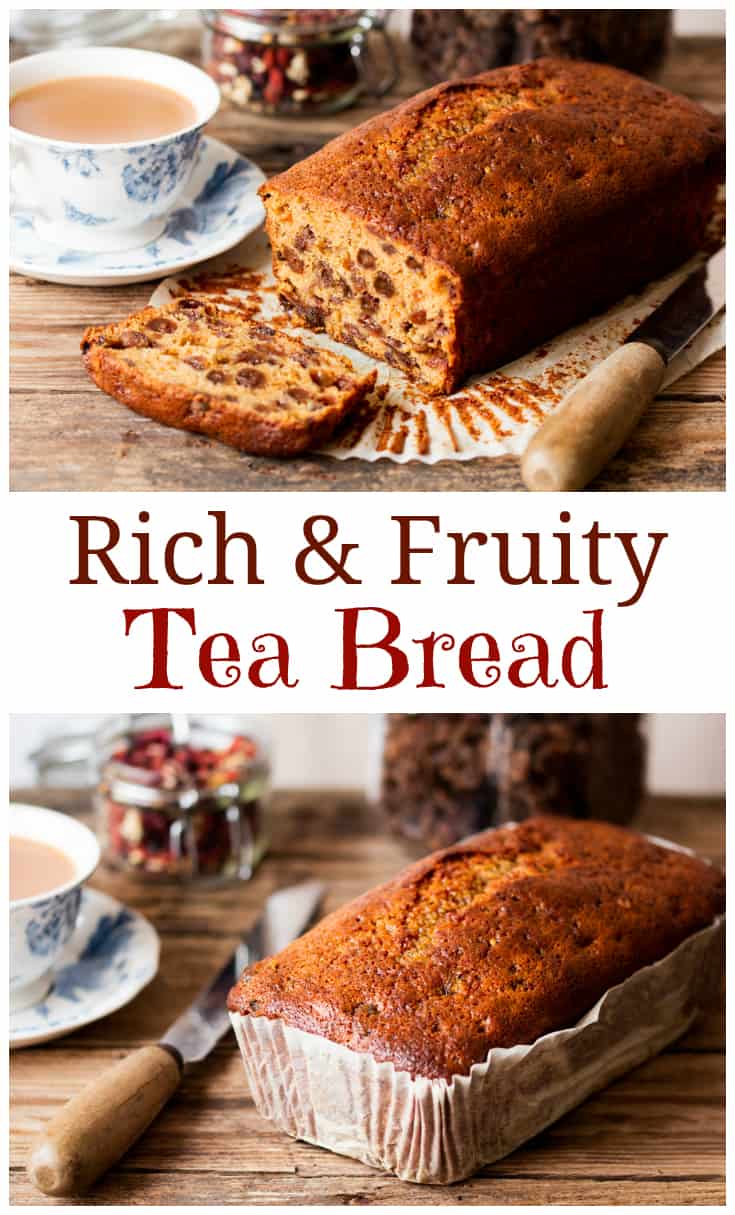 Can you believe that I when I was younger, I didn't like tea bread.
Was I insane?
All of those raisins seemed to be taking the place of some more deserving chocolate or jam.
I really didn't know what I was missing out on.
Nowadays, I can't get enough of a lovely rich slice of tea bread, served with a strong cup of builders tea.
Chris is obsessed with the stuff.  If we go to a farm shop or market and he spots tea bread, he's paid for it before I even open my mouth. So I know I'm always going to have a happy husband when I make it at home!
You can make this Moist and Fruity Tea Bread with normal tea if you like, however today I've made this version using some more of the Neal's Yard goodies my friend Jess sent me (more about that in my raspberry macaroon granola post).
I used a little coconut oil again and I also soaked the sultanas and raisins in some beautiful skin tea.  It's packed with goji berries, rosehip, hibiscus, bilberry and sweet orange - which complemented the raisins and mixed spice in the bread perfectly.
The sultanas and raisins are soaked overnight in the tea - which really plumps them up.  The whole bowlful - including the leftover soaking liquor is added to the mix.
Right, I've gotta go, my kids are dragging me out of the door to watch Cinderella at the cinema (secretly excited 🙂 Can you take cake to the cinema??)
FYI – apart from the receiving the products, I've not been compensated for this post.  Any opinions I've expressed are completely my own.
Check out Jess's other products  – including the coconut oil and tea here.
Moist and Fruity Tea Bread Recipe:
Moist and Fruity Tea Bread
Packed full tea-soaked fruit, this tea bread is beautifully rich and moist.
Ingredients
150

g

sultanas

150

g

raisins

400

ml

freshly made tea (using 4 heaped tsps of beautiful skin tea or 2 tea bags)

250

g

plain (all-purpose) flour

2

tsp

baking powder

200

g

soft light brown sugar

1

tsp

mixed spice

2

tbsp

melted coconut oil

-

can be replaced with melted butter or vegetable oil

2

large eggs
INSTRUCTIONS
Place the sultanas and raisins in a bowl and pour over the hot tea. Cover and allow to soak up the liquid overnight.

Preheat the oven to 170°C/325°F. Line a 2lb loaf tin with baking parchment.

Combine the flour, baking powder, sugar and mixed spice in a mixing bowl. Give it a stir, then mix in the coconut oil and eggs - using a wooden spoon or spatula. Add in the raisins, sultanas and any liquid left in the bowl.

Stir together until everything is thoroughly combined. It will be a very wet dough. Spoon the wet dough into the lined loaf tin, place in the oven and bake for 1 hour - to 1 hour 15 minutes. You'll know it's done when an inserted skewer comes out clean. If you find that the top of the tea bread is starting to look too dark whilst it's in the oven, you can cover it will foil.

Once cooked, remove from the oven and leave to cool in the tin for 10 minutes. Then remove from the tin and allow to cool completely on a wire rack before slicing and serving.
✎ Notes
This cake will keep for a week or more wrapped in baking parchment and placed in a sealed container at room temperature (in fact, the cake tastes even better after a day or two).
Nutrition
Calories:
246
kcal
Carbohydrates:
53
g
Protein:
4
g
Fat:
3
g
Saturated Fat:
2
g
Cholesterol:
27
mg
Sodium:
22
mg
Potassium:
347
mg
Fiber:
2
g
Sugar:
24
g
Vitamin A:
40
IU
Vitamin C:
1
mg
Calcium:
68
mg
Iron:
2
mg