Use up that leftover turkey with this spicy-as-you-like Turkey Tikka Masala!
One for your back pocket, for when the Christmas day madness is over – this Turkey Tikka Masala makes a great Boxing day dinner.
Those shreds of leftover turkey a coated in a thick tikka sauce, then griddled or grilled to give that plain turkey a charred, spicy flavour.
Cooked up in a creamy, spiced masala sauce, it's an indulgent dinner. Great for curling up on the sofa with, to watch those boxing day movies.
I'm going to make this post ultra quick today guys as I know it's a busy day.
We've still got loads of tidying and wrapping to do. Plus the kids are decorating the Christmas cake later (I'll try to instagram story it).
So I'll leave you with the recipe, plus a link to 11 other recipes you can make with turkey leftovers.
Happy Christmas everyone, I hope you and your family have a truly wonderful, peaceful and joyful holiday xxx
The Recipe: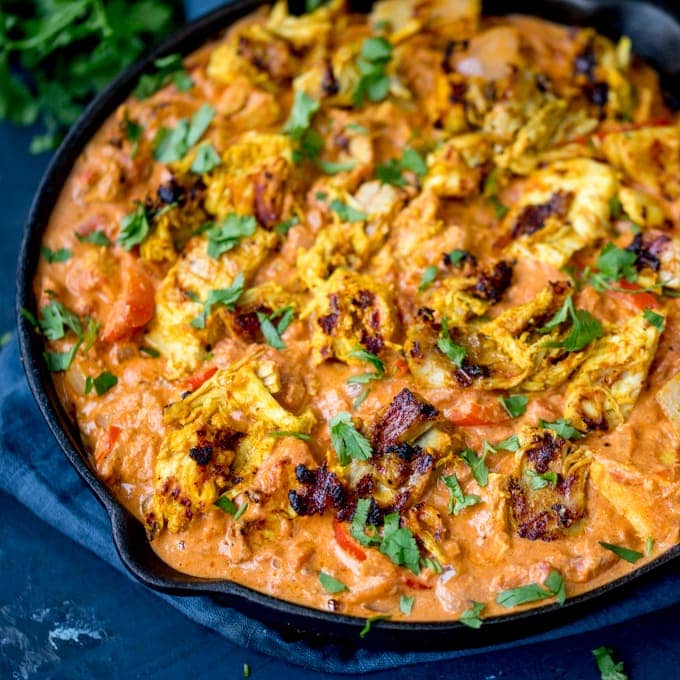 Leftover Turkey Tikka Masala
Use up that leftover turkey with this spicy-as-you-like Turkey Tikka Masala! Cream and delicious, it's on the kids and adults will enjoy. Gluten free too!
Print
Rate
Pin The Recipe For Later
Ingredients
Instructions
First make the turkey tikka sauce. Mix together all the tikka sauce ingredients, except for the turkey and the oil, until combined. Add in the turkey, and gently stir to coat. Put to one side.

Now make the sauce. Add the oil and butter to a large frying pan (skillet) and heat on a medium-high heat until the butter has melted. Add the onion, and cook for 4-5 minutes until softened.

Add the garlic, ginger, garam masala, ground coriander, paprika, cumin, cinnamon and tomato puree. Stir and cook for 2-3 minutes to allow the spices to release their fragrance.

Add in the chopped red bell pepper, tinned tomatoes and water. Stir and bring to the boil, then simmer for 15-20 minutes until thickened.

Meanwhile, preheat a griddle plate (or the grill/broiler) until hot. Brush the griddle with a little of the oil, then place the turkey pieces on the griddle. Brush with the turkey with the remaining oil. Cook on the griddle (or under the grill), turning once until browned and lightly charred. Turn off the heat and place the turkey in a bowl.

When the sauce is nearly ready, stir in the cream, ground almonds and sugar, followed by the charred turkey. Cook for a further 5 minutes to heat through.

Sprinkle the turkey tikka massala with chopped coriander and serve with boiled rice.
Recipe Notes
Nutritional Information is per serving and calculated using 400g leftover Turkey meat.
Nutritional Information
Nutrition Facts
Leftover Turkey Tikka Masala
Amount Per Serving
Calories 578
Calories from Fat 360
% Daily Value*
Fat 40g62%
Cholesterol 179mg60%
Sodium 607mg25%
Potassium 711mg20%
Carbohydrates 19g6%
Protein 36g72%
Vitamin A 2845IU57%
Vitamin C 54.2mg66%
Calcium 146mg15%
Iron 3.8mg21%
* Percent Daily Values are based on a 2000 calorie diet.