This rich and meaty corned beef hash soup is filling enough for dinner. Ready in 30 mins too!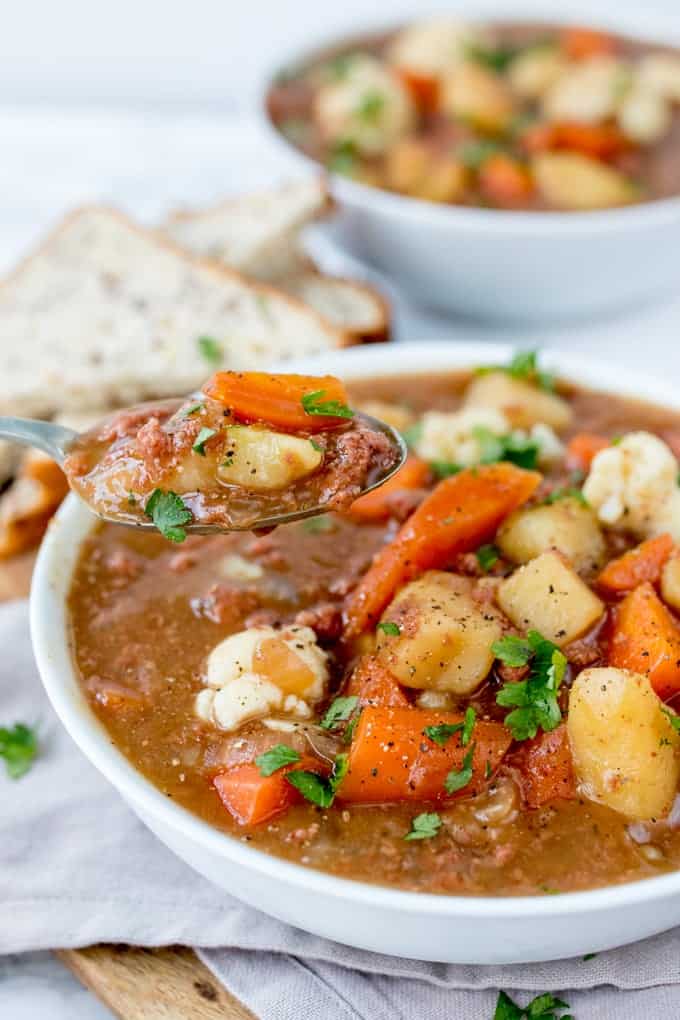 Why have I not shared this Corned Beef Hash Soup recipe with you before!!
My dad has been making this for as long as I can remember, and I always look forward to cooking up a huge pan of once the weather starts getting cold.
I know tinned corned beef isn't everyone's cup of tea, and I'm not a fan of tinned meat generally, but this corned beef hash soup is a MUST.
Back when I was growing up in the 80's, corned beef was a staple! I used to love having corned beef and salad cream sandwiches for lunch (and I wouldn't turn one down now actually!).
Tinned, packet and frozen foods were way more fashionable back then. Let me see..... some of my favourites.....
Findus minced beef crispy pancakes
Boil-in-the-bag beef and gravy
Boil-in-the-bag 'fish' in butter sauce (served over a pile of mashed potatoes)
Smash (powdered mashed potatoes) - I used to like smash, but only when made with loads of butter!!
Chicken and Ham spread (on thick white bread!)
Coco pops (my kids love these, but I can't buy them because I'll eat them all)
Canadian steaks (those really thin, reformed meat slices, where the slices were seperated by paper, and you fried them from frozen. I haven't eaten them for years! - I had a huge craving for them when I was pregnant with Gracey!)
Hollands Cheese and Onion pie - with that gooey cheesy centre!
Ha ha it sounds like I lived off junk food, but actually both my folks made (and still make) lots of lovely homemade dinners too. My mum's specialties being her roast dinners, chicken stroganoff and THE BEST fried rice.
My dad's specialties mainly consist of spicy foods such as homemade samosas, mee goreng and curries, plus goulash and this corned beef hash.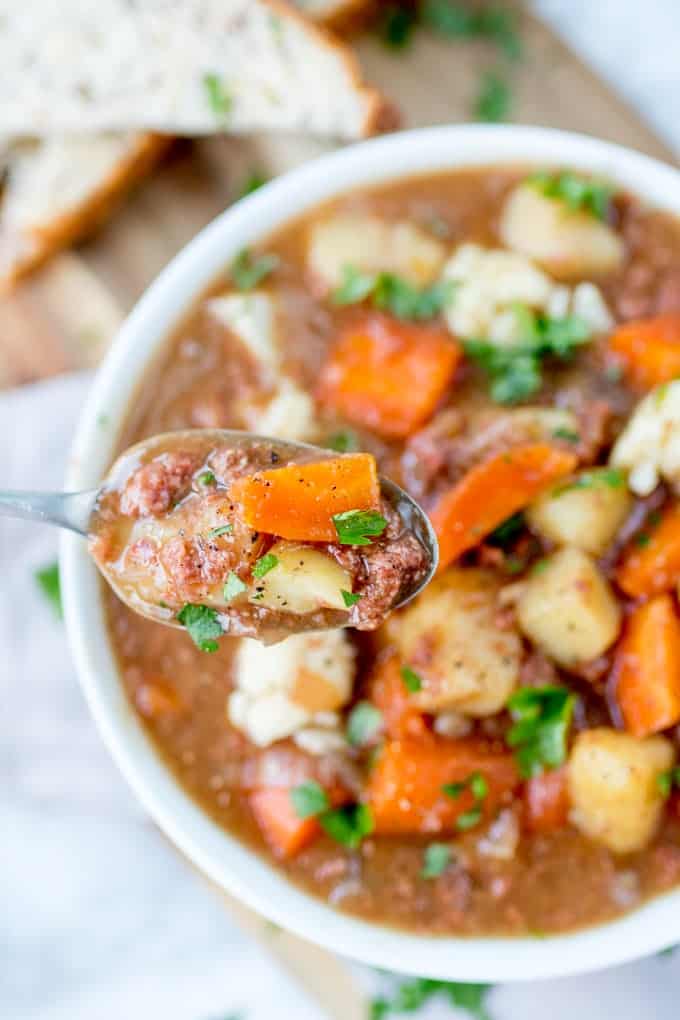 We always looked forward to my dad's corned beef hash, and now my kids love it too.
The drizzle of vinegar in the soup is a must. It's doesn't make it acidic, it just adds an extra dimension of flavour. I always serve this corned beef hash soup with pickled red cabbage or beetroot, so I use a slug of vinegar from the jar - exactly as my dad has always done. Cider vinegar works well too though.
My dad would probably also suggest adding a good sprinkling of white pepper. I like it too as it adds a bit of heat, but it can make it a little too peppery for the kids.
Serve on this Corned Beef Hash Soup it's own, or with a big wedge of bread. It's a tummy filler, so if you do have bread, you'll probably need a nap afterwards 🙂
 The Recipe: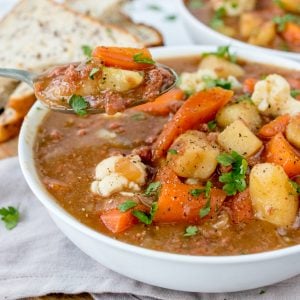 Corned Beef Hash Soup
This rich and meaty corned beef hash soup is filling enough for dinner. Ready in 30 mins too!
Ingredients
1

tbsp

olive oil

1

medium onion

-

peeled and diced

340

g

tin of corned beef

-

roughly chopped

3

beef stock cubes

-

Use gluten free cubes if required - I use Essential Cuisine beef stock powder for gluten free

1 ⅓

litres

cold water

4

medium carrots

-

peeled and chopped into bite-size chunks

2

medium potatoes

-

peeled and chopped into bite-size chunks

1

small head cauliflower

-

chopped into small florets

1

tsp

cider vinegar

-

or use the vinegar from a jar of beetroot or pickled cabbage as I often do

¼

tsp

salt

¼

tsp

black pepper

2

tsp

cornflour/cornstarch

4

tsp

cold water

Freshly chopped parsley - to serve
INSTRUCTIONS
Heat the oil in a large saucepan. Add the onion and cook on a medium heat for 3-4 minutes, stirring occasionally until the onions softens.

Add the chopped corned beef and stir into the onions (no need to cook it through). Sprinkle on the three beef stock cubes, then add in the water. Stir and bring to the boil.

Add in the carrots and potatoes and simmer for 10 minutes. Stir a few times to break up the corned beef.

Stir in the cauliflower, cider vinegar, salt and pepper, then simmer for a further 10 minutes, stirring a couple of times during cooking.

Mix the cornflour with the cold water in a small bowl to make a slurry. Stir a little of the slurry at a time into the soup, until the soup thickens to your liking.

Taste the soup and season further if required, then divide between four bowls. Top with parsley before serving for a dash of colour.

Tastes amazing with some pickled red cabbage or beetroot slices!!
✎ Notes
Nutritional Information is per serving.
Nutrition
Calories:
250
kcal
Carbohydrates:
19
g
Protein:
13
g
Fat:
13
g
Saturated Fat:
3
g
Cholesterol:
36
mg
Sodium:
1569
mg
Potassium:
815
mg
Fiber:
4
g
Sugar:
4
g
Vitamin A:
8155
IU
Vitamin C:
42.9
mg
Calcium:
56
mg
Iron:
4.2
mg