Easy Creamy Potato Salad - My dad's  recipe that I've been eating (and making) for over 30 years! Perfect to go with any party table alongside all other the other delicious appetizers!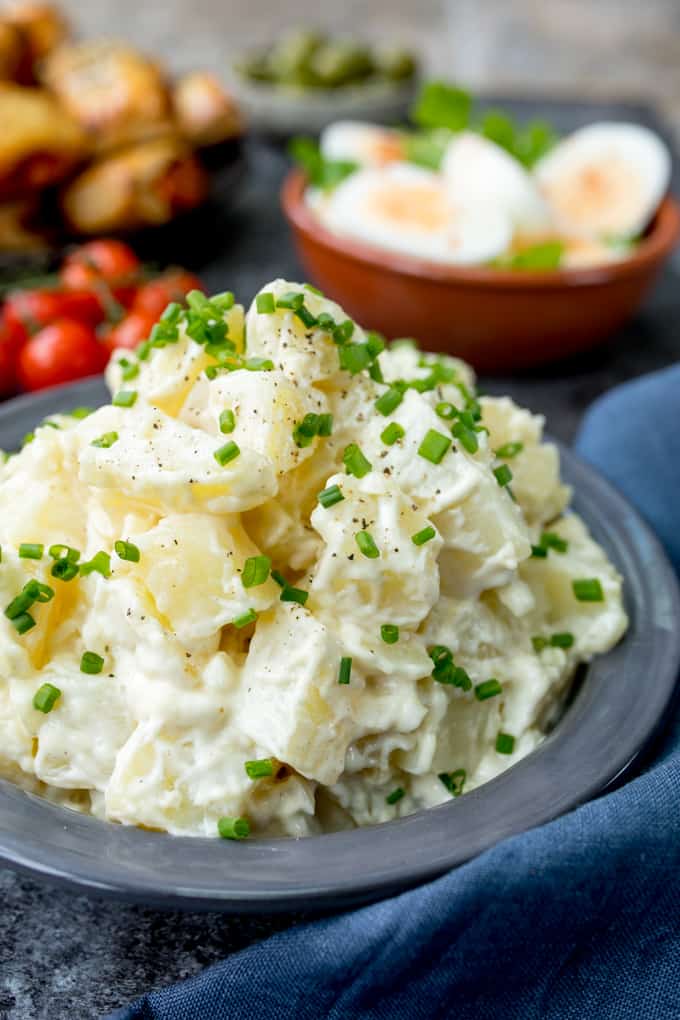 It's one of those recipes that I've never been sure whether to write about. It's so simple, and it's not even made with posh ingredients like crème fraiche, lemon zest and Greek yogurt.
Nope, this is the potato salad from my childhood. My dad's version that I go back to all the time.
It's one of those recipes that you test for seasoning, and then can't help but scoff 3 more spoonfuls before you're ready to share it with everyone else.
Perfect served as part of a buffet, picnic, or with barbeque food.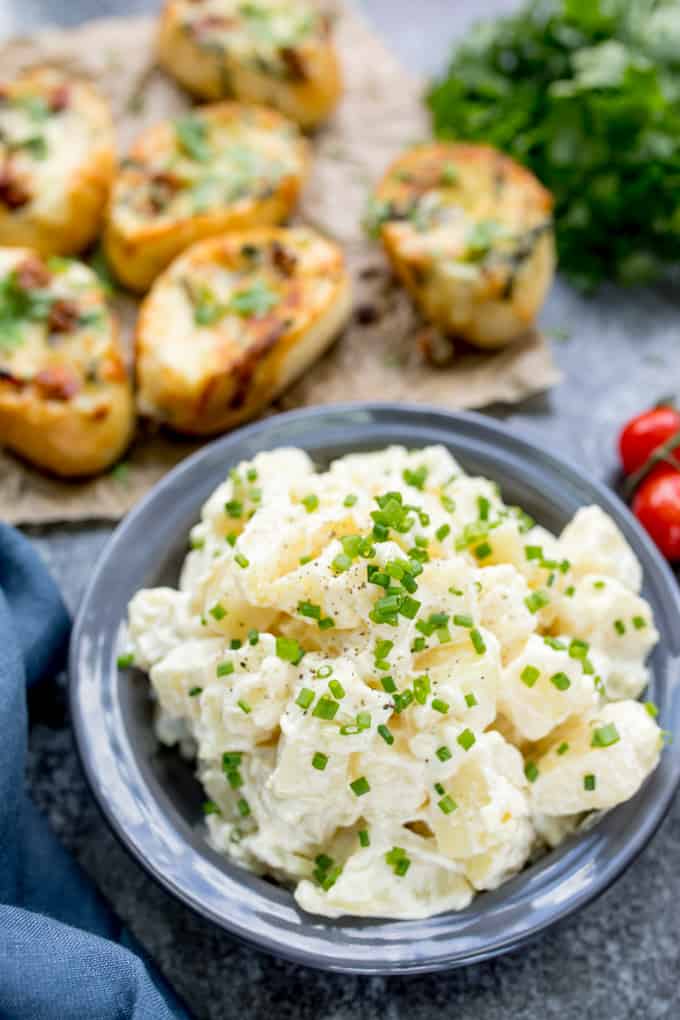 My personal favourite way to eat this is on a crusty roll with slices of roast beef. Believe me, you haven't lived until you've had a potato salad and roast beef sandwich.
I could totally go for one right now, but unfortunately, I'm trying to be good for a few days after pigging out on our 12 day adventure in Florida!
Yep, we've been away. I scheduled a couple of posts in advance, and then my plan was to write a couple of posts whilst we were over there. Unfortunately my laptop broke the day before we left - maybe the world was trying to tell me something!
The screen is unreadable, but it still works when I plug it into a monitor.
Since there was no way I was going to lug a big monitor to America with me, I decided to relax a little and not worry about posting until we came back. We got back Wednesday morning (I had a post scheduled for then), and omg, it's been so hard getting back into things! It probably took me a week to properly relax, and I'm worried it's going to take me another week until my brain starts working at full capacity again.
So what did we do? Well yes, I will bore you with a few photos, but I'll be quick about it I promise 🙂
We spent a fair chunk of our time in Disney of course. The kids both got to ride their first upside-down rollercoasters. Lewis was just big enough to get on the scary rides, so we totally made the most of it.
Here's Lewis looking fairly excited about breakfast just before one of our Disney days:
We also spent the day at Universal Studios:
Gracey loved Diagon Alley and the dragon on top of Gringotts that actually breathed fire!
After a boiling hot morning there, the heavens opened and we got soaked in the biggest thunderstorm.
The raincoats were back in the car of course, so we braved it and ran through the rain like kids. I literally had to pour the water out of my converse, then we all hid behind the car (fortunately we were in an enclosed multi-storey) to get changed.
Kennedy space center was fun, Seaworld was amazing, but the absolute highlight of the holiday was Discovery Cove. We swam with dolphins, chilled on the beach and the lazy river, swam with rays and fish, and fed the birds whilst they perched on our shoulders. Best family day ever!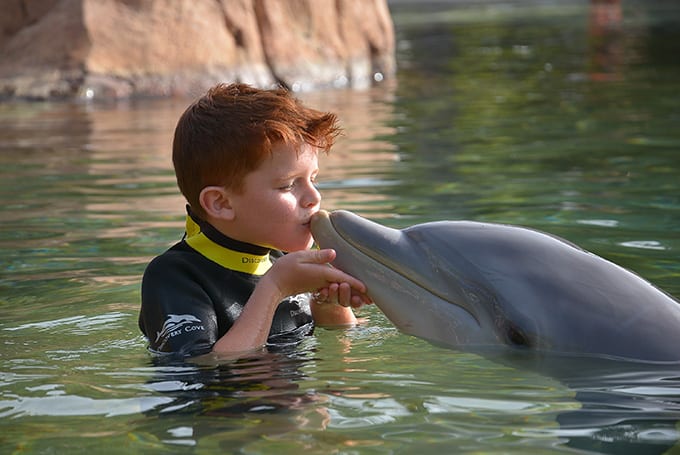 We were also lucky enough to have a little house with it's own pool, so the kids were swimming every spare second!
We ate A LOT of junk food. There was a Krispy Kreme shop just down the road from the house where we ate the most delicious still-warm doughnuts ever. I'm very ashamed to say we got a box of 12 originals, plus two extra (apple cinnamon) and the four of us ate the lot in less than 24 hours. Then we went back again a couple of days later......
Here's Lewis having a nap on Gracey after a particularly large meal:
Anyway, I'll stop now and leave you with this yummy Easy Creamy Potato Salad!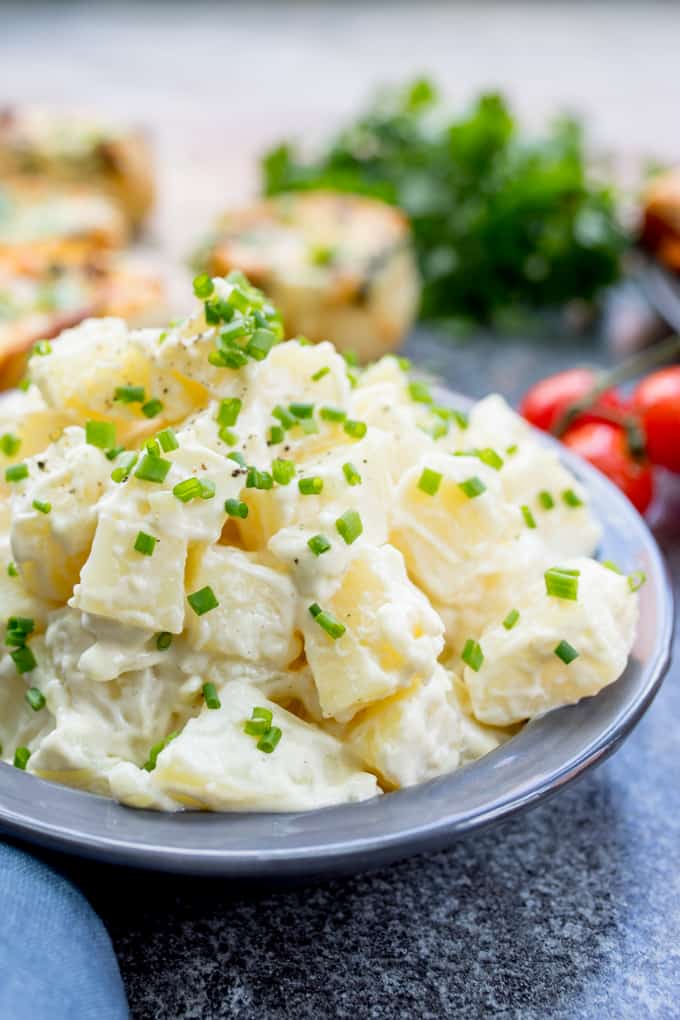 Easy Creamy Potato Salad Recipe: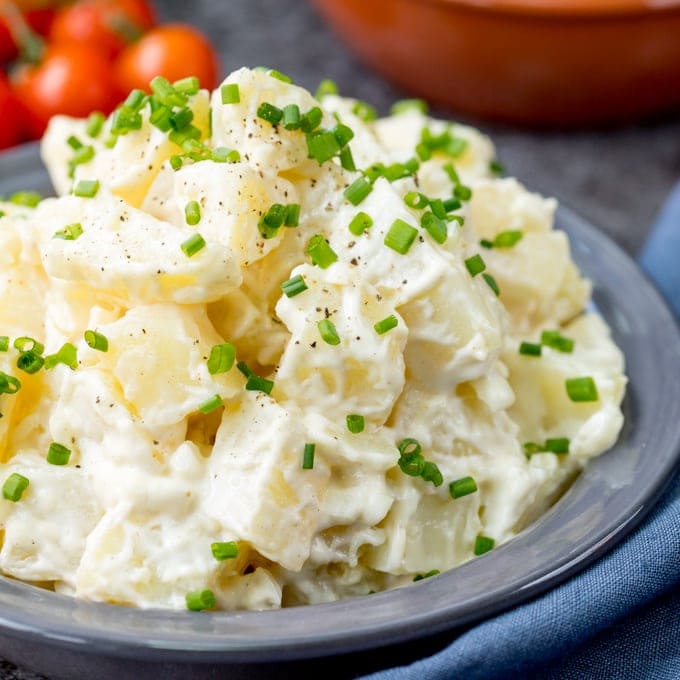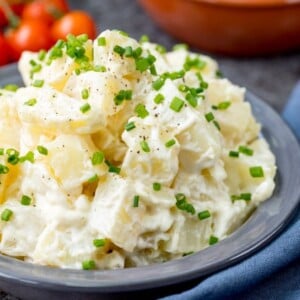 Easy Creamy Potato Salad
Easy Creamy Potato Salad - My dad's recipe that I've been eating (and making) for over 30 years!
Ingredients
5

medium-sized potatoes

-

I like red-skinned potatoes, peeled and chopped into bite-size chunks

½

small brown onion

-

peeled and chopped very finely

6

tbsp

full-fat mayonnaise

3

tbsp

full-fat salad cream**

¼

tsp

white pepper

-

this is a must – it can't be replaced with black pepper

Pinch

of salt

1

tbsp

chopped fresh chives

-

optional

Pinch

of black pepper

-

optional
INSTRUCTIONS
Place the potatoes in a pan and cover with cold water. Bring to the boil and simmer for 7-9 minutes until tender.

Drain the potatoes and leave to cool.

Place the cooled potatoes in a bowl with the onion, mayonnaise, salad cream, half of the white pepper and the salt. Stir everything together to combine. Taste and add a little more seasoning if needed.

Cover and refrigerate for at least 30 minutes (up to a day) before serving. Just before serving sprinkle with chopped chives and a little black pepper if you like.
✎ Notes
** Salad cream is creamy and tangy salad condiment, primarily sold in the UK. You may be able to find it on the international aisle of larger grocery stores in the US.
Here's an affiliate link if you wanted to buy it online.
.
Nutritional Information is per serving.
Nutrition
Calories:
163
kcal
Carbohydrates:
17
g
Protein:
3
g
Fat:
9
g
Saturated Fat:
1
g
Cholesterol:
5
mg
Sodium:
118
mg
Potassium:
559
mg
Fiber:
3
g
Vitamin A:
25
IU
Vitamin C:
15.9
mg
Calcium:
42
mg
Iron:
4.3
mg
If you've tried my simple potato salad recipe then please rate the recipe and let me know how you got on in the comments below, I love hearing your thoughts and add-ons to my recipes!
You can also follow me on INSTAGRAM, FACEBOOK, PINTEREST, and TWITTERto see what I'm up to in the kitchen, what recipes i'm loving, and of course YOUTUBE to see our latest recipe videos!
Some of the links in this post may be affiliate links – which means if you buy the product I get a small commission (at no extra cost to you). If you do buy, then thank you! That's what helps us to keep Kitchen Sanctuary running. The nutritional information provided is approximate and can vary depending on several factors. For more information please see our Terms & Conditions.