This chicken ala king recipe has been handed down to me from my mum.  She has been making chicken ala king for as long as I can remember. I've always loved the way the sauce sinks into the rice, making every bite taste creamy, savoury and delicious.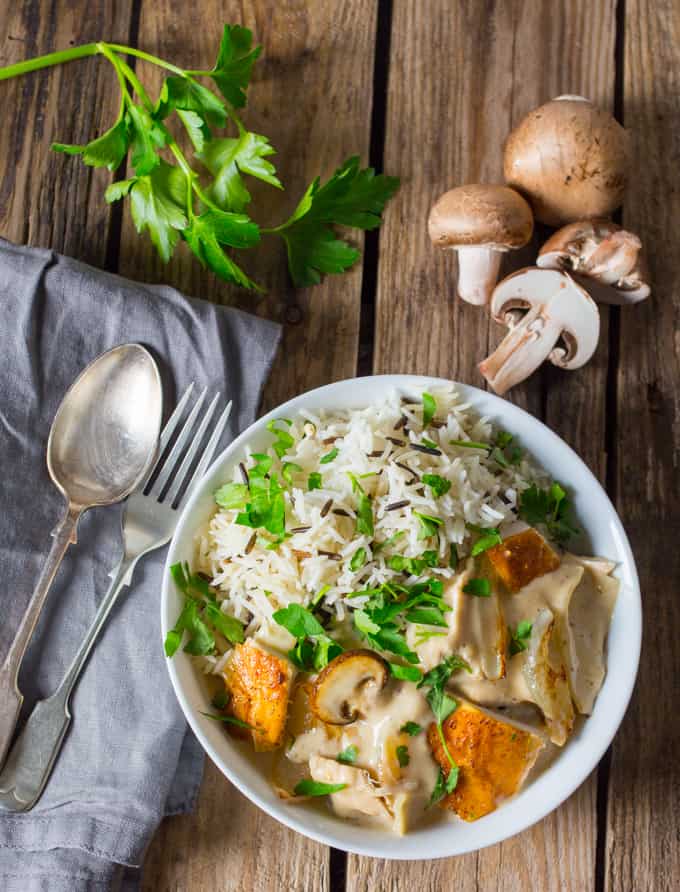 I was amazed when I first learned that the recipe called for milk and sherry.
I mean eugh!
Sherry?
Up until the last couple of years, I think the only times I'd ever had sherry have been:
Mixed with a blue WKD alcopop as a teenager (I think it was called a Cheeky Vimto – quite nice actually, but anything that's alcoholic, full of sugar and blue in colour is going to be nice when you're first experimenting with after college pub crawls!). Actually, that could be Port.  Falls into the same category though...
In my Nanna's trifle. Mmmm sherry trifle - sooo 80's.
I've recently found it's good in Chinese food too – particularly sticky chicken stir fry.
Mixing it in milk does sound a little bizarre I know, but without it, the whole dish just tastes bland. The sherry seems to cause some kind of reaction that just lifts the whole flavour. You don't even need much (in fact too much is horrible), but you do need it.
I've found that adding lemon juice to a creamy/milky sauce also produces a big flavour change. My chicken pot pie soup for example turns from an ok soup to a delicious soup with that addition of the lemon juice.
Most people use leftover cooked chicken to make chicken ala king – which works really well. Personally I prefer to have some freshly roasted chicken chunks in there (skin as well). It looks even more delicious with some golden bits of salty, crispy chicken skin added at the last minute.
I usually roast a large chicken, and use the breast meat to make the chicken ala king. Then the rest of the chicken can go into sandwiches or maybe chicken noodle salad, and the last shreds of chicken and carcass can be used to make my creamy chicken, mushroom and green chilli soup.
Delicious and economical 🙂
The Chicken ala King Recipe:
Chicken a la King
Chicken ala King - leftover chicken cooked with mushroom and onion in a creamy sauce.
Ingredients
3

tbsp

olive oil

6

regular mushrooms

-

sliced

1

large onion

-

peeled and cut into thin wedges

2

tbsp

plain/all purpose flour

280

ml

hot chicken stock -

hot water and a couple of stock cubes is fine

200

ml

half fat milk

½

tsp

dried thyme

-

or a tsp of fresh thyme leaves

2

tbsp

dry sherry

pinch

of salt and black pepper

2

large cooked chicken breasts

-

torn into bite sized chunks (skin on or off depending on your preference)

Small handful of chopped fresh parsley

Cooked rice to serve
INSTRUCTIONS
Heat half the oil in a large frying pan/skillet and add the chopped mushrooms. Fry on a high heat for about 3-4 minutes until the mushrooms are golden brown. Scoop out of the pan, and put in a bowl.

Heat the rest of the oil in the pan and add the onion wedges. Fry for 5-6 minutes on a medium-high heat until the edges of the onions wedges start to brown slightly. Move the onions around the pan to ensure they don't burn.

Stir in the flour and cook whilst stirring for one minute. Add in a splash of the hot stock and mix into the onion/flour with a whisk. It should form a thick paste. Add the rest of the stock a large splash at a time, keep whisking to ensure your sauce doesn't go lumpy. Once all the stock is incorporated, add in the milk and thyme. Keep stirring and the sauce wil thicken as it heats up. Once thickened, add the sherry and a pinch of salt and pepper. Give it a taste and add a little more sherry/salt/pepper if needed.

Add the cooked chicken and mushrooms and stir (you may want to reserve a few pieces of skin-on chicken to add at the end – presuming your chicken is hot and straight from the oven). Cook for a couple of minutes to ensure the chicken is hot throughout.

Distribute between four bowls on top of some fluffy white rice. Sprinkle with parsley and serve.
✎ Notes
Nutritional Information is per serving, not including serving suggestion of rice.
Nutrition
Calories:
281
kcal
Carbohydrates:
9
g
Protein:
26
g
Fat:
14
g
Saturated Fat:
2
g
Cholesterol:
67
mg
Sodium:
321
mg
Potassium:
397
mg
Sugar:
4
g
Vitamin A:
65
IU
Vitamin C:
2.6
mg
Calcium:
78
mg
Iron:
1.4
mg