If you love Wagamama Firecracker Chicken you're going to love this recipe! This is my copycat version of that tasty stir fry - tender chicken, crunchy veggies and  few HOT chillies in a lip-smackingly good sweet and spicy sauce. I love to serve this the Wagamama way with a mound of rice in the middle, topped of with a good sprinkling of shichimi.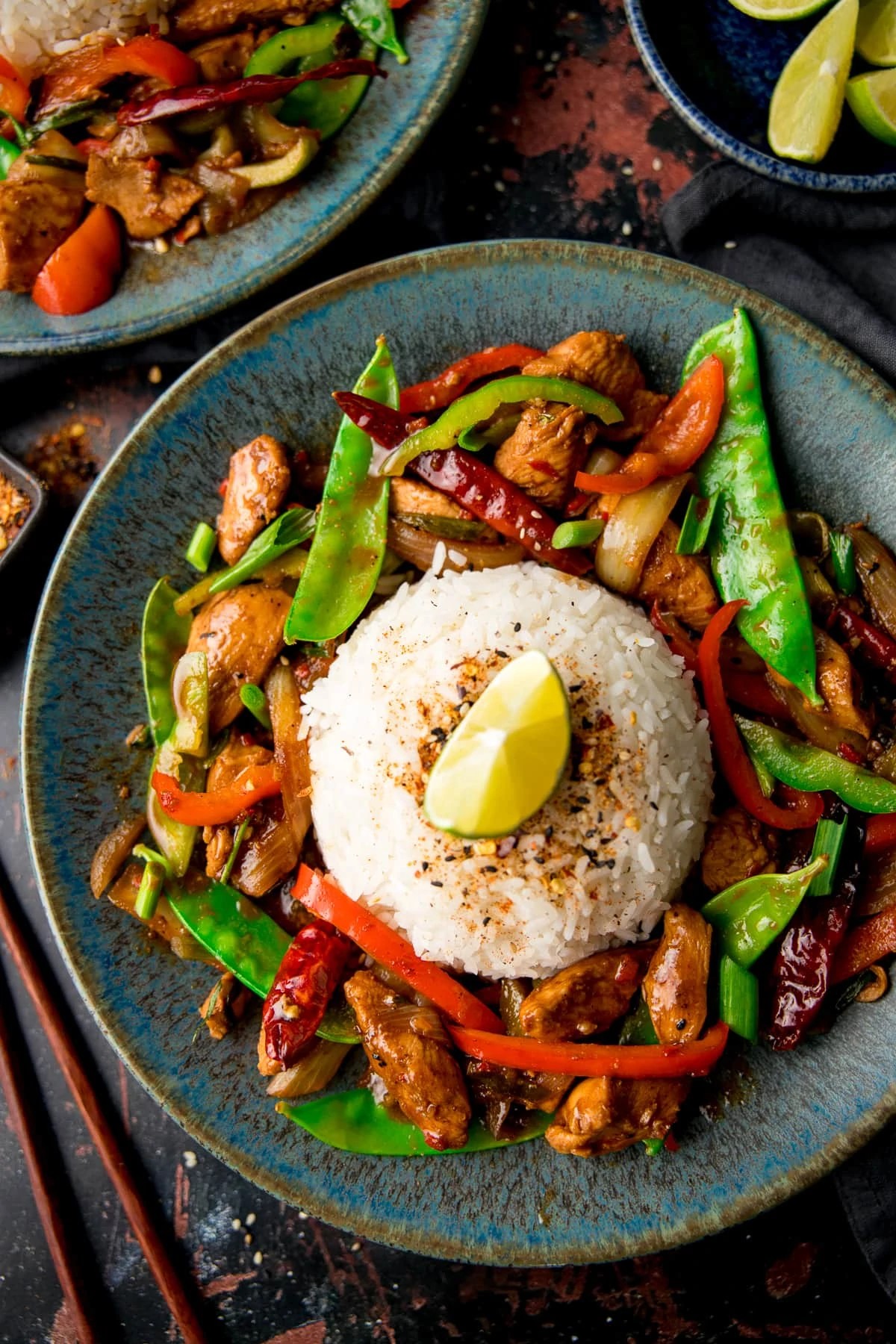 Wagamama's Firecracker Chicken, Have you tried it? Chances are, if you're outside of the UK or the Boston area then you probably be haven't.  Which is a sad, sad thing, because this meal is soooo good.
I'd love to tell you that I managed to steal the secret formula for this recipe SpongeBob style.  But I didn't.
This is my closest estimation of the recipe based on:
Tasting the original (many times of course!!)
Paying close attention to the menu description of the meal
Scouring through my Wagamama cookbook in order to work out what key ingredients they use in their other sweet/spicy dishes (I bought the book especially to get the Firecracker chicken recipe, so was pretty gutted they left it out)
How to make firecracker sauce
The sauce is pretty complex, with spicy, sweet, salty and tangy elements so I'm using:
Spicy: fresh chilli, chilli sauce, white pepper
Sweet: brown sugar and ketchup
Salty: light and dark soy sauce and fish sauce
Tangy: malt vinegar and tamarind paste
We also have garlic for a tasty and fragrant kick and chicken (I use chicken breast) - as we're going to marinade the chicken in some of that delicious sauce.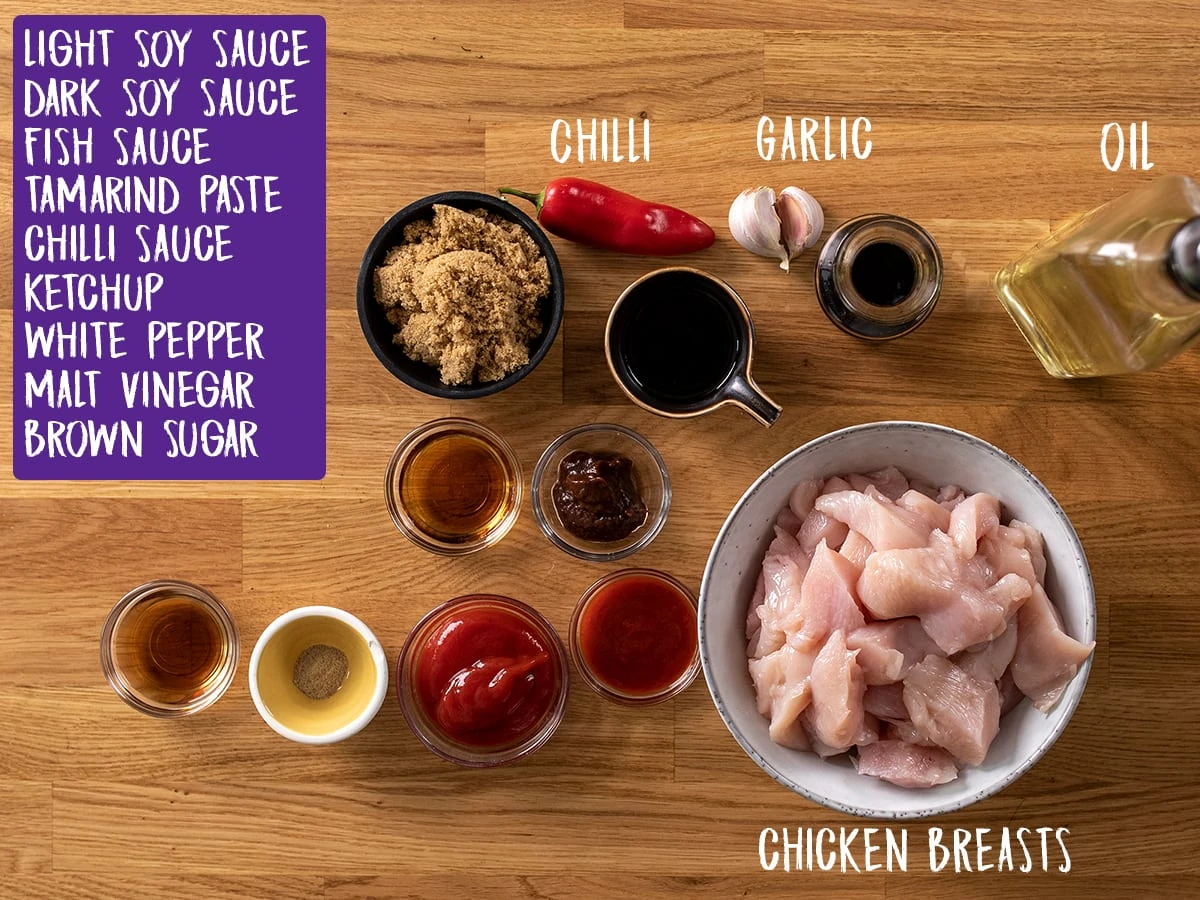 How to marinade the chicken:
Mix together oil, chopped chilli, chilli sauce, garlic, brown sugar, light & dark soy sauce, ketchup, malt vinegar, tamarind, fish sauce and white pepper.
Add ⅓ of the sauce to a bowl with the chicken and leave to marinade, covered in the fridge. Reserve the remaining sauce.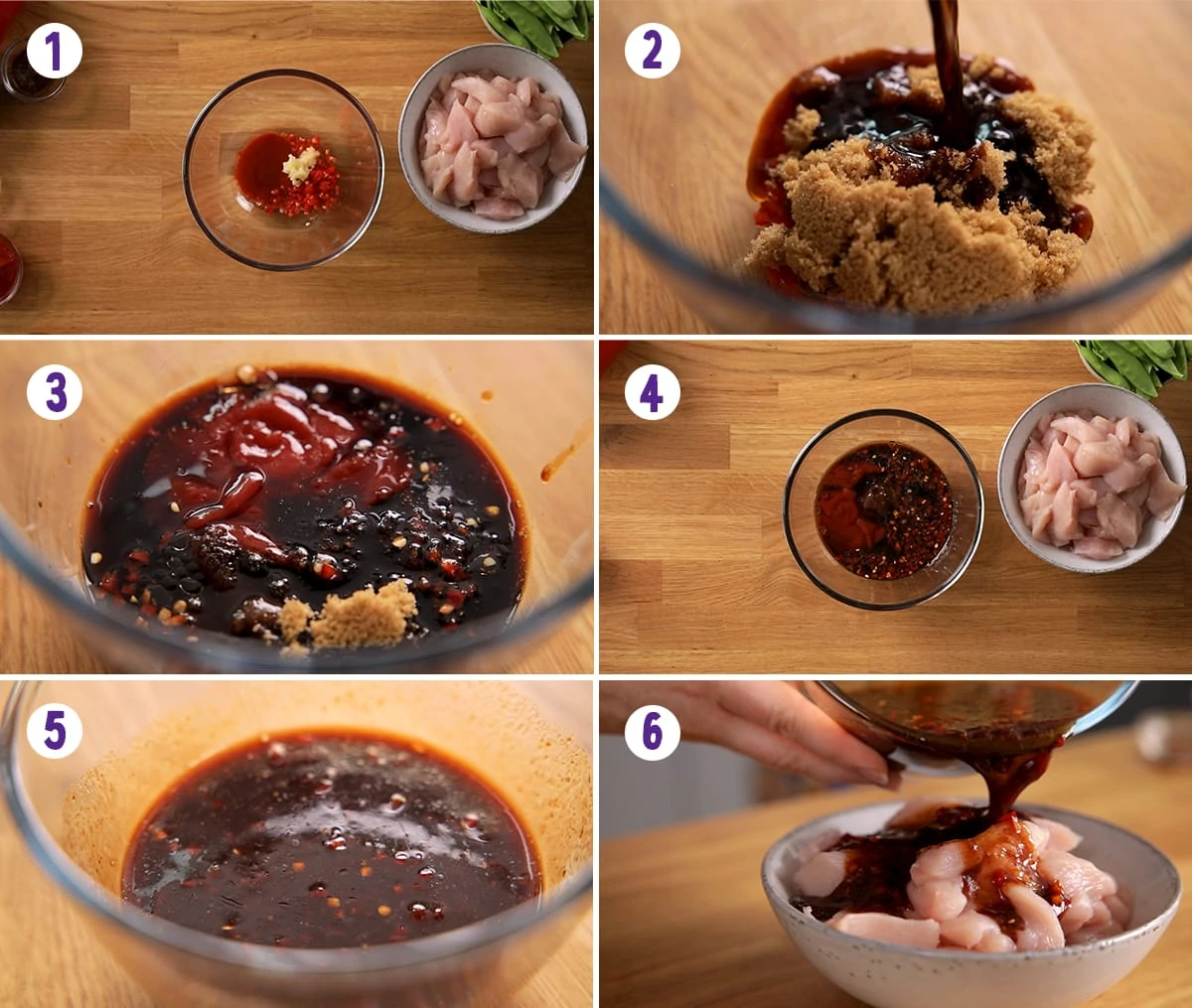 For the stir fry we need:
Vegetable oil, crunchy peppers, mangetout (snow peas), onion, dried chillies and spring onions (scallions)
We're going to serve with rice and garnish with shichimi, sesame seeds and lime.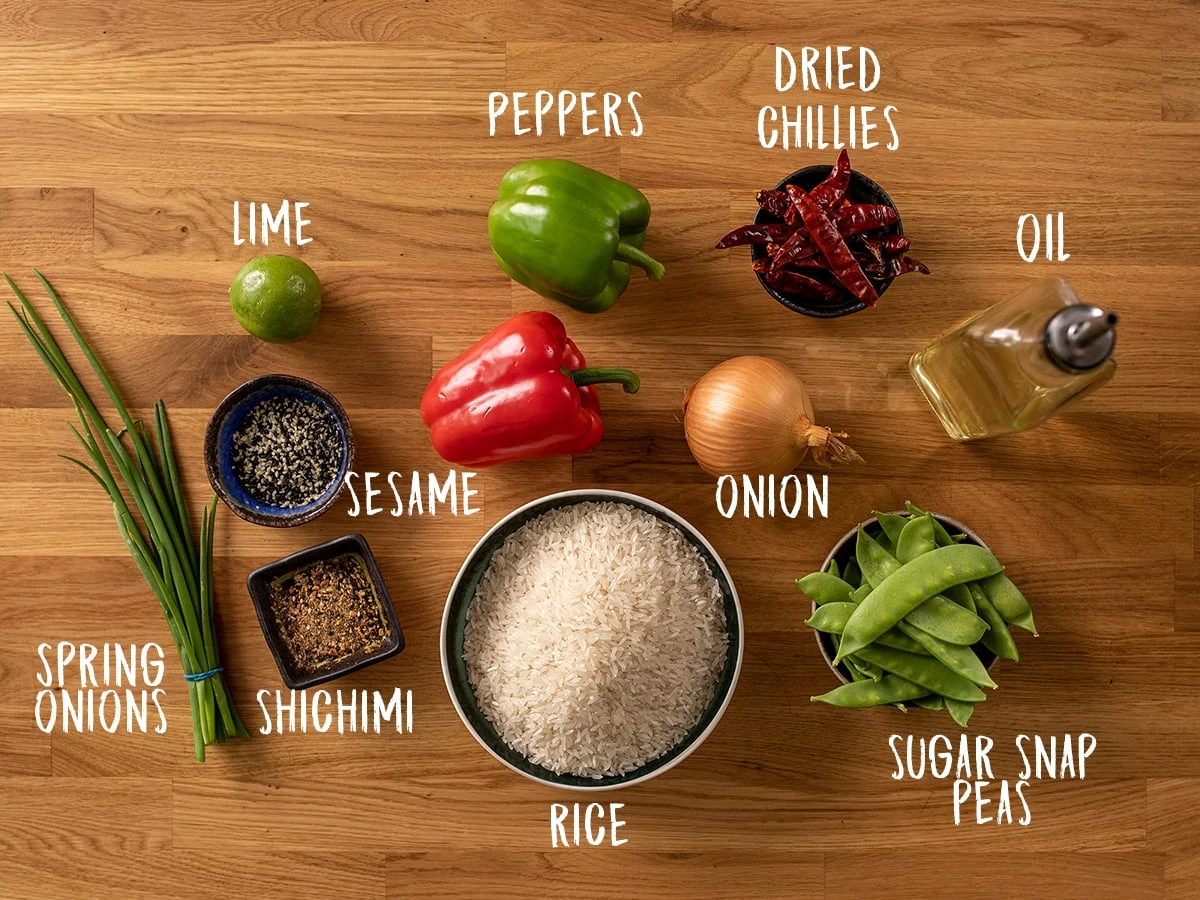 To make the stir fry
Fry the marinated chicken with onion, peppers, mangetout (snow peas) and dried chillies, then add in the reserved sauce.
Stir through the spring onions (scallions) and cook for a further couple of minutes.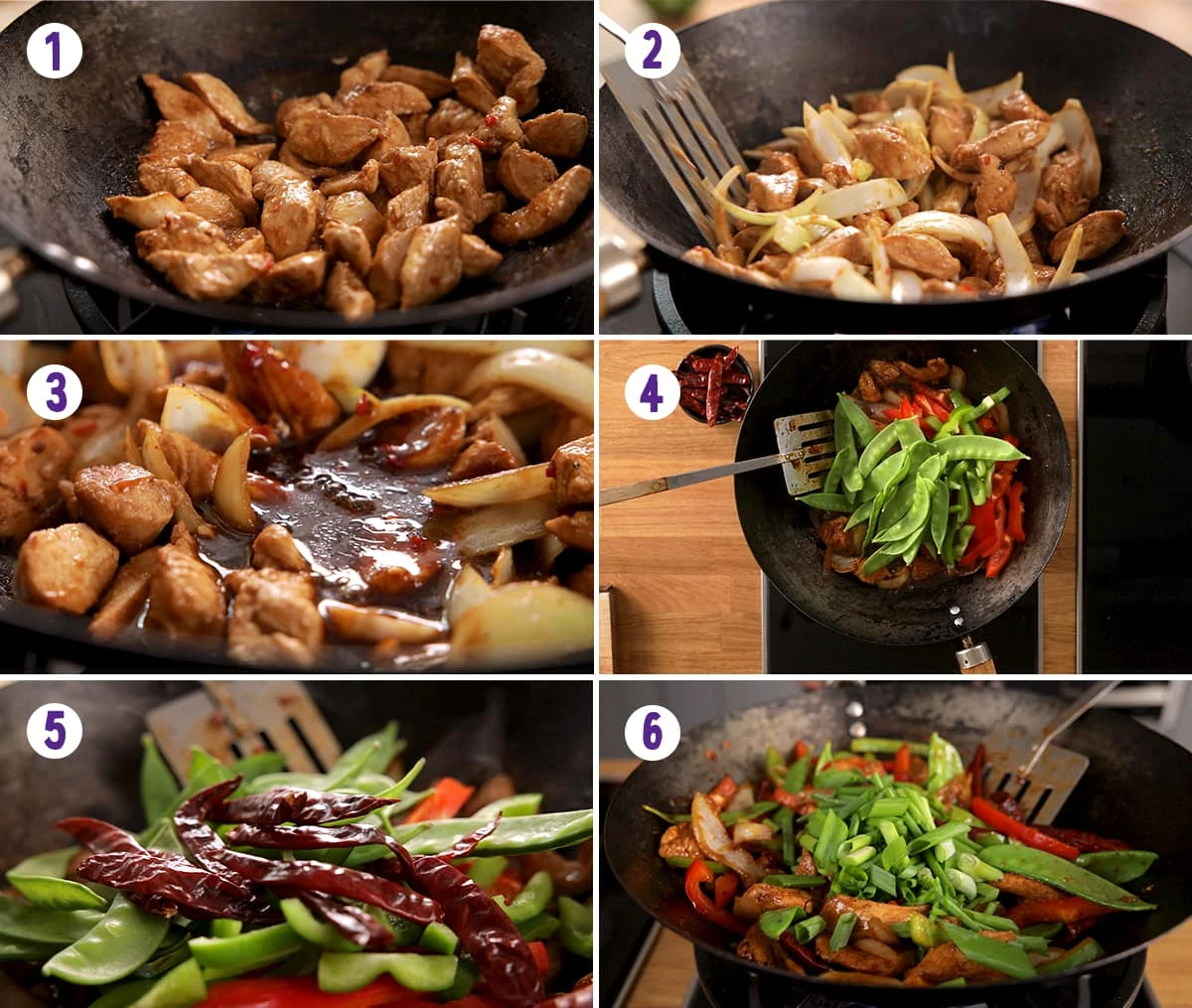 How to make a mound of rice
Lightly oil a small bowl (this one is a 12cm/4.75" diameter cereal bowl). Pack with rice and then push down firmly with a spoon or clean fingers.
Place a plate on top of the bowl and flip the bowl and plate over.
Lightly tap the bowl and lift the bowl to release the rice. It can take a couple of attempts, so it's worth having a quick practice first.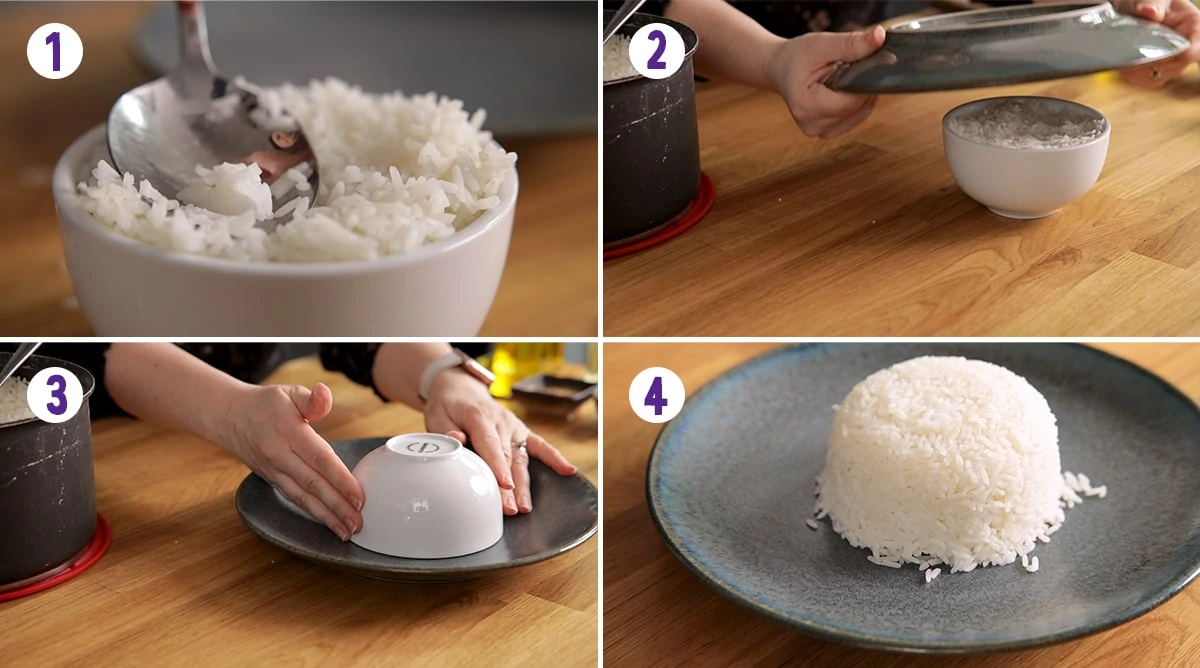 To Serve:
Spoon the firecracker chicken around the rice and then sprinkle with shichimi powder (<--affilate link) and sesame seeds.
Top the rice with a wedge of lime and serve!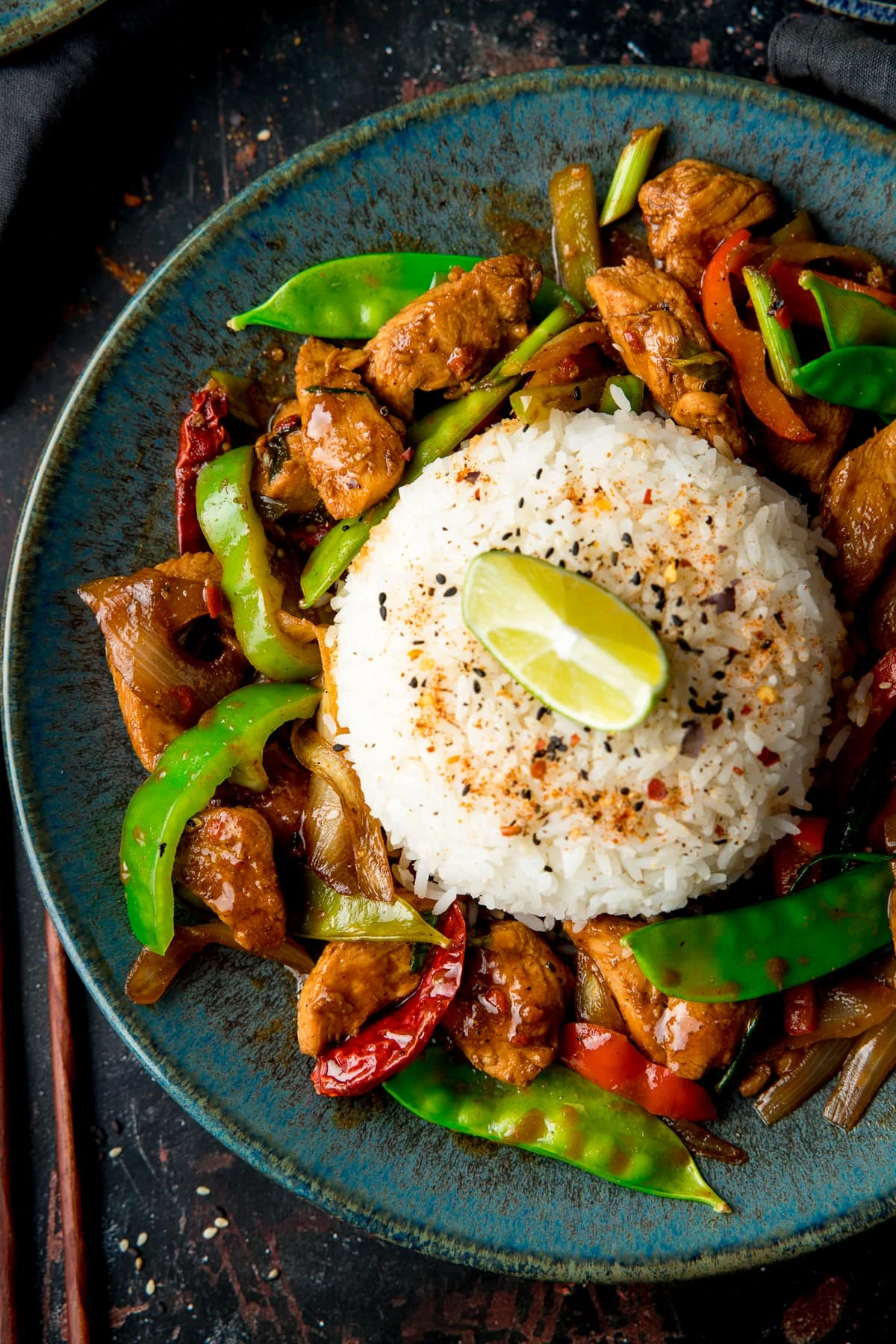 Sweet, fiery and delicious! I actually like it better than the original!!
Most of the ingredients are pretty standard fridge/store cupboard stuff, with the exception of the dried chillies, black sesame seeds and the shichimi.  The shichimi is usually the only one that's difficult to find at the supermarket, so I order from Amazon (<-- affiliate link)
What is shichimi togarashi?
Shichimi togarashi or shichimi is a Japanese spice blend made up of 7 ingredients. These are usually: poppy seeds, hemp seeds, roasted mandarin/orange zest, sesame seeds, sansho pepper, red chilli and aonori (seaweed powder).
It's got a salty and spicy flavour and a pinch of it makes a great topping for rice, noodles, soup and grilled meat or fish.
What type of dried chillies to use
Dried Japanese chilli peppers would be the best option, but I've never been able to source them. I use dried arbol, tianjin or kashmiri chillies. The chillies just add a bit of extra heat and a nice look to the stir fry, so I don't worry too much about using Japanese chillies. I bought my dried chillies (<--affiliate link) from Amazon the last couple of times and they were great.
More delicious stir fry recipes:
Stay updated with new recipes
***Subscribe to the newsletter to hear when I post a new recipe. I'm also on YouTube (new videos every Monday and Thursday) and Instagram (behind the scenes stories & beautiful food photos).***
Firecracker Chicken
My copycat version of Wagamama's sweet and spicy Firecracker Chicken Stir Fry. It's delicious and easier to make than you might think!
Ingredients
Chicken and marinade:
1

tbsp

vegetable oil

1

red chilli

-

chopped finely

1

tbsp

chilli sauce

-

– I used sriracha

2

garlic cloves

-

peeled and minced

4

tbsp

brown sugar

3

tbsp

light soy sauce

2

tbsp

dark soy sauce

2

tbsp

ketchup

1

tbsp

malt vinegar

1

tbsp

tamarind paste

1

tbsp

fish sauce

1

pinch

of white pepper

3

medium sized chicken breasts

-

(this is about 525g or 18.5oz), sliced into bite-size chunks
Stir Fry:
1

tbsp

oil

1

medium white onion

-

peeled and sliced into wedges

1

red bell pepper

-

seeds removed, chopped into chunks

1

green bell pepper

-

seeds removed, chopped into chunks

1

cup

(85g) mangetout (snow peas)

12

dried arbol chillies -

(Tianjin Chilies should do fine if you cant find arbol ones)

1

Small bunch of spring onions (scallions)

-

chopped

splash of water

-

optional
INSTRUCTIONS
Place all of the marinade ingredients into a large bowl and mix together.

Add one third of the marinade to the chicken, then cover with cling film and marinade for at least an hour (or up to overnight).

Cook your rice as per the pack instructions (or use my no-fail boiled rice tutorial).

Whilst the rice is cooking, heat the oil on a high heat in a wok or large frying pan/skillet until hot. Scoop the chicken out of the marinade with a slotted spoon and cook in the wok until slightly browned, and almost cooked right through.

Add in the chopped onion and cook for a further 2 minutes to soften the onion slightly.

Add in the reserved marinade and heat through whilst stirring until bubbling throughout.

Add in the peppers, mangetout (snow peas) and dried chillies. Cook for a minute, then stir through the spring onions (scallions). Add a splash of water to the sauce if it needs loosening up.

Check one of the larger pieces of chicken to ensure it's cooked in the middle. Then turn off the heat.

Take your boiled rice and spoon it into a small lightly oiled bowl (mine is 12cm/4.75" diameter). Push it down firmly with the back of a spoon, then place a serving plate on top and turn the whole thing over. Tap the bowl gently to release the mound of rice. Repeat until you have four plates of rice.

Spoon the firecracker chicken around the rice and then sprinkle the top of the rice with the shichimi powder and the sesame seeds.

Top the rice with a wedge of lime and serve!
Video
✎ Notes
Can I make this ahead?
Not really. This stir fry tastes best when eaten right away. This ensures tender chicken and crunchy veggies. 
You can however, save leftovers if you like. Just cool quickly, cover and refrigerate for up to a day. It makes a lovely salad (with some salad leaves) served cold.
Can I scale the recipe up or down?
Yes, you can scale the recipe up or down using the same ratios. So to serve 2 people, halve all of the ingredients. To serve 8 people, double all of the ingredients. It will take longer to cook if doubling the recipe as you may need to cook the chicken in two batches.
Nutrition info is for one serving of this recipe and does not include the rice.
Nutrition
Calories:
318
kcal
Carbohydrates:
35
g
Protein:
23
g
Fat:
10
g
Saturated Fat:
1
g
Cholesterol:
54
mg
Sodium:
2023
mg
Potassium:
835
mg
Fiber:
5
g
Sugar:
23
g
Vitamin A:
2385
IU
Vitamin C:
110.6
mg
Calcium:
83
mg
Iron:
2.9
mg
This post was first published in June 2015. Updated June 2020 with new photos and tips.
Equipment:
In order to make this Firecracker Chicken recipe you will need:
Some of the links in this post are affiliate links – which means if you buy the product I get a small commission (at no extra cost to you). If you do buy, then thank you! That's what helps us to keep Kitchen Sanctuary running. The nutritional information provided is approximate and can vary depending on several factors. For more information please see our Terms & Conditions.