Nasi Goreng is a delicious spicy stir-fried rice. It's more flavourful than regular fried rice with the addition of shrimp paste, fish sauce, tamarind and a few other goodies.
Topped with a runny fried egg (those crispy edges are a must!), this classic Asian meal makes a great family dinner.
When you're in the mood for street food at home, this is the one to go for.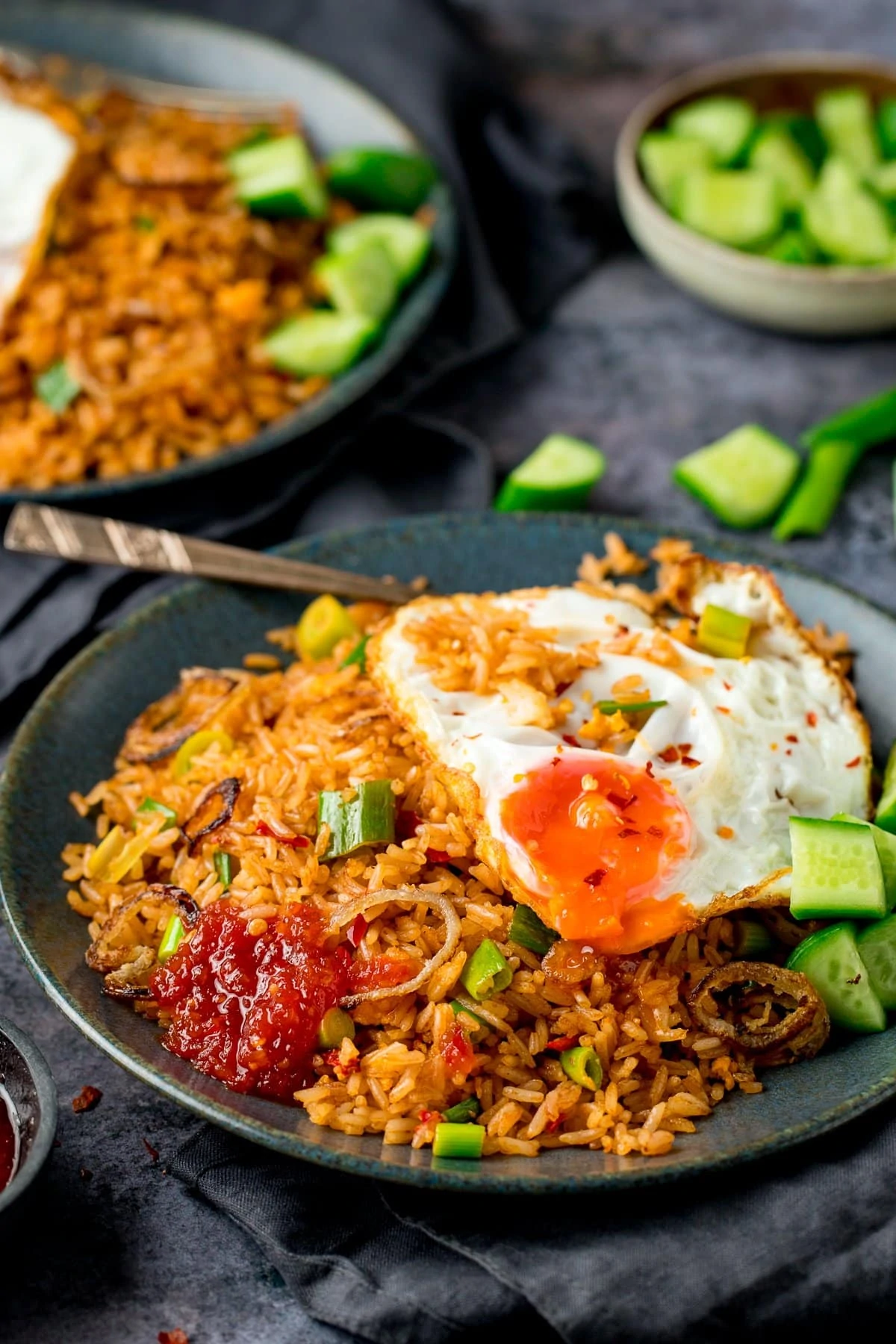 One of the amazing recipes my dad taught me to cook, Nasi Goreng - or Indonesian Fried Rice - is a dish he cooked many times as I was growing up. Inspired by the years he spent in Singapore, he really picked up a taste for Malaysian, Indonesian and Singaporean flavours.
It took a bit of time for me to love those flavours too (I preferred crispy pancakes or fish fingers over some of his spicier recipes when I was a kid), but now have a deep affection (and many cravings) for every recipe he made.
This Indonesian Fried Rice is one of those amazing bowl recipes that you can carry over to the sofa and devour on film night - no need for a takeaway.
What do we need?
This fried rice recipe uses simple ingredients that might you probably already have in your store cupboard.
For the paste, we need shrimp paste, garlic, red chilli, fish sauce, brown sugar, tamarind, tomato puree and soy sauce.
We also need cooked long-grain rice, shallots, spring onions (scallions), vegetable oil, cornflour (cornstarch), and eggs.
How to make Nasi Goreng
Full recipe with detailed steps in the recipe card at the end of this post.
Toss the sliced shallots in cornflour, then fry in oil over a high heat until crisp.
Transfer to a bowl.
Add shrimp paste, garlic and chilli into the wok with a little oil, then add in fish sauce, brown sugar, tamarind paste, tomato puree and soy sauce.
Stir together and cook for a minute, then add cooled boiled rice and heat through, stirring often.
Move the rice to a side of the pan. Add an egg in and scramble it, then mix it all in with the rice.
Add spring onions, salt, and the crispy onions to the rice and mix well.
Meanwhile, fry the eggs in another pan, until sides are crisp and the yolk is runny.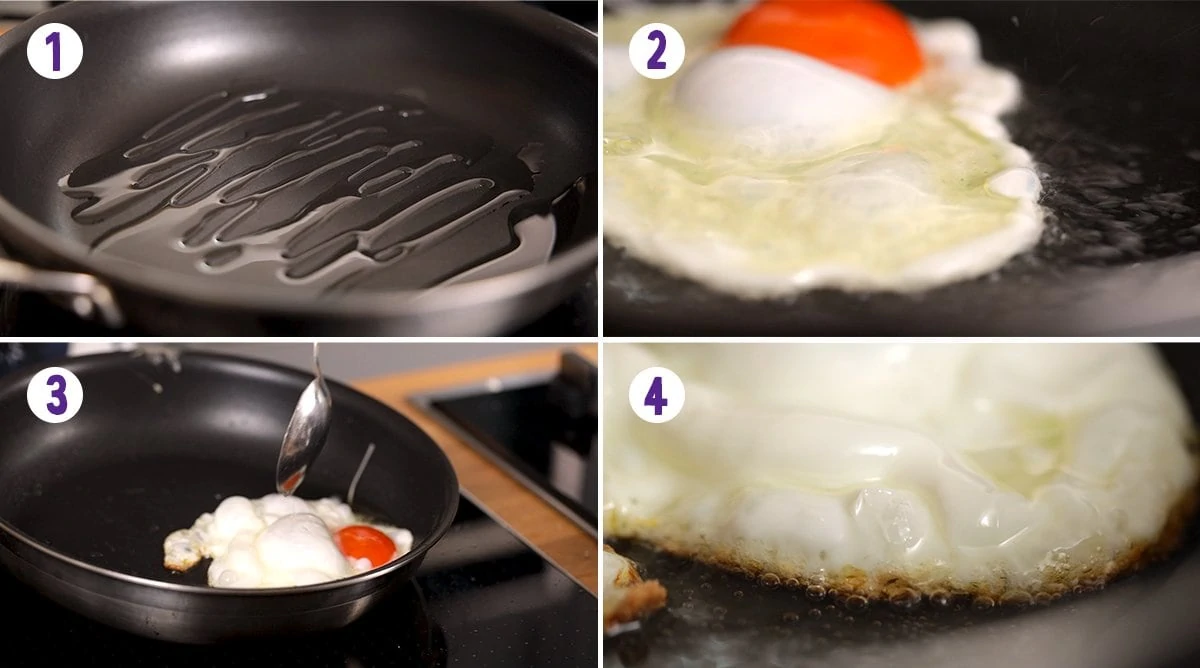 Divide the rice into four bowls, top each with a fried egg, and serve. I love to serve mine with some homemade sweet chilli sauce.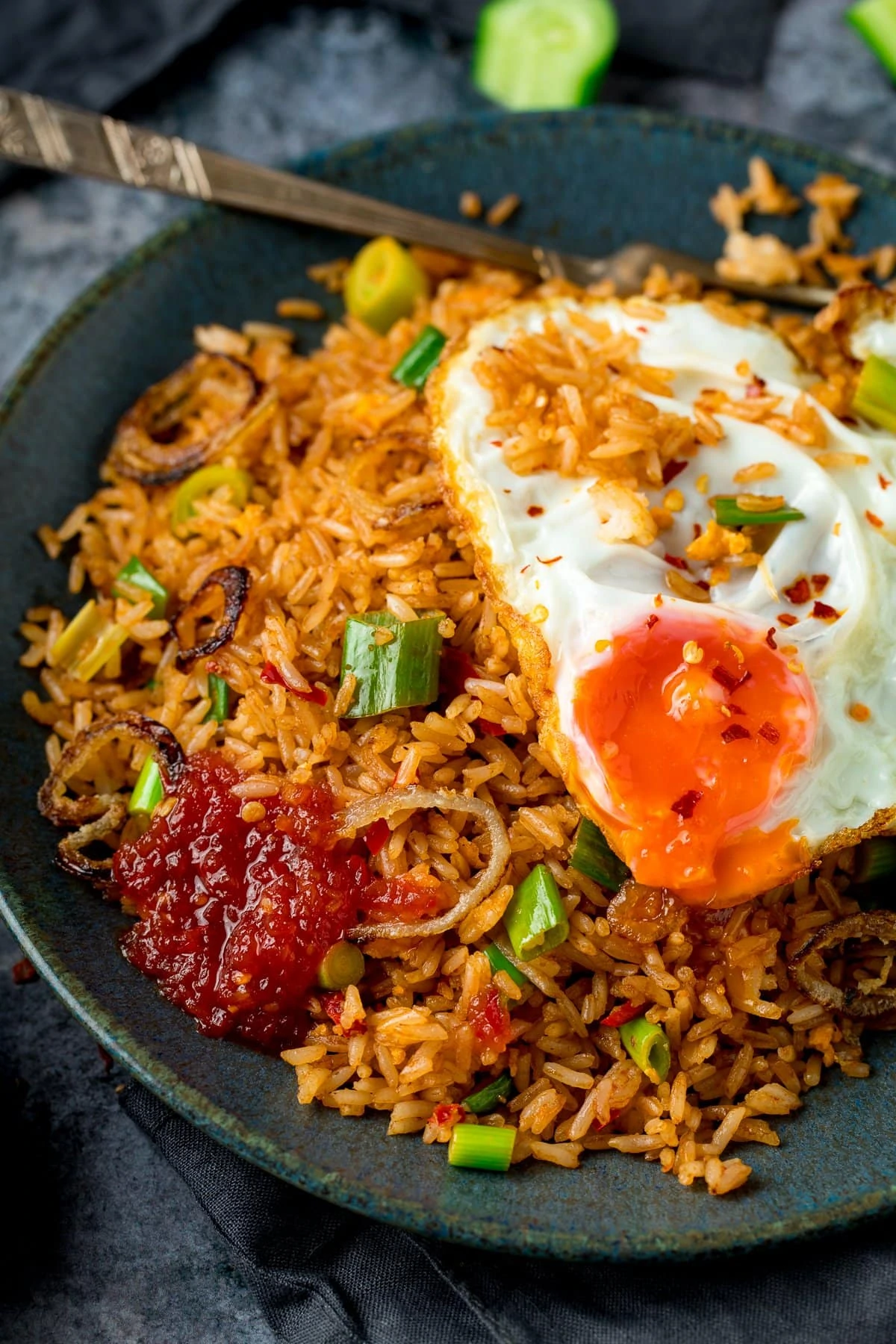 ---
Frequently Asked Questions
What does Nasi Goreng mean?
Nasi Goreng in Indonesian means fried rice. It's simply a dish made of rice fried in a mix of sauces with onions and chillies. You can make different versions of Nasi Goreng by adding ingredients. For example, Nasi Goreng Chicken, Nasi Goreng Prawns, Nasi Goreng Lamb.
How is it typically served?
Traditionally, Nasi Goreng is topped with a runny fried egg and served with a few slices of fresh tomato and cucumber. I also like to add a tbsp of Thai Sweet Chilli Sauce too.
Why do I need to cool the rice in the refrigerator first?
Freshly cooked rice becomes sticky when it's added to a stir-fry sauce. We add the rice to the refrigerator to allow the outer layer to dry a little. This gives it the perfect texture while frying, and ensures it isn't sticky.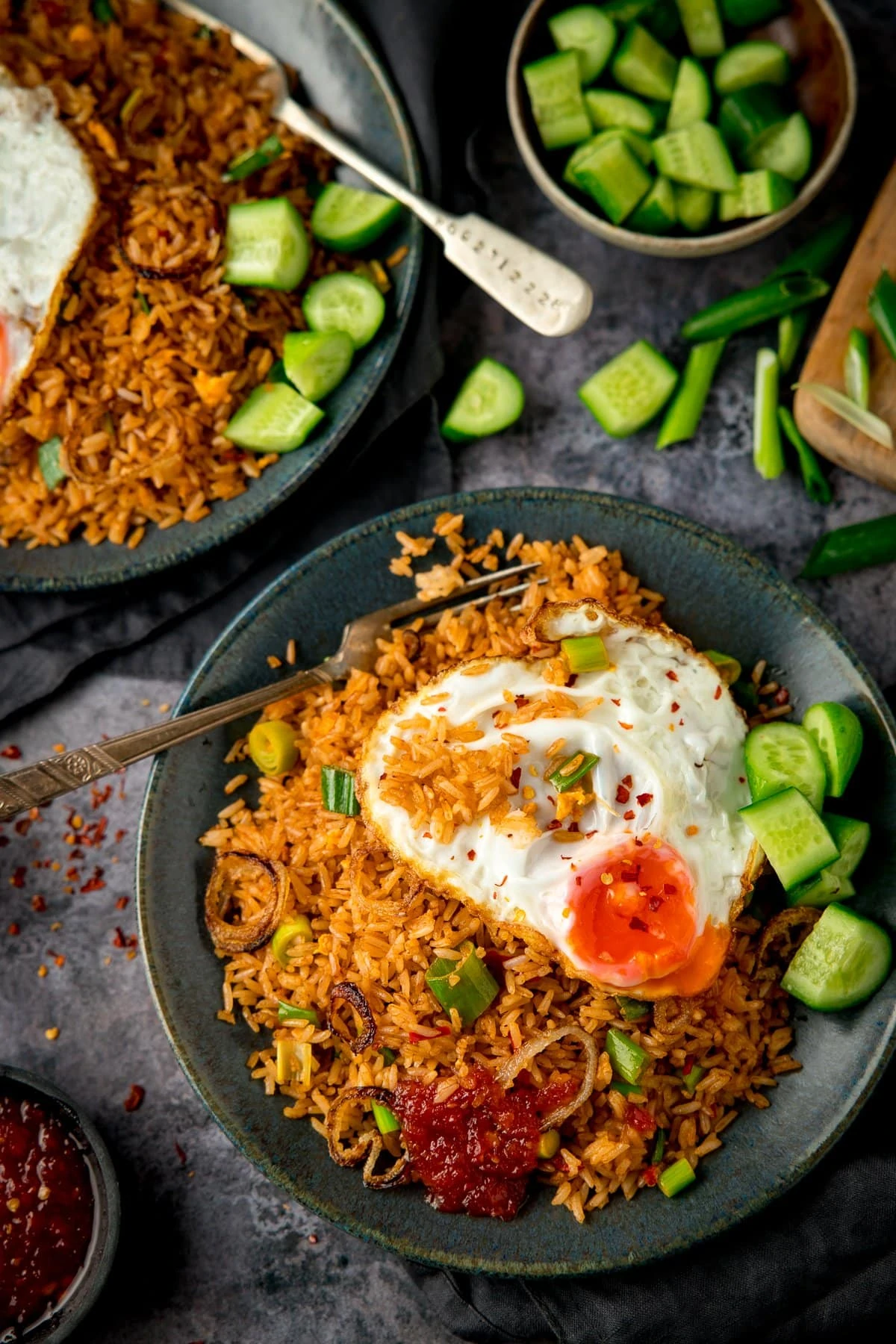 ---
Watch how to make it
Stay updated with new recipes!
Subscribe to the newsletter to hear when I post a new recipe. I'm also on YouTube (new videos every week) and Instagram (behind-the-scenes stories & beautiful food photos).
Nasi Goreng Recipe
A spicy rice dish that's way more flavourful than regular fried rice. Topped with a fried egg (with crispy edges!) it's street food heaven.
Ingredients
4

tbsp

vegetable oil

2

shallots or 1 small onion

-

peeled and thinly sliced

2

tsp

cornflour/cornstarch

1

tsp

shrimp paste

2

cloves

garlic

-

peeled and minced

1

red chilli

-

chopped finely

1

tsp

fish sauce

1

heaped tbsp

brown sugar

1

tsp

tamarind

1

tbsp

tomato puree

-

paste for US

2

tbsp

dark soy sauce

900

g

(2 lbs) cooked long grain rice -

(for best results use rice that's been cooled and refrigerated)

5

eggs

5

spring onions

-

(scallions) chopped

¼

tsp

salt
INSTRUCTIONS
Heat 1 tbsp of the oil in a large wok or frying pan until hot.

Dust the shallot or onion slices in cornflour and add to the wok. Cook, for 5-6 minutes until browned and crispy, then remove from the pan and place in a bowl.

2 shallots or 1 small onion,

2 tsp cornflour/cornstarch

Turn the heat down to medium and add another 1 tbsp of oil to the wok and add in the shrimp paste, garlic, and chilli. Heat for one minute until fragrant, then add in the fish sauce, brown sugar, tamarind, tomato puree, and soy sauce and heat for a further minute.

1 tsp shrimp paste,

2 cloves garlic,

1 red chilli,

1 tsp fish sauce,

1 heaped tbsp brown sugar,

1 tsp tamarind,

1 tbsp tomato puree,

2 tbsp dark soy sauce

Now add the rice to the wok and cook on a high heat. Use a spatula to ensure the rice doesn't stick to the bottom of the pan, and move the rice around so that it's all getting reheated.

900 g (2 lbs) cooked long grain rice

Once the rice is hot (this will take about 5 minutes), push the rice over to the side of the pan and crack one of the eggs into the space. Making sure this bit of the pan is over the heat, fry the egg, giving a mix with the spatula until the egg starts to cook and look scrambled.

Now mix the egg into the rice. Add the spring onions, a pinch of salt and the crispy onions and mix it all together. Reduce the heat to low.

5 spring onions,

¼ tsp salt

Add the remaining oil to a large frying pan and heat until hot, then fry the remaining four eggs until the white is crisp at the edges, but the yolk is still runny. You can baste the egg in the hot oil to make it cook quicker.

Divide the rice between four bowls and top each with a fried egg, then serve. I like to serve mine with some sweet chilli sauce too.
Video
✎ Notes
Can I make it ahead?
Yes. I think reheated fried rice actually tastes better! 
Cook the rice, then spread it out in a large dish (so it will cool quickly) cover and refrigerate for up to a day. Don't leave cooked rice out at room temperature. Bacteria can grow on cooked rice very quickly, so it's important to:
Refrigerate it as quickly as possible
Don't store for more than 24 hours in the fridge, and
Thoroughly reheat it.
Reheat in a wok, over a medium-high heat, moving it around the pan with a spatula, until piping hot throughout. You may need to add an extra splash of oil, as the rice will have absorbed the oil whilst in the fridge.
You only need to make the fried eggs just before serving.
Can I freeze it?
Yes, Cook the rice, then spread it out in a large dish (so it will cool quickly) cover, cool and then transfer to an airtight container and freeze.
Defrost overnight in the refrigerator and reheat as per the instructions above on 'making it ahead'.
You'll need to fry the eggs right before serving.
Nutritional info is per serving.
Nutrition
Calories:
541
kcal
Carbohydrates:
76
g
Protein:
15
g
Fat:
19
g
Saturated Fat:
12
g
Cholesterol:
218
mg
Sodium:
907
mg
Potassium:
341
mg
Fiber:
2
g
Sugar:
12
g
Vitamin A:
575
IU
Vitamin C:
20.9
mg
Calcium:
86
mg
Iron:
2.5
mg
Some of the links in this post may be affiliate links – which means if you buy the product I get a small commission (at no extra cost to you). If you do buy, then thank you! That's what helps us to keep Kitchen Sanctuary running. The nutritional information provided is approximate and can vary depending on several factors. For more information please see our Terms & Conditions.