Here are my instructions and tips for making perfect fried rice… This is my Special Fried Rice Masterclass
You know when you think back to your childhood, and your mum cooking in the kitchen? That special chocolate cake she used to make or maybe the apple pie with custard?
I don't really remember cakes featuring heavily.
There was the annual homemade Christmas cake of course, and some special occasions called for a trifle with a Cadbury flake sprinkled on top, but for the most part we were quite a savoury family.
I think my mum still scratches her head and wonders how that led to my sister becoming an awesome cake maker, and me spending half my time creating and writing about chocolatey, sticky, cakey things.
MY LATEST VIDEOS
When I do think back to my mum cooking in the kitchen, I think of the best turkey roast dinners I have ever tasted (with gravy that's so amazing I could drink it like soup), her chicken stroganoff (I still demand it whenever I visit) and her legendary fried rice.
Foods like samosas, curries, kway teow, chapati, Mee goreng and Nasi goreng – mostly cooked by my dad – also featured quite heavily.  Which I guess is quite unusual for the average UK family in the 80's, but most of that influence comes from the time my he spent in Singapore as a child when his dad was in the army.
In my younger years, I used to find a lot of that stuff quite spicy (bless my mum for giving me alternative weird concoctions I liked such as pasta with tuna, cheese and ketchup – blurgh!), but I can't get enough of it now.
This rice is one of my mum's signature dishes – no need for sauces, or sides.  It's a meal in itself.  Of course my sheer greediness does sometime result in me adding an extra side dish – like this sticky pork belly.
I'm going to give you a few tips to get your rice perfect:
A lot of people struggle with boiling rice and find it overly complicated – pre-rinsing it, boiling it in tonnes of water and ending up with soggy rice etc.  It's actually relatively easy.
Use regular long grain white rice – not the easy-cook kind.  Easy cook might seem simpler, but because it's got more of a shiny-non-stick exterior when cooked,  it simply won't absorb the flavour as well.  I only ever use easy-cook rice for making stuffed peppers – just because it cooks quicker and I want the grains to fall away from each other for that recipe.
No need to rinse it.  Some people think rinsing it is a must to remove the starch and any other nasties, thereby making your rice less sticky.  If you buy decent quality (store own brand is fine) rice, you shouldn't have this problem.  Your rice may be a little clumpy, but shouldn't be sticky.  I prefer rice to be a little bit clumpy – and the clumps are easily brown down with a fork.
Boil the water first, and then add the rice.  The amount of water you put in the pan will dictate the amount of rice to add.  You can add the rice by eye – simply pour the rice into the centre of the boiling water and keep pouring until a tbsp. or so of rice is above the water – like this: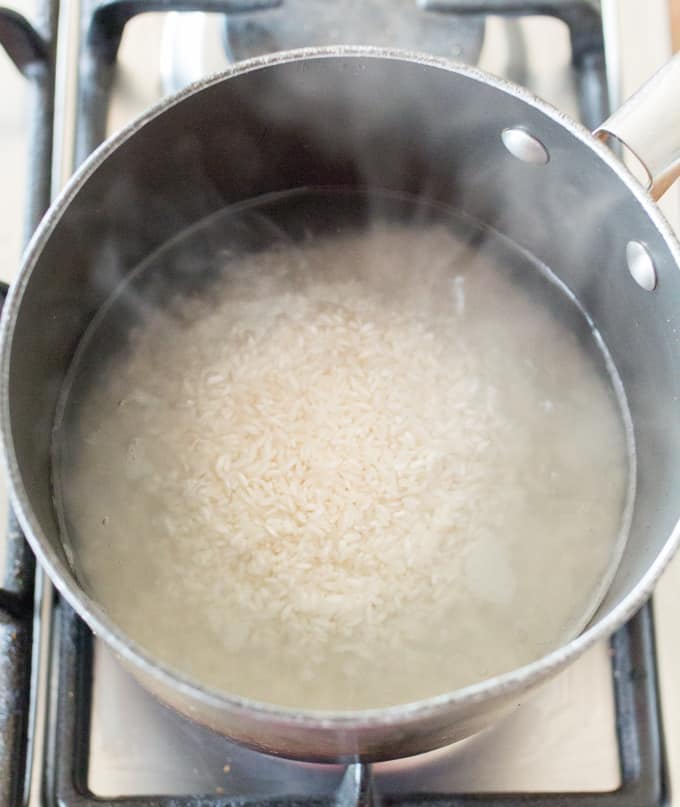 If you feel you really need to know the quantities, this is generally one part rice to one-and-a-half parts water.
Give the rice a quick stir to distribute, and then place a lid on the pan.
Cook at the very lowest temperature your hob can manage for 20 minutes.  This allows the rice to cook evenly, without burning the bottom.
Don't keep stirring.  You can check once after 15 minutes, but if you keep opening the pan, the rice won't cook (remember you're only using a very low heat).  The rice may done after 15 minutes, or it may need a little longer.  If the rice is hard and there is absolutely no water at the bottom of the pan, just add in a splash of boiling water and put the lid back on again.  Don't worry about overcooking the rice – so long as you haven't got too much water in there, the rice can take  fair amount of extra cooking – so long as the heat is low.   I've accidently left mine for 30+ minutes before now and it was fine.
Your rice should look like this when cooked – there should be no water to drain off.
There you have it.  Once you know the key tips, boiling rice is easy.
Now, for making fried rice, it's better to use cold, drier rice.  So after boiling your rice, spread it out on a baking tray and leave to cool, uncovered for 20-30 minutes (until room temperature), then cover with clingfilm/plastic wrap and place in the fridge until you're ready to use.  It's important to cool the rice quickly and use within 24 hours though – as rice is known to occasionally contain bacteria (which can survive being cooked) that can spread quickly in cooked rice if it's left for long periods.
When you're ready to cook, then it's best to fry off your meat first and then spoon it out before cooking the rest of the meal.  I used bacon, but you can use chicken, chorizo, ham – whatever you fancy.
Next fry the onions, chillies, peppers and garlic in some oil.  I went for chilli-free this time as my kids were eating it too:
Add in the cold rice and cook until hot.  Keep the rice moving around the pan to stop it sticking.  If you have an un-coated wok (rather than a non-stick one), it's best to use a metal spatula to keep the rice from sticking.
To get the most flavour out of your fried rice, you need enough oil.  The oil you added when you cooked the onions and peppers earlier should be enough, and should just coat each rice grain with a light sheen, without the rice looking 'oily'.  Not enough oil and your rice will stick to the pan and will have less flavour.  Too much oil and your rice will taste greasy.  So check your rice at this point and add in a tiny drizzle more oil if you think it needs it.
Once the rice is hot, move it to one side and add the eggs:
Cook the eggs and stir with the spatula until they start to scramble, then mix into the rice.  Add in the bacon, heat through and then add in the salt, soy sauce and lemon juice.
Serve topped with spring onions/scallions and finely chopped chillies.
This is perfect as a dinner on its own or a side to go with your favourite Asian main course, like my Sesame Chicken a crowd and family favourite!
Special Fried Rice Recipe:
Special Fried Rice
Instructions and tips on making perfect fried rice
Print
Rate
Ingredients
500

ml

water

300

g

long grain rice

not easy cook rice

2 1/2

tbsp

vegetable oil

5

rashers of streaky bacon

sliced into 1 inch pieces

1

onion

peeled and diced

1

red bell pepper

deseeded and chopped

1

green pepper

deseeded and chopped

1

red chilli

chopped finely (optional)

1

green chilli

chopped finely (optional)

2

cloves

garlic

peeled and minced

2

eggs

1

tbsp

dark soy sauce

1/4

tsp

salt

juice of 1/2 a lemon
To Serve:
1/2

bunch of spring onions/scallions chopped

1

finely chopped chilli
Instructions
Bring the water to a boil and pour in the rice (no need to rinse). Give it a stir so that the rice is covered by the water, put a lid on the pan and cook for 20 minutes on the lowest heat on your smallest burner.

After 20 minutes, take the lid off and spread out the rice onto a tray. Leave to cool, uncovered for 20-30 minutes (until room temperature), then cover with clingfilm/plastic wrap and place in the fridge until you're ready to use (make sure you use the rice within 24 hours).

When you're ready to make the rice, heat 1/2 tbsp. of the oil in a large wok or frying pan add the bacon to the wok and fry on a high heat until the bacon is crispy. Spoon the bacon into a bowl.

Add the remaining oil to the pan and then add the onion. Cook, stirring regularly on a medium heat for 5 minutes until the onions are starting to turn soft and translucent. Add in the red and green bell peppers, the red and green chillies and the garlic. Cook for a further 2 minutes.

Now add the rice and cook on a high heat. Use a spatula to ensure the rice doesn't stick to the bottom of the pan, and move the rice around so that it's all getting reheated. Once the rice is hot (this will take about 5 minutes), push the rice over to the side of the pan and crack the two eggs in the space. Making sure this bit of the pan is over the heat, fry the eggs, giving a mix with the spatula until the egg starts to cook and look scrambled. Now mix the egg into the rice. Add the bacon back in. Pour in the soy sauce and salt and mix it all together until the bacon is hot.

Squirt in the lemon juice, stir and then divide between three bowls. Top with spring onion.
Recipe Notes
Nutritional Information is per serving, based on 3 servings.
Nutritional Information
Nutrition Facts
Special Fried Rice
Amount Per Serving
Calories 432
Calories from Fat 171
% Daily Value*
Total Fat 19g 29%
Cholesterol 117mg 39%
Sodium 775mg 32%
Potassium 392mg 11%
Total Carbohydrates 52g 17%
Protein 11g 22%
* Percent Daily Values are based on a 2000 calorie diet.