Forget takeaways, nothing could beat this meltingly tender Spicy Beef Rendang! Each piece is caramelised on the outside, falling apart on the inside, and permeated with layer upon layer of creamy, spicy flavours.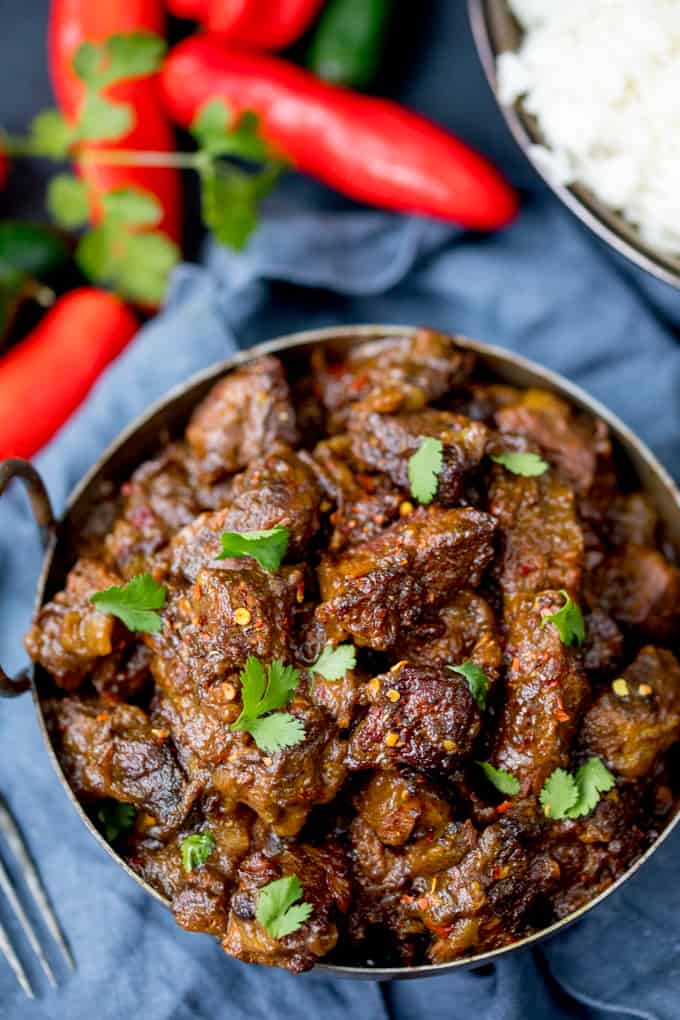 Updated for 2018 with new photos!!
I first posted this recipe back in 2014, and it's a winner every time I make it. I decided it was time to re-shoot the pics. The recipe is the same as before (no tweaks needed).
This is a slow-cooked dish, that requires the occasional bit of attention during it's 4 hours in the oven. It's one that's worth saving for the weekend to ensure a result that is totally worth the wait.
Rendang originates from Indonesia, and is now a popular dish all over the world, due to it's amazing and complex flavours. There are many different recipes out there, but most (including me!) agree that it's a slow-cooked dry curry, made with coconut milk, spices and sugar.
Four hours of cooking seems like such a long time for a curry, but there is good reason - apart from ensuring you end up with tender meat.
When you put the spicy beef rendang in the oven, you'll wonder how it's going to end up being a dry curry. The recipe starts off with a lot of liquid from the coconut milk. However, during the cooking process, the coconut milk reduces right down, as the flavours are absorbed into the meat.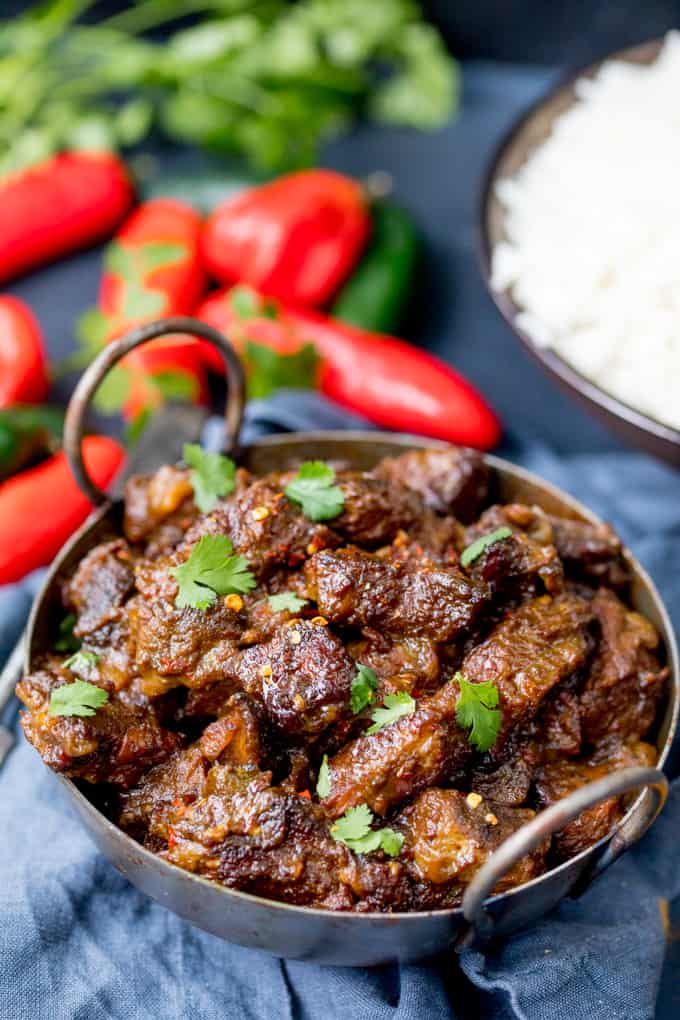 The oil also eventually separates from the rest of the sauce (you'll be amazed at how much of it there actually is) . As you take it out of the oven for an occasional stir, you'll probably wonder if it's all going to go horribly wrong. Trust me, it's supposed to look like that.
As more and more oil separates, and the rest of the sauce starts to disappear, that remaining oil will actually be crisping and frying the meat. So you'll be left with very, very dark, caramelised meat that has been infused with bags of flavour.
Pro Tip: It's very important to keep a close eye on things during the last 30 mins or so – to ensure the meat doesn't stick to the pan or burn. And don't worry, any remaining oil can be poured off and discarded.
If you do like your rendang a little saucier, simply reduce the cooking time, and be sure to drain that oil off.
Serve with plain white rice or go that extra mile and serve up alongside Traditional Special Fried Rice or Indonesian Fried Rice for a perfect family treat!
The Spicy Beef Rendang Recipe: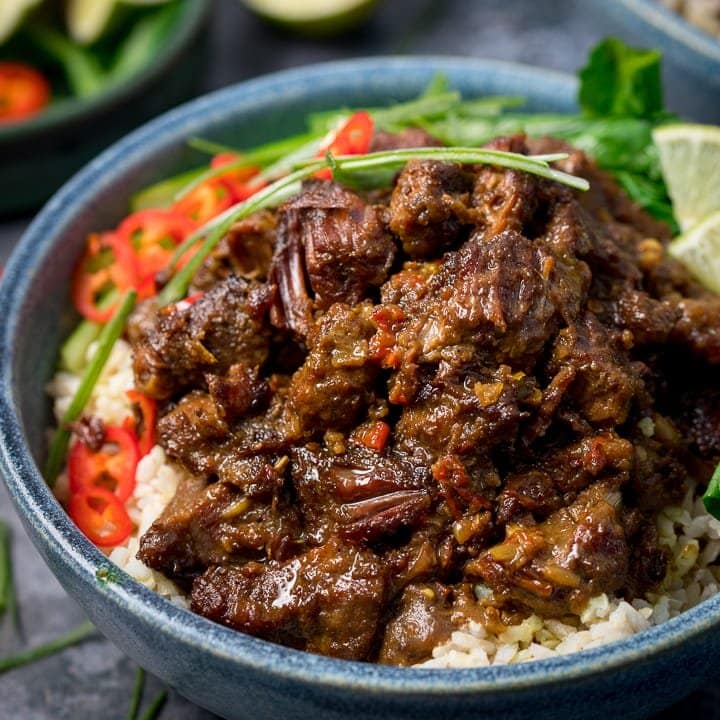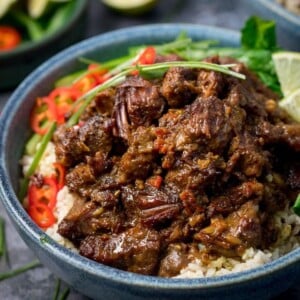 Beef Rendang
Beef Rendang - Slow-cooked fall apart spicy beef with a touch of heat.
Ingredients
3

tbsp

vegetable oil

2

tbsp

plain (all-purpose) flour

-

or cornflour (cornstarch)

Pinch

of salt and pepper

1 3/4

pounds

(800g) braising/stewing beef

-

cut into large chunks (approx 3-4cm)

1

large brown onion

-

peeled and chopped

5

cloves

of garlic

-

peeled and minced

2

tbsp

minced ginger

1

tsp

turmeric

2

lemongrass stalks

-

discard the outer leaves, and finely slice the lemongrass (you can replace this with 2 tsp of lemongrass paste)

2

red chillies

-

chopped. I use hot red chillies as the heat cooks out during cooking.

1

tsp

tamarind paste

1

tbsp

ground coriander

1

tsp

freshly ground black pepper

½

tsp

cinnamon

2

kaffir lime leaves -

fresh or freeze dried

3

tbsp

dark brown muscovado sugar

½

tsp

salt

28

oz

(2 x 400ml cans) full fat coconut milk
To Serve (Optional):
spring onions (scallions)

-

sliced into thin strips

fresh red chillies

-

sliced

Green veg such as pak choi or spinach
INSTRUCTIONS
Preheat the oven to 150C/300F and place a large cast iron casserole dish on the hob. Add 2 tbsp of the oil and heat on a high heat.

Mix the flour with a pinch of salt and pepper, and coat the beef chunks with the flour. Place the beef in the hot oil and brown (you may need to do this in two batches). Remove from the pan and place the beef in a bowl.

Add the remaining 1 tbsp of oil to the pan and then add in the onion. Turn down the heat and cook slowly for a couple of minutes whilst stirring (scrape up any crispy bits on the pan as you go).

Add in the garlic, ginger and turmeric and cook for another couple of minutes whilst stirring. At this point, you may find that the base of the casserole dish is starting to get quite brown and the onions may be beginning to stick a little. If so, add a splash of cold water to prevent the pan from burning.

Add in the lemongrass, chillies, tamarind paste, ground coriander, pepper, cinnamon, lime leaves, sugar and salt. Mix together and allow to cook for a minute.

Add in the coconut milk and bring to a gentle bubble, stirring to ensure nothing is sticking to the base of the casserole dish.

Add the beef back in and stir. Place a lid on and put in the oven. Cook for 90 minutes – giving the curry a stir after 45 minutes.

After 90 minutes, give everything a stir again and ensure nothing is sticking, then remove the lid and continue to cook in the oven, uncovered for another 2-2.5 hours. Stir very gently every half an hour (to ensure you don't break up the beef chunks).

Towards the last hour of cooking time, you'll see that the sauce is going darker and the oil is separating and rising to the top.

If you like a bit of sauce with your rendang then take your rendang out of the oven when there is a bit of oil on top, and is still quite saucy underneath.

If you prefer your rendang drier, then leave to cook for longer. Keep a close eye on it to ensure it doesn't burn. Stir gently and often. Drain any remaining oil off before serving. Gently stir the rendang, and then serve with rice and sprinkled with strips of spring onion (scallions)
✎ Notes
Can I make it ahead?
Yes, make the rendang, then cool and cover. Reheat in the oven at 150c/350F for 30-35 minutes, or until piping hot throughout. Heat the rendang covered for the first 20 minutes, then uncovered for the final 10-15 minutes. You can add a splash of water if the rendang is looking particularly dry, but be careful when stirring it in, as the beef will be very tender, and may fall apart.
Can I freeze beef rendang?
Yes, make the rendang, then cool, cover and freeze. Defrost in the refrigerator overnight, then reheat as per the 'Can I make it ahead?' instructions above.
Can I cook it in the slow cooker?
Cooking the recipe in the slow cooker will give you a nicely flavoured curry, BUT you won't get the oil separating from the coconut milk, which means you won't get the sauce reducing or the caramelization of the beef.
If you did want to use the slow cooker and you want that dry-caramelized finish, you can make up the curry right up to the part you add the beef back in with the coconut milk. Bring to the boil, then transfer to the slow cooker.
Cook on high for 4-5 hours or low for 6-8 hours. After this time, transfer to an ovenproof casserole pan and place in the oven, uncovered at 160C/320F for 1-1 1/2 hours, until the sauce reduces, the oil separates from the coconut milk and the beef caramelizes to a dark golden brown. Stir every 30 minutes during the time cooking in the oven.
Best cut of beef to use:
Chuck steak (also known as braising steak) – comes from the forequarter of the cow. This consists of parts of the neck, shoulder blade, and upper arm. It's a tough but very flavorful cut of meat that needs long slow cooking. This makes it perfect for beef rendang. Cut the beef into large (3cm-4cm) chunks.
Nutritional info is per serving for the rendang only (not rice) -

after

the oil (approx 125ml/half a cup) has been drained off. If you don't drain off the oil, add 180 cals per serving (720 cals extra for all of the rendang)
Nutrition
Serving:
322
g
Calories:
579
kcal
Carbohydrates:
26
g
Protein:
50
g
Fat:
52
g
Saturated Fat:
41
g
Cholesterol:
123
mg
Sodium:
438
mg
Potassium:
1317
mg
Fiber:
1
g
Sugar:
12
g
Vitamin A:
243
IU
Vitamin C:
40
mg
Calcium:
103
mg
Iron:
12
mg
If you've tried my Beef Rendang recipe then please rate the recipe and let me know how you got on in the comments below, I love hearing your thoughts and add-ons to my recipes!
You can also follow me on INSTAGRAM, FACEBOOK, PINTEREST, and TWITTERto see what I'm up to in the kitchen, what recipes i'm loving, and of course YOUTUBE to see our latest recipe videos!
Some of the links in this post may be affiliate links – which means if you buy the product I get a small commission (at no extra cost to you). If you do buy, then thank you! That's what helps us to keep Kitchen Sanctuary running. The nutritional information provided is approximate and can vary depending on several factors. For more information please see our Terms & Conditions.