Delicious Rich, fall-apart slow-cooked beef massaman curry in a spicy homemade sauce with new potatoes.
This Massaman Curry is perfect comfort food! Make extra and freeze some for a busy weeknight.
Plus I'm sharing my tips on making a homemade massaman curry paste and including a video to walk you step by step through the process.
If you were stranded on a desert island and you had only one type of food to eat for the rest of your life, what would you choose?
For me, I think it has to be Thai food. Chocolate is probably a serious contender but that only satisfies my sweet tooth.
Thai on the other hand? Hmmm the sweet/spicy/zesty/creamy combinations are endless. I love a quick green Thai chicken curry for a midweek meal, but a slow-cooked curry with lovely juicy chunks of meat that fall apart and the tastiest saucy potatoes? Now that's something else entirely!!
---
What is Massaman Curry?
Traditional Massaman curry is a Thai curry that's rich but relatively mild heat-wise. It contains lots of spices -which can vary from curry to curry, plus meat, potatoes and coconut cream or milk.
I absolutely love Massaman - the beef version, my Lamb Massaman Curry Recipe and I also make one with a whole chicken. I'll have to share it on here when I get the chance to photograph it.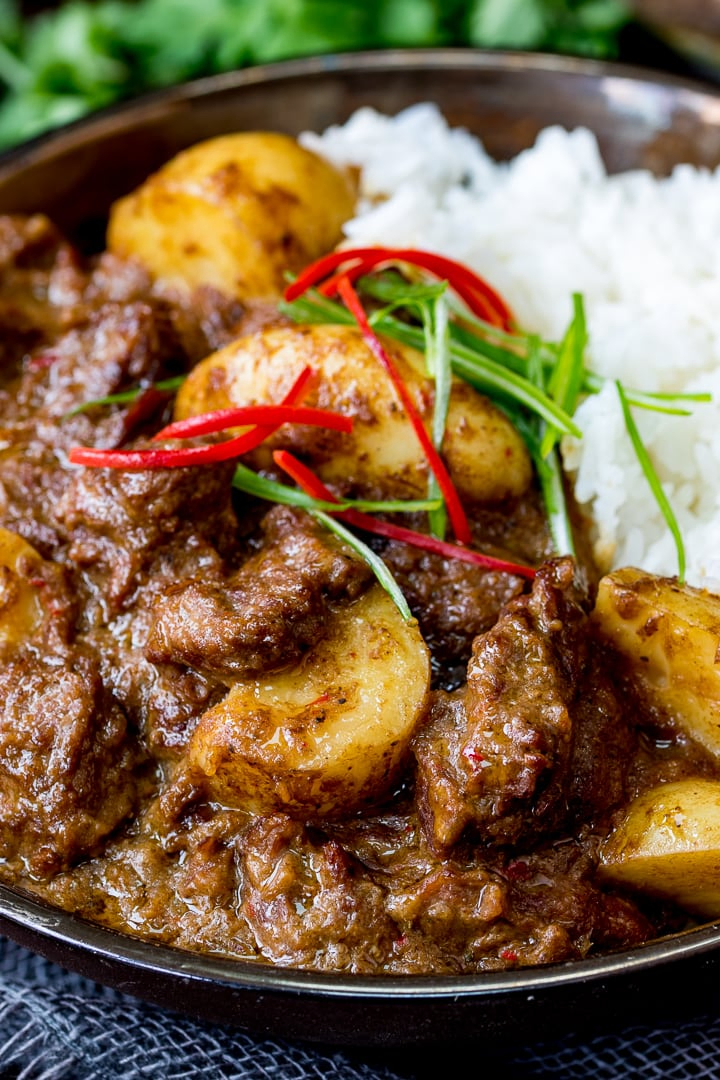 How to make it
The recipe card and video are at the bottom of this post, but here are some step-by-step pictures to show you how to make this delicious curry:
First make the Massaman Paste - into a food processor place red onion, chillies, ground coriander, cumin, cinnamon, white pepper, garlic, lemongrass, ginger, shrimp paste, fish sauce, brown sugar, salt and coriander (cilantro) stalks (save the leaves for sprinkling on top later). Blitz it all together.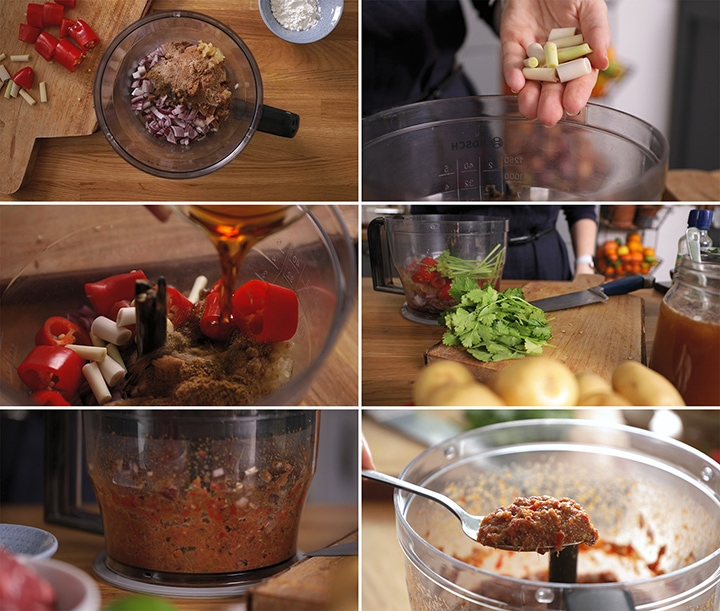 Now coat your beef in seasoned cornflour (cornstarch) and fry in a casserole pan over a high heat, with a little vegetable oil, until browned. Turn down the heat and add in the massaman paste you made earlier. Add in beef stock and coconut milk, stir it all together (scraping up any bits that might have stuck to the bottom of the pan) and bring to the boil. Simmer with the lid on (or place in the oven at 160C/320F) for 1 hour 45 mins.
After this time, add the potatoes and cook for a further 30 minutes or so, with the lid off, until the sauce thickens and the potatoes are tender. Stir through the juice of a lime before serving.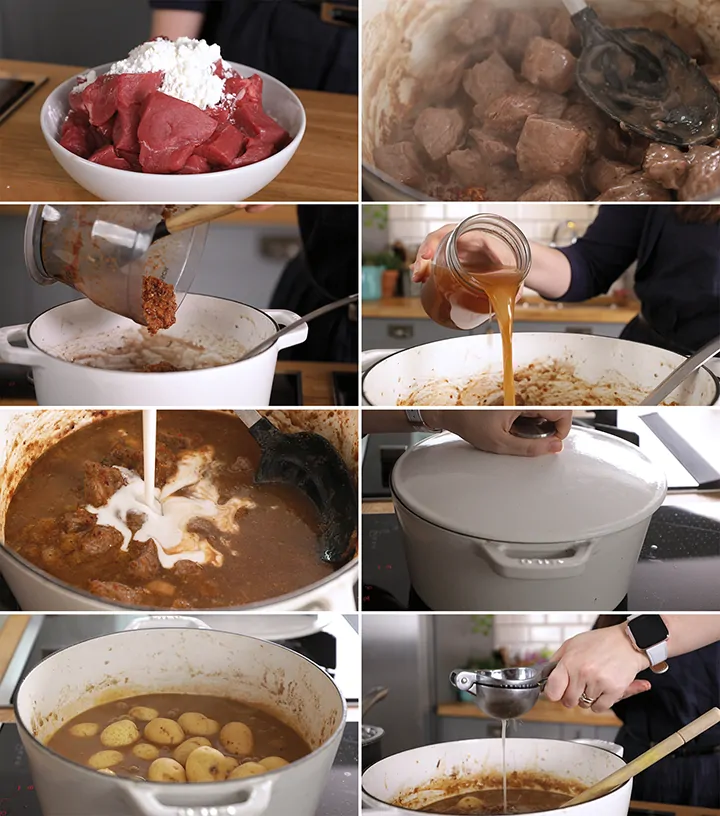 As you can see, I made the massaman curry paste for this meal from scratch. It's pretty simple to do, but shop-bought curry paste works really well too.
I've used Massaman, Korma and Madras paste (yes, I know the last two are Indian rather than Thai, it was what I had in at the time) and they all tasted great.
If you do go with a shop-bought paste, I'd recommend you reduce the amount to about 4 tbsp, as shop-bought it usually more concentrated.
Also, if you're making this for kids or people who don't like hot food, you can leave the chillies out of the paste, and just throw some chopped chillies in at the end, once you've dished out the non-chilli portions. It doesn't give quite the same depth of heat but is a good compromise rather than making two pots of curry.
Serve it with Boiled rice and if you're feeling extra extravagant, some homemade chapatis too (only a special person can manage potatoes, rice AND bread :-D)!
The Video
---
Stay updated with new recipes!
Subscribe to the newsletter to hear when I post a new recipe. I'm also on YouTube (new videos every week) and Instagram (behind-the-scenes stories & beautiful food photos).
Beef Massaman Curry Recipe
Slow Cooked Beef Massaman Curry - Rich, fall-apart beef in a spicy homemade sauce with new potatoes. Perfect comfort food!
Ingredients
Massaman Paste - makes about 6 tbsp:
1

chopped red onion

3

mild red chillies

-

roughly chopped (or use fewer chillies, depending on how hot you like it) - I use Fresno chillies

2

tsp

ground coriander

2

tsp

cumin

½

tsp

ground cinnamon

½

tsp

white pepper

3

cloves

garlic

-

peeled

2

sticks of lemongrass

-

outer leaves removed, softer inside chopped finely (or replace with 2 tsp lemongrass paste)

1

tsp

minced ginger

1

tsp

shrimp paste -

optional, also it's generally gluten free, but best to check

3

tsp

fish sauce -

,make sure it's a gluten free brand if needed

1

tsp

brown sugar

small

bunch

fresh coriander/cilantro stalks

-

you'll be using the leaves later to serve, so just wrap them in a bit of damp tissue to keep them fresh

½

tsp

salt
Other curry ingredients:
2

tbsp

vegetable oil

1.5

tbsp

cornflour

-

(cornstarch)

1

kg

(2 ¼ lbs) braising beef (beef chuck)

-

chopped into chunks

¼

tsp

salt

¼

tsp

freshly ground black pepper

400

ml

(1 ⅔ cups) beef stock - 2 stock cubes with water is fine

-

use kallo beef bouillon cubes for gluten free

400

g

(14 oz) can coconut milk

-

it's usually gluten free, but double check

500

g

(1 lb) baby new potatoes

-

(slice any bigger ones in half)

Juice of 1 lime
To Serve:
Chopped fresh coriander (cilantro)

Chopped red chillies

Lime wedges
INSTRUCTIONS
Place all the paste ingredients in a food processor or mini chopper and blend until it forms a paste. Set aside.

Heat the oil in a large pan. Toss the chopped beef in the cornflour, salt and pepper.

Fry the meat in the oil for about 5 mins on medium to high heat. You can do this in batches, but I find that if you put the meat in, and leave it alone for a few minutes before you stir it, you'll get a nice dark colour on the beef. The beef will probably stick a bit to the pan, so you might need to give it a little scrape with a spatula.

Once the beef has cooked for 5 mins, turn down the heat a little and add in the spice paste you made earlier. Give it a stir to coat the beef and let it cook for a couple of minutes.

Add in the beef stock and coconut milk. Give everything a stir (make sure you give any bits stuck at the bottom of the pan a scrape), place the lid on and gently simmer on a low heat for 1 hour 45 mins (alternatively you can place in the oven at about 160C/320F). Give it a stir every so often. If it's starting to look dry you can add in some more beef stock or water.

After the 1 hour 45 mins, add in the potatoes, give it a stir and cook for a further 25 - 30 mins until the potatoes are tender (this is a good time to start cooking your rice too).

Take out of the oven and mix in the lime juice. Serve the curry on a bed of rice with a sprinkling of coriander/cilantro, fresh chillies and a wedge of lime.
Video
✎ Notes
Best cut of beef to use
Chuck steak (braising steak) – comes from the forequarter- Consisting of parts of the neck, shoulder blade, and upper arm.

It's a tough but very flavorful cut of meat. It has a lot of connective tissue, which needs long slow cooking to break down and become tender. Cut into bite-size chunks, or you can use bigger chunks and shred the beef into strips.

Silverside (bottom round) – comes from the hindquarter – just above the back leg

It's a leaner, inexpensive cut of meat with little marbling. The lack of fat means it doesn't have as much flavour as chuck steak, so make sure you use good quality stock (as well as the coconut milk) to cook it in. It's good for slow cooking, but must be cooked with moisture/liquid so doesn't dry out and become tough.
What type of potatoes to use?
I like to use baby new potatoes in this, but you can use fingerlings or larger potatoes. Ideally use a waxy potato that will hold together better during cooking. Charlotte, Jersey Royals and Yukon Gold all work great - simply wash and chop into big chunks (no need to peel).
---
FAQ's
Can I make it Gluten-Free?
Yes! Make sure you use gluten-free stock cubes (I like Kallo Gluten free beef stock cubes)
Also check you're using gluten-free fish sauce, shrimp paste and coconut milk.
Can I freeze the curry?
Yes, any leftovers of this curry can be cooled, covered and frozen. Then defrosted overnight in the refrigerator and reheated in a pan (stirring often) or microwave until piping hot throughout.
Can I store the homemade Massaman Paste?
Yes, the sauce should be kept in an airtight container in the refrigerator. It should keep for about a week.
Can I use a shop-bought paste instead of making my own?
Yes - although shop bought pastes are usually stronger. So use about 4 tbsp instead of the 6 tsp of homemade paste. Also, check it's a gluten-free brand if needed!
Can I cook it in the slow cooker?
Yes, sear the coated beef first add in the spice paste, coconut milk and stock as per the regular instructions. Then transfer to a slow cooker to continue cooking.
I'd recommend cooking this for 4 hours on high or 6-7 hours on low. You can add the potatoes in at the beginning, or if you want them to be slightly firmer, add them in halfway through the cooking time.
Cooking in the oven reduces the sauce more than in the slow cooker, so you may also want to reduce the amount of stock by around 180ml-200ml (¾ cup). It's a good idea to keep an eye on it if you're going for this less-liquidy version – just to make sure it doesn't dry out.
---
Nutritional information is per serving, not including rice.
Nutrition
Calories:
507
kcal
Carbohydrates:
24
g
Protein:
43
g
Fat:
27
g
Saturated Fat:
19
g
Cholesterol:
113
mg
Sodium:
799
mg
Potassium:
1302
mg
Fiber:
3
g
Sugar:
4
g
Vitamin A:
234
IU
Vitamin C:
51
mg
Calcium:
82
mg
Iron:
7
mg
This recipe was first published in May 2014. Updated in October 2019 with new photos, video and cook's tips. Updated in June 2020 with more information and for housekeeping.
Equipment
In order to make this Massaman Curry recipe you will need:
Some of the links in this post may be affiliate links – which means if you buy the product I get a small commission (at no extra cost to you). If you do buy, then thank you! That's what helps us to keep Kitchen Sanctuary running. The nutritional information provided is approximate and can vary depending on several factors. For more information please see our Terms & Conditions.