Tender, marinated steak, threaded onto skewers and grilled to juicy, lightly-charred perfection. All served up with a spicy peanut sauce.
The AMAZING basting sauce is the secret to the best beef satay. Full of fragrant spices with a touch of sticky-sweetness.
If you're dreaming out-of-this-world street food, this recipe will satisfy all of those cravings.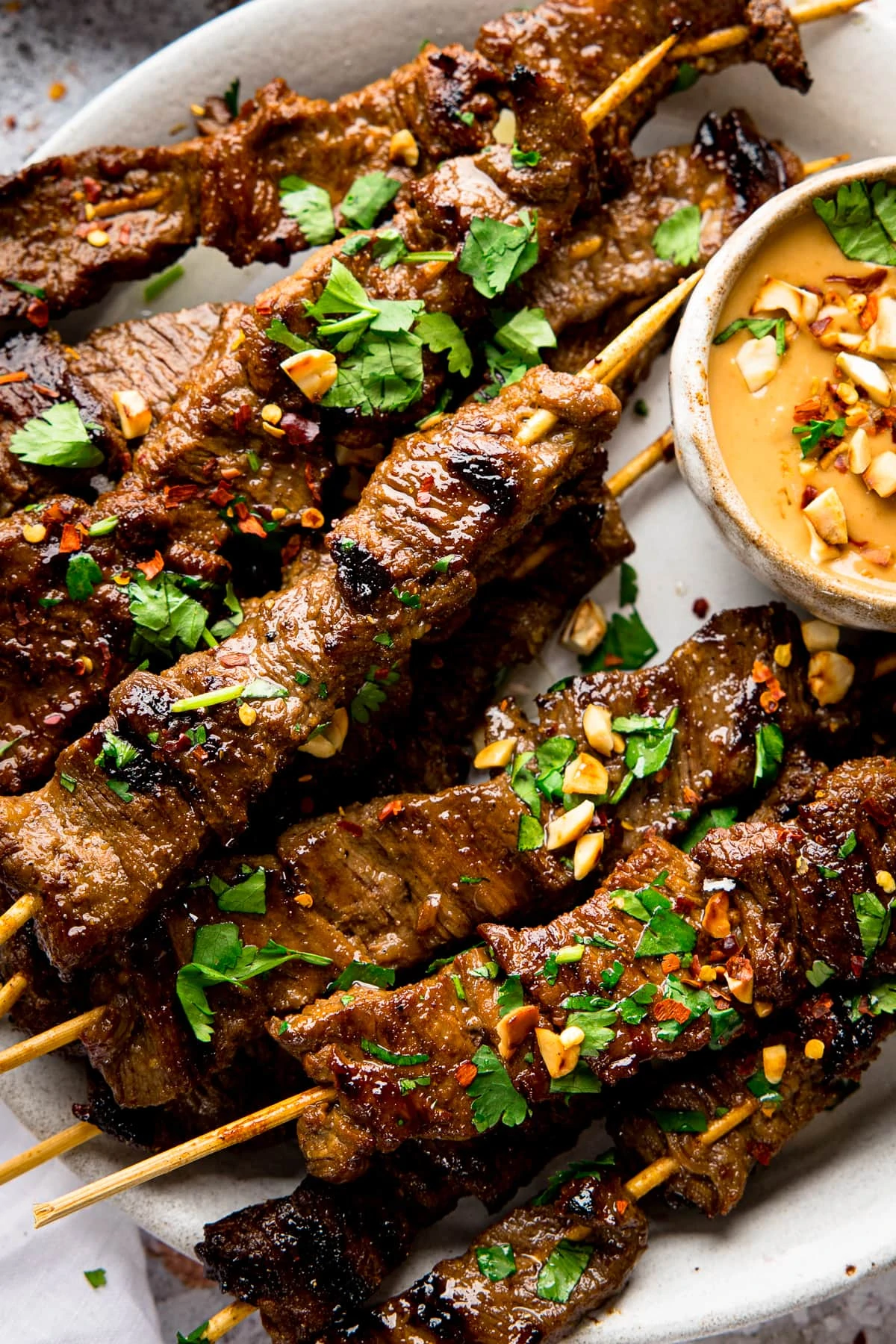 A hugely popular South-East Asian appetizer, beef satay skewers are the king of street food.
There are many different versions out there - depending on the region. This recipe is for Singapore-style beef satay - which is skewered marinated beef with a creamy peanut sauce.
If you're currently dreaming of being outdoors, wandering around, eating delicious food from that amazing-smelling food stall, then this is the recipe for you!
What is satay meat?
Satay is a seasoned or marinated meat that has been skewered and grilled - usually over charcoal. It's usually served with a sauce. The type of sauce varies depending on the country/region.
What does beef satay taste like?
Satay beef should be tender, with a sweet and salty flavour. It will also have a slightly smoky flavour if it's been cooked over coals or lightly charred on a griddle.
What do we need?
Beef and Marinade
I use Denver steak for beef satay, as it's lightly marbled and full of flavour (more info on other cuts below).
The beef is marinated in a very simple marinade of vegetable oil, brown sugar and fish sauce.
Basting Sauce
We have the flavour base which is made up of fish sauce, garlic, lemongrass, ginger, soy sauce, cumin and ground coriander
The rich creaminess from coconut milk and vegetable oil
A touch of sticky sweetness from dark brown sugar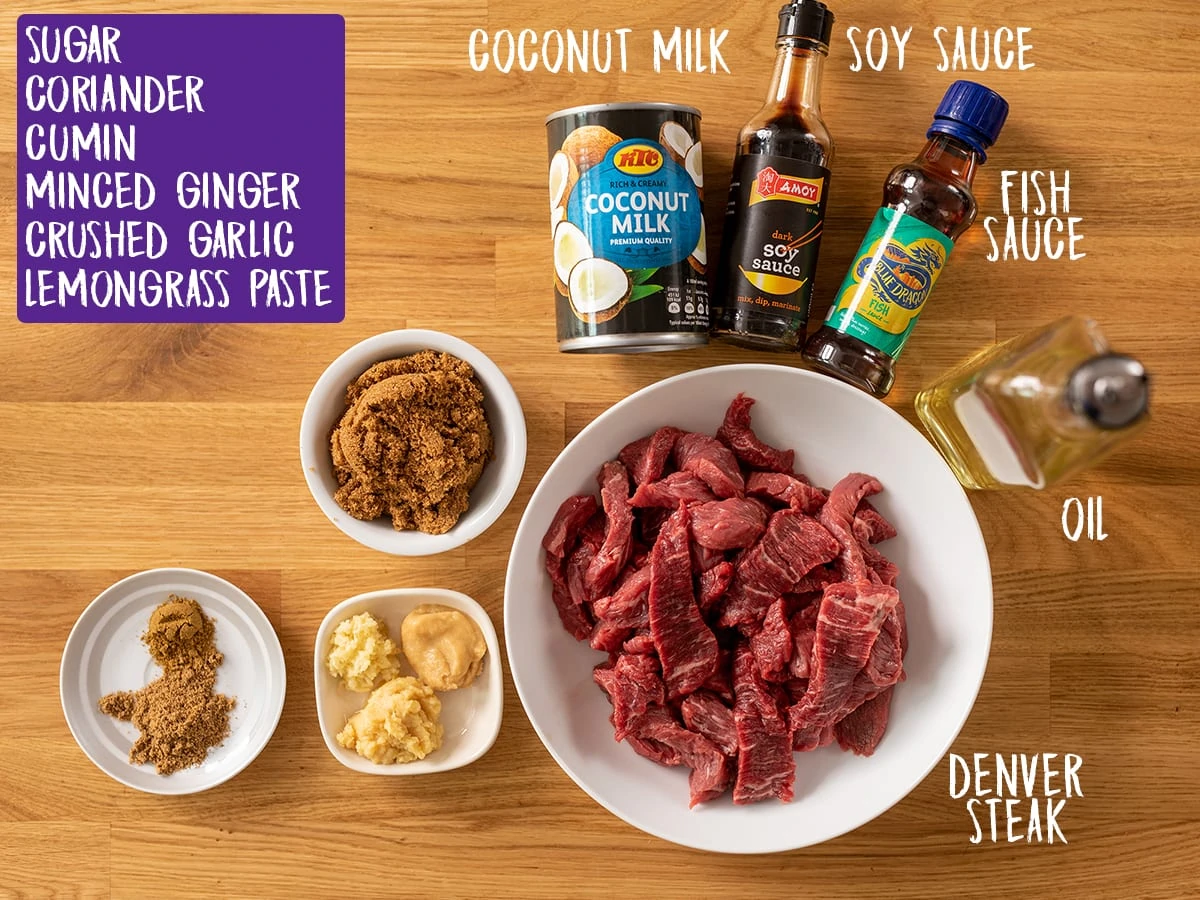 How to make it
Full recipe with detailed steps in the recipe card at the end of this post.
First, soak your skewers if you're using wooden skewers - this will help to prevent them from burning.
Then massage the steak slices with the oil, sugar and fish sauce and marinate for 30 minutes.
Make the basting sauce by mixing together all of the basting sauce ingredients.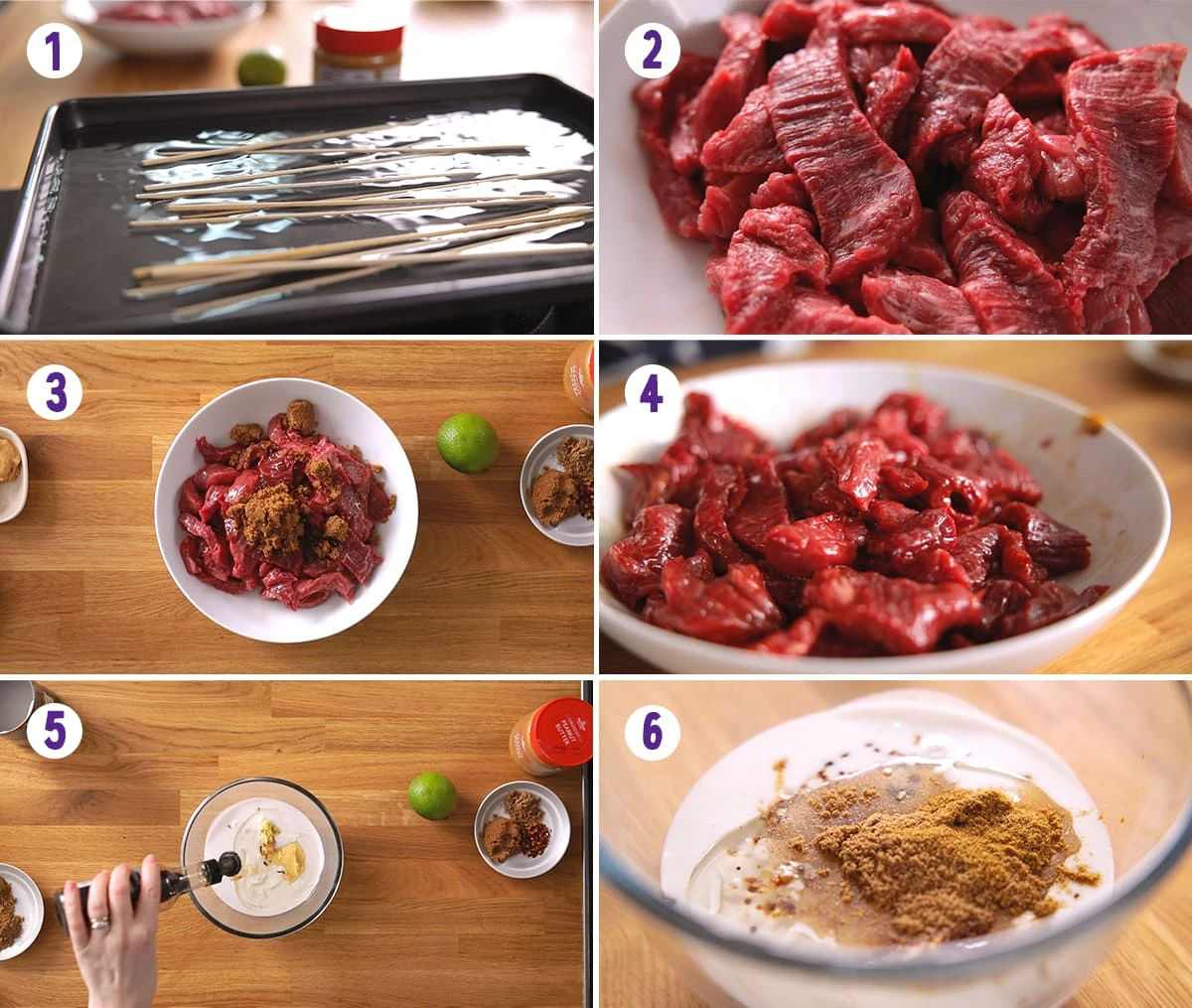 Thread the steak onto the skewers and brush with the basting sauce.
Cook over a very hot grill/griddle or barbecue for 5-6 minutes until cooked through. Turn a couple of times during cooking and baste generously each time you turn the skewers.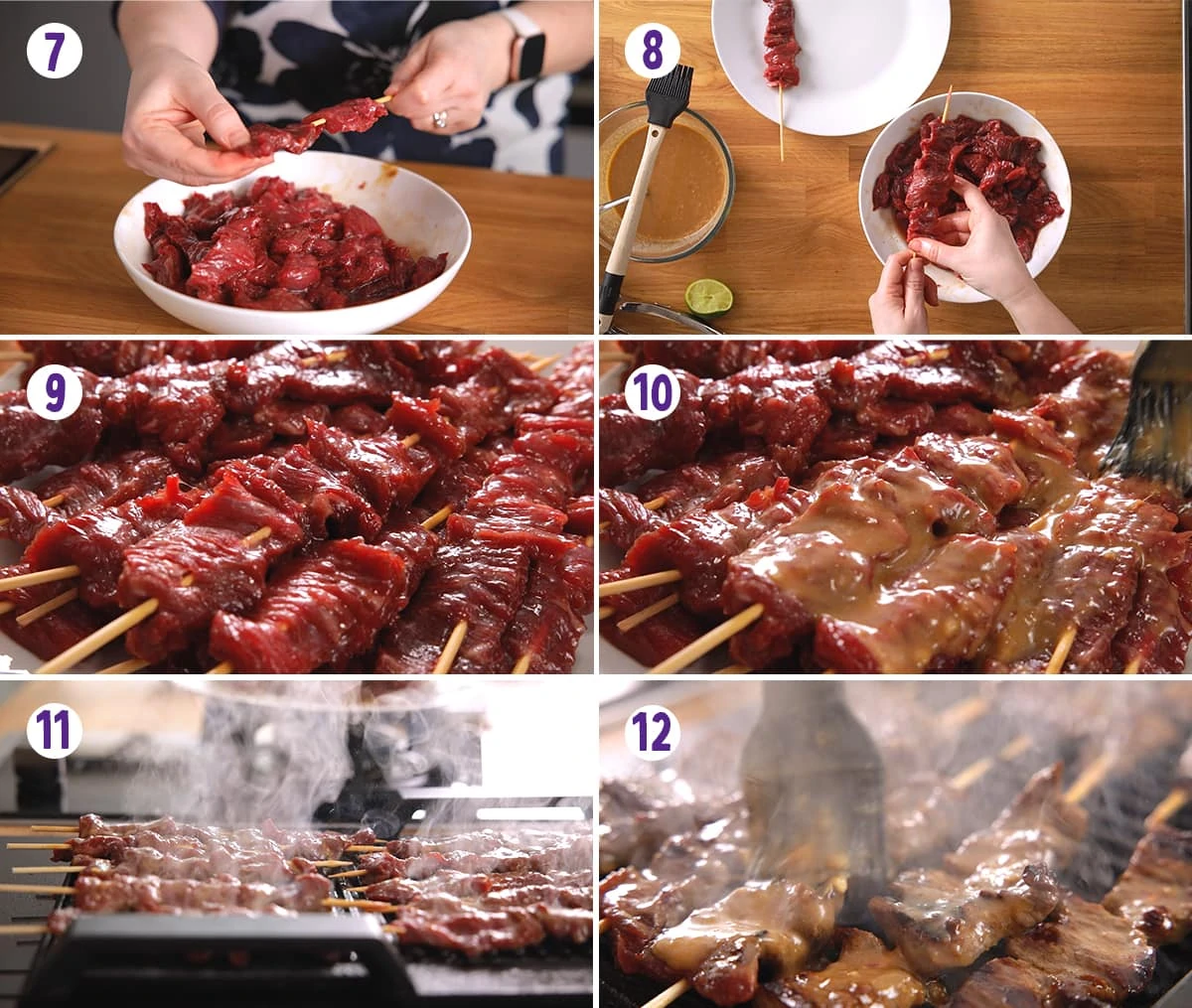 ---
For the satay sauce you'll need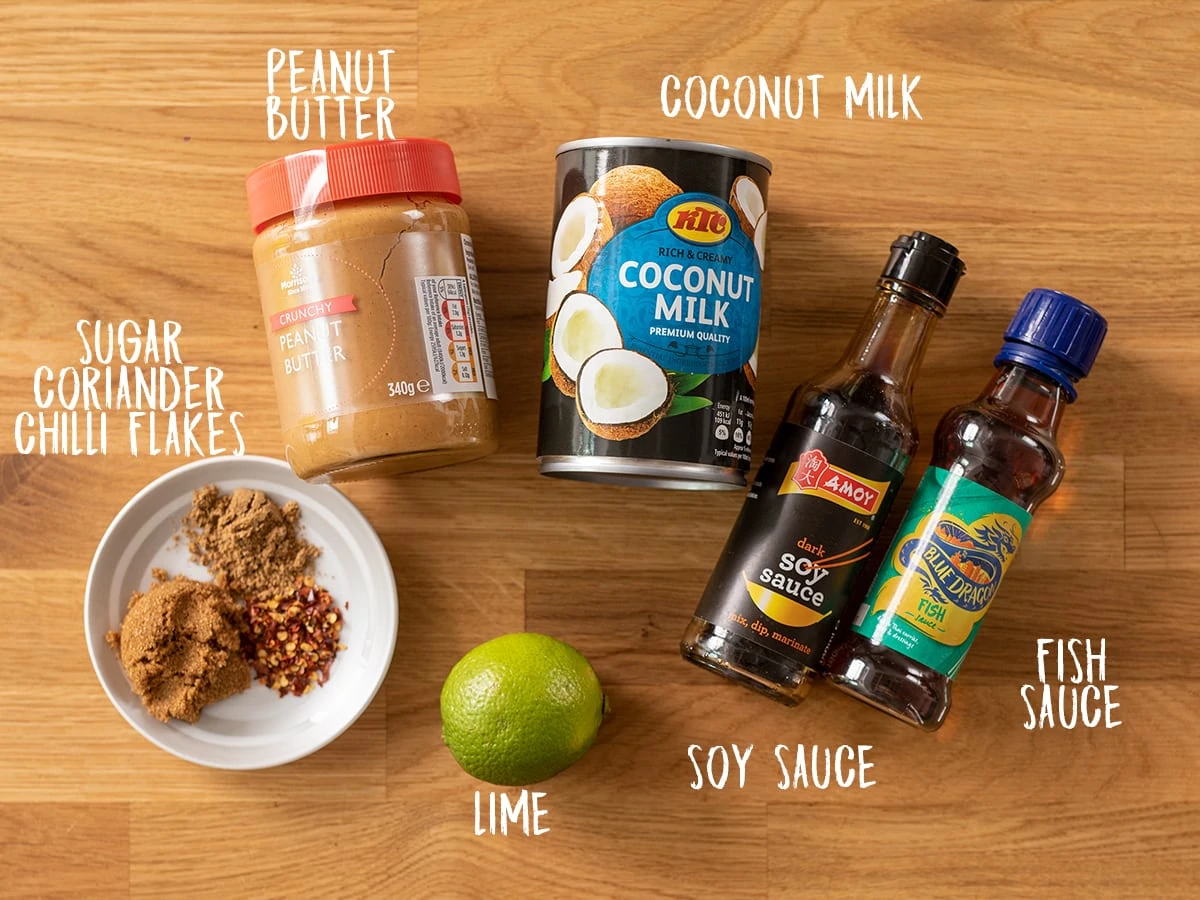 How to make the Satay Sauce
Full recipe with detailed steps and ingredient quantities in the recipe card at the end of this post.
To make the satay sauce, simply mix all of the sauce ingredients together and heat until almost boiling.
Stir and gently simmer until thickened.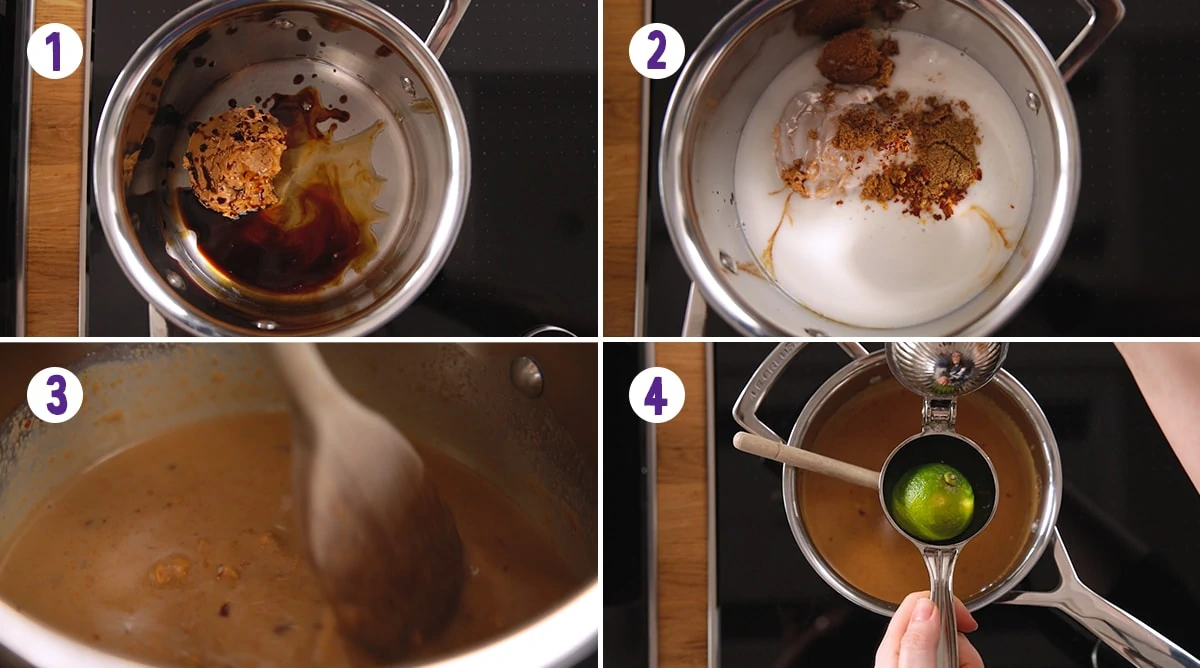 What to serve it with
You can serve these satay kebabs with:
---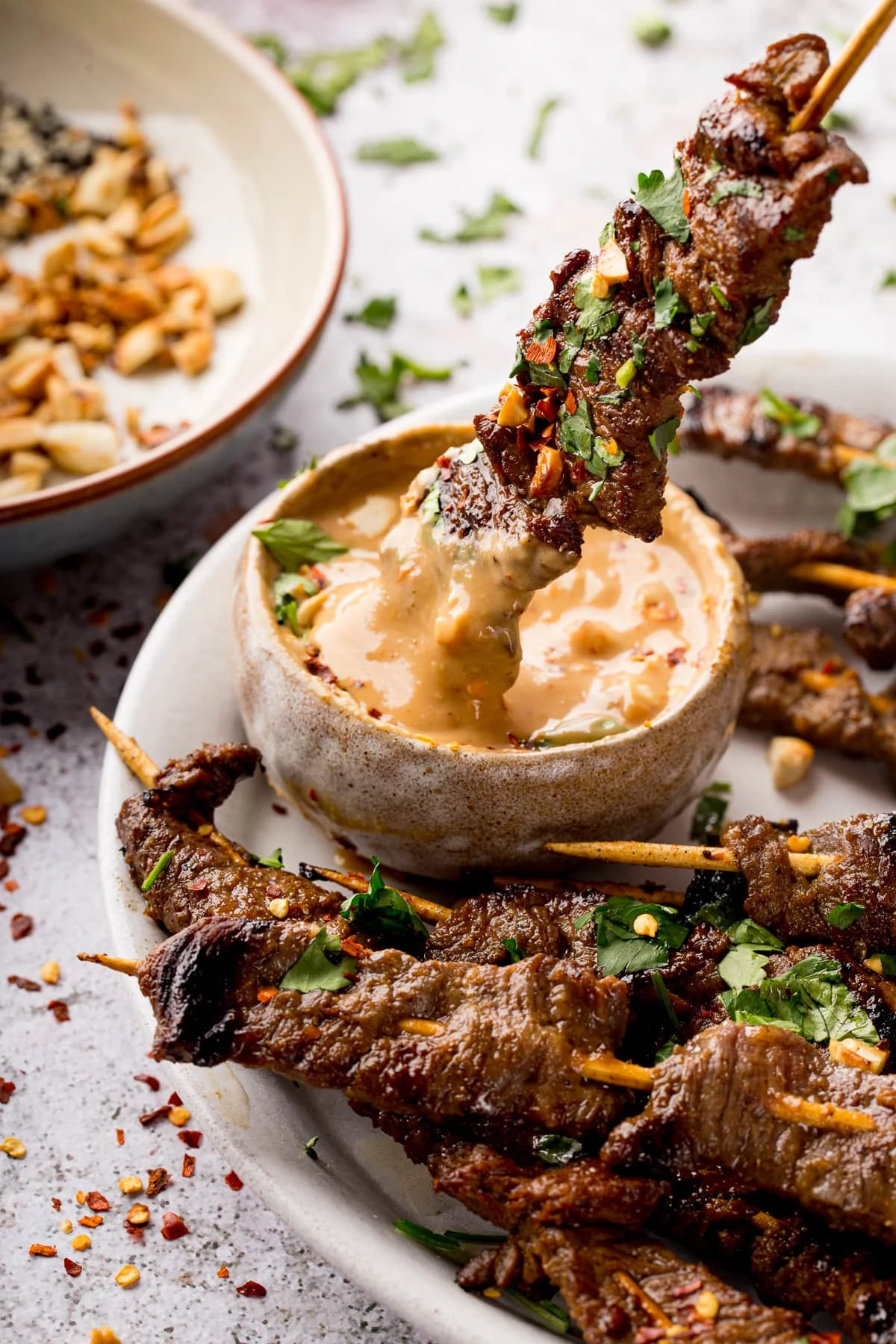 What's the best steak for grilled beef satay?
Denver steak: I love to use Denver steak – which comes from the front leg of the cow. It's cut from a single muscle and is lightly marbled throughout. This means it's a juicy and flavourful steak that stays tender after quick cooking over a high heat. Slice the steaks against the grain, and it will be tender, without being chewy.
Sirloin steak: Cut from the upper middle of the cow, the top sirloin is extremely tender and juicy, but quite expensive. The bottom sirloin is a little less tender and therefore a little less expensive. Both the top and bottom sirloin is good for stir fry. If using the low sirloin, slice the meat more thinly, otherwise it may be a little chewy.
Skirt steak or flank steak: both cuts from the underside of the cow, the skirt steak is from the middle underside (plate) and the flank is a little further back on the underside. Both cuts are flavourful and suitable for high heat cooking. They're not as tender as denver or sirloin steak, so ideally you want to marinade them and slice them thinly across the grain before cooking.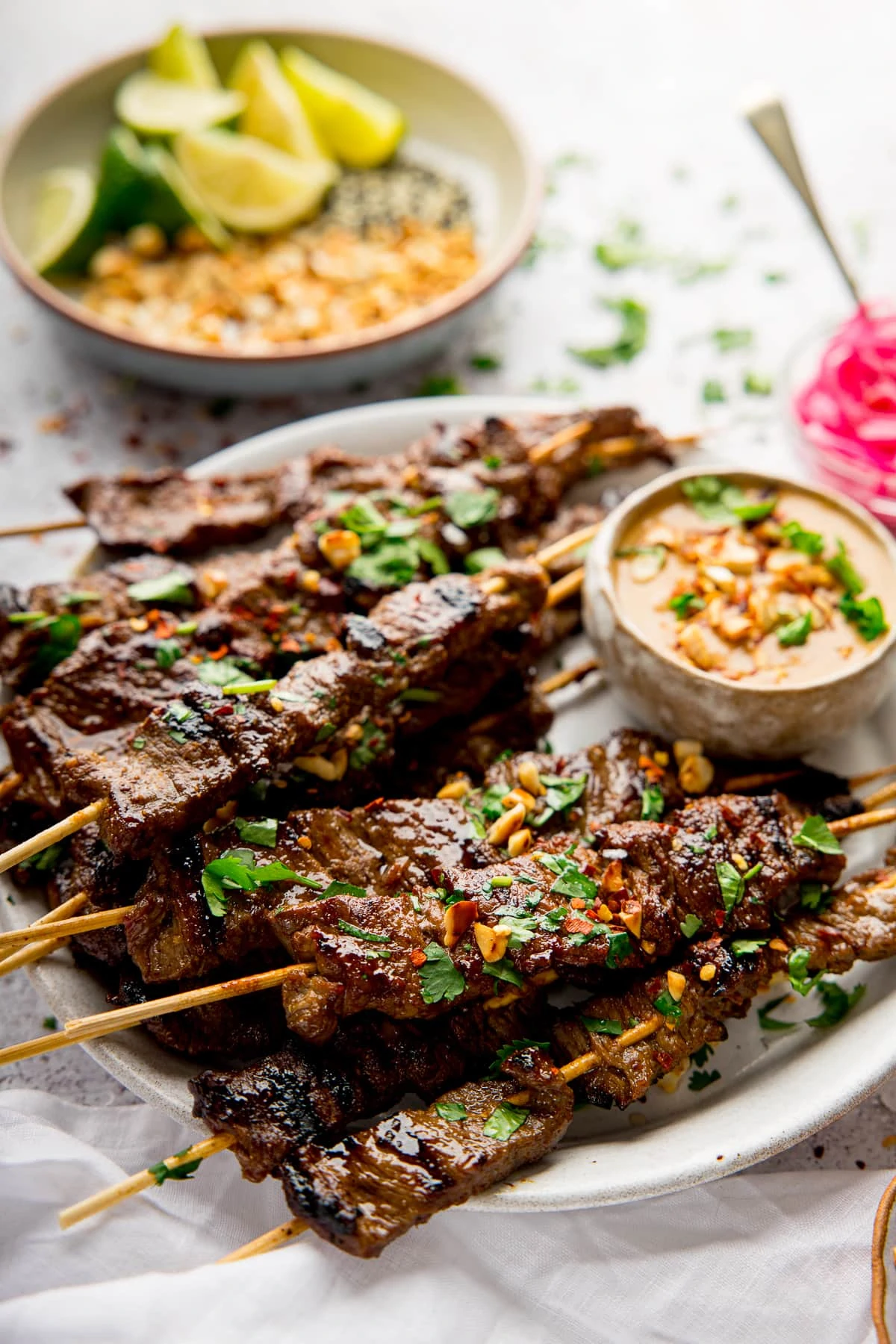 More fantastic south-east Asian-style recipes
And don't forget to check out our full category of Asian Recipes.
Watch how to make it
Stay updated with new recipes!
Subscribe to the newsletter to hear when I post a new recipe. I'm also on YouTube (new videos every week) and Instagram (behind-the-scenes stories & beautiful food photos).
Grilled Beef Satay
Tender, marinated beef satay skewers with a spicy peanut sauce. Grill, griddle or barbecue them for an easy streetfood-style dinner.
Ingredients
Beef and Marinade:
1.1

lb

(500g) Denver steak, cut into strips (cut against the grain)

-

cut into long, thin strips, about ¼ inch thick (you can replace with skirt or flank if preferred)

2

tbsp

vegetable oil

2

tbsp

dark brown sugar

1

tbsp

fish sauce
Basting Sauce
7

oz

(200ml) coconut milk

-

from a tin

3

tbsp

dark brown sugar

1

tbsp

fish sauce

2

tbsp

vegetable oil

2

garlic cloves

-

peeled and crushed

2

tsp

lemon grass paste -

(or 2 lemon grass stalks, outer leaves discarded, inner leaves minced)

2

tsp

minced ginger

1

tbsp

dark soy sauce -

use tamari for gluten free

½

tsp

cumin

1

tsp

ground coriander
Satay sauce:
3

heaped tbsp

chunky peanut butter

1

tbsp

dark soy sauce -

use tamari for gluten free

½

tsp

chilli flakes

-

(red pepper flakes)

1

tbsp

fish sauce

7

oz

(200ml) coconut milk

-

from a tin

1

tbsp

dark brown sugar

½

tsp

ground coriander

Juice of 1 lime
To Serve:
1

fresh red chilli

-

thinly sliced

2

tbsp

Fresh coriander (cilantro)

-

chopped

½

tsp

chilli flakes

-

(red pepper flakes)

¼

red onion

-

peeled and finely sliced

1

tbsp

roasted peanuts

-

roughly chopped

1

tsp

sesame seeds
INSTRUCTIONS
Begin by soaking 10 wooden skewers in water for half an hour. This will prevent them from burning when cooking.

Place the sliced steak in a large bowl with the oil, dark brown sugar and fish sauce. Mix together using your hands and massage the sauce into the steak for a minute. Cover and marinate at room temperature for 30 mins. (If you want to marinate for longer - i.e up to overnight, then place in the refrigerator).

Whilst the meat is marinating, add all of the basting ingredients to a bowl and whisk together. Put to one side.

Now place all of the satay sauce ingredients EXCEPT for the lime juice into a small pan.

Heat over medium heat whilst stirring with a wooden spoon. The sauce will look thin at first, then as it comes close to boiling point, it will start to thicken. Don't let the sauce boil, just turn down the heat as it approaches boiling point and stir until thickened, then turn off the heat and stir in the lime juice.* Note 1

Take the skewers out of the water and give them a shake to remove excess water, then thread the steak strips onto the skewers, and place the skewers on a plate. Brush with the basting sauce.

Heat a griddle or barbecue very hot. Place the skewers on the griddle and cook for 5-6 minutes until golden brown. Turn a couple of times during cooking and baste generously each time you turn the skewers. Note: It will smoke a lot - so keep the windows open!!

Place the skewers on plates, then reheat the satay sauce if you like it hot. Serve in a bowl alongside the skewers. Top with fresh coriander (cilantro) and a few slices of red chilli. If you like lots of toppings, you can also top with chilli flakes, a little red onion, a few chopped peanuts and some sesame seeds.
Video
✎ Notes
Note 1: The sauce can be served cool or warm, or you can reheat if you wish (the oil will separate a little from the peanut butter and coconut milk as it cools, but a good mix with a wooden spoon will bring it back together again).
Can I make Beef Satay ahead?
Yes, you can marinate the beef and place on skewers, then refrigerate for up to a day.
Remove from the refrigerator 30 minutes before cooking.
The basting sauce can be make up 2-3 days in advance, then covered and refrigerated.
The satay sauce can be made ahead, cooled, covered and refrigerated for up to 2-3 days. Place in a pan and reheat whilst stirring if you want to serve it warm.
I wouldn't recommend cooking the beef skewers ahead of time and reheating, as the beef will dry out and become chewy.
Can I make extra sauce?
This recipe comes with a good amount of sauce, but yes, you can double or treble the recipe if you like.
Can I make it gluten free?
Replace the soy sauce with tamari and check your fish sauce and peanut butter are gluten free (they usually are) and it should be fine for gluten free.
Other cooking methods (oven, bbq, grill)
You can place these kebabs on a barbecue or under the grill. You can even cook them in the oven (watch out, the kebab sticks will be HOT!) for approx 10 minutes at 200C/400F. 
Recipe inspiration source:
The beef and basting sauce is adapted from Cook's Illustrated "Meat Book" cookbook (fyi – this is an affiliate link, and incidentally, I've got a copy of this book, and it's awesome – so much info on how to perfectly cook meat).
Nutritional Information is per skewer (based on 10 skewers)

including

1/10 of the sauce.
Nutrition
Calories:
302
kcal
Carbohydrates:
12
g
Protein:
15
g
Fat:
23
g
Saturated Fat:
14
g
Cholesterol:
31
mg
Sodium:
721
mg
Potassium:
359
mg
Fiber:
1
g
Sugar:
8
g
Vitamin A:
108
IU
Vitamin C:
8
mg
Calcium:
22
mg
Iron:
3
mg
Some of the links in this post may be affiliate links – which means if you buy the product I get a small commission (at no extra cost to you). If you do buy, then thank you! That's what helps us to keep Kitchen Sanctuary running. The nutritional information provided is approximate and can vary depending on several factors. For more information please see our Terms & Conditions.