No faffing - this is the easiest way to cook rice in a pan.
We eat a lot of rice, so I find myself making it at least a few times a week. This method of how to cook rice has been tested hundreds if not, thousands, of times. It's the way I've been making it for decades, for me, its the only way I cook rice.
Do you rinse the rice? stir it? drain it after cooking? I've got all of your questions answered!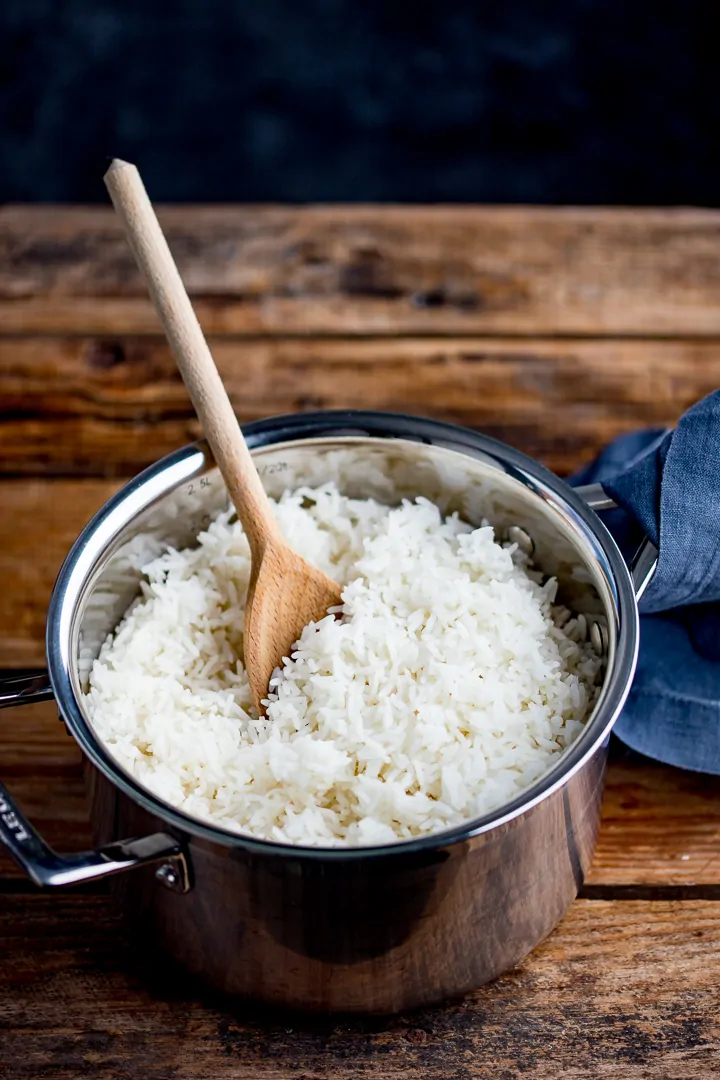 I've always followed the same method after watching my mum cook rice when I was younger. She still has the same saucepan that she uses for rice from when I was a kid!
It was only when I was at university (in the communal kitchens) that I saw how much trouble other people had with boiling rice. There was soggy rice, hard rice, burnt rice - and I witnessed people boiling it in huge pans of water and draining it off - like they were cooking pasta! That often ended up in a big soggy glutenous mess. It seemed like no-one knew how to cook rice on the stove!
So I wanted to share my method (or should I say my mum's method) that I've been using for decades on how to cook long grain rice. The only time I've ever had an experiment with it was when I moved from a gas burner to an induction hob. But I'll share the methods for both.
Here are my most important tips. Once you've got these down, you'll be cooking rice perfectly every time.
---
Top Tips
What Type Of Rice Should I Use?
Use regular long-grain white rice – not the easy-cook kind. Easy cook might seem simpler, but because it's got more of a shiny-non-stick exterior when cooked, it simply won't be as tasty, and it won't absorb the flavour of your accompanying sauce as well (also if you're turning it into fried rice, the non-stick rice won't absorb any of the flavours as well). I only ever use easy-cook rice for making stuffed peppers – just because it cooks quicker and I want the grains to have a different texture for that recipe.
Do I Need to Rinse Rice Before Cooking?
No need to rinse it. Some people think rinsing it is a must to remove the starch and any other nasties, thereby making your rice less sticky. If you buy decent quality (store own-brand is fine) rice, you shouldn't have this problem. Your rice may be a little clumpy, but shouldn't be sticky. I prefer rice to be a little bit clumpy – and the clumps are easily broken down with a fork.
What Size Pan Should I Use?
Don't go with too large a pan. You'll be cooking the rice over a low heat, so a smaller pan is better for even heat distribution. For this tutorial, we're working on approx 4-6 portions of rice – using a 1.8 – 2.2 litre (approx 1.5 – 2 quart) saucepan.
Do I Use Cold or Hot water?
Get the water boiling first, and then add the rice. The amount of water you put in the pan will dictate the amount of rice to add.
What Is The Ratio Of Water To Rice?
If you feel you really need to know the quantities, this is generally one part rice to one-and-a-half parts water.
---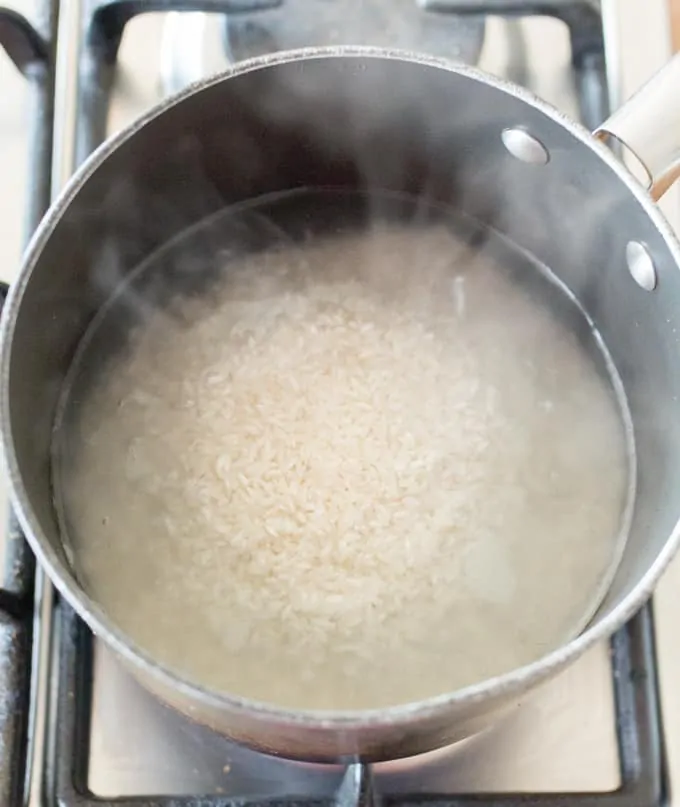 How to make rice
#1 Add the water
I fill the sauce-pan approx ⅓ full with water for 6 portions.
#2 Add the long grain rice
You can add the rice by eye – simply pour the rice into the centre of the boiling water and keep pouring until a tbsp. or so of rice is above the water – like the image above. ☝️
#3 Stir & add the lid
Once you've added the rice, give it a quick stir and then place a lid on the pan.
#4 Turn the temp down
Immediately turn down the temperature (don't wait to bring it back up to the boil again). For gas, cook at the very lowest temperature your hob can manage. For electric or induction, it may need to be a little higher. I use induction level 5 (of 9) because my lowest induction settings are extremely low heat... You may need to experiment, depending on your electric/induction hob. If you know what number/heat setting you need on your hob to maintain a rolling boil on a pan of water, go about 3 settings lower than that.
#5 Leave it alone!
Cook for 20 minutes. This allows the rice to cook evenly, without burning the bottom.
Don't stir or open the lid. You can check once after 15 minutes if you really feel the need, but if you keep opening the pan, the rice won't cook (remember you're only using a very low heat). The rice should be done after 20 minutes. If the rice is still hard and there is absolutely no water at the bottom of the pan, just add in a splash of boiling water and put the lid back on again. Don't worry about overcooking the rice – so long as you haven't got too much water in there, the rice can take a fair amount of extra cooking – so long as the heat is low. I've accidentally left mine for 30+ minutes before now and it was fine.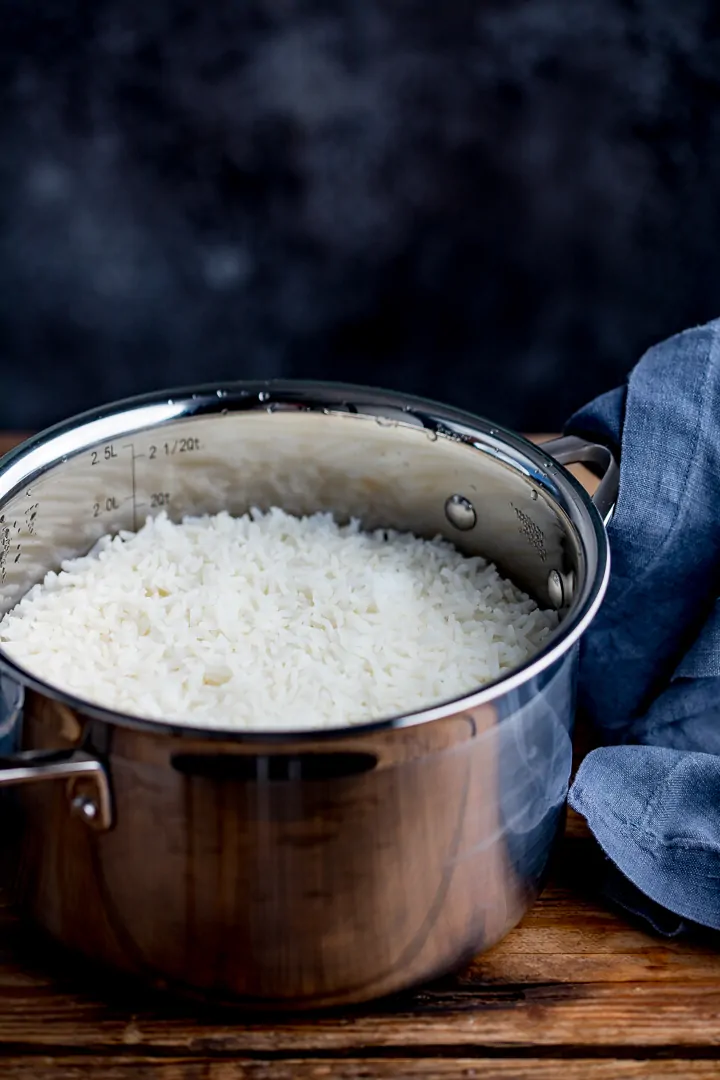 Your rice should look like this when cooked – there should be no water to drain off. If you're serving it right away (not making it into fried rice), it will need a bit of a fluff with a fork to separate the grains.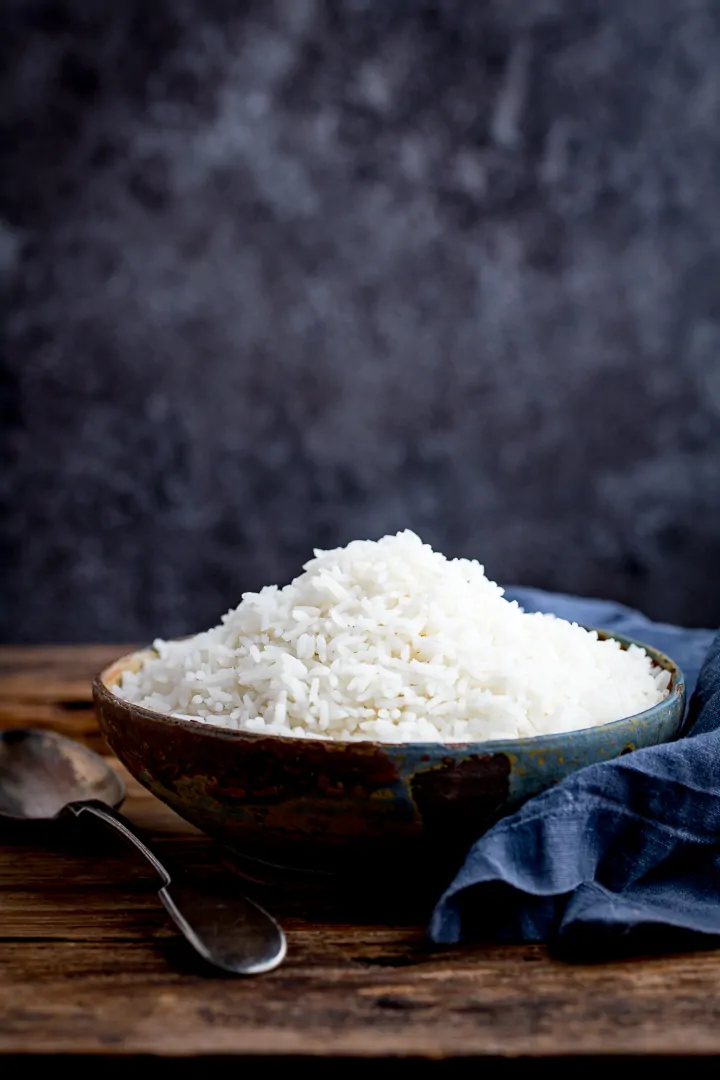 There you have it. Once you know the key tips, cooking rice is easy.
Want to turn it into fried rice? Check out my Fried Rice Masterclass or level it up as Chicken Fried Rice.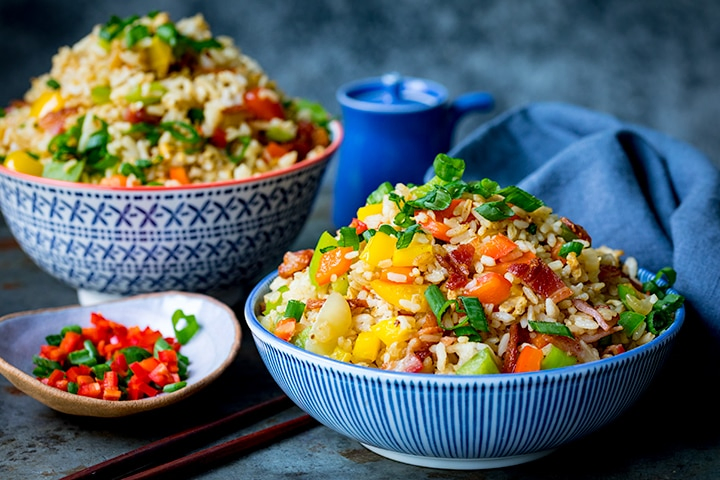 What to serve with rice
Oh my, I've got SO MANY recipes that go well with rice. Here are some of my favourites:
Please note: These instructions are for long-grain white rice only. Other varieties of rice and brown rice require different quantities and cooking times. If you'd like me to write a post on other different types of rice, please let me know in the comments and I'll write it up for you guys x
Stay updated with new recipes!
Subscribe to the newsletter to hear when I post a new recipe. I'm also on YouTube (new videos every week) and Instagram (behind-the-scenes stories & beautiful food photos).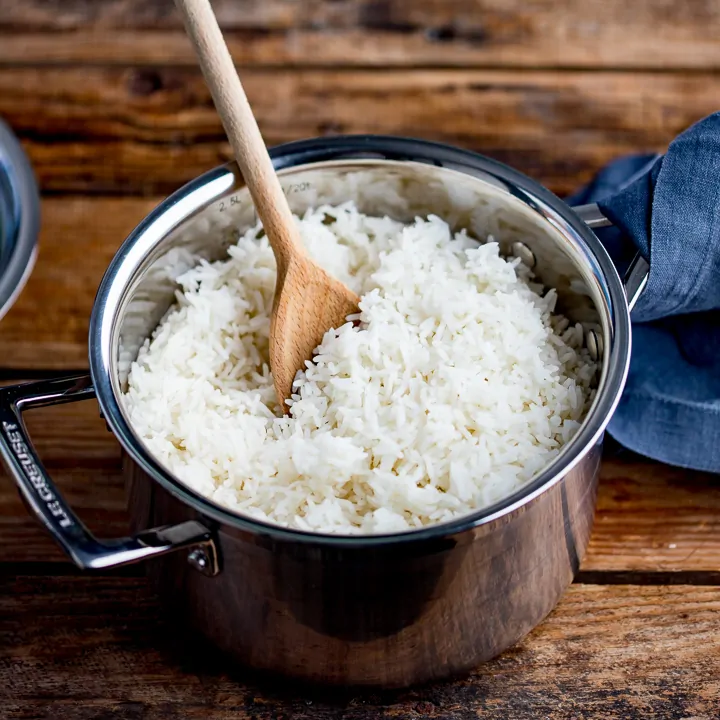 How to cook rice
No rinsing, so soaking, no faffing. This is how to cook rice perfectly every time. The only way I cook rice.
Ingredients
3 ¾

cups

(900ml) water



2 ½

cups

(540g) long grain rice

-

(not easy cook rice)
INSTRUCTIONS
Bring the water to a boil and pour in the rice (no need to rinse). Give it a stir so that the rice is covered by the water, put a lid on the pan and cook for 20 minutes on the lowest heat on your smallest burner - if using gas. Go for a low-medium temperature for induction.

After 20 minutes, turn off the heat and remove the lid. Fluff the rice with a fork. Note: the rice will stay hot for a good 30 minutes (with no impact to the texture/flavour) if the lid is left on the pan.
✎ Notes
Nutritional Information is per serving.
Nutrition
Calories:
281
kcal
Carbohydrates:
62
g
Protein:
5
g
Fat:
1
g
Saturated Fat:
1
g
Sodium:
12
mg
Potassium:
89
mg
Fiber:
1
g
Sugar:
1
g
Calcium:
26
mg
Iron:
1
mg
This post was originally published Sept 2019. Update Jun 2020 with additional information and for housekeeping reasons.
More amazing rice dishes
Some of the links in this post may be affiliate links – which means if you buy the product I get a small commission (at no extra cost to you). If you do buy, then thank you! That's what helps us to keep Kitchen Sanctuary running. The nutritional information provided is approximate and can vary depending on several factors. For more information please see our Terms & Conditions.