Soft fluffy naan bread, made at home, is out of this world!
Brushed with melted garlic butter, nothing beats it for mopping up the sauce from a tasty curry.
If you're a bread fiend like I am you're going LOVE this recipe.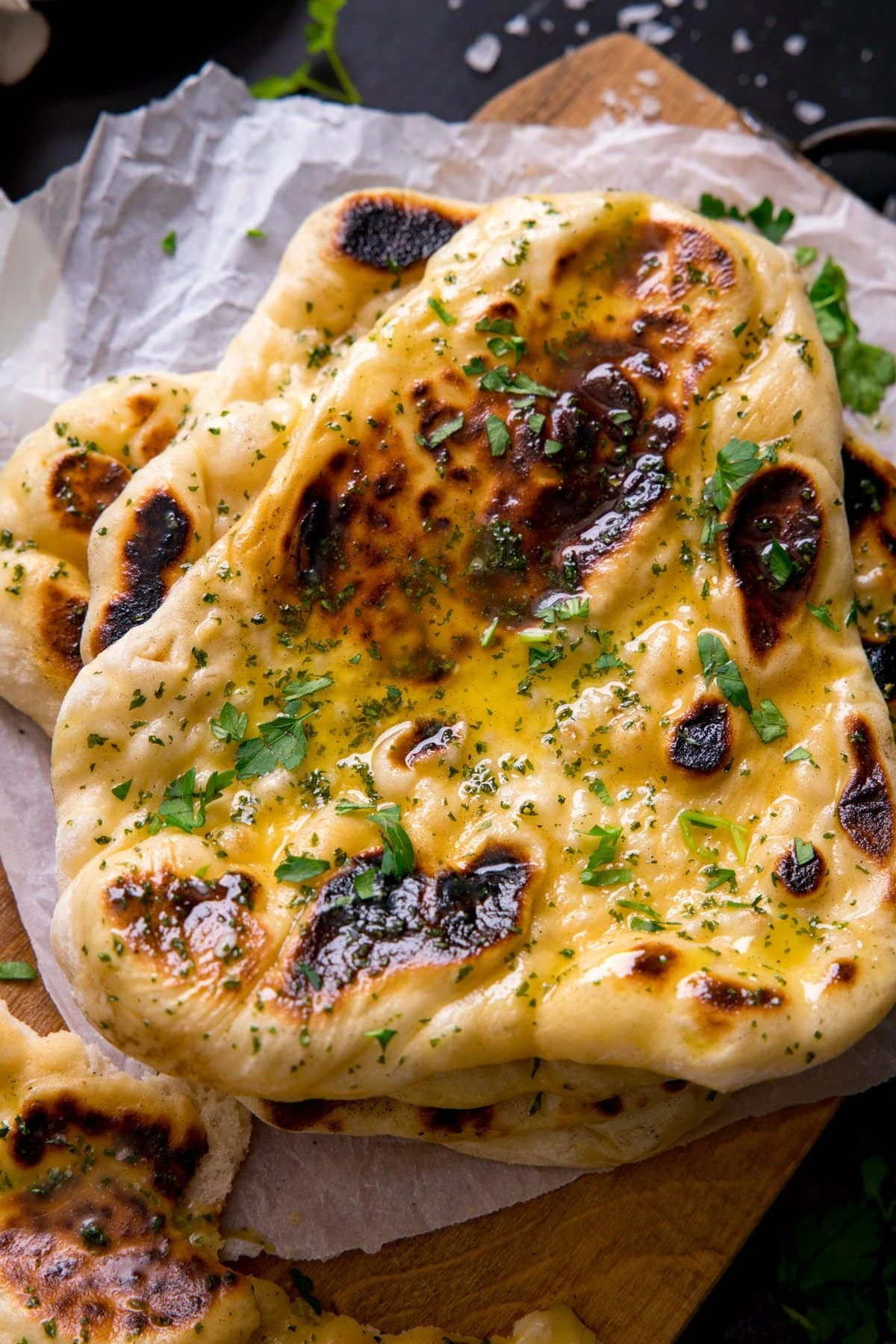 Jump to:
I can't tell you how excited I was when I cracked this recipe.
Getting that perfect fluffy-yet-chewy finish, the taste that makes your eyeballs roll back into your head. Yes, I had that moment.
It's the recipe that will make any curry awesome.
Of course I'd recommend you try one of my many curry recipes to go with it.
But really, you could even buy a disappointing supermarket curry (sorry all supermarkets, but I've yet to get one that I really like) and this naan bread will fool you into thinking it was all amazing 😉
🔪 How to make this garlic naan
***Full recipe with detailed steps in the recipe card at the end of this post***.
We start by adding the yeast to warm water and allowing it to foam. This will tell us is the yeast is active. Be sure to use yeast that's in date and hasn't been sat in the cupboard after opening for too long (yeast sachets, rather than a tub of yeast are best if you don't make bread that often).
Mix the dough in the bowl of a stand mixer - it's much easier than by hand as it's quite a sticky mixture. For the dough we add bread flour, sugar, baking powder, salt, natural yogurt (the yogurt is what makes the bread more fluffy), melted butter and the yeast mixture.
Knead the dough with the dough hook attachment for 10 minutes, then cover and prove the dough for 60-90 minutes - until doubled in size.
Then we divide and roll out the dough. Use a rolling pin and plenty of flour for dusting, roll each one (this recipe makes 6) into a rough teardrop shape.
Cook each naan bread in a searing hot, dry pan, for about 3 minutes on each side. When you add the dough to the pan nothing will happen at first, then after a couple of minutes, big bubbles should start to appear. They're the bits that will get lovely and brown when you turn the naan bread over in the pan.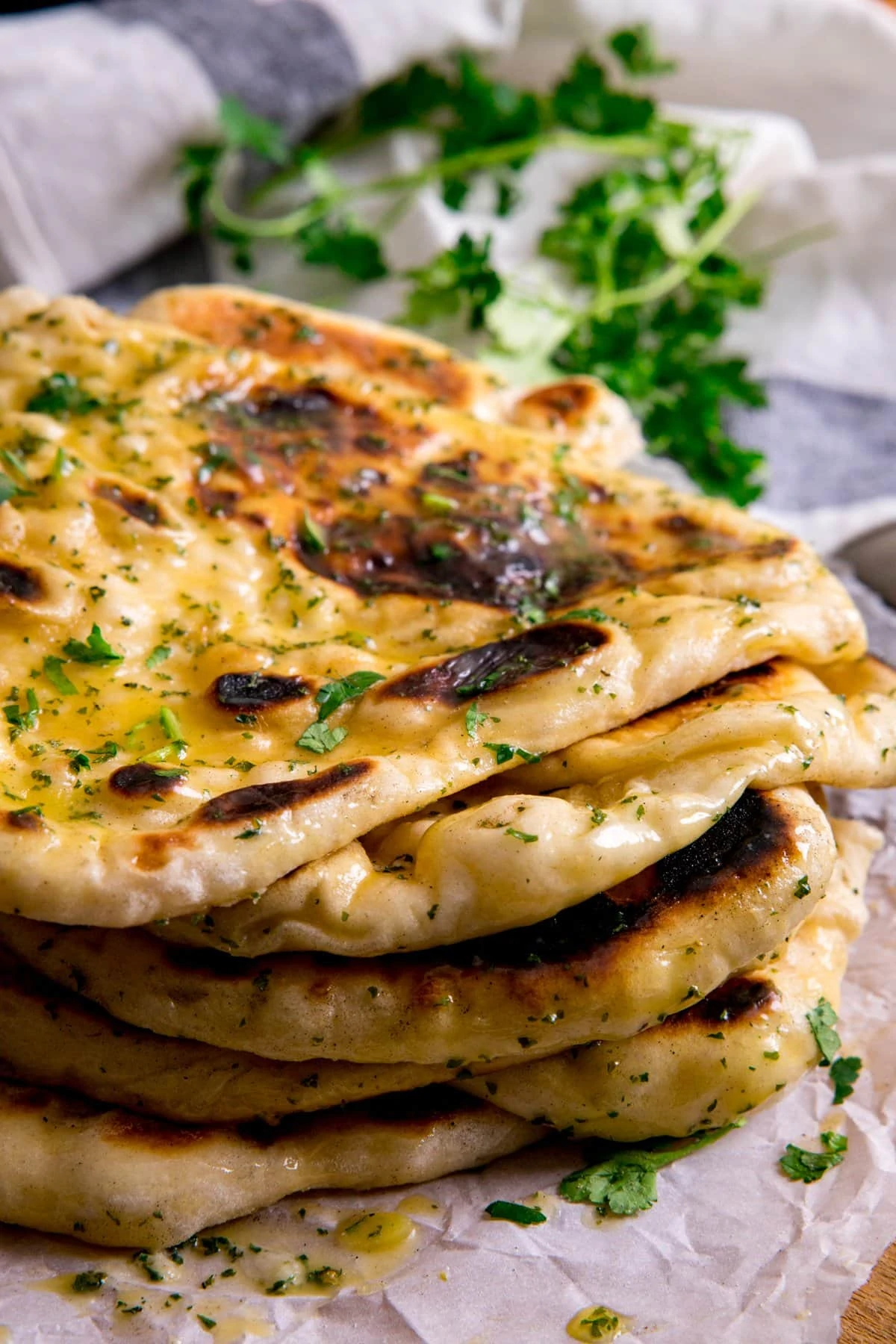 👩‍🍳PRO TIP Keep the naan breads warm in the oven on a very low heat. Place the naans on a tray and place them on top of each other in a stack (this helps them not to dry out) in the oven, covered in foil.
Once the naan breads are ready, generously brush them with garlic butter. This is a mixture of melted unsalted butter, minced garlic, salt and dried parsley.
A note on yeast
I use instant yeast because that's what I always have in the cupboard.
Technically you don't have to 'activate' instant yeast in water, but I do anyway because it makes it less confusing having to alter liquid amounts if I were to make it with active or fresh yeast.
Fresh, active or instant yeast can all be added to warm water to check if it's active - so I see it as a 'one-size-fits-all' instruction.
I've included some information in the notes section of the recipe card regarding yeast amounts if you want to use active or fresh yeast instead of instant.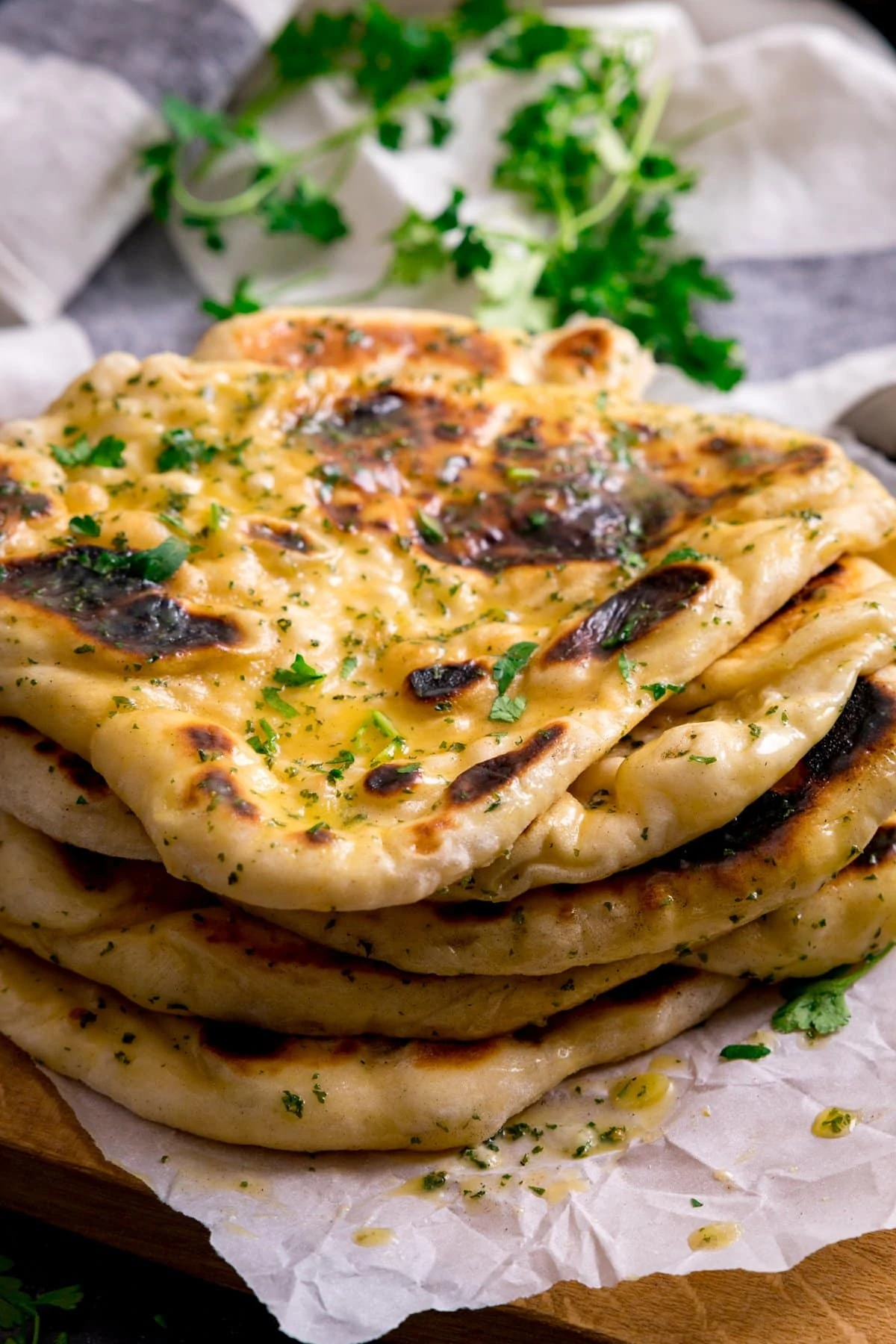 🍽️ What to serve these naan breads with
I've got a whole category of curries that would be perfect!
---
🍲 More fantastic Indian side dish recipes
Stay updated with new recipes!
Subscribe to the newsletter to hear when I post a new recipe. I'm also on YouTube (new videos every week) and Instagram (behind-the-scenes stories & beautiful food photos).
Garlic Naan Bread
Soft, fluffy, homemade naan bread, brushed with melted garlic butter. Perfect for mopping up the sauce from your favourite curry!
Ingredients
For the dough:
2

tsp

(7g) instant yeast

120

ml

(½ cup) warm water

300

g

(2 ½ cups) strong white bread flour, plus extra for dusting

1

tsp

(5g) sugar (caster or superfine)

½

tsp

baking powder

1

tsp

(5g) salt

150

ml

(½ cup + 2 tbsp) natural yogurt

30

g

(2 tbsp) melted unsalted butter
For rolling/shaping:
3-4

tbsp

plain (all purpose) flour
Garlic butter
75

g

(5 tbsp) melted unsalted butter

1

tsp

salt

2

cloves

minced garlic

2

tsp

dried parsley

-

or 4 tsp finely chopped fresh parsley
INSTRUCTIONS
Place the 2tsp of yeast in a bowl and add the ½ cup of warm water. Stir together and leave for 5 minutes, until foam appears on top of the water.

Add the 300g (2 ½ cups) flour, 1tsp sugar, ½ tsp baking powder, 1 tsp salt, yeast and water mixture, 150ml (½ cup + 2 tbsp) yogurt and 2 tbsp melted butter to the bowl of a stand mixer.

Mix the dough together using the dough hook until combined. The mixture will look dry at first, but will come together.

Once combined, continue to knead the dough with the dough hook for 10 minutes. By this point the dough will be quite sticky.

Place the dough in an oiled bowl, cover with a damp cloth or clingfilm and allow to prove for 60-90 minutes, until doubled in size.

Dust the work surface with a good sprinkling of flour. Divide the dough into 6 balls, dust each one with flour and roll each one out into a teardrop shape approx 18cm (7 inches) long and about 12cm (4.7 inches) wide at the widest point.

Preheat the oven to its lowest setting (to keep the naan breads warm).

Heat a large frying pan (either a non-stick or a seasoned cast iron pan) over a high heat. When very hot, place a naan bread in the pan and fry for approx. 3 minutes, until it puffs up.

Turn the naan bread over a cook for another 3 minutes until golden patches appear on the bread. You can cook it for longer if you prefer darker patches (the pan may smoke a little if cooking for longer, so you may need to carefully wipe it out after cooking each naan).

Meanwhile make the garlic butter by mixing the 5 tbsp of melted unsalted butter, 1 tsp salt, 2 minced cloves of garlic and 2 tsp dried parsley together in a small bowl.

When the naan bread is cooked, place on a baking tray and brush the top generously with the garlic butter mixture.

Cover the tray with foil and place in the oven.

Repeat, cooking each naan bread, brushing the top with garlic butter and placing on top of the previously cooked naan bread (keeping them in a stack will keep them nice and soft). Each time you add a naan bread to the pile, re-cover the pile with the piece of foil and place back in the oven to keep warm until all the naan breads are cooked.

Serve with your favourite curry.
✎ Notes
Can I make them ahead?
Yes, make the naan breads, then cool them and place in an airtight container or wrapped in foil. They should be fine at room temperature for 2 days.
Reheat them by placing on a baking tray in a single layer, covered in foil. Place in a pre-heated oven at 200C/400F for about 5-6 minutes until hot throughout.
You can make them ahead, including brushing on the garlic butter, or you can make them without the garlic butter and brush the garlic butter on after reheating. It's up to you.
They will be more buttery if you brush the garlic butter on right before serving, but they taste great either way.
Can I freeze them?
Yes, make the naan breads, then cool them and place in an airtight container or wrapped in foil and place in the freezer.
Defrost overnight in the refrigerator, then reheat as per the make-ahead instructions above.
Can I use regular active dry yeast or fresh yeast instead of instant yeast?
Yes:
Replace the 2 tsp (7g) instant yeast with 2.5 tsp (9g) active dry yeast.
OR
Replace the 2 tsp (7g) instant yeast with 2tbsp (18g) of fresh yeast.
Ingredient swaps
For plain or cumin naans:
Instead of brushing with garlic butter, brush with melted salted butter and sprinkle on nigella seeds or cumin seeds.
For chilli and/or coriander (cilantro) garlic naans:
Swap out the parsley for chilli flakes and/or freshly chopped coriander (cilantro)
Scale down the recipe
You can halve the recipe to make 3 naans or 4 small naans by halving all of the ingredients (same kneading and proving time needed).
Nutritional information is per naan bread.
Nutrition
Calories:
353
kcal
Carbohydrates:
43
g
Protein:
9
g
Fat:
16
g
Saturated Fat:
10
g
Trans Fat:
1
g
Cholesterol:
41
mg
Sodium:
794
mg
Potassium:
177
mg
Fiber:
2
g
Sugar:
2
g
Vitamin A:
466
IU
Vitamin C:
1
mg
Calcium:
63
mg
Iron:
1
mg
Some of the links in this post may be affiliate links – which means if you buy the product I get a small commission (at no extra cost to you). If you do buy, then thank you! That's what helps us to keep Kitchen Sanctuary running. The nutritional information provided is approximate and can vary depending on several factors. For more information please see our Terms & Conditions.