This hot and spicy Mee Siam is a wonderful, quick meal to get your taste buds tingling!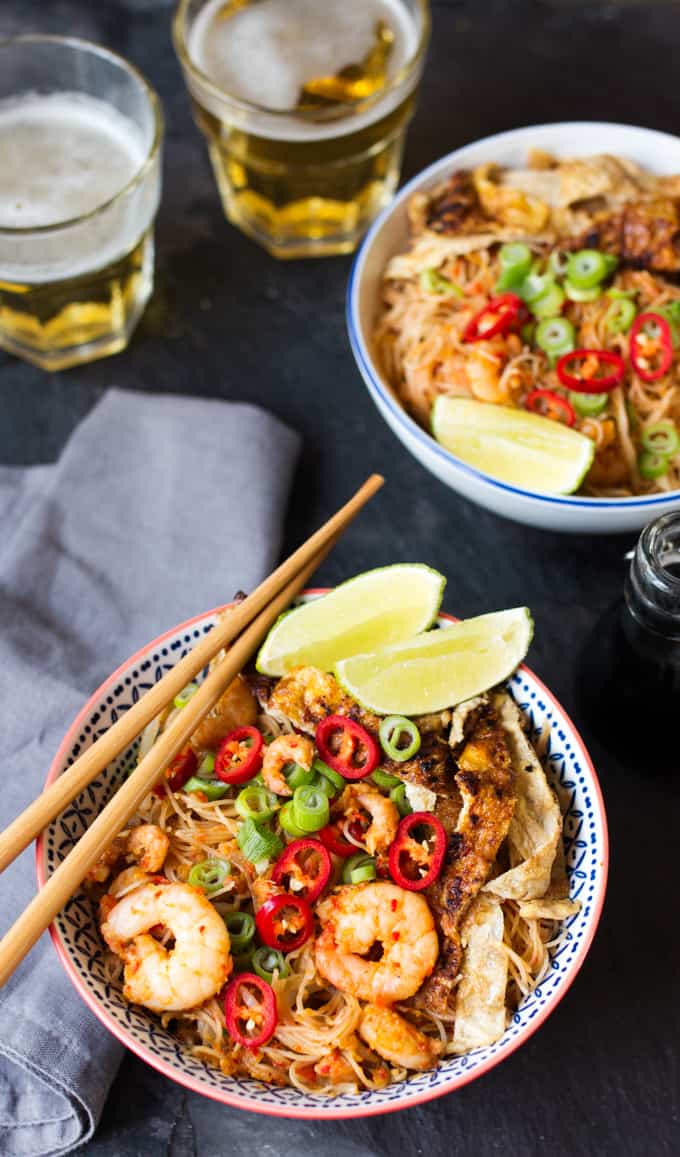 Grab yourself a large glass of water (ok, beer) because these noodles are waaaarm!
I may have mentioned once or twice that I love Asian food - especially Malaysian and Thai cuisine. Sweet, spicy, hot and sour - just make me something with those flavours - in pretty much any form - and I'll eat it.
This Mee Siam is based on the Malaysian version - which is a hot and spicy dry noodle dish.  There's also a Singapore version that's similar, but is served with a spicy gravy.  I decided to go for the Malaysian version because it was easier to modify in order to make it into a quick dish.
The spicy base paste is made from scratch, and the ingredients for it are are cooked and blended in the same pan.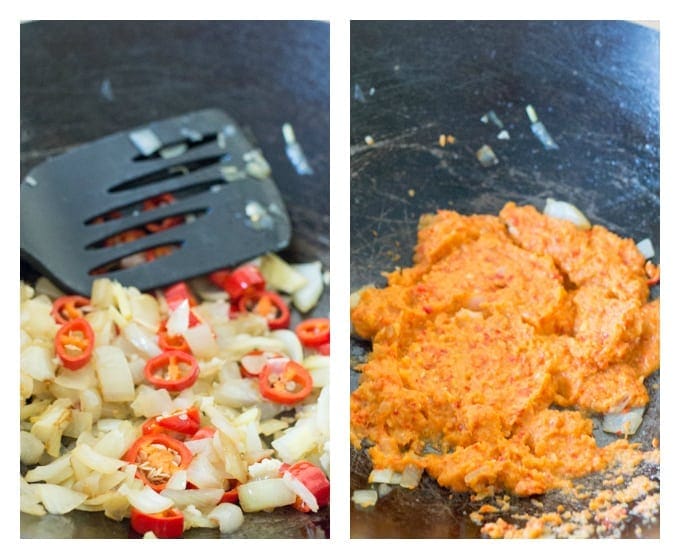 The dish is typically made with very thin rice noodles (vermicelli), and it has some big punchy flavours - such as chillies, lime, bean paste and tamarind.  Some of the ingredients can be a little difficult to get hold of, and you may only find at your nearest Asian supermarket.  I've created my recipe based on what I can easily get hold of, and also ingredients that require minimal preparation.
A few pointers on those difficult-to-get-hold-of ingredients:
Dried tamarind - This comes in blocks that you soak in water, then use the resulting liquid.  I don't see if very often in supermarkets, so I use ready-prepared tamarind paste instead (which is usually available at larger supermarkets on the Asian aisle).  Failing that, Amazon (<--- affiliate link) sell it.
Dried shrimp - You can always find these at Asian supermarkets, but I don't have one nearby and can never find it in the supermarket.  They are tiny little shrimp that have been dried to extend shelf life and to give a really concentrated shrimp flavour.  They require soaking to plump them up again.  Since I can't get hold of them, I use some tiny (1cm long) fresh shrimp, along with a little shrimp paste and fish sauce.  I also use larger shrimp (king prawns) in this dish.
Taucheo or Yellow Bean Paste - This is a salty paste made from fermented yellow soy beans.  I found some of this in my local supermarket, but if you can't find it, you can replace it with another soybean based paste - such as black bean, chilli bean (will be hotter) or even hoisin (will be a little sweeter).  I've made this previously with hoisin, and it still tasted delicious.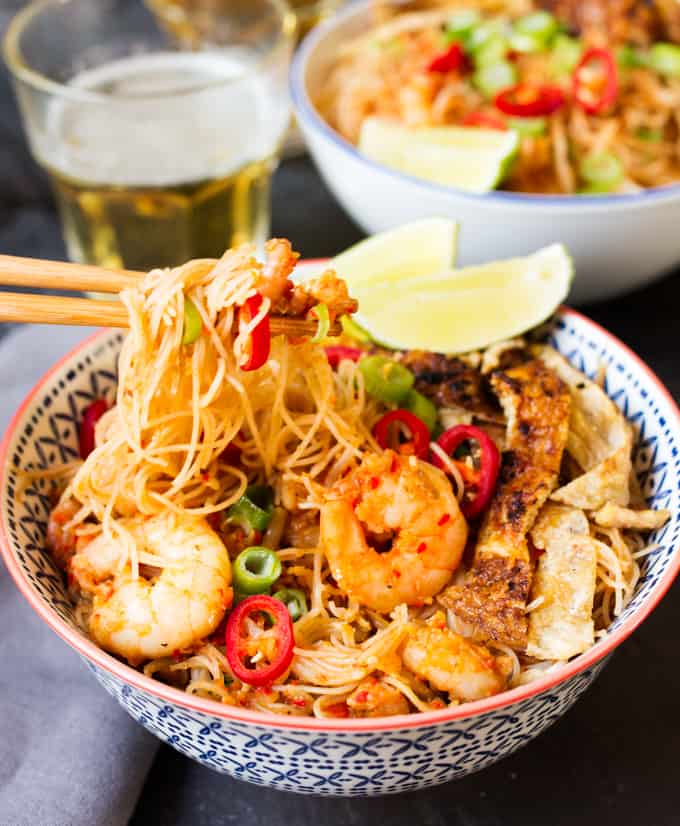 Apart from the delicious spiciness to this dish, I think one of the reasons I like it some much is down to the toppings.  Spring onions, chillies and lime wedges are fabulous with any food of this type.  The omelette though? An absolute must.  It's just egg, soy sauce and a little oil, but it works perfectly with all the other flavours.
I hope you make it! and don't forget that large beer 🙂
The Malaysian Mee Siam Recipe
30 minute Malaysian Mee Siam
This hot and spicy Mee Siam is a wonderful, quick meal to get your taste buds tingling. Plus it's ready from scratch in 30 minutes!
Ingredients
4

nests dried rice vermicelli

-

- about 240g/8.5oz

3

tbsp.

vegetable oil

2

onions

-

peeled and chopped

5

red chillies

-

chopped (leave the seeds in if you like it hotter)

1

thumb sized piece of ginger

-

peeled and chopped finely

4

cloves

of garlic

-

peeled and chopped finely

½

tsp

shrimp paste

2

tsp.

yellow bean paste

½

tsp

tamarind paste

1

tsp

fish sauce

½

tsp

sugar

2

eggs

-

whisked with 1 tbsp. soy sauce

15-20

king prawns (shrimp)

-

these can be ready-cooked or uncooked shrimp. They need to have been deveined and have no heads or tails.

½

cup

tiny shrimps

2

cups

beansprouts

1

tbsp.

soy sauce
To Serve:
spring onions/scallions

-

chopped

fresh chillies

-

thinly sliced

lime wedges
INSTRUCTIONS
Place your vermicelli nests in a pan and pour over some boiling water from the kettle. Simmer them for 2-3 minutes, then drain them and rinse under cold water to stop the cooking process. Put to one side.

Whilst the vermicelli is cooking, start on the sauce. Heat 1tbsp of the oil in a wok and fry the onions on a medium heat for 3-4 minutes until they start turning translucent. Add in the chillies, ginger, garlic and shrimp paste. Cook for a further 2-3 minutes, stirring regularly.

Remove from the heat and blend the onion/chilli mixture in the pan using a hand blender (be careful, it will be hot and it may splatter a little - transfer to a food processor to blend if you prefer). Once blended, stir in the yellow bean paste, tamarind paste, fish sauce and sugar. Scoop out the mixture and place in a bowl.

Heat half a tbsp. of oil (in the same wok) until hot and then add in half of the egg/soy sauce mix. Swill around the pan to make a thin omelette. Turn over after a minute and cook the other side. Slide out of the pan onto a cutting board and repeat with the remaining egg (use another ½ tbsp. oil if you need to). Place the second omelette on top of the first, then roll them up and slice - to give you long, thin slices. Put to one side.

Heat the remaining oil and add in the king prawns, cook for 2 minutes until pink (if they're already cooked, then heat for 2 minutes anyway to heat through). Add in the tiny shrimps and beansprouts and cook for a further minute. Add in the chilli/onion paste and heat for a minute or two until bubbling. Add in the noodles and soy sauce, then heat on high (moving around the pan often) for another couple of minutes until the noodles are heated through.

Divide between bowls, and top with the cooked omelette (the heat from the noodles will be enough to ensure the omelette slices are warm).

Sprinkle on some chopped spring onions/scallions and fresh chilles, then garnish with lime wedges.
✎ Notes
Nutritional information is per serving.
Nutrition
Calories:
493
kcal
Carbohydrates:
75
g
Protein:
18
g
Fat:
14
g
Saturated Fat:
10
g
Cholesterol:
185
mg
Sodium:
893
mg
Potassium:
576
mg
Fiber:
6
g
Sugar:
10
g
Vitamin A:
945
IU
Vitamin C:
132.7
mg
Calcium:
145
mg
Iron:
3.7
mg