These Asian Chicken Lettuce Wraps are juicy, spicy, fresh and healthy – these Asian chicken lettuce wraps have got it all!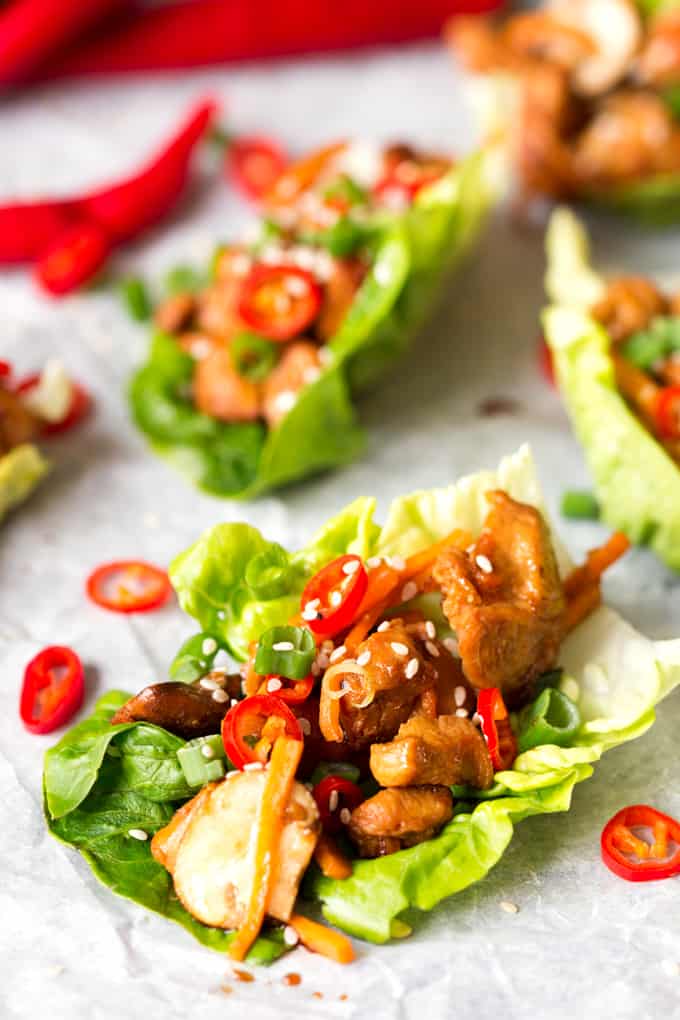 Just feed me lettuce all day….
So long as it's filled with sweet and spicy chicken, juicy mushrooms and crunchy carrots.
This Asian Chicken Lettuce Wraps meal really makes a fabulous lunch, and it can also be served cold as a kind of chicken salad (Chris enjoyed his at work).
It's also ready in 20 minutes, which is perfect for me right now, as I'm rushing around getting ready for our visit to the Harry Potter Studios and Lego Land tomorrow and Friday.
I can't wait.  Even though I hate Lego. Did I tell you before that I hate Lego?
Flippin stuff get's everywhere.  One thing that drives me mad is when I've just tidied and hoovered the living room, then I walk into the kitchen, and behind me I hear that familiar loud 'Whoooosh' as 5 million pieces of lego are tipped out of the lego box across my whole living room floor.
Grrrrrr.
I take a breath and walk back in.
I try to step over the lego and the kids (and Chris too – he's definitely not a lego hater) with a loving and indulgent smile on my face.  Then I usually stand on a piece and hop around whilst trying to keep to words like 'ouch' and 'owie' – rather than the ones I'm thinking in my head.
After that I'm usually asked the dreaded question.  'Mummy will you play lego with us?'.
Give me barbie, colouring, board games and train sets, but please not the lego.
So I hunker down, futiley looking for a 'bluey-black-two-er with a yellow dangly bit' – or some other obscure piece that Lewis can't find (that I probably hoovered up last week).
And once we've given up on that, I'm expected to produce some amazingly futuristic vehicle to ferry all the evil lego figures about.
Chris makes some truely amazing creation that the kids 'ooh' and 'ahhh' over.  I make something that looks like it's off 'scrap-heap challenge – the failures' – that falls apart at the merest touch.
I'd like to say that the kids look at me affectionately and pat me on the back.  But actually they just say 'that's rubbish mummy', and I forlornly agree.
Stupid lego.
I'm sure Lego land will be fine though.  So long as I don't have to make anything.
So I'm off to the kitchen to make these yummy chicken wraps for lunch before finishing off our packing.
What's the bet we come home from our little trip with boxes and boxes of Harry Potter lego?
Grrr.
The Asian Chicken Lettuce Wraps Recipe:
Asian Chicken Lettuce Wraps
Juicy, spicy, fresh and healthy - these Asian lettuce wraps have got it all!
Ingredients
1.5

tbsp

vegetable oil

1

lb

(450g) Chicken breast, cut into small chunks

3

Baby Gem Lettuce

only need the outer leaves

1

large carrot

peeled and sliced into matchsticks

5

small mushrooms

sliced

2

cloves

garlic

peeled and minced

1

thumb-sized piece of ginger

peeled and chopped finely

2

red chillies

sliced

3

tbsp

Dark Soy Sauce

(use 2 tbsp tamari and 1 tbsp water mixed with a pinch of bouillon for gluten free, or instead you could use 3 tbsp GF teriyaki sauce)

1.5

tbsp

Honey

1

heaped tbsp

sesame seeds

3

spring onions/scallions

sliced

Extra slices of red chilli
Instructions
Heat the oil on a high heat in a large frying pan and add the chicken. Cook for 5-6 minutes, turning regularly until the chicken starts to brown.

Whilst the chicken is cooking remove and wash the outer leaves from the baby gem lettuces. You'll need 10 of the larger leaves. Pat them dry and arrange on a plate.

Add the carrots and mushrooms to the chicken and cook for a minute, then add in the garlic, ginger and chillies and cook for another minute.

Add in the soy sauce and honey and bring the mixture to a bubble. Allow to bubble gently for a couple of minutes until most of the liquid has evaporated.

Spoon the chicken mixture out into the lettuce leaves and sprinkle with sesame seeds, spring onion and chilli slices.

Serve immediately.