Sweet, spicy and sticky, this chilli sauce makes an appearance on our table whenever we're eating curry, crispy chicken, kebabs or fajitas.
Easy to make at home, this recipe makes 2 jars, so you can always have some in the fridge.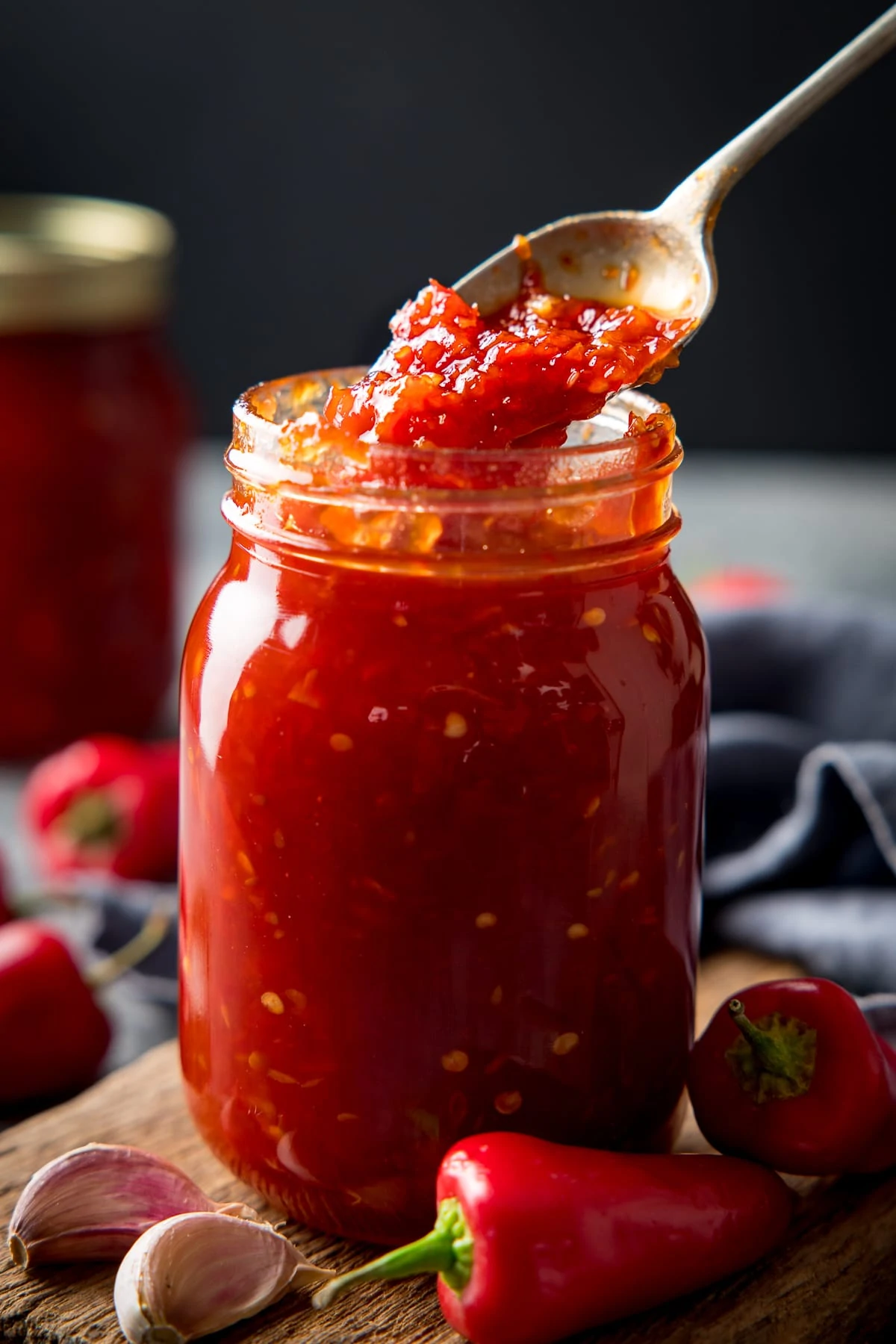 Who doesn't love some sweet chilli sauce with their chicken wings, as a dip for prawn toast or samosas or even as an added bonus to breakfast eggs and avocado!
Sweet and spicy at the same time, the blend of ginger, garlic, chillies and red pepper is just so perfect.
It takes about 20 minutes prep, and then you can leave it to bubble away (with the occasional stir) until it's lovely and sticky.
I don't like it too hot!
Don't worry, this is a relatively mild Thai style sweet chilli sauce. I use mild chillies (Fresno or Serenade varieties) in addition to red bell peppers. The bell peppers help to bulk out the sauce and give it a fresh flavour. So we can have lots of chilli sauce, without it being too overpowering.
If you like it hotter, simply replace some of the mild chillies with hot chillies - such as Thai red chillies.
What do we need?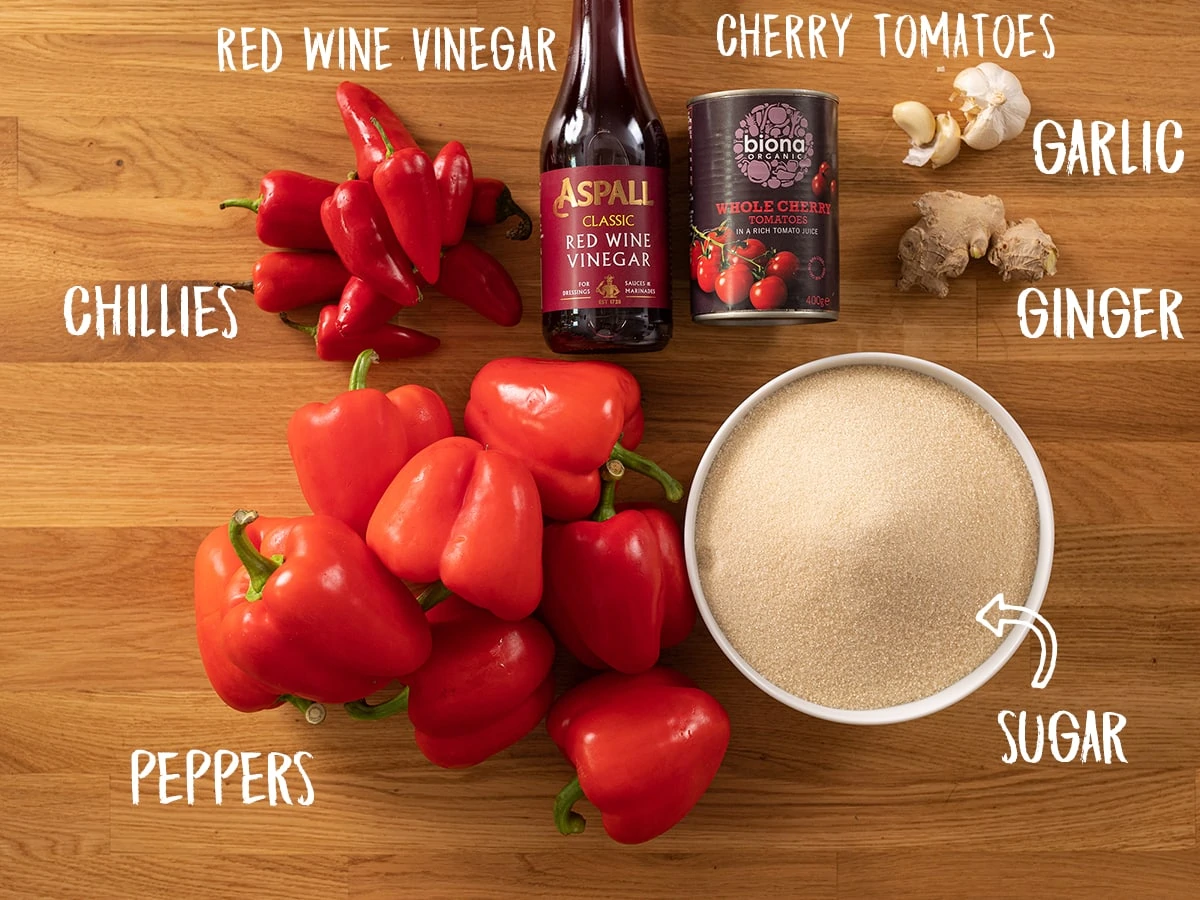 We going to need tinned cherry tomatoes, red bell peppers, red chillies, fresh ginger and garlic, red wine vinegar and golden caster sugar.
How to make it
Full recipe with detailed steps in the recipe card at the end of this post.
Add the roughly chopped peppers, chillies, ginger and garlic to a food processor and blitz until finely chopped. Add to a saucepan.
Add in the tinned cherry tomatoes, sugar and vinegar and bring to the boil.
Turn the heat down and simmer for around 90-105 minutes (scoop off the scum from the top of the mixture in the pan a few times) - until the sauce thickens.
Leave to cool slightly and pour into sterilised jars.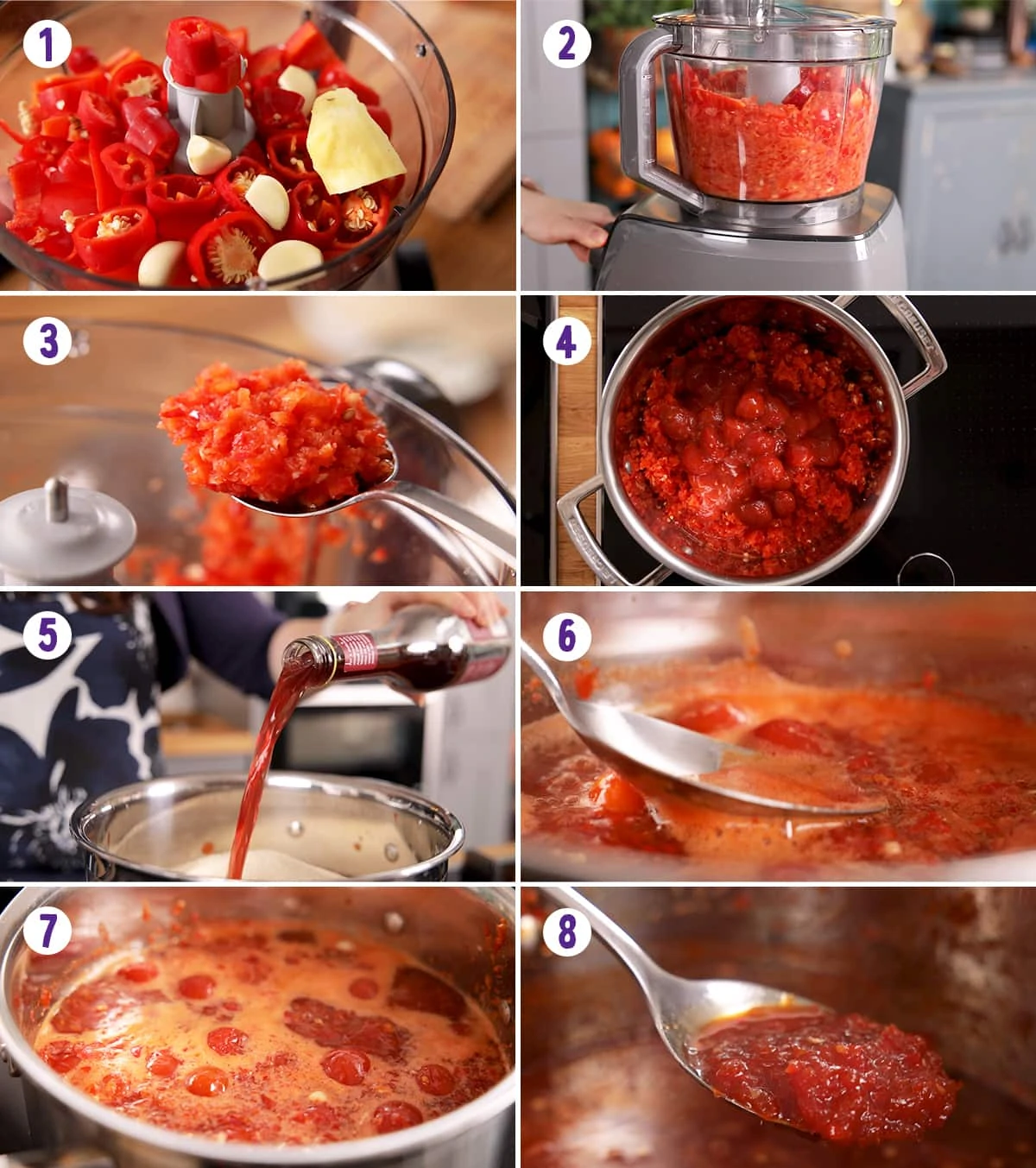 What to serve this sauce with
---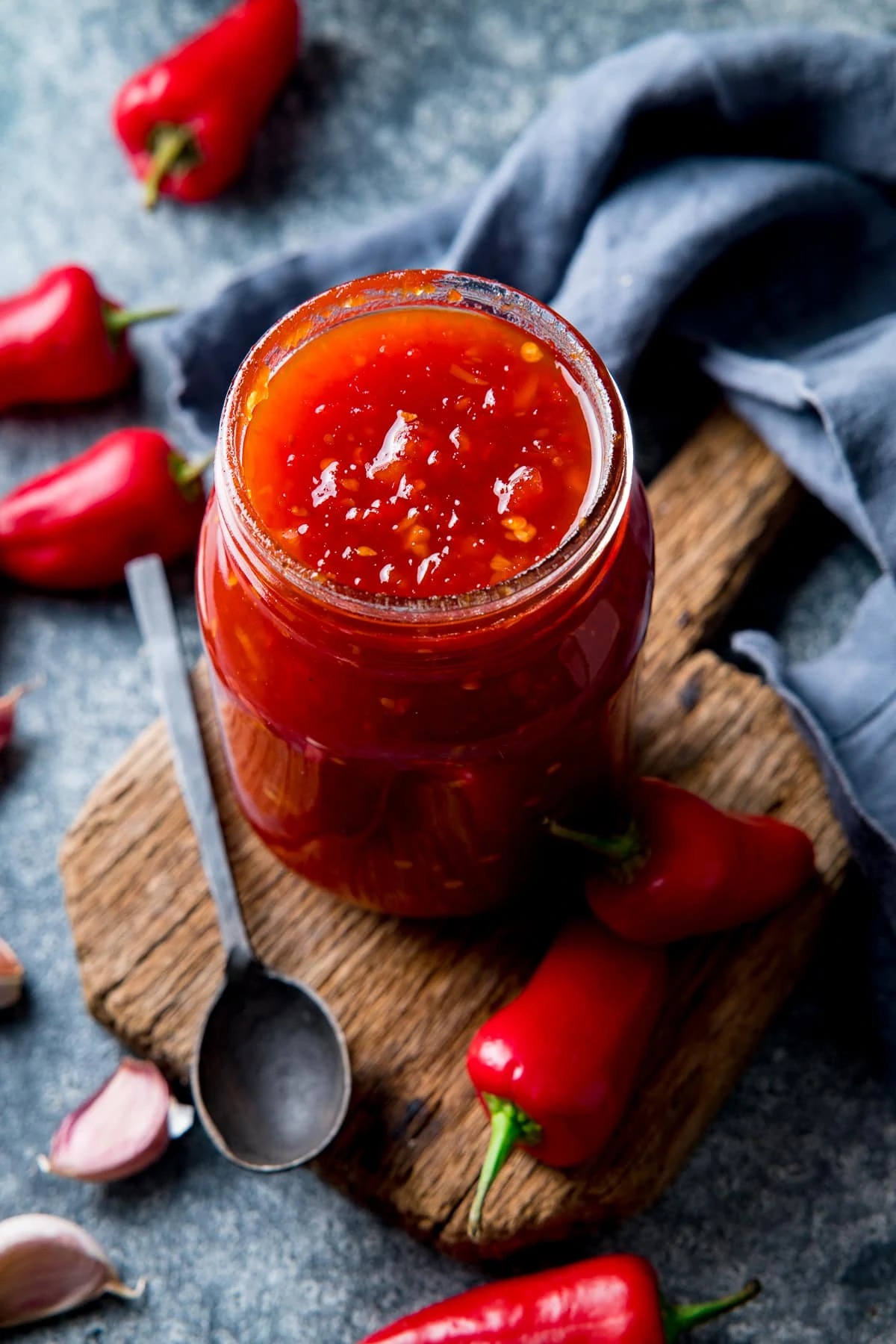 Why should I make it at home?
Apart from being able to show off your awesome sauce-making skills, making the sauce at home allows you to control the thickness and spiciness of the sauce.
How long can I store sweet chilli sauce?
Once prepared and sealed in sterilised jars, it can be stored for 3 months in a cool, dark place. Refrigerate the jar after opening.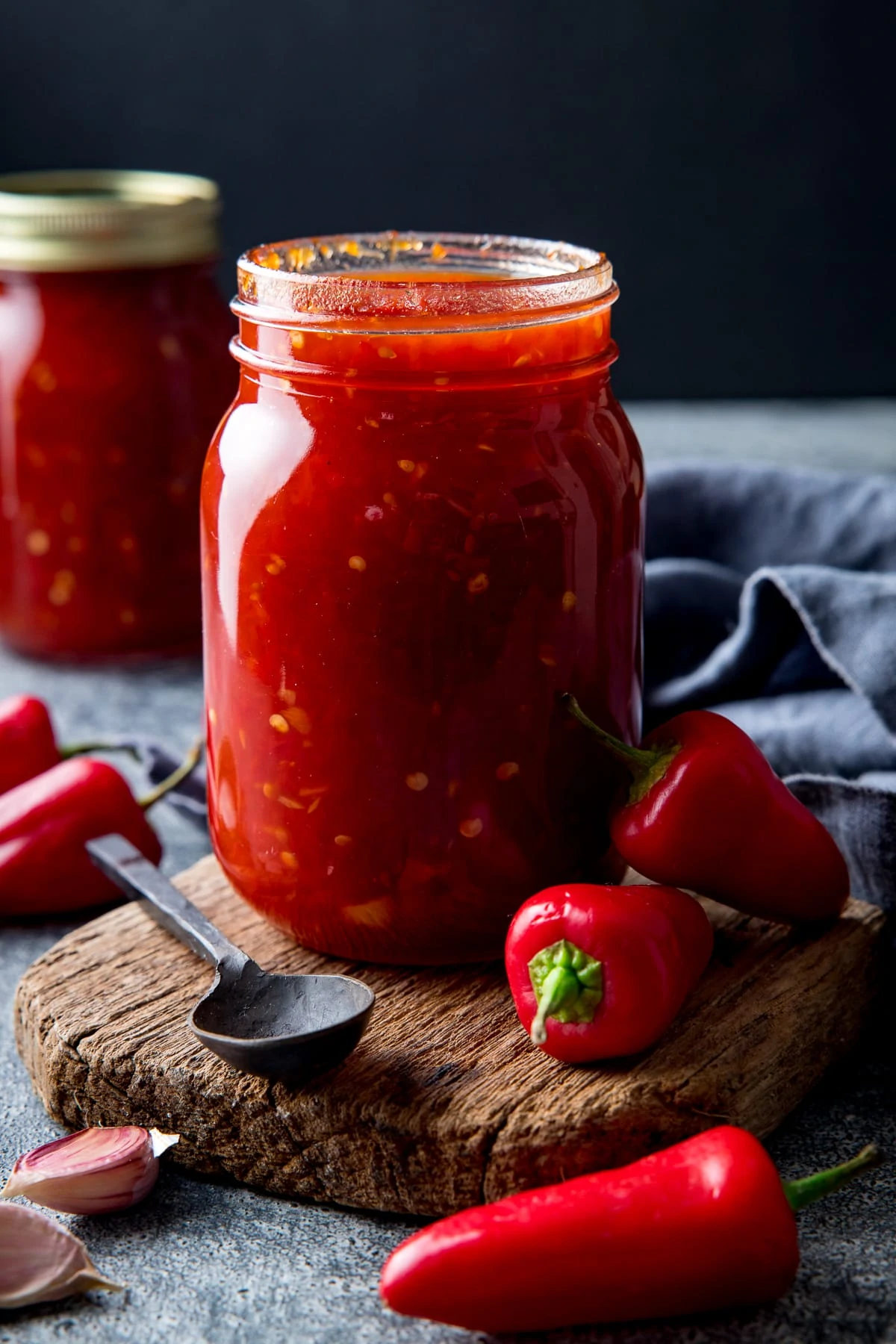 More fantastic Asian style recipes
---
Watch how to make it
Stay updated with new recipes!
Subscribe to the newsletter to hear when I post a new recipe. I'm also on YouTube (new videos every week) and Instagram (behind-the-scenes stories & beautiful food photos).
Sweet Chilli Sauce Recipe
This Sweet Chilli Sauce recipe is sweet, spicy and makes a great dipping sauce.  It's not difficult to make and super satisfying to know you made it yourself!
Ingredients
8

red peppers

-

deseeded and roughly chopped

8-10

red chillies (see note 1)

-

roughly chopped

finger-sized piece fresh root ginger

-

peeled and roughly chopped

8

garlic cloves

-

peeled

400

g

(14 oz) tin cherry tomatoes

-

*Replace with finely chopped good quality tinned tomatoes if preferred

760

g

(4 cups) golden caster sugar

210

ml

(⅞ cup) red wine vinegar
INSTRUCTIONS
Chop the peppers, chillies (with seeds), ginger and garlic by hand or in a food processor until finely chopped.

Transfer the peppers, chillies, ginger and garlic to a large saucepan and add the tin of cherry tomatoes, sugar and vinegar.

Bring to the boil. Skim off any scum that comes to the surface, then turn the heat down and let it bubble gently for about 90 mins-1.5 hours, stirring occasionally. Stir more frequently during the last 20 mins or so and give the tomatoes a mush with a fork if they haven't broken down.

The sauce should thicken during this time, but will still be pouring consistency (about the consistency of tinned tomato soup). It can be cooked for longer if it still looks very thin (but it will thicken more once cooled).

Once the sauce has thickened, turn off the heat and leave to cool for 20 mins or so. Then carefully pour into sterilized jars, place lids on and leave to cool completely before storing (see notes on storage).
Video
✎ Notes
Note 1: 
What variety of chillies for  sweet chilli sauce?
I use Fresno or Serenade chillies - these are the most common 'regular red chillies' found on UK supermarket shelves.
They're relatively mild (Scoville rating of  2,500 to 8,000 - about the heat of a jalapeno). You can bump up the heat by adding or replacing a couple of the chillies with hot chillies - such as Thai chillies (birds eye chillies).
Storage:
This sauce will keep for 3 months in a sealed, sterilised jar in a cool, dark cupboard – refrigerate once opened.
Why use tinned cherry tomatoes and not chopped tomatoes?
The cherry tomatoes are a little sweeter and don't contain as much liquid as chopped tinned tomatoes. You can replace with good quality finely chopped tinned tomatoes. Or you can replace with regular chopped tinned tomatoes if you prefer, just drain off a few tablespoons of the liquid before adding.
Source:
Based off BBC Good Food Sweet Chilli Jam recipe (here) with some of my own changes.
Nutritional Information is per tablespoon
Nutrition
Calories:
59
kcal
Carbohydrates:
14
g
Sodium:
10
mg
Potassium:
80
mg
Sugar:
13
g
Vitamin A:
585
IU
Vitamin C:
31.8
mg
Calcium:
5
mg
Iron:
0.3
mg
This recipe was first posted in Feb 2014. Updated in August 2020 with new photos, video and tips.
Some of the links in this post may be affiliate links – which means if you buy the product I get a small commission (at no extra cost to you). If you do buy, then thank you! That's what helps us to keep Kitchen Sanctuary running. The nutritional information provided is approximate and can vary depending on several factors. For more information please see our Terms & Conditions.