Crispy seasoned chicken, fried up with crunchy onions and spicy chillies - this recipe is a real flavour explosion.
I love to serve this Salt & Pepper Chicken alongside fried rice and a nice cold beer.
You can modify the amount of heat in this recipe by using milder or hotter chillies (or even replacing the chillies with chopped bell peppers if you like it mild).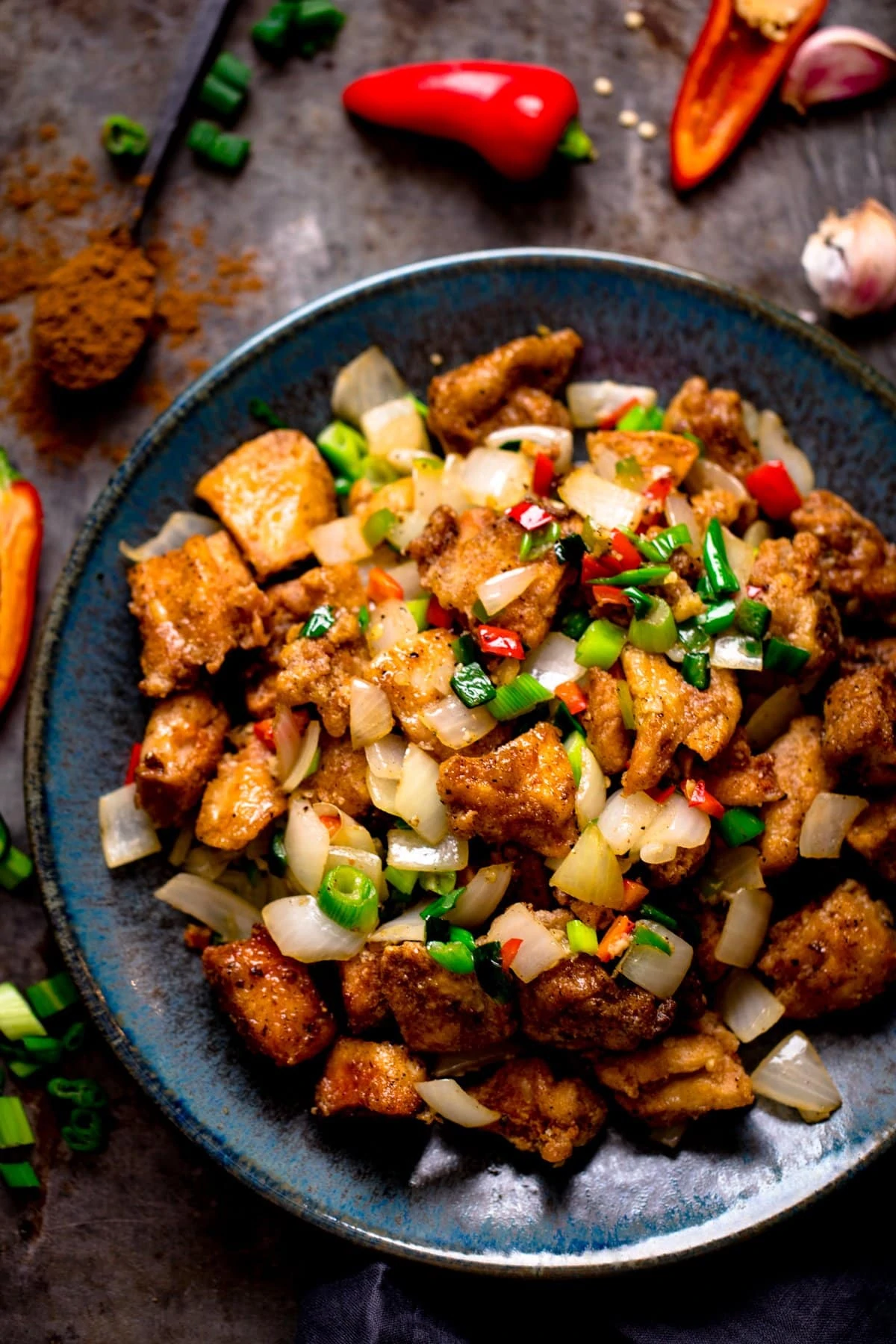 Eyeballs rolling into the back of your head good.
That's how I'd describe this recipe.
I usually prefer a saucy dish (ooh er!) when I'm making Chinese food, but this one is so moreish that I can never say no when it's on the menu.
That usually means I order a saucy dish (like sweet and sour chicken or beef and broccoli) and then a salt and pepper chicken 'for the table'.
Like I'm really going to share it 😏
What do we need?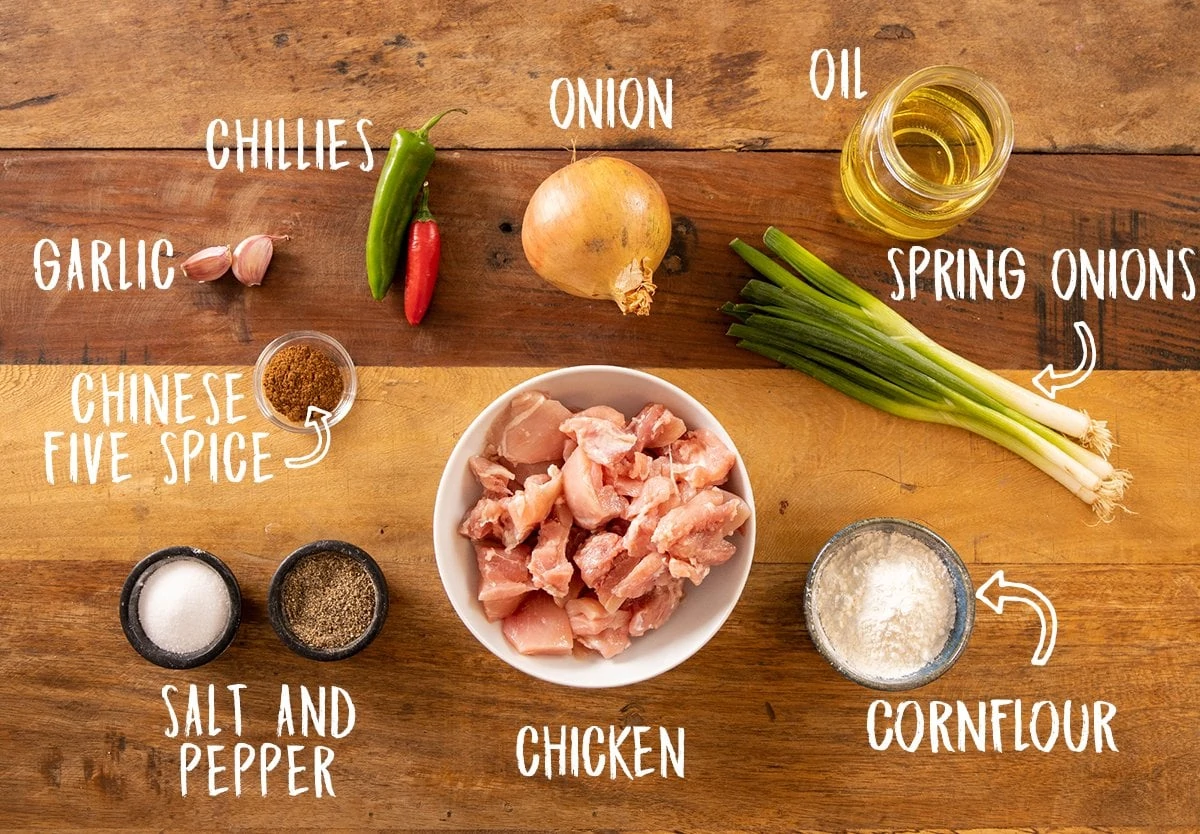 Chicken thighs are preferable to chicken breast for this recipe, as they're cooked at a very high heat. Thigh meat stands up better to this high heat cooking without drying out.
Chinese five spice - is a must!! I'm usually not keen on the aniseed flavour of Chinese five spice, but it works brilliantly in this recipe - giving the chicken coating a really tasty moreish flavour - not aniseed-y at all.
Chillies - The type you choose depends on how hot you like it. I tend to use Fresno chillies which are just a little bit spicy. You can use hotter Chillies (Thai chillies are HOT but great!) or replace with red and green bell pepper if you don't like the heat at all.
How to make salt and pepper chicken
***Full recipe with detailed steps in the recipe card at the end of this post.***
Coat the chopped chicken thigh fillets in a a mixture of cornflour, salt, pepper and Chinese five-spice.
Fry the chicken in oil until golden and cooked through, then transfer to a bowl.
In a separate pan, fry chopped onions, chillies and spring onions in a little oil, along with garlic, salt and pepper.
Add the cooked chicken to the pan with the chillies and onions and toss together.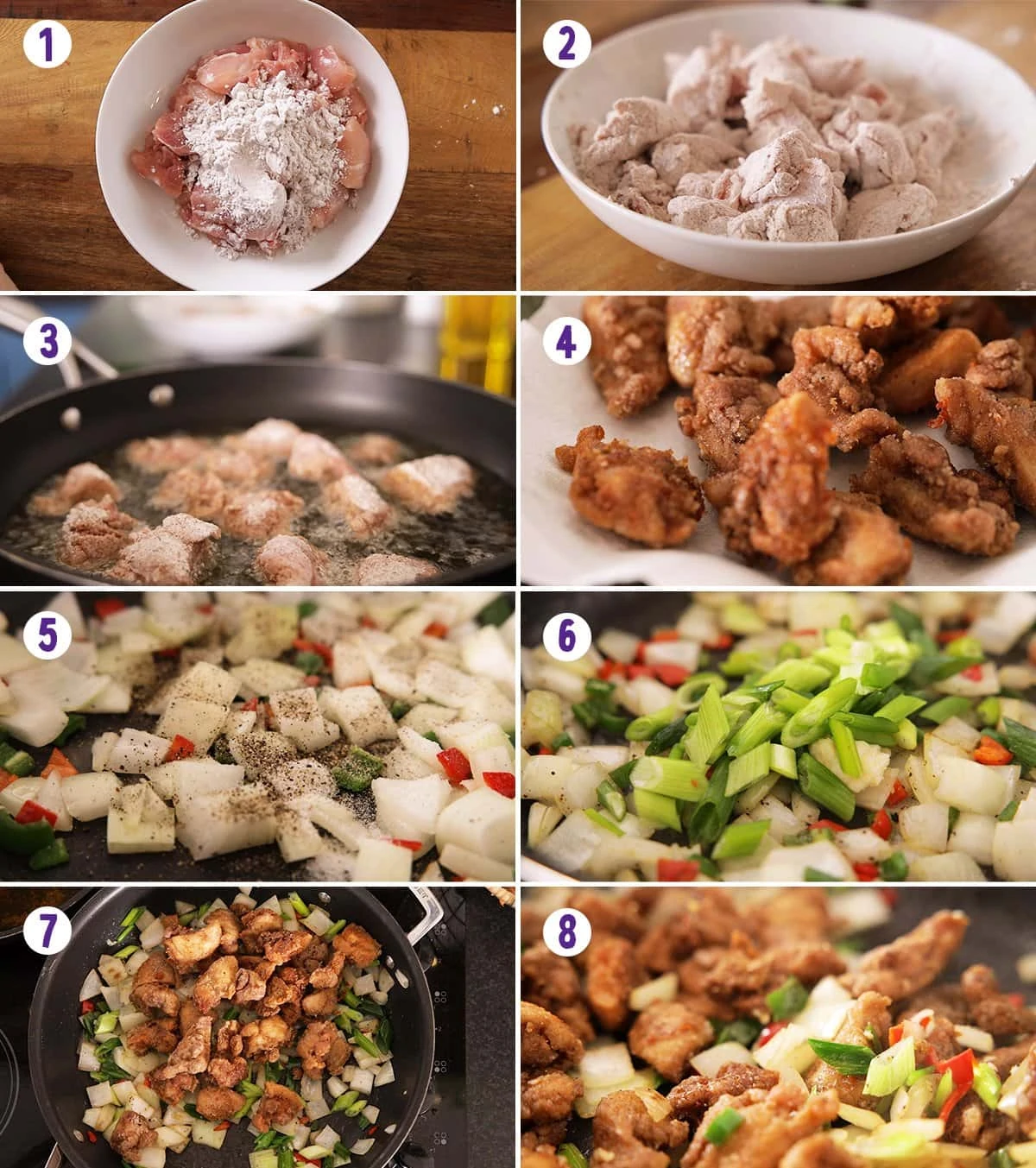 It's quite a salty dish (it's supposed to be!), so I like to serve as a starter or as a side dish, so everyone can dig in.
👩‍🍳PRO TIP I've also been known to serve this salt and pepper chicken in a wrap with salad leaves and a little peri peri mayo. Totally divine!! 😍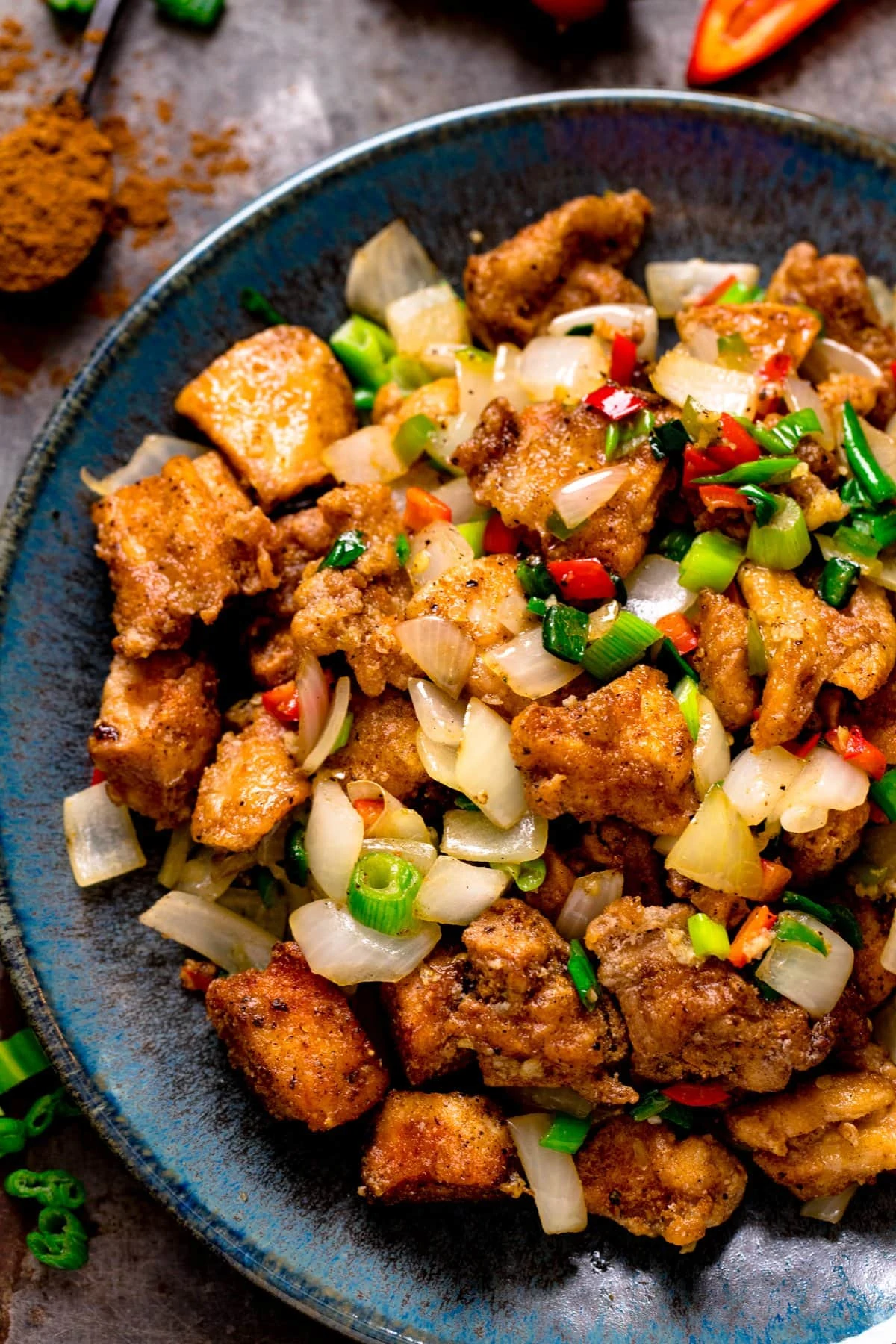 ---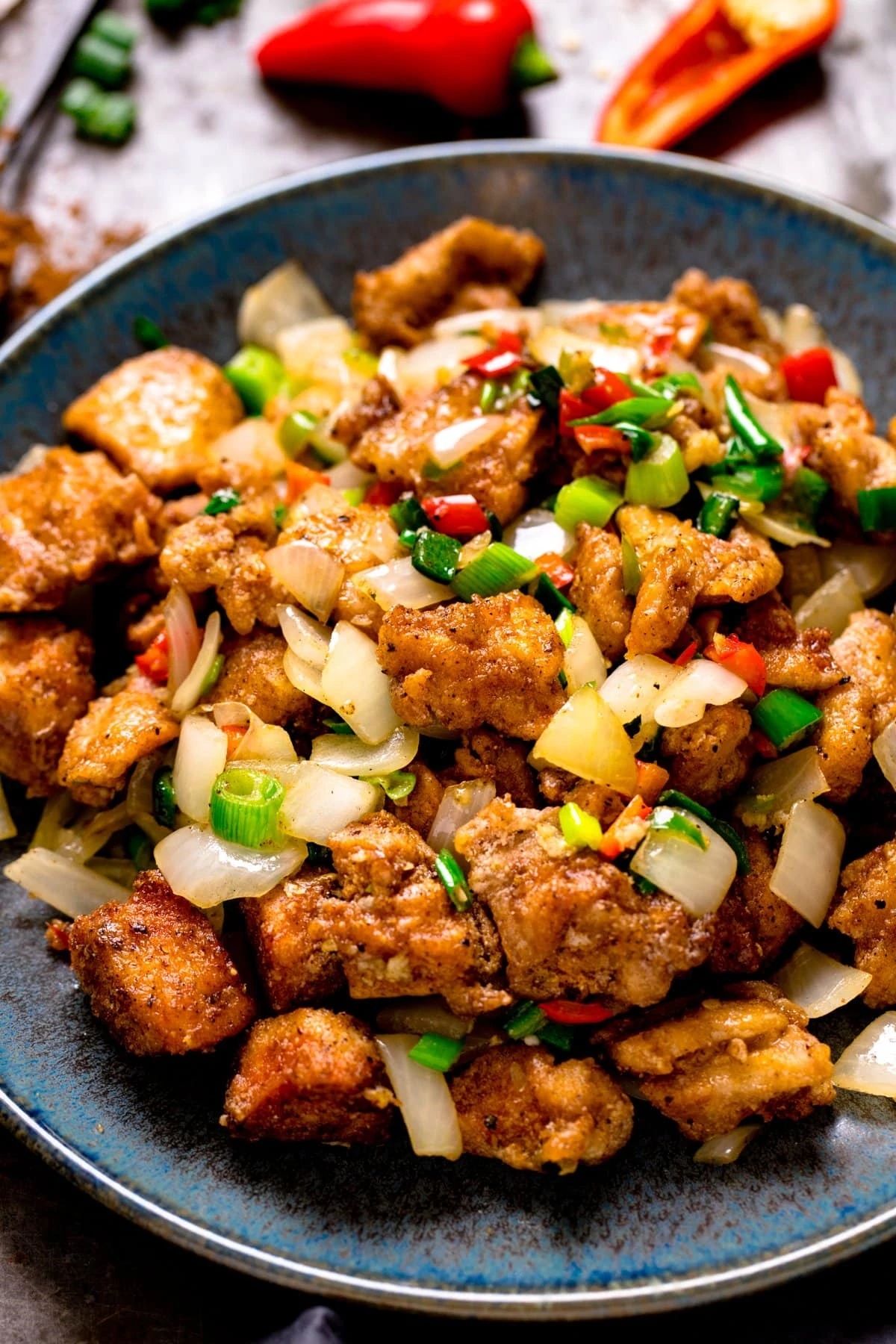 ---
Watch how to make it
Stay updated with new recipes!
Subscribe to the newsletter to hear when I post a new recipe. I'm also on YouTube (new videos every week) and Instagram (behind-the-scenes stories & beautiful food photos).
Salt and Pepper Chicken Recipe
Crispy seasoned chicken fried up with crunchy onions and spicy chillies - this recipe is a real flavour explosion!
Ingredients
60

g

(½ cup) cornflour

-

(cornstarch)

1

tbsp

table salt

1 ¼

tbsp

ground black pepper

1

tbsp

Chinese five-spice

6

skinless chicken thigh fillets

-

quartered

Vegetable oil for frying

-

(around 240ml/1 cup)

1

onion

-

peeled and chopped into large chunks (about 1.5-2cm across)

1

red chilli

-

chopped into small pieces (I use relatively mild fresno or serrano chillies)

1

green chilli

-

chopped into small pieces (I use relatively mild fresno or serrano chillies)

2

garlic cloves

-

peeled and minced

3

spring onions

-

(scallions) roughly chopped
INSTRUCTIONS
Mix together the 60g (½ cup) of cornflour, ¾ tbsp of the salt, 1 tbsp of the black pepper, and the 1 tbsp of Chinese five-spice.

Sprinkle over the chicken thigh fillets and toss together to coat.

Take the 240ml (1 cup) of oil, and put one tablespoon of it to one side. Add the rest of the oil to a large frying pan and heat over a high heat until hot (you can test by sticking the end of a wooden spoon or chopstick in the oil – if bubbles form around it, it's hot enough).

Add the chicken to the oil a piece at a time (to ensure the oil doesn't boil over). You'll probably have to work in two batches altogether.

Fry for about 5-7 minutes, turning once until cooked through and golden brown all over.

Using a set of tongs, transfer the chicken to a plate lined with kitchen paper.

Repeat with the second batch of chicken, then turn off the heat when done.

As soon as the second batch of chicken is cooking, heat the reserved 1 tablespoon of oil in a separate frying pan over a medium-high heat.

Add the chopped onion, the chopped red and green chillies, the remaining ¼ tbsp of salt and the remaining ¼ tbsp of black pepper to the pan. Fry for about 2-3 minutes, stirring often, until the onion starts to soften slightly.

Then turn down the heat to medium and add in the 2 cloves of minced garlic and 3 chopped spring onions.

Fry for a further minute, stirring often.

By now both batches of chicken should be cooked. Add the chicken to the frying pan with onion and chillies in and toss everything together for 1 minute.

Turn off the heat and serve.
✎ Notes
That's a lot of salt!
Yes - please be warned - this is a salty dish. That's what makes it totally moreish. You could use low sodium salt if you prefer.
I tend to serve this in smaller portions as a side dish, rather than having a large portion.
Can I make it ahead?
This recipe tastes best when cooked and eaten right away. That's when you'll retain the most crunch in the chicken coating.
However, it does still taste great reheated. Cook the whole recipe, then cool, cover and refrigerate for up to a day.
Reheat in a frying pan over a medium-high heat with a tablespoon of oil, turning regularly, until the chicken is piping hot throughout. This should take about 5-6 minutes.
Ingredient swaps
Swap chillies for bell peppers for a non-spicy finish or for hotter chillies - such as Thai chillies - for a hotter finish.
Swap the chicken for pork if you like. Pork loin steak, sliced into strips works best.
How to scale up and scale down this recipe
You can double or half the recipe, sticking to the same ratios of ingredients - EXCEPT for the oil for frying the chicken.
Stick with 1 cup of oil whether you're halving or doubling the recipe.
If you're halfing the recipe, you can fry the chicken in one batch in the oil.
If you're doubling the recipe, this will likely need to be done in 3 or 4 batches. 1 cup of oil should still be plenty to fry all of the batches.
Nutritional information is approximate and is per serving.
I've estimated that ⅓ of the oil will be absorbed during the frying of the chicken.
Nutrition
Calories:
487
kcal
Carbohydrates:
21
g
Protein:
34
g
Fat:
30
g
Saturated Fat:
20
g
Cholesterol:
161
mg
Sodium:
1938
mg
Potassium:
567
mg
Fiber:
2
g
Sugar:
2
g
Vitamin A:
238
IU
Vitamin C:
22
mg
Calcium:
50
mg
Iron:
3
mg
Some of the links in this post may be affiliate links – which means if you buy the product I get a small commission (at no extra cost to you). If you do buy, then thank you! That's what helps us to keep Kitchen Sanctuary running. The nutritional information provided is approximate and can vary depending on several factors. For more information please see our Terms & Conditions.