An easy to prepare Salmon Sushi Bowl - all of the flavours of Sushi, in minimal time. Plus a 2-minute soy and ginger dressing that tastes way better than those little soy sauce plastic fish thingies!


I'm still trying to get over that imposter syndrome feeling of having my own book out. Sometimes I wish I was extrovert enough to shout it from the rooftops, but I'm definitely little miss introvert. Quietly hoping that it's a success without me having to talk about it to lots of people (or even worse - stand up in front groups of people to talk about it. Worst nightmare!).
Fortunately Chris is amazing at getting me to edge out of my comfort zone on occasion (he'll be supporting me when I'm on stage at the Big Feastival in August), and I always feel great afterwards, but then I'm happy to get straight back into my little cozy office or the sanctuary of my kitchen and hide again.
But...... that means I can share more recipes with you guys!
This Salmon Sushi Bowl is the second recipe I've shared from my book (the first being my Chimichurri Steak Salad) I'll probably end up sharing 3 or 4 altogether over the next few months, but I wanted to share this one with you whilst the weather is still lovely and warm.
We also made a video for the Sushi Salad (incidentally, making recipe videos also used to fill me with introvert dread, but I'm so used to it that I don't even think of it now. I guess repeatedly being exposed to certain situations really does help) - check it out below.
How to make Sushi Rice:
We start by rinsing the sushi rice.  If you've ever ready my fried rice tutorial, you'll know I don't rinse my rice normally, but it's different with sushi rice (which is actually just short grain rice), as it's a lot more starchy. This means it can go very glutinous and sticky if it's not rinsed. We want a bit of stickiness, but not too much.
We add the rice to the pan with cold water. Bring to the boil, place a lid on, then cook for 10 minutes only. After that, turn off the heat and leave (covered) for 30 minutes. This will allow the rice to continue to cook very slowly in the residual heat, giving a lovely tender result.
We then stir in a mixture if rice vinegar, salt and sugar - to give the rice that wonderful slightly sweet and tangy flavour.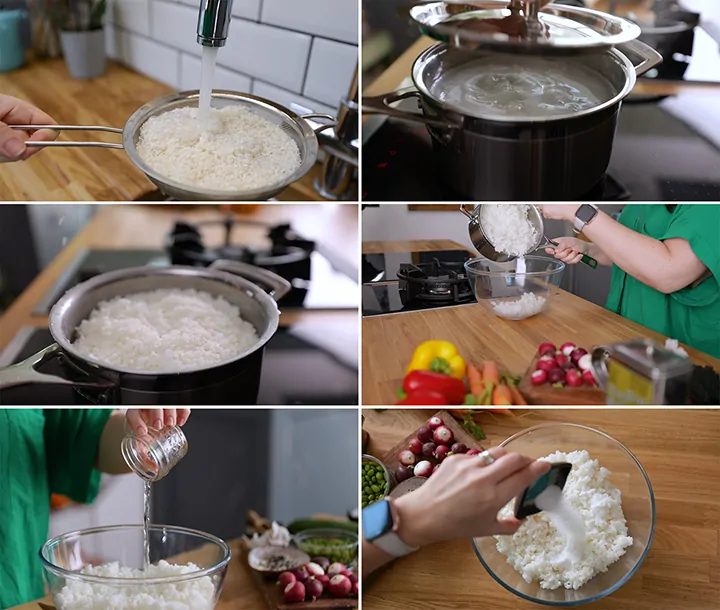 The rice is divided between the bowls and topped with strips of cucumber, beetroot and carrot, along with edamame beans and radish slices.

It's finished with little slices of smoked salmon (I know, smoked salmon isn't normally used for sushi, but it works brilliantly and is much easier to find than sushi-grade sliced salmon).
The dressing is a simple but perfectly matched combination of sesame oil, olive oil, soy sauce, fresh ginger, garlic and pepper. Once combined, drizzle it over the Salmon Sushi Bowls and sprinkle on some sesame seeds. A sprinkling of shichimi togarashi is a delicious addition (I also use it in my Firecracker chicken recipe), as well as some strips of Nori (seaweed). It's best to add these right before eating, as nori soaks up moisture and becomes sticky very quickly otherwise.
And that's it! Once the sushi rice is cooked, the rest of the dish comes together in minutes!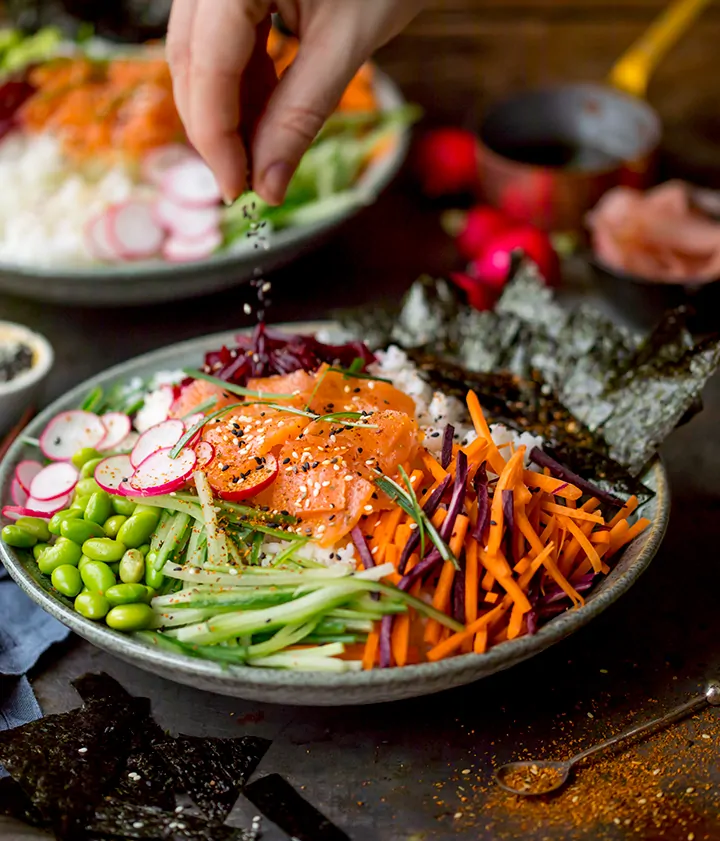 Want to see some more recipes pics from the book?
Garlic Herb and New Potato Salad - with a buttery warm dressing:
Coconut Shrimp Salad - with a sweet sriracha dressing:
Warm Bacon and Pea Salad with a light lemon dressing: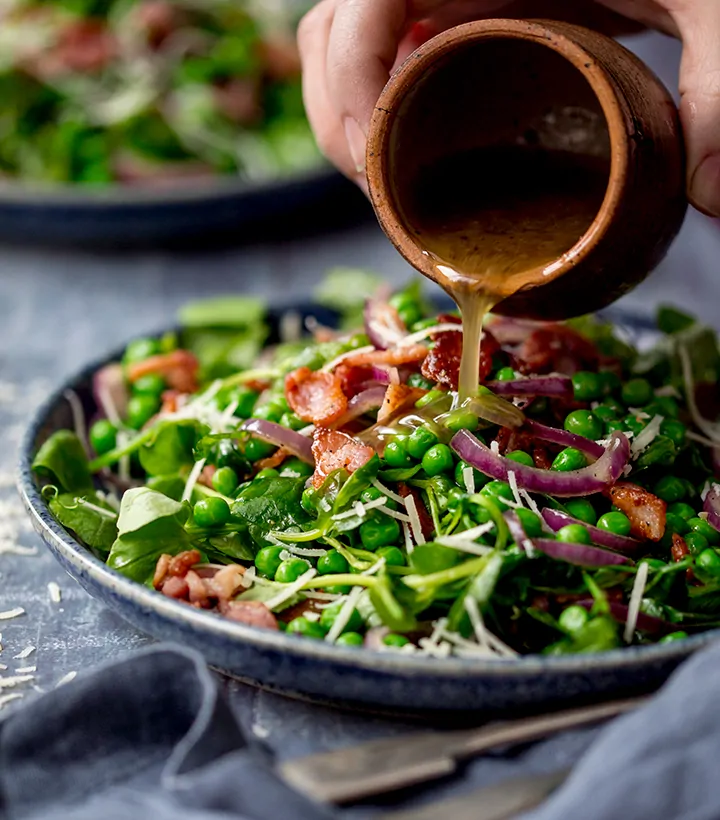 You'll find these recipes plus loads more (75 recipes altogether with 70+ of them NOT on the blog) all with their own photo in my new Seriously Good Salads book.
The Salmon Sushi Bowl Recipe:
Salmon Sushi Bowl
An easy to prepare Salmon Sushi Bowl - all of the flavours of Sushi, in minimal time. Plus a 2-minute soy and ginger dressing that tastes way better than those little soy sauce plastic fish thingies!


Ingredients
2

cups

(about 350g) uncooked sushi rice

3

cups

cold water

2

tbsp

rice vinegar

1

tbsp

sugar

¼

tsp

salt

7

oz

(198g) smoked salmon

-

cut into 2.5cm pieces

½

cucumber

-

seeded and sliced into thin strips

1

large cooked beetroot

-

peeled and shredded

1

large carrot

-

peeled and sliced into thin strips

1

cup

(150g) cooked edamame beans

4

radishes

-

thinly sliced

2

sheets nori seaweed

-

cut into 1cm strips or small triangles

1

oz

(28g) pickled sushi ginger

1

tsp

mixed black and white sesame seeds

1

tsp

shichimi togarashi
Soy sauce and ginger dressing
1

tbsp

sesame oil

2

tbsp

olive oil

2

tbsp

soy sauce

1

tsp

minced fresh ginger

1

clove

garlic

-

peeled and minced

Pinch

of freshly ground black pepper
INSTRUCTIONS
Rinse the sushi rice under cold water and place in a saucepan. Add the cold water. Bring to a boil, cover, then lower the heat to low and cook for 10 minutes. Turn off the heat and leave, covered, for 30 minutes.

After 30 minutes, remove the lid and let the rice cool to room temperature, then gently stir the rice vinegar, sugar and salt into the rice.

In a small bowl, whisk together all the dressing ingredients.

Divide the rice among 4 bowls and top with the salmon, cucumber, shredded beet, carrot, edamame and radish slices.

Add a few nori strips to each bowl, reserving the rest for serving. Place a few slices of sushi ginger in each bowl and sprinkle with sesame seeds and shichimi togarashi.

Serve with the dressing and extra nori strips.
Video
✎ Notes
Tip:
A mandolin (<-- affiliate link) makes preparing the vegetable strips much easier
Nutritional information is per serving.
Nutrition
Calories:
591
kcal
Carbohydrates:
89
g
Protein:
22
g
Fat:
16
g
Saturated Fat:
2
g
Cholesterol:
11
mg
Sodium:
1097
mg
Potassium:
561
mg
Fiber:
6
g
Sugar:
7
g
Vitamin A:
2766
IU
Vitamin C:
7
mg
Calcium:
64
mg
Iron:
3
mg
Some of the links in this post may be affiliate links – which means if you buy the product I get a small commission (at no extra cost to you). If you do buy, then thank you! That's what helps us to keep Kitchen Sanctuary running. The nutritional information provided is approximate and can vary depending on several factors. For more information please see our Terms & Conditions.