Brown Rice Porridge with Figs and Blueberries. I get it, porridge made from brown rice sounds wrong - that's what I thought - until I tasted it!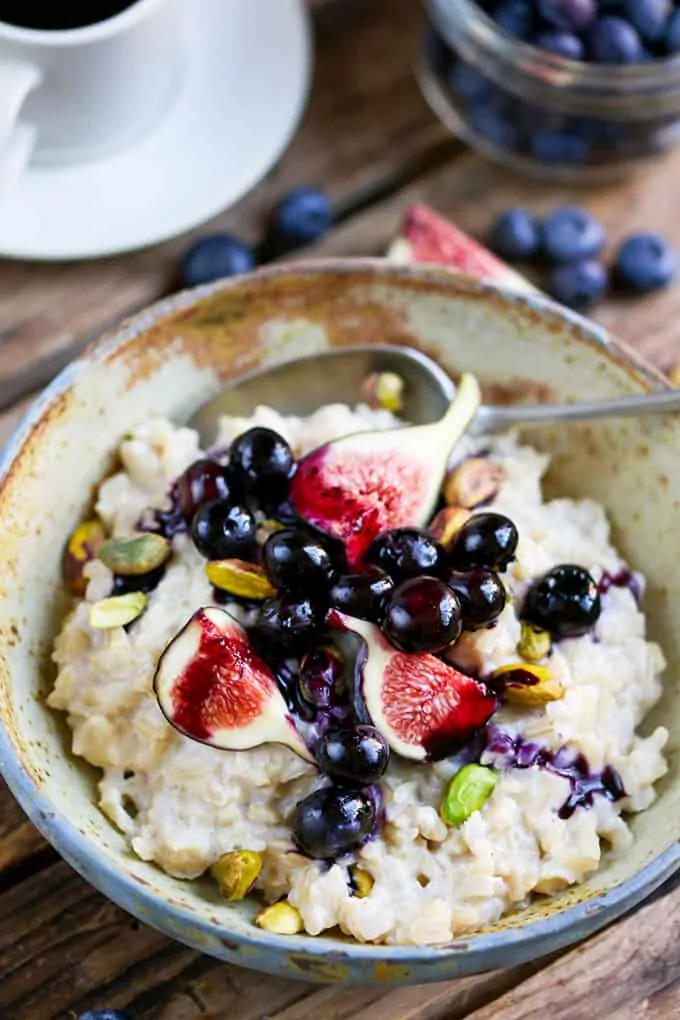 I made stew last week, and I'm posting porridge this week. Sometimes you've just got to forget the weather and eat what you fancy!
I've been seeing brown rice porridge recipes flying around for a while.
To be honest, I'm still weening myself onto brown rice as a savoury food, never mind trying to eat it as something sweet. So the fact I really enjoyed this surprised me.
In usual Nicky style, I love white rice, as well as anything else in life that doctors and health 'specialists' tell you is bad for you (except fried haggis. That's the one time I'll ask for a (slightly) healthier alternative like a nice big fried mushroom. I don't need sheep organs in my life thank you very much).
Where was I?  Ah yes, Brown Rice Porridge with Figs and Blueberries.
If you like rice pudding, you'll like this.
And rice pudding for breakfast? I'm in!
The porridge isn't loaded with sugar and full fat milk like regular porridge. It's made using almond milk - which isn't very sweet straight out of the carton, but reduced down with the rice, the flavour really develops into something creamy and sweet.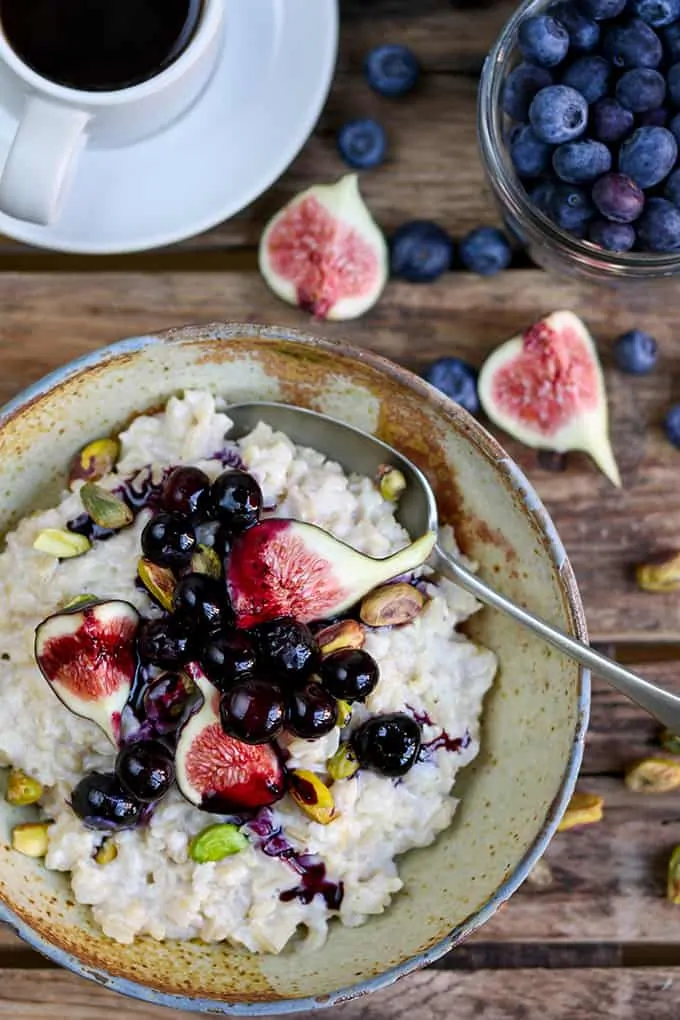 I've topped mine off with some lightly poached blueberries. Again, I'm not adding sugar, as I like to drizzle on a little honey at the end. However, if you want your blueberries to be a little more sweet and jammy, just add 2 tbsp granulated sugar to the pan.
I've also topped with pistachios for a bit of crunch, and figs - because I love the colour. I find the flavour of figs to be a little bland (unless they're dresdged in brown sugar and fried in butter - see typical Nicky style!), so that drizzle of honey comes in handy once again.
Go on, just try it. As I say to my kids, you're not allowed to say you don't like something unless you've tried it at least once 🙂
The Brown Rice Porridge with Figs and Blueberries Recipe: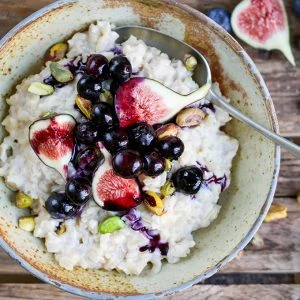 Brown Rice Porridge Recipe
Brown Rice Porridge with figs, blueberries and pistachios. A healthy breakfast that's a little bit different. I thought it would taste weird, but it's really good!
Ingredients
180

g

(1 cup minus 2 tbsp) brown rice – short grain or long grain

½

tsp

vanilla extract

1

litre

(34 fl oz) unsweetened almond milk

170

g

(1 cup + 2 tbsp) blueberries

1

tsp

water

4

ripe figs

-

sliced into quarters

60

g

(½ cup) shelled pistachios

-

, some chopped, some left whole

4

tsp

honey
INSTRUCTIONS
Place the brown rice, vanilla extract and all but 120ml (½ cup) of the almond milk into a large saucepan. Bring to the boil, turn down the heat and simmer on a low heat (without a lid) for 40-45 minutes. Stir every 10 minutes. During the last 15 minutes the almond milk will reduce significantly. Top up with the rest of the almond milk at the end if required.

180 g (1 cup minus 2 tbsp) brown rice – short grain or long grain,

½ tsp vanilla extract,

1 litre (34 fl oz) unsweetened almond milk

Just before the porridge is ready, place the blueberries and 1 tsp of water into a small saucepan. Heat on a medium heat for 3-4 minutes until the blueberries just start to release their juice. Turn off the heat.

170 g (1 cup + 2 tbsp) blueberries,

1 tsp water

Divide the porridge between four bowls. Top with the blueberries, figs, pistachios and a drizzle of honey.

4 ripe figs,

60 g (½ cup) shelled pistachios,

4 tsp honey
✎ Notes
Nutritional Information is per serving.
Nutrition
Calories:
258
kcal
Carbohydrates:
38
g
Protein:
6
g
Fat:
10
g
Sodium:
327
mg
Potassium:
339
mg
Fiber:
5
g
Sugar:
19
g
Vitamin A:
135
IU
Vitamin C:
5.6
mg
Calcium:
341
mg
Iron:
1.2
mg