Sometimes simple is best, and this Poutine Recipe - made from twice-cooked fries, topped with rich, meaty gravy and finished with gooey cheese is the perfect answer. Simple, delicious comfort food.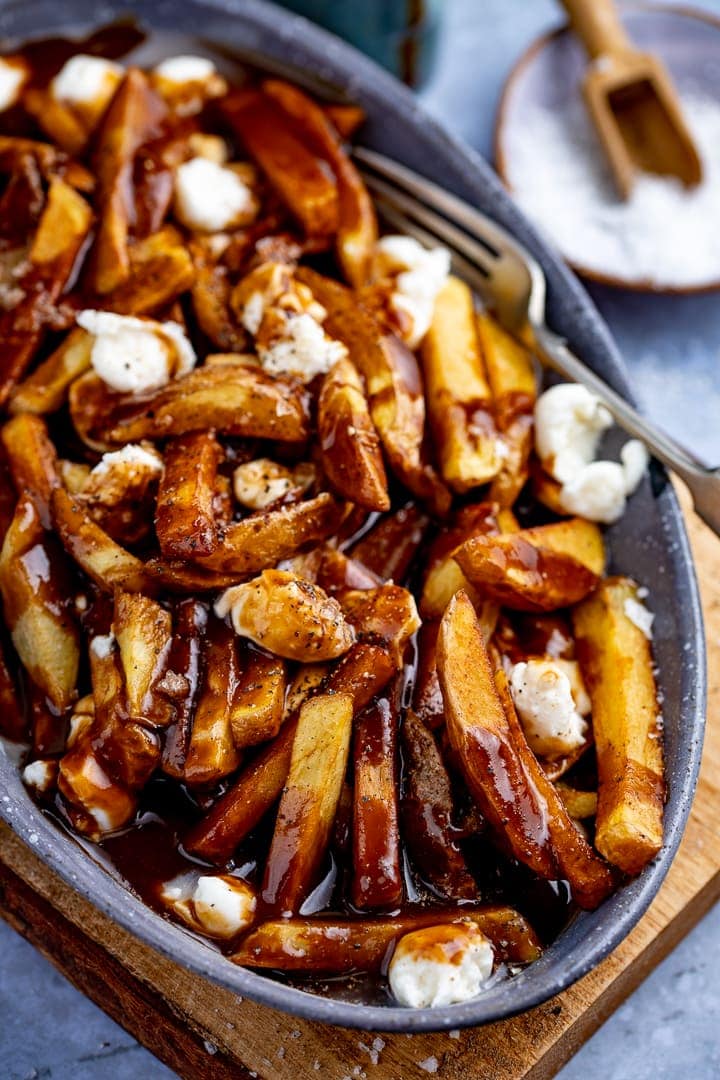 Originating in the Canadian province of Quebec, Poutine has been around as the ultimate comfort food for over 60 years.
So why had I never heard of it until a few years ago?
Personally I think peoples eating habits and willingness (or even they're need) to experiment have changed dramatically over the 10 years or so. People want to experiment and try different cuisines, and the continued massive growth of social media means it's easier than ever to see what other people eat, and how to find a recipe for it. I literally read about new recipes and cuisines every single day.
And I flippin love it!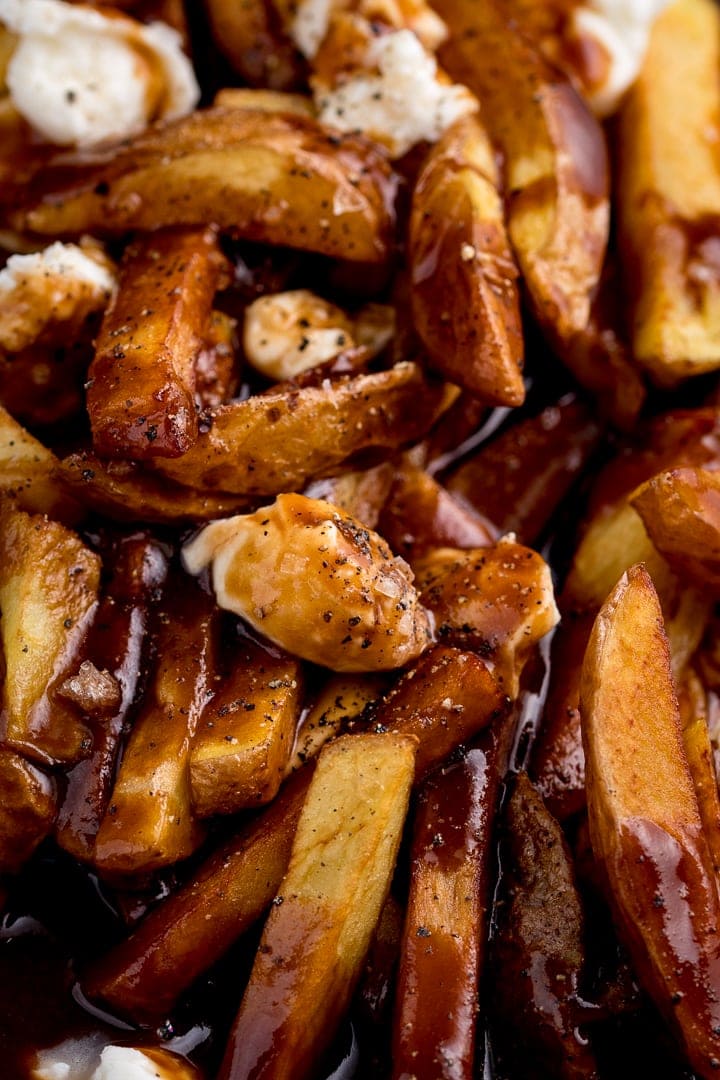 Once I did hear about it, I was on a mission to try it. And when I finally found a place that sold traditional Canadian Poutine (I'd love to say it was Canada, but it was actually a little Canadian Poutine hut), I was hooked.
Cheese curds:
Traditional poutine uses fresh cheese curds (and they are divine) but it's so hard to source because the cheese curds have to be really really fresh. So for this recipe I'm using good quality mozzarella. It's not exactly the same, but it's still really delicious.
Chips/Fries:
I'm twice-frying my skin-on chips to get lovely crunchy chips. If you prefer, you can oven-bake them, or buy ready-made oven chips. I do this when I don't want to start heating up big pans of oil!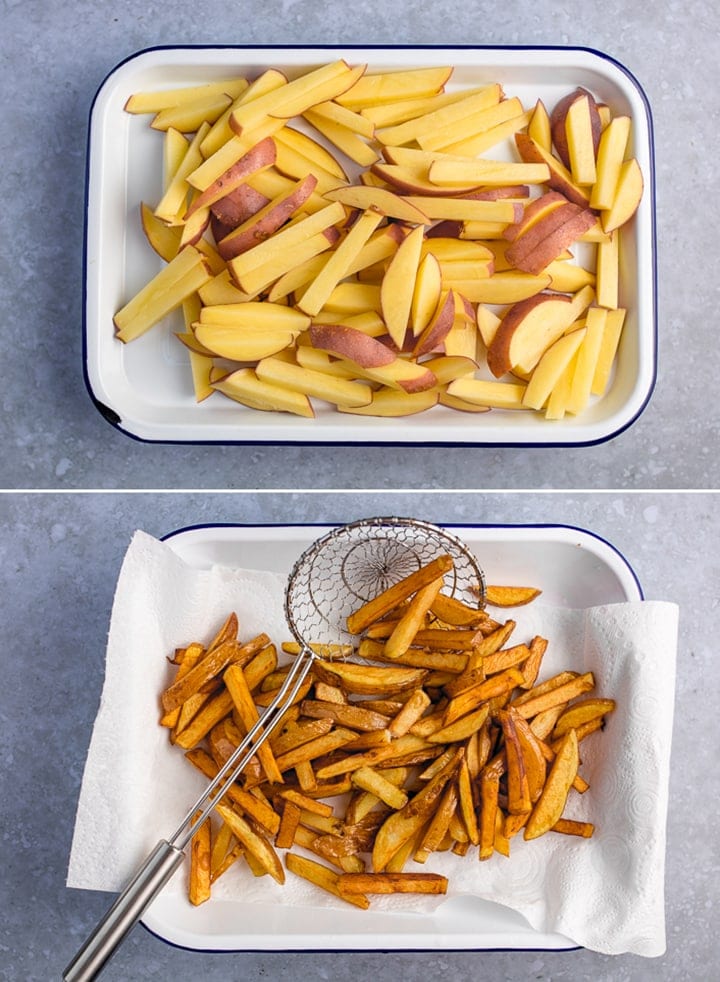 The gravy is made by slowly cooking onions in butter, then adding flour to form a roux. Really good quality stock (ideally a mixture of chicken and beef stock) is stirred in, and the mixture is cooked, whilst stirring, until the gravy is to the thickness of your liking.
After that, we pile up the chips with mozzarella, gravy, more chips, mozzarella and more gravy, Then finish with a sprinkling of salt and pepper:

How to get the most flavourful gravy:
The easy way:
You can buy ready-made gravy or stock, or use stock cubes to make your stock. If you do, use the best quality you kind find. You want the gravy to be as tasty as possible, and I often find the shop-bought or ready made stuff is a let down.
The only exception to this I've found is Essential Cuisine concentrated liquid stock/glace or powder. It's more expensive than Oxo cubes, but has a fantastic flavour (fyi – I've worked with them in the past, but I'm not being paid for this mention in any way). I think it's only available in the UK, online or in larger farm shops. If you're in the US and you know of a fantastic gluten free stock cube/powder/liquid, let me know in the comments and I'll add it into this post.
The best way:
If you don't mind spending a bit of time over your stock - this is the best way to do it. It's all about bones (read more about gravy making in my How to make Gravy tutorial).
Whenever we have a roast dinner – chicken, lamb, beef – basically anything roasted on the bone, I always save the bones.
Place them in a bag, and keep adding to that bag.
Once you have a couple of chicken carcasses or a few bones, add them all into a large stock pot (mix them up – lamb bones, beef bones, chicken carcass – they can all go in together) with a couple of roughly chopped onions (no need to peel), a couple of broken up carrots (no need to peel), a stick of celery and ½ tsp each of salt and pepper. You can also add in a couple of stock cubes for even more flavour and/or to make the gravy stretch further (I usually do).
Cover with water – so it nearly reaches the top of the pan, then bring to the boil. Simmer for 3-4 hours until the liquid has reduced by three-quarters.
Turn off the heat and leave to cool a little. Then strain the liquid into a bowl. Give the bones and veggies a good squeeze with a spoon to get all the liquid out.
The resulting liquid will make the most awesome stock for your poutine gravy
Why do they call it poutine?
According to the Merriam-Webster online dictionary, poutine is from a Québécois slang word meaning "mess"
It is popular a belief that a customer in a restaurant called Le Lutin qui rit in Warwick, Quebec in 1957, asked the restaurant owner to mix cheese curds with the fries. He replied that 'Ça va faire une maudite poutine' or 'that will make a damn mess). And Poutine was born.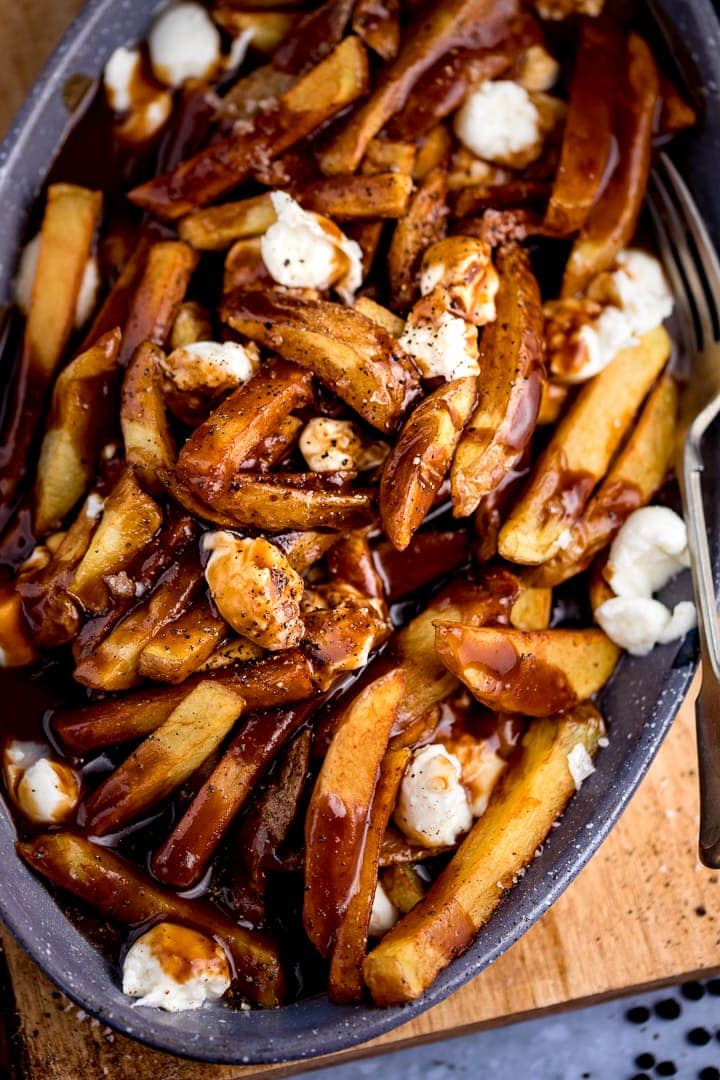 More potato-based recipes:
More Street Food Recipes:
The Poutine Recipe: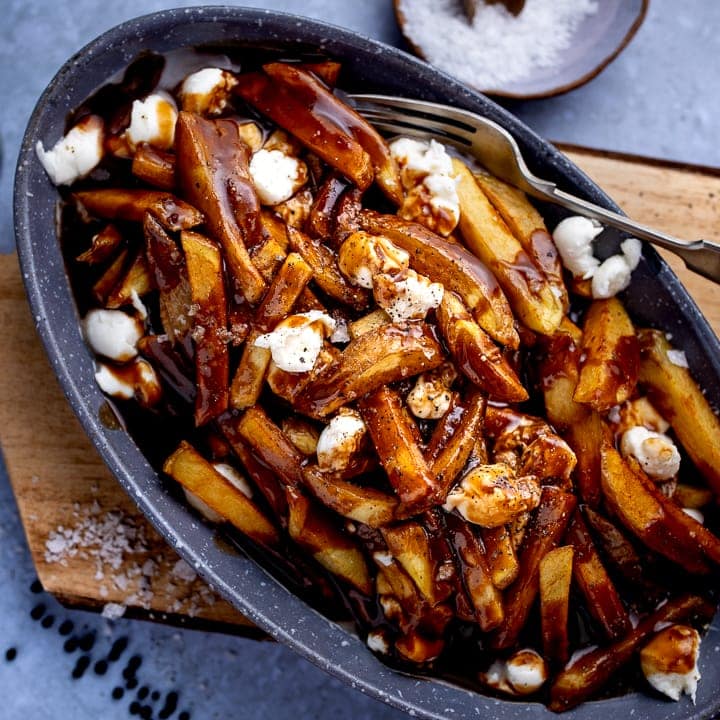 Poutine
Sometimes simple is best, and this Poutine Recipe - made from twice-cooked fries, topped with rich, meaty gravy and finished with gooey cheese is the perfect answer. Simple, delicious comfort food.
Ingredients
Poutine gravy:
3

tbsp

unsalted butter

1

onion

-

peeled and finely sliced

6

tbsp

plain

-

all-purpose flour

1 ¼

cups

(300ml) good quality chicken stock

1 ¼

cups

(300ml) good quality beef stock

¼

tsp

salt

¼

tsp

black pepper
Fries:
Vegetable oil for frying – at least 1 litre

4

medium floury potatoes

-

Rooster or Maris Pipers are good
Also:
7

oz

(200g) fresh mozzarella - or if you can find them, fresh cheese curds
INSTRUCTIONS
Melt the butter on a large saucepan over a medium-high heat. Add the onion and cook, stirring often for 10 minutes, until the onion is softened and lightly caramelized.

Sprinkle on the flour and stir together to form a roux.

Add the chicken stock, a splash at a time, whilst stirring with a whisk until you get a thick sauce.

Stir in the beef stock, salt and pepper.

At this point you can remove the onions with a slotted spoon if you like (the onions were used for flavour, so you can keep them, or remove them if you prefer a smooth gravy).

Continue to heat the gravy whilst stirring until it comes to a gentle boil. Turn down the heat to a simmer and continue stirring the gravy until the gravy thickness is to your liking. Turn off the heat.

Now heat the vegetable oil for the chips in a large heavy based pan (don't fill the pan more than half full) over a medium-high heat, until hot. Ideally you're looking for a temperature of around 140C/285F, but if you haven't got a heavy-duty thermometer, don't worry, we'll do the 'chip test' when it comes to cooking the chips.

Slice the potatoes into chunky chips about 1cm thick. Pat them with kitchen roll to remove excess moisture.

Do the 'chip test' - place one chip in the oil. If it gently sizzles, it's perfect.

Carefully lower a ladle full of the chips into the pan using a mesh ladle. The oil may boil more rapidly, so it's best to lower slowly to ensure the oil doesn't overflow.

Cook for 5-6 minutes until the potatoes are a very pale brown. Remove from the oil and transfer to a bowl lined with kitchen roll to drain.

Continue with the rest of the chips, working in batches.

Once cooked, turn up the oil to 180C/350F (or just turn up the heat to high).

This time you can work in two or three batches. Again carefully lower a ladle full of the chips into the pan using a mesh ladle. You can add more chips, so longs as you don't overcrowd the pan. The chips need enough oil so they can still move around the pan.

Cook for a further 3-4 minutes until golden brown and crisp.

Remove from the oil and transfer to a bowl lined with kitchen roll to drain. You can keep the cooked chips warm by placing on a baking tray in a low temperature oven.

When all of the chips are cooked, reheat the gravy in the pan, stirring often.

Transfer half the chips to a large serving bowl and sprinkle on the half the mozzarella cheese. Pour over a ladle full of gravy.

Add the remaining chips and the remaining mozzarella, then pour over more gravy. Sprinkle over a pinch of salt and pepper and serve.
✎ Notes
Nutritional Information is per serving:
Nutrition
Calories:
604
kcal
Carbohydrates:
55
g
Protein:
20
g
Fat:
35
g
Saturated Fat:
23
g
Cholesterol:
64
mg
Sodium:
828
mg
Potassium:
1277
mg
Fiber:
4
g
Sugar:
6
g
Vitamin A:
615
IU
Vitamin C:
20.4
mg
Calcium:
287
mg
Iron:
2.7
mg
Some of the links in this post may be affiliate links – which means if you buy the product I get a small commission (at no extra cost to you). If you do buy, then thank you! That's what helps us to keep Kitchen Sanctuary running. The nutritional information provided is approximate and can vary depending on several factors. For more information please see our Terms & Conditions.