Crispy Chicken Burger with Honey Mustard Coleslaw on a toasted brioche bun, with jalapenos and crunchy lettuce. Waaay better than takeout!
I've been making crispy buttermilk chicken again! I can't help myself, it's so good!
I'm not sure it can technically be classed as a burger if it's made of chunks of chicken breast? But it's served in a bun and topped with lots of goodies, so I'm going with it anyway!
According to my in-depth research (aka google), national burger day was founded 3 years ago in the UK. The US have 2 national burger days, a national cheeseburger day and a national double-cheeseburger day! Whoa! Might take us Brits a while to catch up with that one!
Chris LOVES a good burger. It's either got to be homemade on the griddle or barbeque (I like a smaller thinner burger -I'm not as keen on the thick meaty ones. Chris likes a double-pattie burger, topped with bacon) or from one of our favourite burger chains like Five Guys or Byron burger.
Chris tends to make the beef-pattie based burgers at home (self-professed king – and he has it down to a tee!), and I make all of the other versions, then we love making our own Brioche buns.
Here are a few of my faves:
Cheesy veggie chickpea burger:

Thai-style fish burger: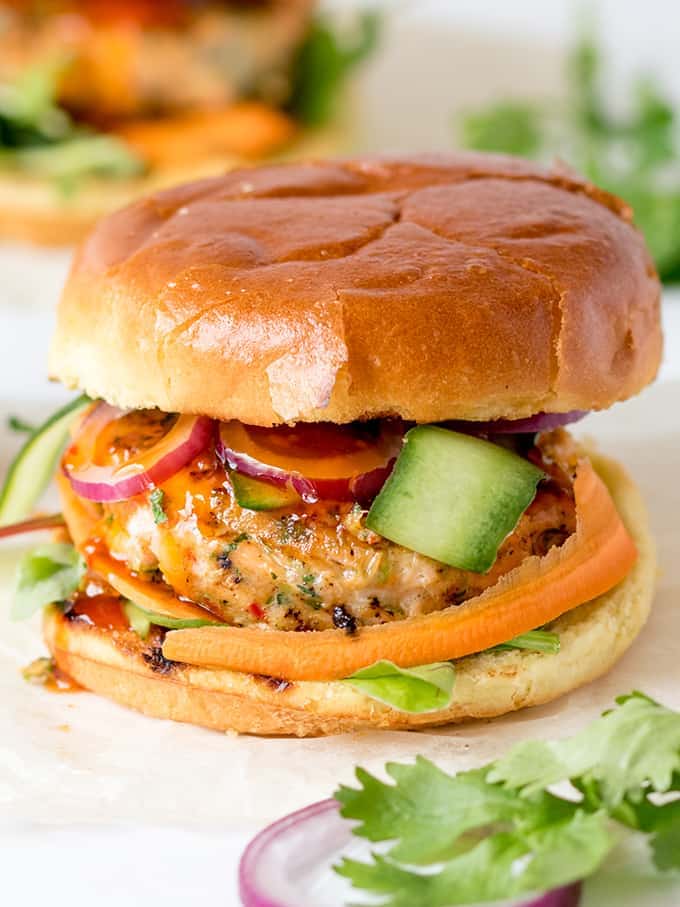 Halloumi burger with sticky chilli sauce:

and two that are more like sandwiches, but I'm going to include them any way:
This roast chicken version with creamy garlic mushrooms: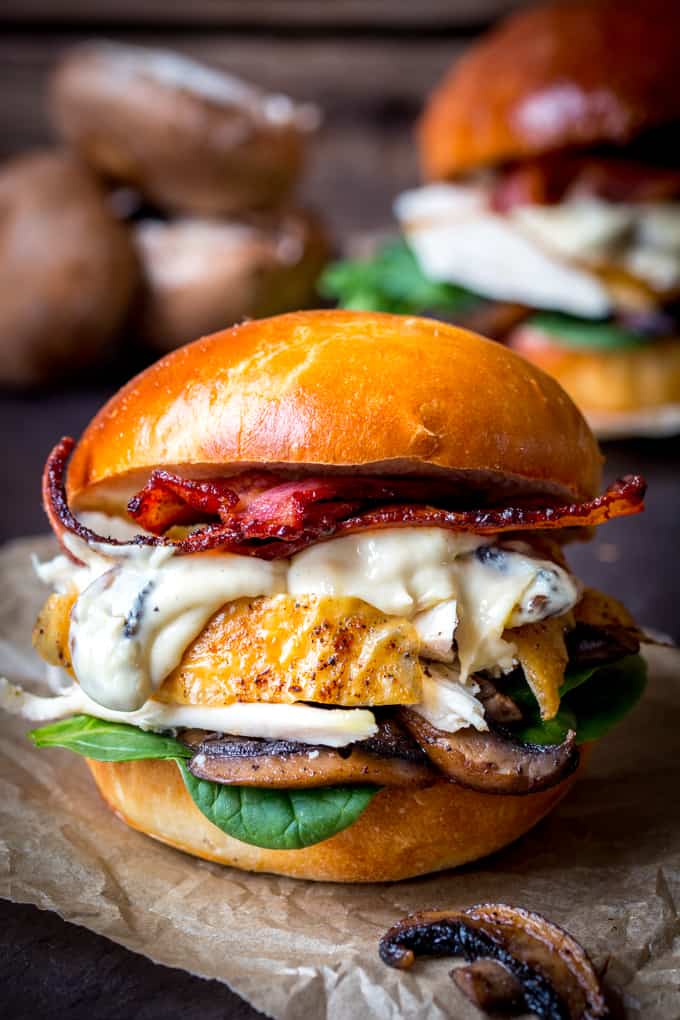 Slow cooked brisket with garlic saute potatoes: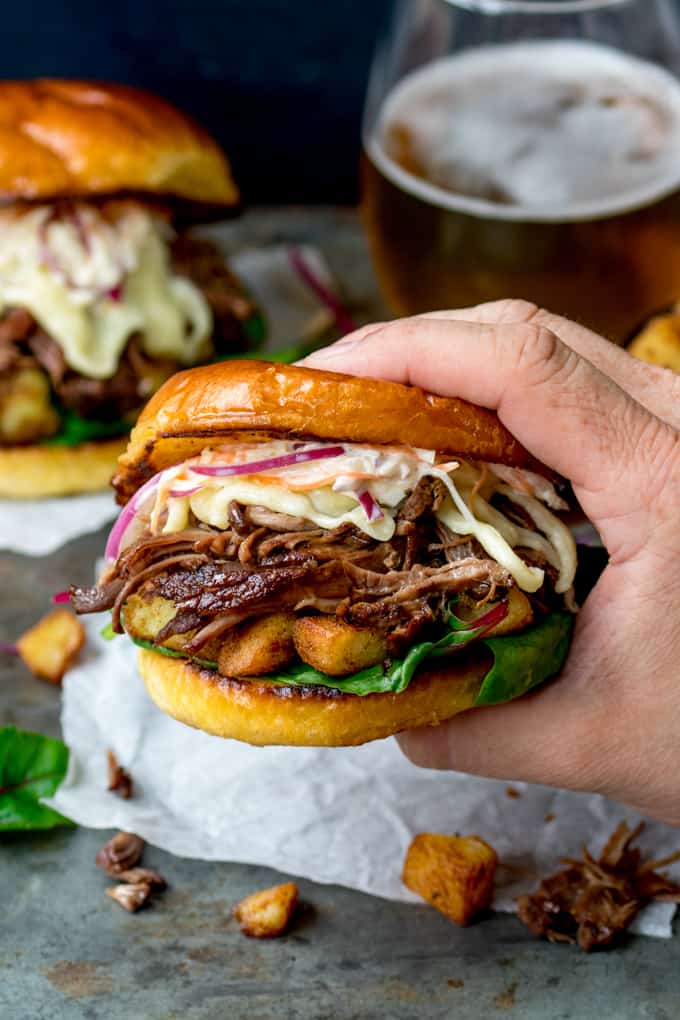 If you've tried my chicken burger recipe then please rate the recipe and let me know how you got on in the comments below, I love hearing your thoughts and add-ons to my recipes!
You can also follow me on INSTAGRAM, FACEBOOK, PINTEREST, and TWITTERto see what I'm up to in the kitchen, what recipes i'm loving, and of course YOUTUBE to see our latest recipe videos!
The Crispy Chicken Burger with Honey Mustard Coleslaw Recipe: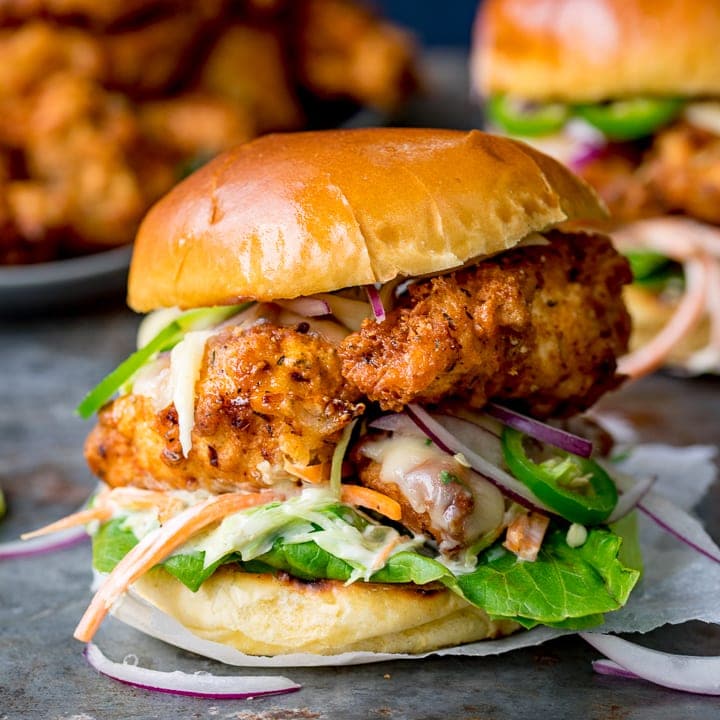 Crispy Chicken Burger with Honey Mustard Coleslaw
Crispy Chicken Burger with Honey Mustard Coleslaw on a toasted brioche bun, with jalapenos and crunchy lettuce. Waaay better than takeout!
Print
Rate
Ingredients
Instructions
Place the chicken in a bowl. Add the buttermilk, salt, pepper and garlic salt. Mix together, cover and place in the fridge to marinade for at least 1 hour (up to over night)

Preheat the oven to a low heat (to keep cooked chicken warm). Heat a large pan of vegetable oil (or preheat your deep fat fryer) until hot (you can test by dropping a small cube of bread in there, if it rises immediately to the top and starts to bubble rapidly, it's hot enough). You'll need at least 1 litre (4 cups) of oil - but make sure your pan is no more than one third full.

Mix together the crispy coating ingredients in a small bowl. Take the chicken out of the fridge. Lift a piece from the buttermilk and allow the excess to drip off. Dredge the chicken in the crispy coating mixture – ensuring it's fully covered. Place on a tray and repeat until all of the chicken is coated.

Once the oil is hot enough, add in 5 or 6 of the chicken tenders. You can add more or less depending on the size of your pan, just be sure not to overcrowd the chicken. Cook for 3-5 minutes until golden brown and cooked in the middle. You can check this by cutting open a piece of chicken, if it's no longer pink in the middle, it's cooked.

Place on a tray in the oven to keep warm whilst you cook the rest of the chicken.

Make the coleslaw by using a mandoline to julienne the cabbage and carrot (or you can slice thinly by hand). Place in a bowl with the mayonnaise, mustard, honey, lemon juice and black pepper. Stir together, then cover and refrigerate until needed.

Now it's time to assemble. First, arrange the chicken tenders into four piles and place the gouda on top. Grill or place into a hot oven for a couple of minutes until just melted.

Place the bottom of the brioche buns on four plates. Top with the lettuce leaves, followed by the cheesy chicken pieces.

Spoon on the coleslaw, then sprinkle on the red onion slices and jalapeno slices. Place tops of the buns on top and serve.
Recipe Notes
Nutrition info is for one chicken burger. This info is approximate, as all of the flour may not be used up in coating the chicken (I've counted all of the flour as part of the nutritional info though). Also, I've included 1 tbsp of oil per serving to account for the oil that is absorbed during deep drying (this is an *approximate* amount, the chicken may absorb more or less).
Nutritional Information
Nutrition Facts
Crispy Chicken Burger with Honey Mustard Coleslaw
Amount Per Serving
Calories 791
Calories from Fat 342
% Daily Value*
Fat 38g58%
Cholesterol 100mg33%
Sodium 2387mg99%
Potassium 880mg25%
Carbohydrates 73g24%
Protein 38g76%
Vitamin A 3560IU71%
Vitamin C 36.3mg44%
Calcium 462mg46%
Iron 5.1mg28%
* Percent Daily Values are based on a 2000 calorie diet.
Some of the links in this post may be affiliate links – which means if you buy the product I get a small commission (at no extra cost to you). If you do buy, then thank you! That's what helps us to keep Kitchen Sanctuary running. The nutritional information provided is approximate and can vary depending on several factors. For more information please see our Terms & Conditions.