My tried and tested Crispy Chicken Burger with Honey Mustard Coleslaw is the best you're going to eat (did I tell you I worked in a fried chicken shop for many years when I was younger?). Using my secret recipe for making the perfect Crispy Chicken, served on a toasted brioche bun, with jalapenos, homemade honey-mustard coleslaw and crunchy lettuce. Way better than takeout!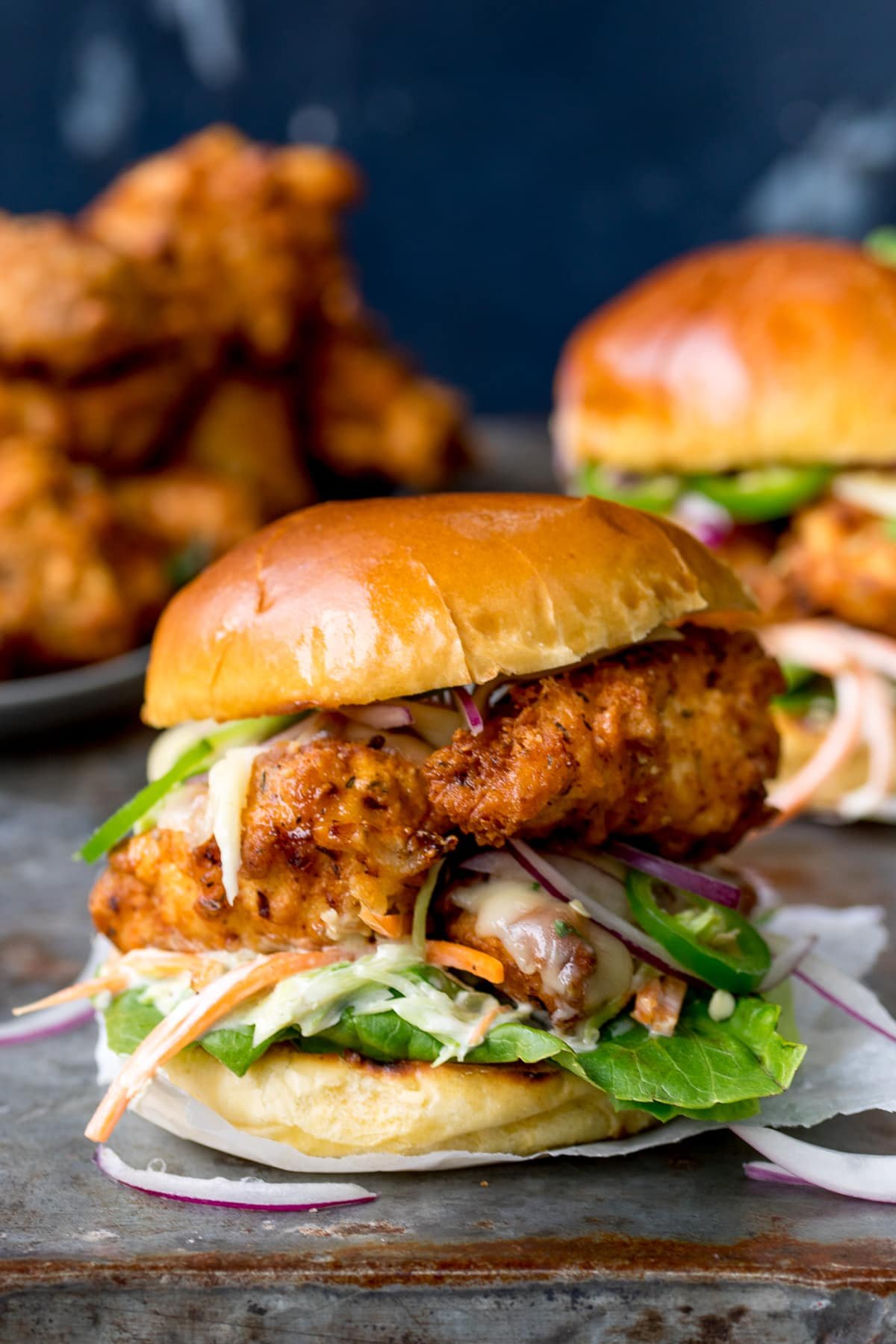 Having just come back from the Big Feastival last weekend, and sampling the fab food on offer, I've been craving a great Chicken Burger. So I've been making crispy buttermilk chicken again! I can't help myself, it's so good!
I have perfected the coating for the buttermilk fried chicken over a number of years.  Its super simple to make, REALLY tasty and I use it as a basis for this burger recipe but also some of my other fried chicken recipes, like my Korean Fried Chicken, my base recipe for Crispy Chicken Tenders or my Asian inspired Chinese Crispy Chicken With Honey Garlic Sauce.
How to make the Crispy Chicken
First we marinade the chicken in buttermilk, salt, white pepper and garlic salt for at least a hour (up to overnight).
Then we coat the chicken in my special secret mixture. Only joking, it's not secret. Find the full mixture in the recipe card below.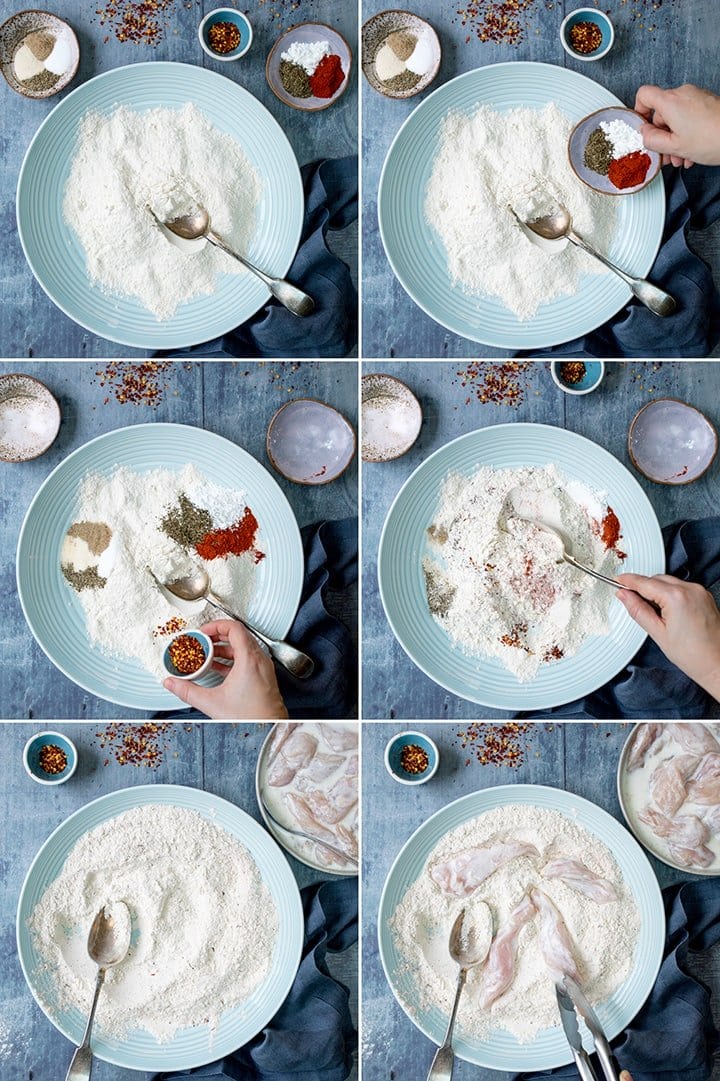 Once the chicken tenders are coated then we fry them in vegetable oil until you get this this delicious golden crispy chicken:

Now you are ready to assemble your Chicken Burger.
What goes on a Chicken Burger?
To start with you have the Crispy Fried Chicken (of course), then I like to add:
Lettuce, I use 'O' so sweet' variety but romaine or little gem work just as well.
Cheese: You can use a nice gouda like I am here, sharp cheddar, swiss or american.
Toppings: I like fresh jalapenos and thinly sliced red onion.
The bun:  It has got to be a Brioche Bun for me.  I love making these at home for my burgers. If you don't want to make them yourself, buy them, and then it's a good idea to toast them too (it helps them stay together better, as well as adding a little more texture and flavour)
The BEST thing about a burger is that you can be really creative.  **Let us know in the comments below what you like on your burger.**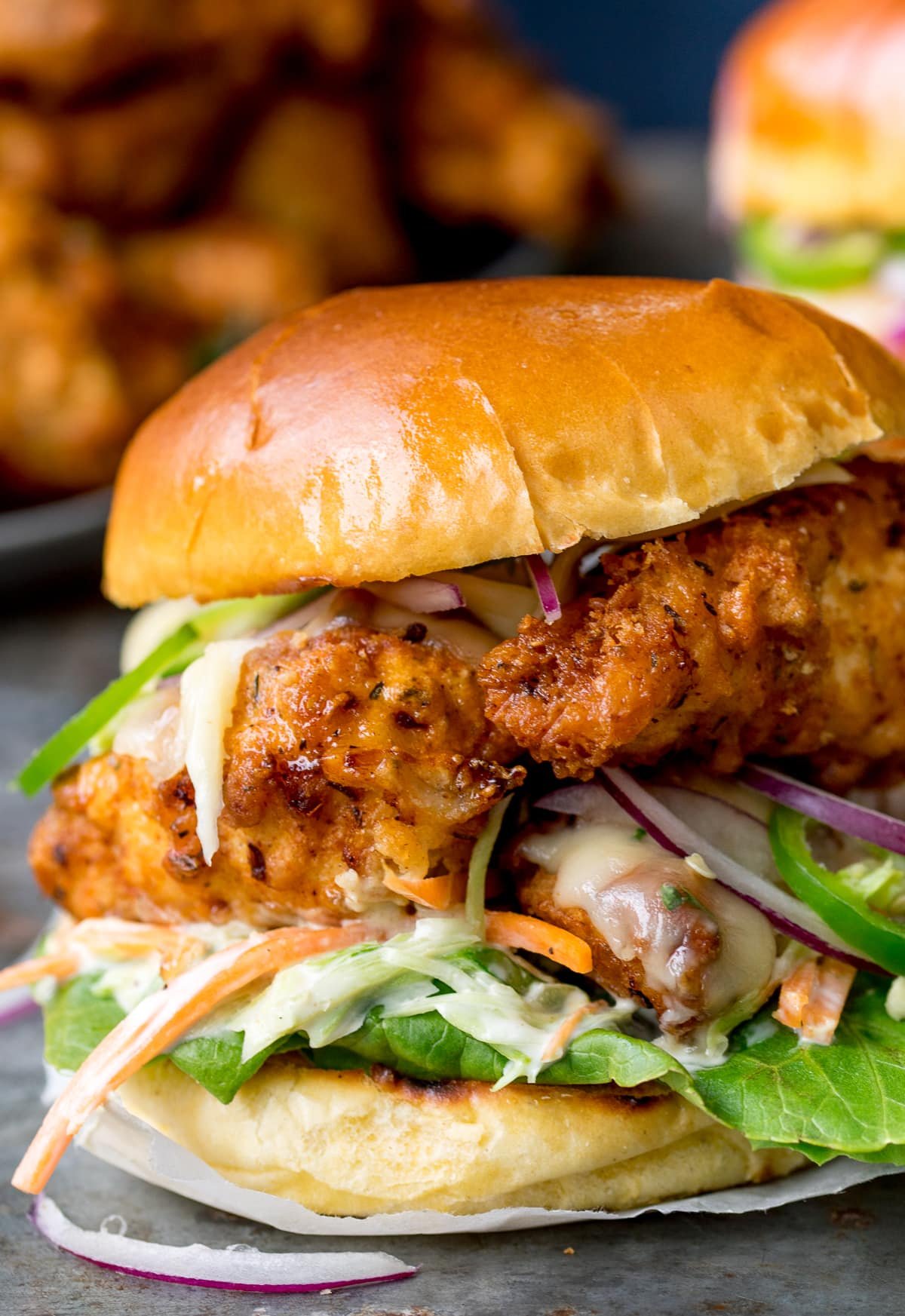 I've said it before, but I spent a fair few of my teenage years working in a fried chicken shop - so I know my way around a flippin' good chicken burger.
Although I'm not sure it can technically be classed as a burger if it's made of chunks of chicken breast? Maybe it's a Chicken Sandwich?  But it's served in a bun and topped with lots of goodies, so I'm going with Chicken Burger anyway!
Other AMAZING burger recipes for you to try
Here are a few of my faves:
...and two that are more like sandwiches, but I'm going to include them anyway:
If you've tried my chicken burger recipe then please rate the recipe and let me know how you got on in the comments below, I love hearing your thoughts and add-ons to my recipes!
Don't forget to Follow us on INSTAGRAM, and subscribe to our YOUTUBE Channel to see our latest recipe videos!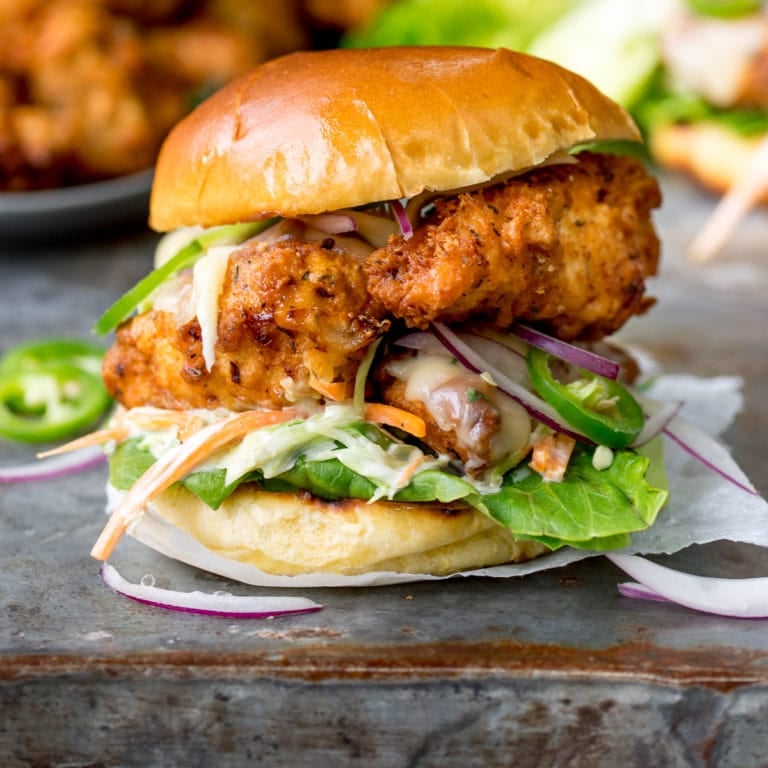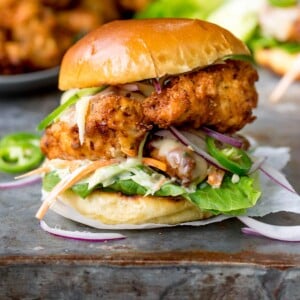 Crispy Chicken Burger with Honey Mustard Coleslaw
Crispy Chicken Burger with Honey Mustard Coleslaw on a toasted brioche bun, with jalapenos and crunchy lettuce. Waaay better than takeout!
Ingredients
INSTRUCTIONS
Place the chicken in a bowl. Add the buttermilk, salt, pepper and garlic salt. Mix together, cover and place in the fridge to marinade for at least 1 hour (up to over night)

Preheat the oven to a low heat (to keep cooked chicken warm). Heat a large pan of vegetable oil (or preheat your deep fat fryer) until hot (you can test by dropping a small cube of bread in there, if it rises immediately to the top and starts to bubble rapidly, it's hot enough). You'll need at least 1 litre (4 cups) of oil - but make sure your pan is no more than one third full.

Mix together the crispy coating ingredients in a small bowl. Take the chicken out of the fridge. Lift a piece from the buttermilk and allow the excess to drip off. Dredge the chicken in the crispy coating mixture – ensuring it's fully covered. Place on a tray and repeat until all of the chicken is coated.

Once the oil is hot enough, add in 5 or 6 of the chicken tenders. You can add more or less depending on the size of your pan, just be sure not to overcrowd the chicken. Cook for 3-5 minutes until golden brown and cooked in the middle. You can check this by cutting open a piece of chicken, if it's no longer pink in the middle, it's cooked.

Place on a tray in the oven to keep warm whilst you cook the rest of the chicken.

Make the coleslaw by using a mandoline to julienne the cabbage and carrot (or you can slice thinly by hand). Place in a bowl with the mayonnaise, mustard, honey, lemon juice and black pepper. Stir together, then cover and refrigerate until needed.

Now it's time to assemble. First, arrange the chicken tenders into four piles and place the gouda on top. Grill or place into a hot oven for a couple of minutes until just melted.

Place the bottom of the brioche buns on four plates. Top with the lettuce leaves, followed by the cheesy chicken pieces.

Spoon on the coleslaw, then sprinkle on the red onion slices and jalapeno slices. Place tops of the buns on top and serve.
✎ Notes
Nutrition info is for one chicken burger. This info is approximate, as all of the flour may not be used up in coating the chicken (I've counted all of the flour as part of the nutritional info though). Also, I've included 1 tbsp of oil per serving to account for the oil that is absorbed during deep drying (this is an *approximate* amount, the chicken may absorb more or less).
Nutrition
Calories:
791
kcal
Carbohydrates:
73
g
Protein:
38
g
Fat:
38
g
Saturated Fat:
20
g
Cholesterol:
100
mg
Sodium:
2387
mg
Potassium:
880
mg
Fiber:
5
g
Sugar:
15
g
Vitamin A:
3560
IU
Vitamin C:
36.3
mg
Calcium:
462
mg
Iron:
5.1
mg
This recipe was first posted in August 2017. Updated in August 2019 with added photos, step by step process, tips and for general housekeeping.
Some of the links in this post may be affiliate links – which means if you buy the product I get a small commission (at no extra cost to you). If you do buy, then thank you! That's what helps us to keep Kitchen Sanctuary running. The nutritional information provided is approximate and can vary depending on several factors. For more information please see our Terms & Conditions.