I'll have these Garlic Chilli Oven Baked Fries with everything please!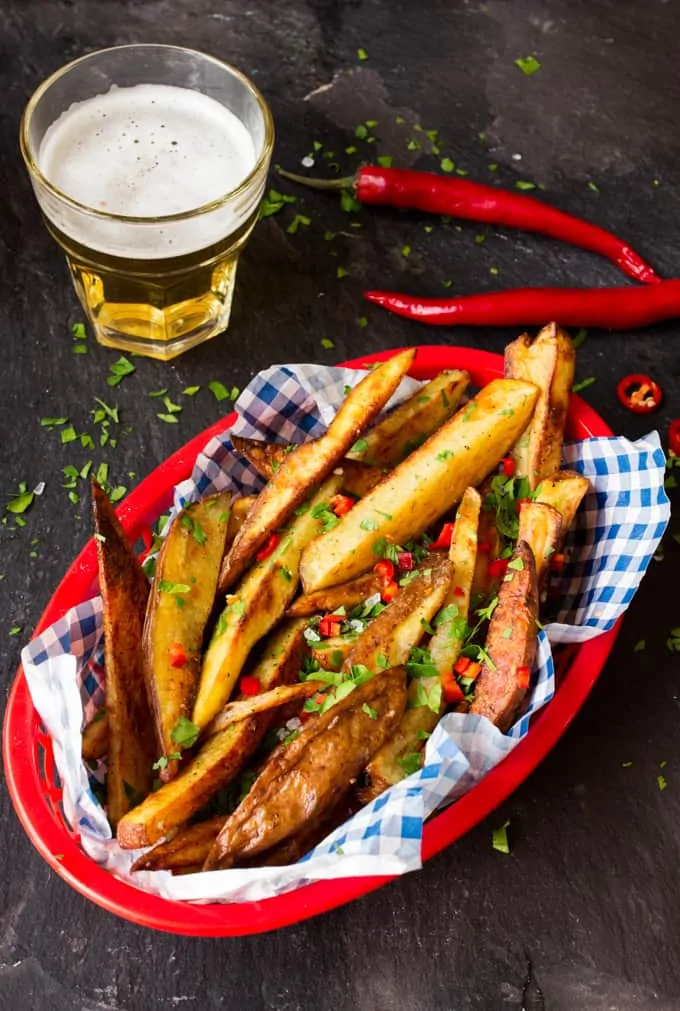 Spicy, garlicky, salty and crunchy - these fries are doing a flippin good job of comforting me whilst Chris is working in Vegas.
Did that sound like a spiteful 'working'? I didn't mean it to.  He is actually working very hard.
Today he's speaking at a conference with so many audience members that I'd want to curl up in a ball behind the lectern and whimper. But apart from the horrors of public speaking, I am insanely jealous.
Sat here in our little house in England, trying to persuade the cat from continually walking across my keyboard (why do they do that!!!) with the washing machine spinning in the background.  Vegas it is not.
However, these fries are putting a smile on my face because they're so tasty.  And the one (and only) good thing about Chris being away is that no-one minds that I have garlic breath.....
Moving on!
These Garlic Chilli Oven Baked Fries are so easy to make.  You don't have to faff around peeling the potatoes, or heating up pans of oil.  Just chop them up, mix with oil and seasoning then stick them in the oven.
For the last minute in the oven, mix in your chillies and garlic, then dish them up, sprinkle with salt and parsley and tuck in!

The Garlic Chilli Oven Baked Fries Recipe: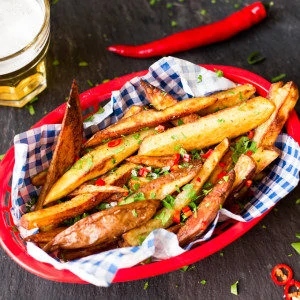 Garlic Chilli Oven Baked Fries
Spicy, garlicky, salty and crunchy - these garlic & chilli oven-baked fries are amazing!
Ingredients
2

large potatoes

-

floury potatoes such a Maris Piper work best

3

tbsp.

olive oil

½

tsp

paprika

salt and pepper

1

large clove garlic

-

peeled and crushed

1

red chilli

-

finely chopped

1

tbsp

chopped flat-leaf parsley
INSTRUCTIONS
Preheat the oven to 200c/400f.

Slice the potatoes into rough chip shapes (leave the skin on) - about 1.5 cm thickness.

Place the sliced potatoes in a heap on a large metal baking tray and pour over 2 tbsp. of olive oil. Then sprinkle on the paprika and a good pinch of salt and pepper. Use your hands to toss the potatoes so the oil covers all of them. Spread the potatoes out into an even layet and place in the oven for 20-25 minutes until golden brown. Turn them once - using a metal spatula - about 15 minutes into cooking.

Whilst the fries are cooking, mix the garlic, chopped chilli and the remaining 1 tbsp. of the olive oil in a small bowl.

When the fries are cooked, take them out of the oven and use your metal spatula to pile the fries into a heap again. Pour over chilli/garlic/oil and toss with spatula. Spread the fries out again and place back in the oven for 1 minute. Don't leave it any longer than this as the garlic will burn - leaving it tasting bitter.

Take the fries out of the oven and sprinkle with salt and parsley before serving.
✎ Notes
Nutritional Information is per serving.
Nutrition
Calories:
333
kcal
Carbohydrates:
29
g
Protein:
6
g
Fat:
22
g
Saturated Fat:
3
g
Sodium:
25
mg
Potassium:
952
mg
Fiber:
5
g
Sugar:
1
g
Vitamin A:
655
IU
Vitamin C:
59.6
mg
Calcium:
64
mg
Iron:
7.5
mg