Pad Thai with ALL the toppings is way less complicated than it looks. I'm using a couple of shortcuts and some BIG flavours to make this a lip-smackingly tasty dinner.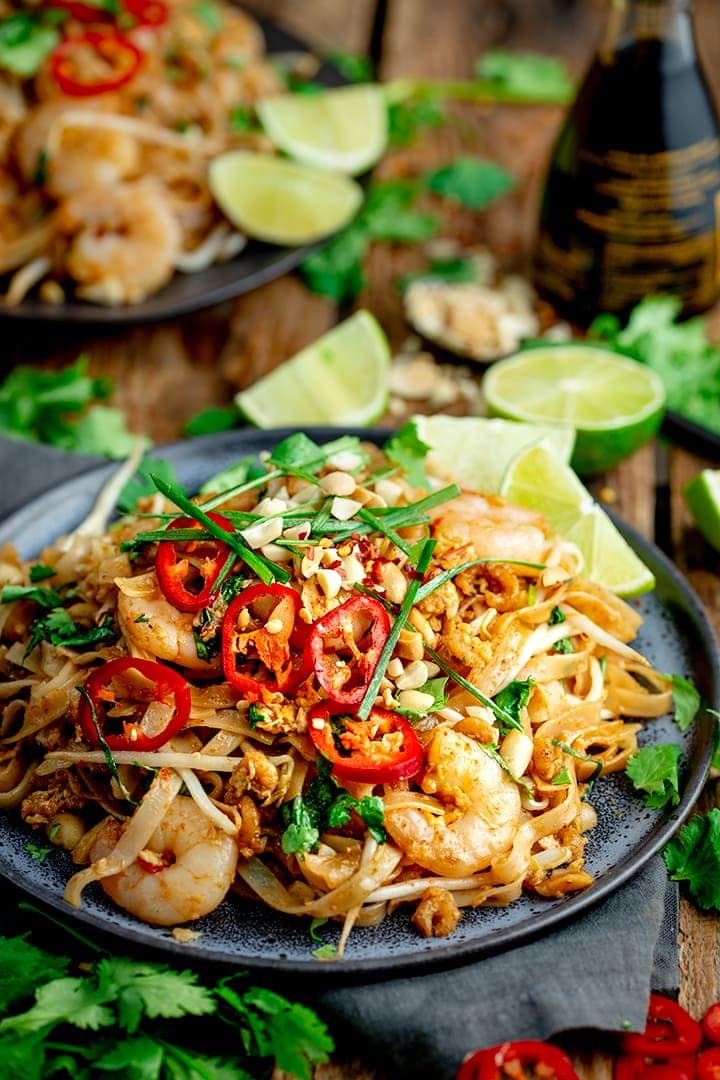 I nearly always order Pad Thai when I go to a Thai restaurant. It's usually a toss up between that or a Thai Green Curry.
What is Pad Thai?
Originating from Thailand, Pad thai (also called phad thai), is a popular street food dish of stir-fried flat rice noodles.  The noodles are flavoured with tamarind, shrimp paste, chillies, fish sauce, sugar and lime. Common additions include eggs, tofu, prawns, chopped peanuts, bean sprouts and pickled radishes.
I love the layer-upon-layer of flavours in a Pad Thai - as well as the abundance of toppings to finish the whole thing off.
It's really important to get the right noodles in a Pad Thai. Skinny noodles or egg noodles just won't do it.
Pad Thai Noodles:
The best noodles for Pad Thai are flat rice noodles or 'rice sticks' that are around 3-5mm wide (you can see the ones I use in the image below).
Rice noodles are notorious for sticking together, so I recommend soaking the noodles in a pan of just-boiled water for 3-4 minutes. Then drain them and run them under cold water to stop the cooking process. Add a teaspoon of sesame oil or an unflavoured oil, such as vegetable or rapeseed oil, and toss together. I also use these noodles in my Beef Chow Fun.
In addition to king prawns, I like to add tiny brown shrimp to my Pad Thai.
You can go down the traditional route of frying up dried shrimp, and then use the frying oil to flavour your Pad Thai. However I find the dried ones a little too pungent. Brown shrimp (also known as crangon crangon) are a lovely tender alternative. They're widely available in the UK in little pots with butter. That's what I'm using for this recipe.
Once you've fried up the shrimp with the butter, oil, salt and a little garlic salt, they're drained, and then the oil is placed back in the wok. The king prawns are then fried in this oil with garlic and chilli flakes.
Next in goes eggs, followed by cooked noodles, fish sauce, tamarind paste, chilli sauce, sugar, shrimp paste and soy sauce. Once that's mixed together and heated through, we finish off with Thai preserved radish, crushed peanuts, spring onions (scallions), bean sprouts and coriander (cilantro). Toss it all together and serve.
Top with some sliced red chilli and lime wedges . I also like to finished with a few more chopped nuts, springs onions, coriander and chilli flakes.
Easy Pad Thai! A fair few ingredients, but simple to put together and so delicious!
This recipe is inspired by Rick Stein's Pad Thai recipe from his book Far Eastern Odyssey. 
Try some of my other Thai recipes:
Thai green curry, Thai red curry or Thai yellow curry - all made with homemade curry paste
Thai fishcakes with vegetable ribbons
Thai chicken salad with peanut dressing
Thai style Peanut Pork
Thai fish burgers with sweet chilli sauce
Or more Prawn Recipes:
Prawn and Mango noodle curry bowl
Thai prawns with cauliflower rice
Chicken, Chorizo and Prawn Jambalaya
Coconut Prawns with Fiery Tomato Dip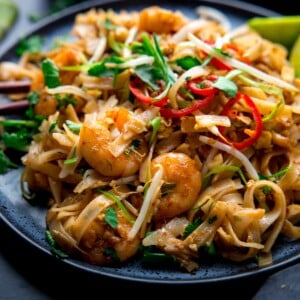 Pad Thai
Sweet and savoury Pad Thai with ALL the toppings is way easier than it looks. A fantastic street food dish you can make at home in 30 minutes.
Ingredients
6

oz

175g dried 5mm-wide flat rice noodles

1

tsp

sesame oil

1 3/4

oz

50g pot of potted brown shrimp (the teeny tiny shrimp in butter)

-

* (see note 1)

1 1/2

tbsp

vegetable oil

1/4

tsp

salt

pinch

of garlic salt

20

large raw king prawns

-

peeled and de-veined

3

cloves

garlic

-

peeled and minced

½

tsp

dried chilli flakes

2

eggs

-

beaten

2

tbsp

fish sauce

1

tsp

tamarind paste

2

tbsp

sweet chilli sauce

1

tbsp

soft brown sugar

2

tsp

shrimp paste

2

tbsp

dark soy sauce or tamari for gluten free

1

tbsp

Thai preserved radish

-

chopped (optional)

1/3

cup

40g roasted peanuts, coarsely chopped

4

spring onions (scallion

-

halved, then finely sliced lengthways

3 1/2

oz

100g fresh bean sprouts (mung bean sprouts)

2

tbsp

roughly chopped coriander/cilantro
To Serve:
2

limes

-

sliced into wedges

1

fresh red chilli

-

sliced

Extra chopped coriander/cilantro

-

spring onions, chopped peanuts and chilli flakes
INSTRUCTIONS
Boil a large pan of water and add the noodles. Turn off the heat and leave to stand for 3-4 minutes. Drain, then rinse with cold water until cold. Drizzle on the sesame oil and toss together - to prevent the noodles from sticking.

Heat a large wok over a high heat. Add the potted shrimp in butter, vegetable oil, salt and garlic salt. Fry for 2-3 minutes until lightly golden.

Tip the shrimp into a small sieve over a bowl to catch the oil.

Place the reserved oil back into the wok, along with the king prawns, garlic and dried chilli flakes. Fry for 2-3 minutes until the king prawns just start to turn pink.

Whisk the eggs together and add to the prawns.

Fry, stirring often with a spatula until the eggs are just scrambled.

Turn down the heat to medium and add the noodles, potted shrimp, fish sauce, tamarind paste, sweet chilli sauce, sugar, shrimp paste and soy sauce/tamari.

Toss everything together, heating for about 5 minutes, until the noodles are hot. Keep the noodles moving around the wok to stop them sticking, and ensure any pieces of shrimp paste are broken up.

Add the preserve radish, peanuts, spring onions (scallions), beansprouts and coriander (cilantro).

Toss together and cook for a further 1-2 minutes, until the beansprouts are just heated through.

Serve with lime wedges and top with fresh red chillies. You can also sprinkle on extra coriander/cilantro, spring onions, chopped peanuts and chilli flakes if you like.
✎ Notes
*Note 1 Potted shrimp is not an authentic ingredient in Pad Thai. If you prefer you can replace the potted shrimp with 30g of dried shrimp (available from Asian supermarkets). Add an extra 1 1/2 tbsp of vegetable oil when frying them up. I find dried shrimp a little too chewy and pungent. The potted shrimp are small and juicy.
Can I make it ahead?
This Pad Thai tastes best when made and eaten right away, so I wouldn't recommend making it ahead.
However - if you do have leftovers, then you can save and reheat. Noodles tend to go a little stickier and drier upon reheating, and prawns will be less tender, but it still makes a good leftover lunch.
Quickly cool, cover and refrigerate (for up to a day) any leftovers. The best way to reheat is covered, in the microwave. Sprinkle with a couple of tablespoons of water, then reheat in 30 second bursts on the highest heat. Every 30 seconds agitate the noodles a little with a fork or some chopsticks. Continue to heat until piping hot throughout, which should take 3-5 minutes per portion.
Can I freeze it?
As per the info above, Pad Thai tastes much better when fresh. However you can freeze leftovers. Quickly cool, cover and freeze leftovers. Defrost in the refrigerator overnight and reheat as per the reheat instructions in the 'Can I make it ahead?' question above.
Pad Thai Sauce:
The noodles are coated in a number of different ingredients. I add these in one at a time, but you can stir them together to make a sauce, and pour it directly on the noodles during cooking if you prefer.
The sauce would include:
Garlic
Dried chillies
Fish sauce
Shrimp paste
Tamarind paste
Chilli sauce
Sugar
Gluten Free Pad Thai:
I often use tamari instead of soy sauce, so the Pad Thai is naturally gluten free. However, it is worth checking the particular brands you use to ensure they're gluten free.
Rice noodles are usually gluten free - but check your brand.
Also check your brand for fish sauce, tamarind paste, chilli sauce and shrimp paste. Again they're often gluten free, but it really does depend on the brand.
Vegetarian Pad Thai:
You can swap out the shrimp and prawns for mushrooms and tofu. You won't get the flavoured oil from the shrimp, but it will still be tasty.
Swap the fish sauce in this case for a vegetarian fish sauce (Thai Taste do one) or soy sauce/tamari.
It's difficult to replace the shrimp paste, but I've heard that a good alternative is miso paste - as it's got that nice salt, umami flavour.
Can I scale this recipe up or down?
Scaling down: You can halve the recipe to make it for two people by halving all of the ingredients and cooking in the same way.
Scaling up: You can double the recipe to make it for up to 8 people by doubling all of the ingredients. It will take a little longer to cook everything through and you will have to be careful when frying the noodles in the wok as the longer cooking time can cause the noodles to break up if they're agitated in the wok too much.
Recipe inspiration:
This recipe is inspired by Rick Stein's Pad Thai recipe from his book Far Eastern Odyssey. 
Nutritional Information is approximate and is per portion.
Nutrition
Calories:
616
kcal
Carbohydrates:
57
g
Protein:
53
g
Fat:
20
g
Saturated Fat:
8
g
Cholesterol:
494
mg
Sodium:
3383
mg
Potassium:
669
mg
Fiber:
4
g
Sugar:
11
g
Vitamin A:
955
IU
Vitamin C:
33.2
mg
Calcium:
242
mg
Iron:
3
mg
Some of the links in this post may be affiliate links – which means if you buy the product I get a small commission (at no extra cost to you). If you do buy, then thank you! That's what helps us to keep Kitchen Sanctuary running. The nutritional information provided is approximate and can vary depending on several factors. For more information please see our Terms & Conditions.