This Greek Potato Hash works as a great side dish for BBQs - or eat it on its own - totally satisfying.  Make a Greek feast with some of my other serving suggestions below!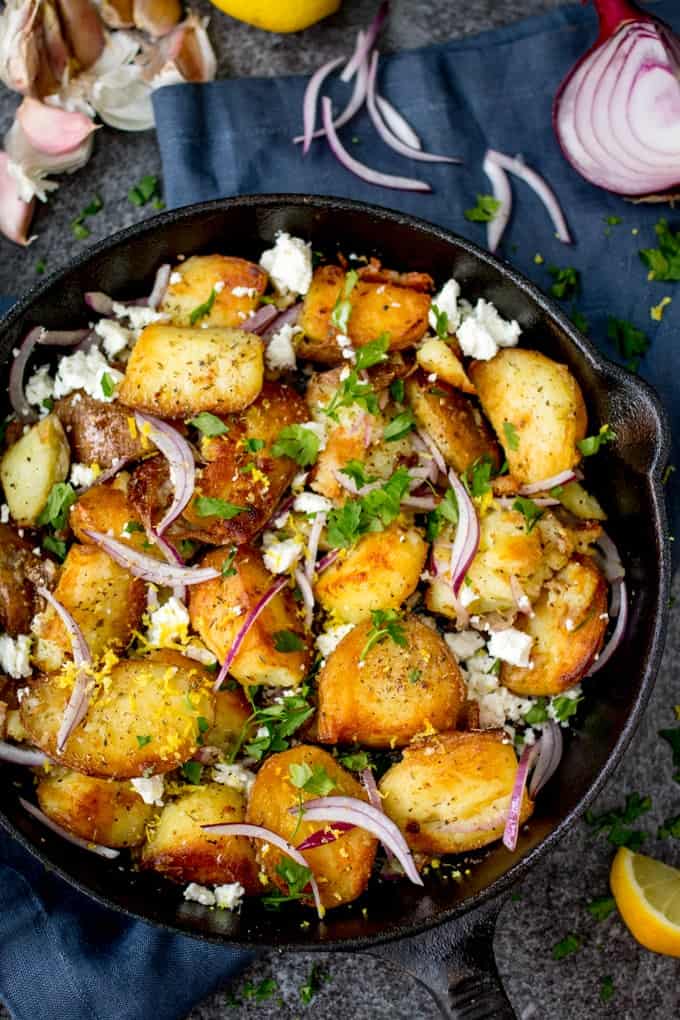 Can I classify this Greek Potato Hash as a salad? It looks a little salady (real word?) - after all there're some green bits in there....
This is my 'its-getting-warm-enough-for-salad-but-I-still-want-carbs' salad.  So good when you want something filling and tasty without being too stodgy.  I actually eat this all year round, especially with BBQs and with meaty Greek dishes like crispy pork gyros or this Greek lamb traybake.  Eaten on its own, straight out of the pan for lunch is perfectly acceptable too.  Just to save on the washing up of course.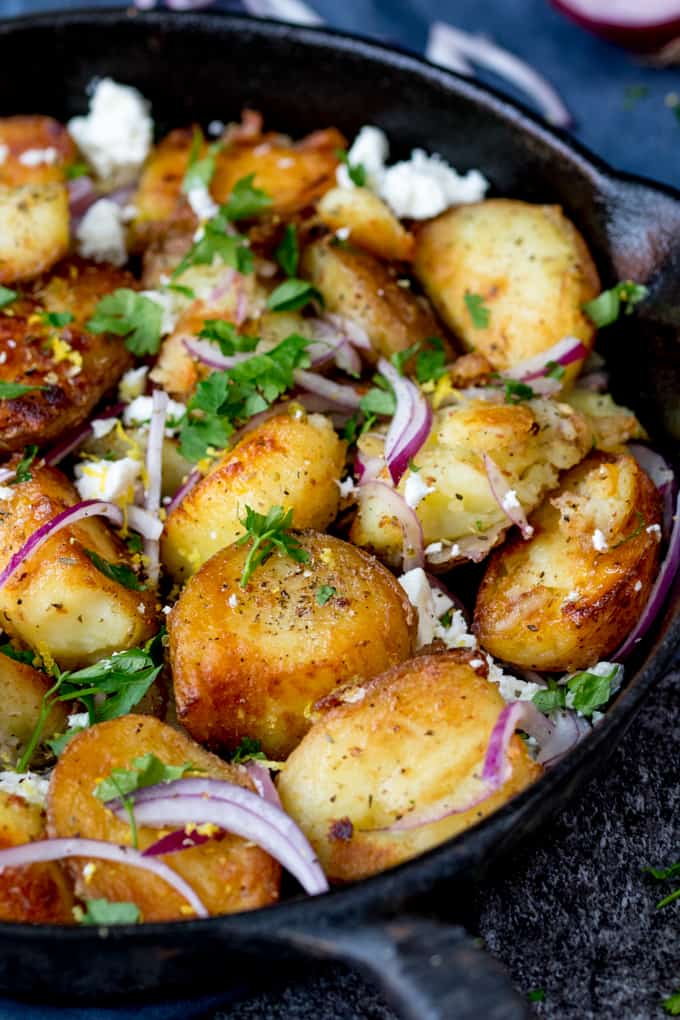 For this meal, you're going to need some potatoes that have been boiled so they're soft and fluffy around the edges.  I like to leave the skin on because it's easier, but you can peel it off if you like.  The potatoes are then squashed a little and fried in olive oil until crispy.  Next you're going to add the flavour kick.  Red onion, garlic, oregano, salt and pepper.  Cook again for a few more minutes, and then you're going to add the second flavour kick just before serving - feta, lemon zest and flat leaf parsley.
You may like to add some olives at this point too.  I'm still taking baby steps with olives, so I leave them out.  I finally found a variety I like (nocellara? they're like my olive training wheels), then ate about 50 of them in one sitting, and now they make me feel a little queasy to think about them.  Why can't I learn.  Blurgh.
Sunblush tomatoes may be a possible addition for an extra Greeky feel.  Tomatoes and potatoes though? Doesn't feel like a good combination to me (although you'd be right to point out that I do mix sweet potato and tomato in my ratatouille).
Whilst we're on the subject, have you heard of the TomTato plant?  Totally blew my mind that you can grow tomatoes and potatoes on the same plant.  Even though one is a fruit and one is a starchy veg, they both belong to the nightshade family, so you can graft them together and grow them in the same spot! Oh yes, Miss-Sucker-For-Advertising over here is definitely going to be trying that one.  Move over kids play house and toys! Mummy's growing TomTatoes!!
Sorry, back in the room now.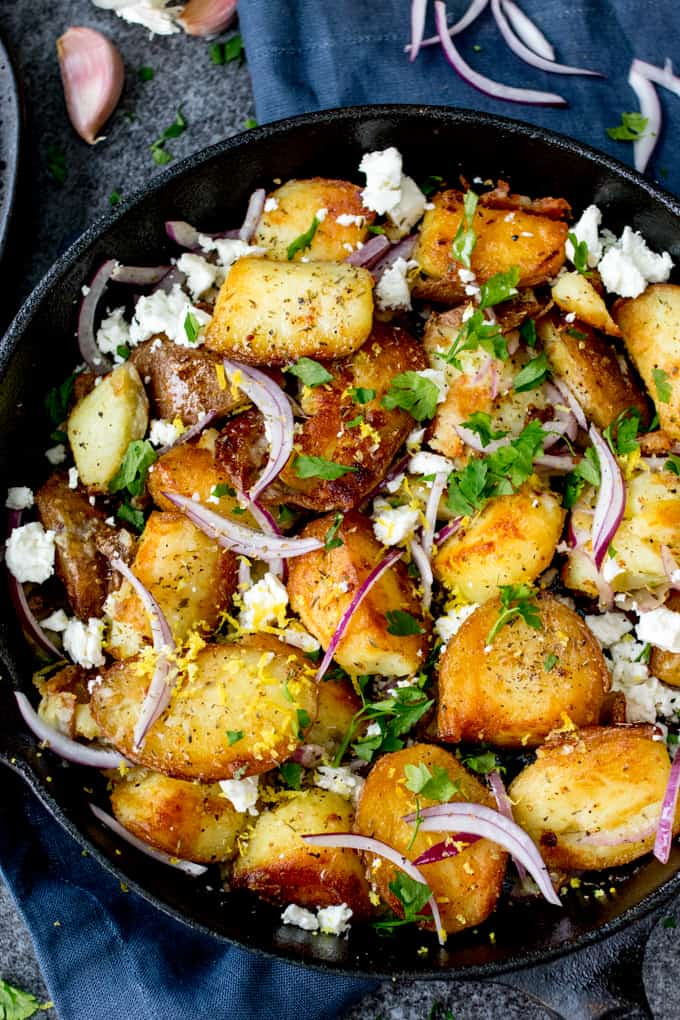 You can boil the potatoes for this dish in advance.  If you do boil and refrigerate them, then I'd suggest taking them out of the fridge for 10 or 15 minutes to let them get closer to room temperature before cooking so you don't have cold spots in the middle of your potatoes.  Failing that, just take them out of the fridge and mush them a bit more during cooking and give them a little longer.
Equipment:
In order to make this Greek Potato Hash recipe you will need:
The Greek Potato Hash Recipe: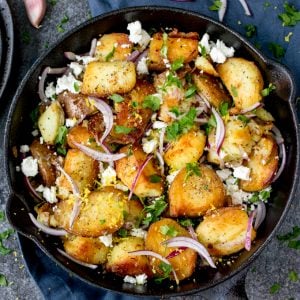 Greek Potato Hash
Greek Potato Hash - A quick and simple dish to serve as a main course or as a side.
Ingredients
17.5

oz

(500g) potatoes

-

washed and chopped into good sized chunks (new potatoes/maris pipers/red skin potatoes are all a good choice)

3

tbsp

olive oil

½

a red onion peeled and sliced thinly

2

cloves

of garlic

-

peeled and crushed/grated

1

tsp

dried oregano

¼

tsp

salt

¼

tsp

ground black pepper

5.5

oz

(150g) feta cheese

-

crumbled

zest of 1 lemon

small handful of flat leaf parsley

-

roughly chopped
INSTRUCTIONS
Place your potatoes in a medium pan, cover with cold water and bring to the boil. Boil for 10-13 minutes until the potatoes are soft and tender but not mushy. PRO TIP You can test this by pushing a table knife into a potato; it should slide in easily without the potato disintegrating.

Drain the potatoes using a colander. Leave them in the colander for a minute to release steam, so that the excess moisture evaporates.

Take a large frying pan/skillet. Heat up the olive oil until hot and carefully add in the potatoes (the oil can spit a bit. Crush the potatoes slightly using the back of a fork. Fry the potatoes for about 6-8 minutes, turning every couple of minutes until you get a nice brown crust on them.

Add in the onion, garlic, oregano, salt and pepper and cook for a further 3-4 minutes. Give everything a stir every minute or so to prevent it sticking.

Turn the heat off and crumble the feta over the top. Sprinkle on the lemon zest and parsley and serve.
✎ Notes
Can I make it ahead?
You can boil the potatoes ahead of time, then cool, cover and refrigerate for up to a day. It's best to bring the potatoes up to room temperature before frying them, so you don't get cold spots. 
.
Serving suggestions:
I love to serve these Greek potatoes as part of a Greek-style dinner with Feta salad, and a meaty main dish - such as Chicken souvlaki, Greek lamb or Pork Gyros. Sometimes I'll serve it as a side dish for a BBQ, or even alongside a cooked rotisserie chicken.
.
Nutritional info is per serving, based on 4 small servings.
Nutrition
Serving:
392
g
Calories:
273
kcal
Carbohydrates:
19
g
Protein:
8
g
Fat:
18
g
Saturated Fat:
7
g
Cholesterol:
33
mg
Sodium:
577
mg
Potassium:
559
mg
Fiber:
3
g
Sugar:
2
g
Vitamin A:
160
IU
Vitamin C:
16.4
mg
Calcium:
232
mg
Iron:
4.4
mg
Originally published September 2014. Updated May 2018 with new photos and a video, plus extra tips.
Ok, ready for the old pic from this post - taken back in September 2104? Here goes: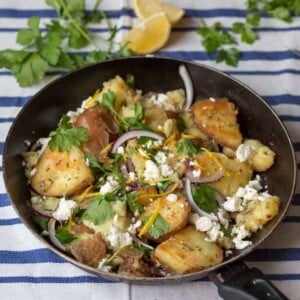 Some of the links in this post may be affiliate links – which means if you buy the product I get a small commission (at no extra cost to you). If you do buy, then thank you! That's what helps us to keep Kitchen Sanctuary running. The nutritional information provided is approximate and can vary depending on several factors. For more information please see our Terms & Conditions.