Vibrant tasty veg, gooey-melty cheese and crispy breadcrumbs.  A perfect Meatless Monday meal! These Cheesy Veggie burgers just work!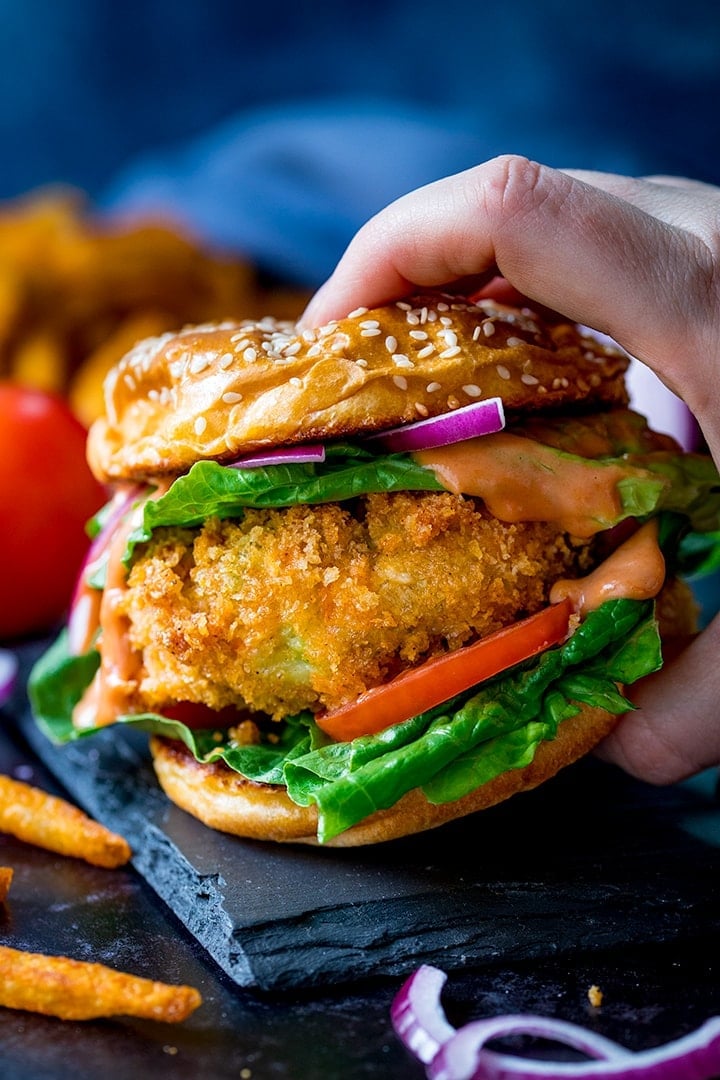 Who doesn't love a good burger that you almost have to dislocate your jaw for - just to get your mouth around?
I had to persuade Chris that meatless Mondays are 'a real thing' when I told him we were having these instead of meat for tea.  Always one to give me a thoroughly miserable look when I cook him a meat-free meal, he begrudgingly praised them as he tucked into veggie burger number two.  Moohaha! That's one for the veggie-win pile.
I started thinking about these when I was writing my creamy cauliflower soup post a while ago.  I made that recipe based on a soup I used to love from a little sandwich shop about 20 years ago.  At the same time, I was working in a burger place that sold the best veggie burger I'd ever tasted.  They were deep fried from frozen and sold to us in massive boxes.  Straight from the box, they looked like frosty little beige hockey pucks, made completely without love, and probably filled with all sorts of unpronounceable ingredients.  But damn they were good.
Now these ones right here...
These are better.
Not an unpronounceable ingredient in sight.  Just lots of bright veg, smothered in oozy, cheesy crunchiness.
And even better, they're baked, not fried (although you can fry them if you like).
They're pretty simple, although a little messy to make.  It's a case of boiling up small chunks of potato and carrots, then after 10 minutes adding chopped green beans and broccoli and cooking for just a couple more minutes.  These are the perfect timings to ensure:
Your carrots are cooked so they're tender and not mush
You potatoes are cooked so that they'll break down and help to bind the veggies along with the cheese and cream
The broccoli and green beans still have a bit of crunch and that bright healthy green colour.
Once cooked, mash lightly with a fork, until the potatoes break down. The potatoes should smush up easily, leaving the rest of the veggies whole.
Next the veg is mixed with cheese, cream and salt & pepper.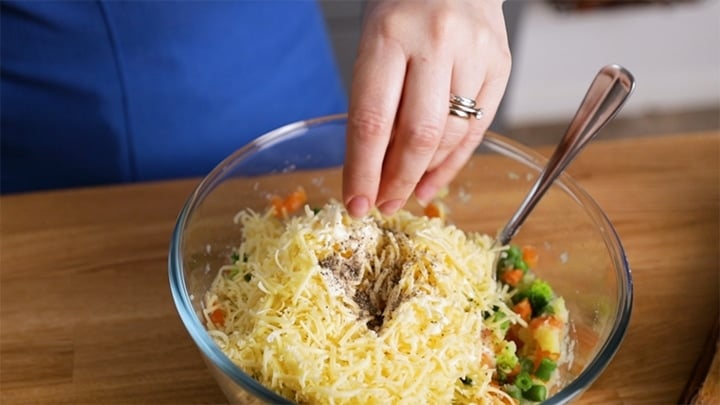 The mix can then be formed into sticky little patties, which are then coated with flour, egg and oil-infused breadcrumbs before placing in a hot oven to cook to golden perfection.
Placing on a toasted brioche bun with some salad, red onion and 'burger sauce' (aka ketchup and mayo mixed together) is not mandatory, but wholeheartedly recommended for the amusing jaw dislocation exercise.
How do you make veggie burgers stick together?
These veggie burgers use the potato as the binding agent. Letting the mixture firm up the the refrigerator helps them to stay firm whilst you're coating them, then the breadcrumbs and egg coating will also help everything stay together.
What is a good side dish for veggie burgers?
How do you spice up a veggie burger?
Add a 1 tsp of chilli flakes into the burger mixture, and/or mix sriracha with mayo (instead of ketchup) for the toppings. You could also top with some sliced jalapenos.
What's in a veggie burger?
Many veggie burgers are made with :
Meat substitutes  - such as tofu and quorn
Meat swaps - that aren't trying to provide a meat texture - such as using fried halloumi or portabello mushrooms instead of a patty
Grains/beans as the base - like my equally yummy veggie chickpea burger
A mixture of veggies and cheese - like the burger recipe in this post
Cheesy Veggie Burger Recipe Video:
The Cheesy Veggie burgers Recipe:
Cheesy Veggie burgers
My crispy-coated cheese-filled veggie burgers are so tasty! Even meat-eaters will love them! A great way to get the kids to eat more veg.
Ingredients
2

medium carrots

-

peeled and chopped into small (1cm) chunks

2

small potatoes

-

(weighing about 250g/8oz altogether before peeling), peeled and chopped into small (1cm) chunks

2 1/2

oz

(75g) green beans

-

fresh or frozen - I used fresh, cut into small (1cm) pieces

2/3

cup

(115g) broccoli - florets only

-

- cut into small pieces

1 1/2

cups

(150g) grated mature cheddar cheese

3

tbsp

double/heavy cream

1/4

tsp

salt

1/4

tsp

pepper

1/2

cup

(60g) plain/all purpose flour

-

- seasoned with a pinch of salt and pepper

2

eggs

-

beaten

1 1/2

cups

(75g) panko or homemade breadcrumbs

3/4

tsp

paprika

3

tbsp

olive oil
To serve:
6

brioche buns -

,sliced and toasted

12

large lettuce leaves

2

tomatoes

-

sliced

1/2

red onion

-

, peeled and sliced

3

tbsp

mayonnaise

4

tbsp

tomato ketchup
INSTRUCTIONS
Place the carrots and potatoes into a medium sized saucepan and cover with water so the water is a couple of inches above the veg. Place on the hob and bring to the boil. Boil gently for 10 minutes.

Add in the green beans and broccoli, bring back to the boil and continue to cook for a further 2 minutes.

Drain out the water using a colander (make sure they're fully dry), then transfer to a bowl. Gently crush any potatoes you see using a fork. Don't worry if you don't get all of them.

Add the cheese, cream, salt and pepper to the veg mixture and stir until combined. Cover the bowl and refrigerate for 1 hour (or up to a day) to firm up the mixture.

Preheat the oven to 220C/425F.

Place the flour, beaten egg and breadcrumbs into 3 separate shallow bowls. Add the paprika and olive oil to the breadcrumbs and stir together until the breadcrumbs are coated in the oil.

Remove the bowl from the fridge. Take a good scoop of the veggie mixture (about the size of a large plum) and form into a patty. Dip the veggie patty in turn into the flour, egg and finally the breadcrumbs, shaking off any excess as you go. Place on a shallow baking tray. Repeat until you've used up all of the mixture - it should make 6 patties.

Place in the oven to cook for 20 minutes - until the breadcrumbs are golden and cheese is just starting to ooze a tiny bit from the burgers.

Remove from the oven and serve on toasted buns with lettuce, tomato and red onion. Mix together the ketchup and mayo and drizzle on top before placing the tops of the burger buns on the burgers.
Video
✎ Notes
Can I make them ahead?
You can make the veggie burgers in advance. Simply make them up - including dipping in the breadcrumbs. Then cover and refrigerate for up to a day before cooking.
I wouldn't advise freezing the burgers, as potatoes can go watery and a little grainy when defrosting.
.
Can I make them gluten free?
Yes, please the panko with gluten free panko, or homemade breadcrumbs from a gluten free loaf.
Replace the flour with gluten-free plain/all-purpose flour blend
.
Can I fry them instead of bake them?
Yes, heat 1cm of vegetable oil over a medium-high heat in a large frying pan/skillet until hot. 
Add the veggie burgers and fry for 4-5 minute on each side until golden brown.
They're a little more delicate when frying - so turn them over carefully to ensure they don't fall apart.
If your burger looks like it's falling apart in the oven:
This can happen for three reasons:
If you leave too much moisture in the vegetables when draining
If you don't refrigerate the veg potato mixture for long enough for the mixture to firm up
If you don't squash the patties into a firm burger shape when shaping them
I've had this happen occasionally (sometimes to one burger out of the batch). If it looks like the burger is falling apart a little, open the oven, carefully push it back together using two spatulas or forks and continue to cook the burger.
Squish it together once more when cooked, then place on the burger bun. It may be a little fall-y - apart-y but it will taste great.
Nutritional Information is per burger for the veggie burgers only (not the buns, toppings and sauce)
Nutrition
Calories:
377
kcal
Carbohydrates:
31
g
Protein:
14
g
Fat:
21
g
Saturated Fat:
9
g
Cholesterol:
94
mg
Sodium:
431
mg
Potassium:
510
mg
Fiber:
3
g
Sugar:
2
g
Vitamin A:
4155
IU
Vitamin C:
19.7
mg
Calcium:
281
mg
Iron:
4.3
mg
I first posted this recipe in November 2014. Updated in May 2019 with new photos, step by step photos, video and tips. Want to see how bad the photos were back then? Here you go:

Some of the links in this post may be affiliate links – which means if you buy the product I get a small commission (at no extra cost to you). If you do buy, then thank you! That's what helps us to keep Kitchen Sanctuary running. The nutritional information provided is approximate and can vary depending on several factors. For more information please see our Terms & Conditions.