Minimizing food waste is more important than ever right now, but we don't have to make stingy boring meals to make food go further. This is how I make a large chicken into 3 meals for a family of four.

First and foremost, we need a large chicken. The bigger the better! Go for the best quality you can afford so you get the most meat and flavour for your money.
Click on the titles of each recipe (or any of the underlined recipes) to get the full instructions on how to make it.
For the first meal, we're going to roast that chicken:
Ideally you want to serve that roast chicken with lots of sides so that a couple of slices of chicken will be enough to satisfy everyone.
What can you serve it with:
We're also going to use the roasting juices at the bottom of the roasting tin to make delicious meaty gravy.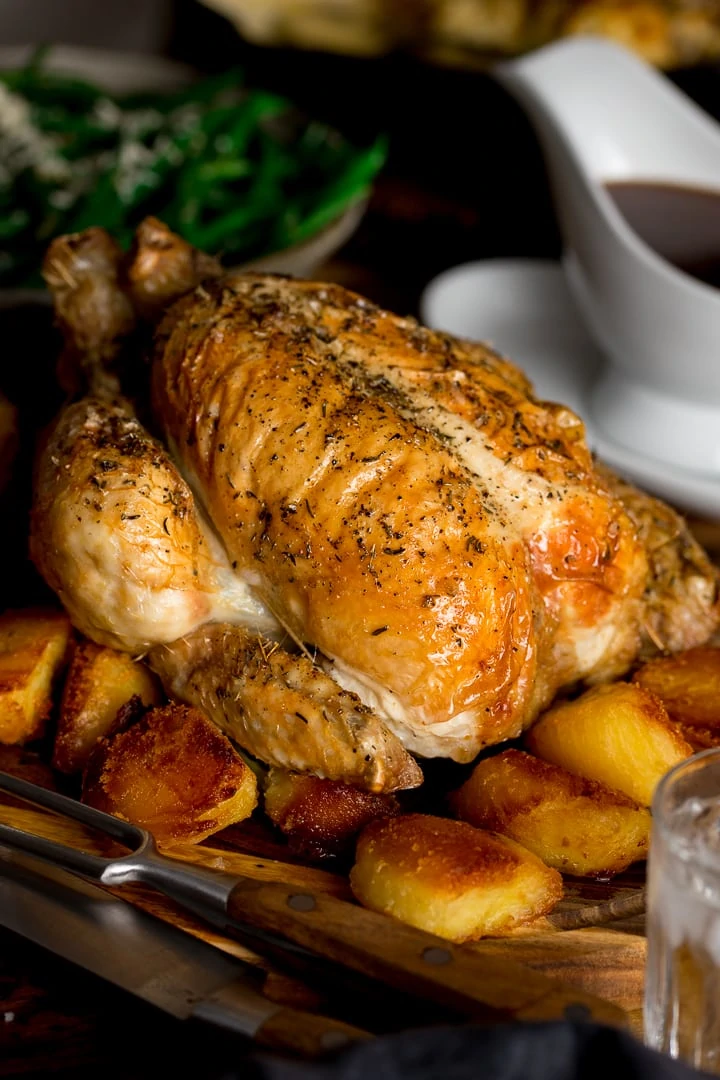 Next we're going to remove all of the shreds of chicken we can and split them into two portions. Be sure to turn the chicken over and pull it apart to find the maximum amount of chicken.
Save the chicken carcass too - this is important for the third meal. You can wrap and freeze the carcass until you're ready to use it.
Wrap and freeze one of the portions of chicken, and wrap and refrigerate the second portion ready for Chicken fried rice the following day. If you're not going to make the fried rice the next day, then wrap and freeze this portion of chicken too. Defrost in the refrigerator overnight.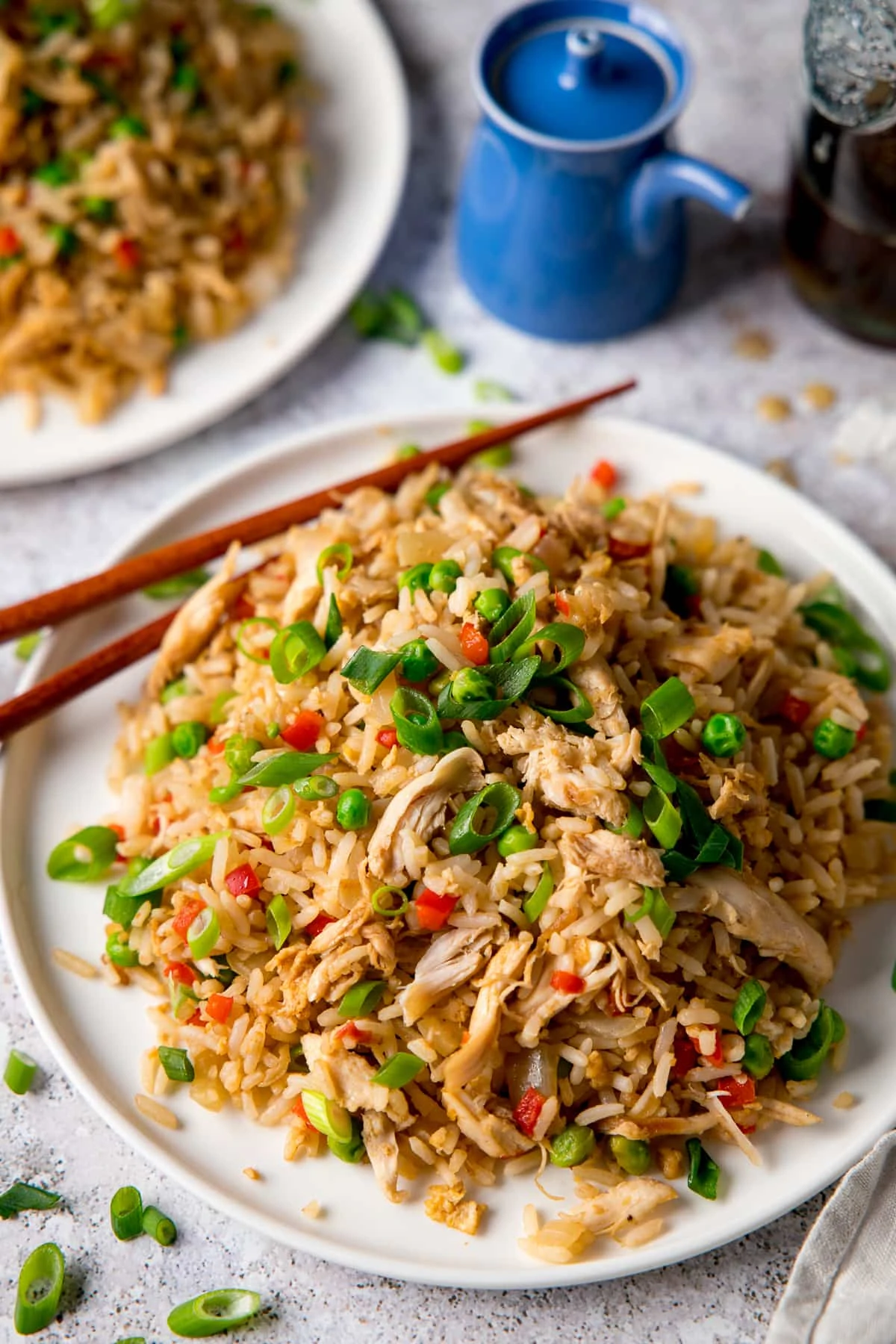 This is my favourite comforting soup. It uses shreds of chicken as well as the chicken carcass and it's got a lovely rich flavour.
We boil up the carcass first to get the most delicious stock. If you wanted to make the stock ahead of time and freeze it (without making the soup at this point), here's a recipe on how to make stock.
We're going to add a couple of stock cubes to the stock when we make soup as this will make it stretch further. We boil the vegetables in the strained stock until tender, then we add in seasoning and those defrosted chicken shreds and heat them through until piping hot.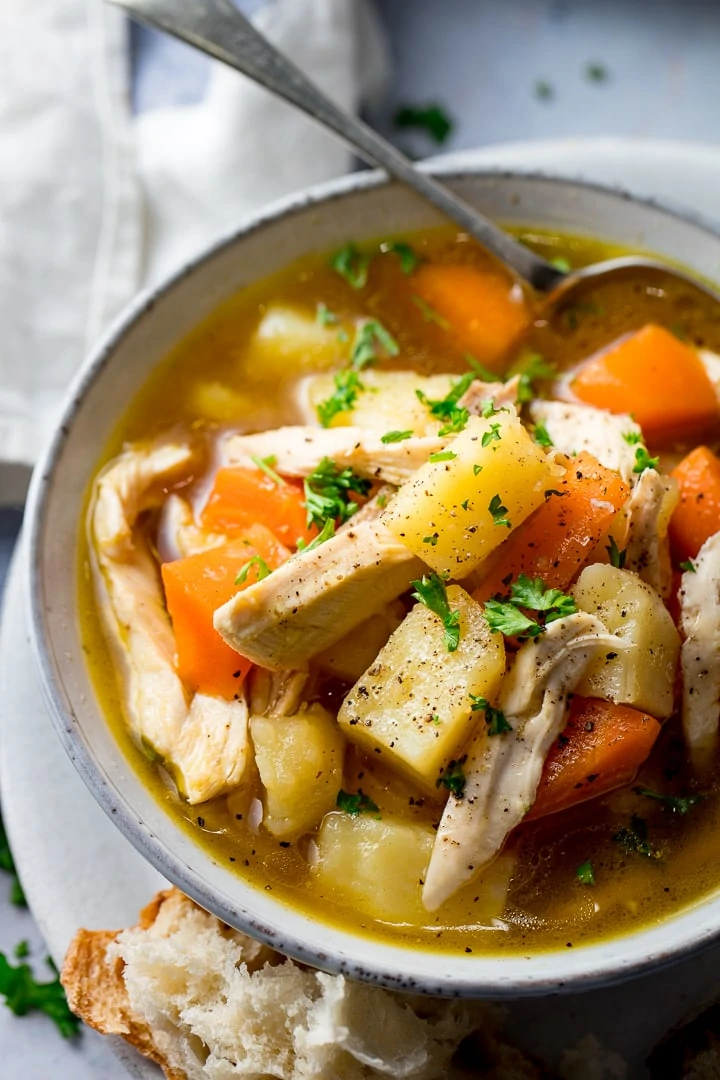 This is my ritual.
Roast dinner --> chicken fried rice --> chicken soup.
However it's not the only thing you can do with that homemade chicken stock or those leftover shreds of cooked chicken.
What else can I make with homemade chicken stock?
What else can I do with leftover chicken?
What's your favourite recipe using leftover chicken?
Stay updated with new recipes
Subscribe to newsletter to hear when I post a new recipe. I'm also on You Tube (new videos every Monday and Thursday), IG (behind the scenes stories).
Some of the links in this post may be affiliate links – which means if you buy the product I get a small commission (at no extra cost to you). If you do buy, then thank you! That's what helps us to keep Kitchen Sanctuary running. The nutritional information provided is approximate and can vary depending on several factors. For more information please see our Terms & Conditions.