Creamy Chicken and Mushroom One Pan Casserole – hooray for Autumn comfort food!!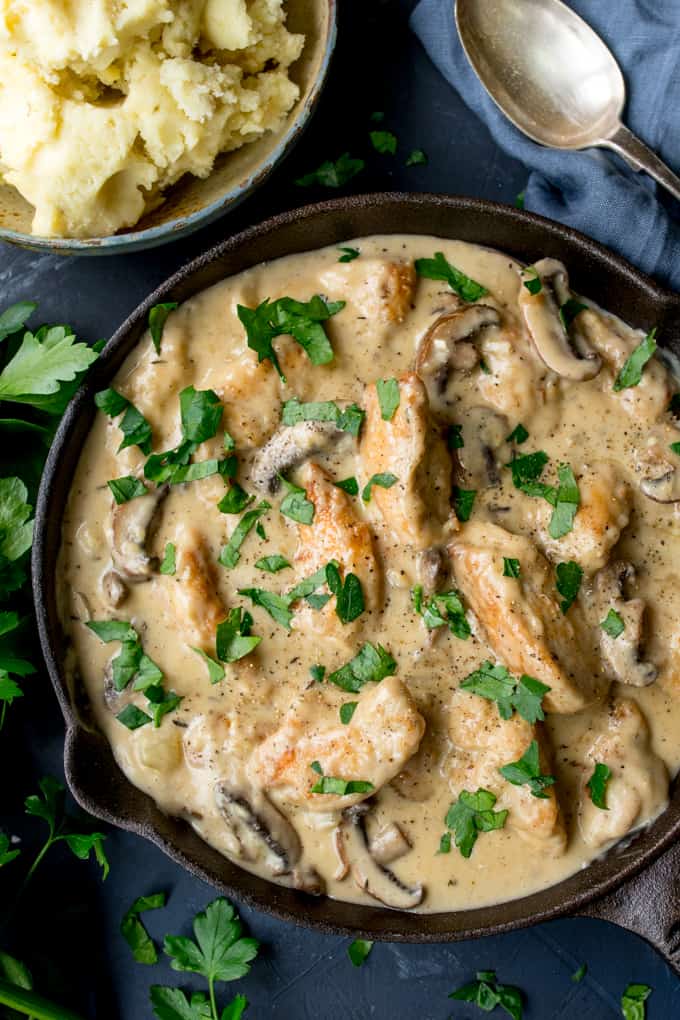 I don't know about you, but I desperately crave creamy sauces and mashed potato the moment the weather starts to look a bit grey.
I made this one for my bi-weekly visit to my grandad's – where the whole family gets together for dinner and a catch-up. Easy to make for two people, or big batch style; I made it for 10 of us!
I cooked it at home first then drove the 90 minutes to my grandad's and reheated it there. We ate it with mashed potato (also rather creamy and buttery – darn you Autumn for the impact you have on my thighs!), sprouts, sweetcorn and peas.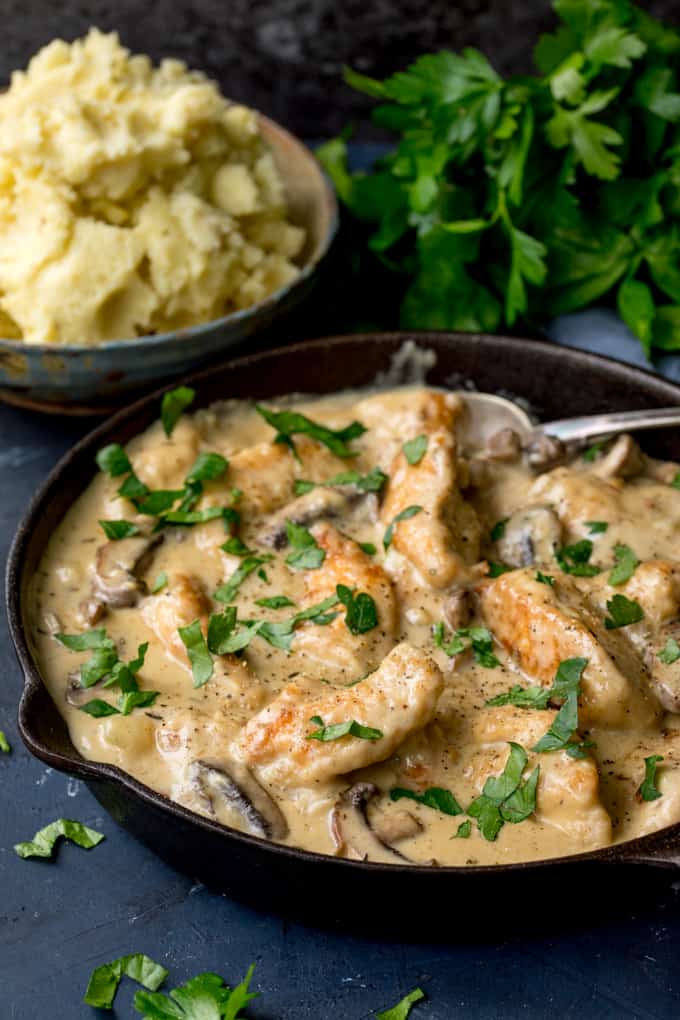 Lot's of 'Mmmms' and chomping noises, with not much talking (except a bit of fighting over the mushrooms – everyone loves them there – unlike my own house, where all the mushrooms are passed onto my plate), that's usually a good sign that everyone enjoyed it!
It's been a busy couple of weeks though, so I kind of feel like I deserve comfort food.
Living the Blog finally went live on Sunday. We got 370 page views on the first full day – which is more than we got in the first TWO MONTHS of Kitchen Sanctuary going live! Thank you if you've popped over to visit x
Gracey went off on a bushcraft trip (lots of packing!). Three weeks after starting high school, and they're all camping in the woods together already! Chris has spent the last few days teasing her about all the fish eyeballs she's going to have to eat.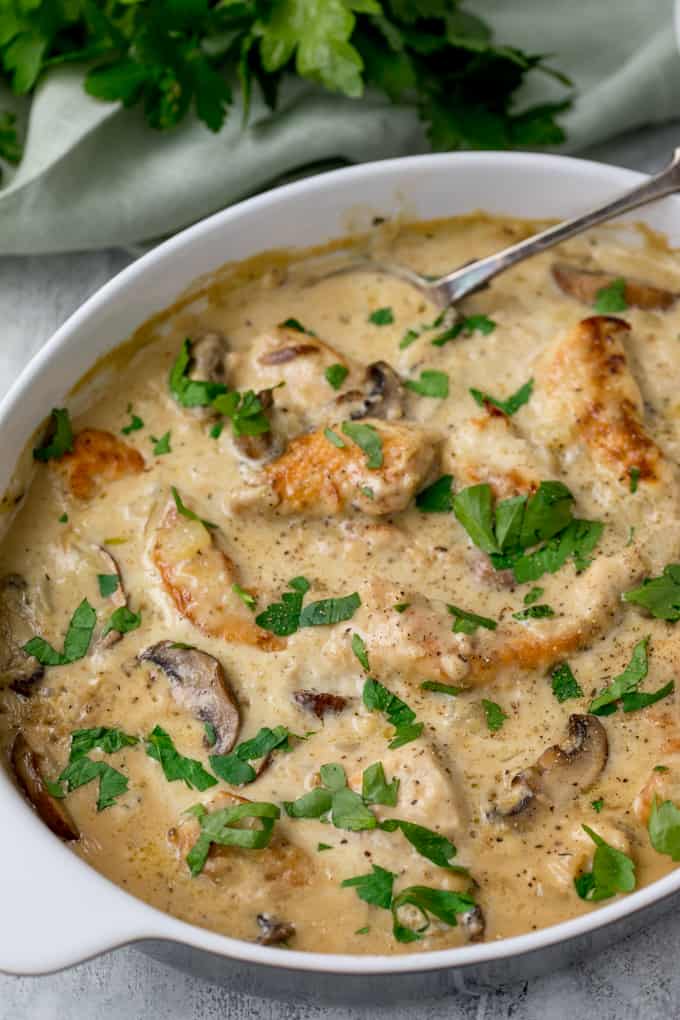 All the sports clubs have started up again too. Between two kids we've got a combination of ju-jitsu, football, netball, cross-country, and kickstarter-sports. I'm sure I only used to go to Sunday school!!
I wonder how much mashed potato I can get through before Spring……
If you like this one, try my Creamy Pork Casserole too!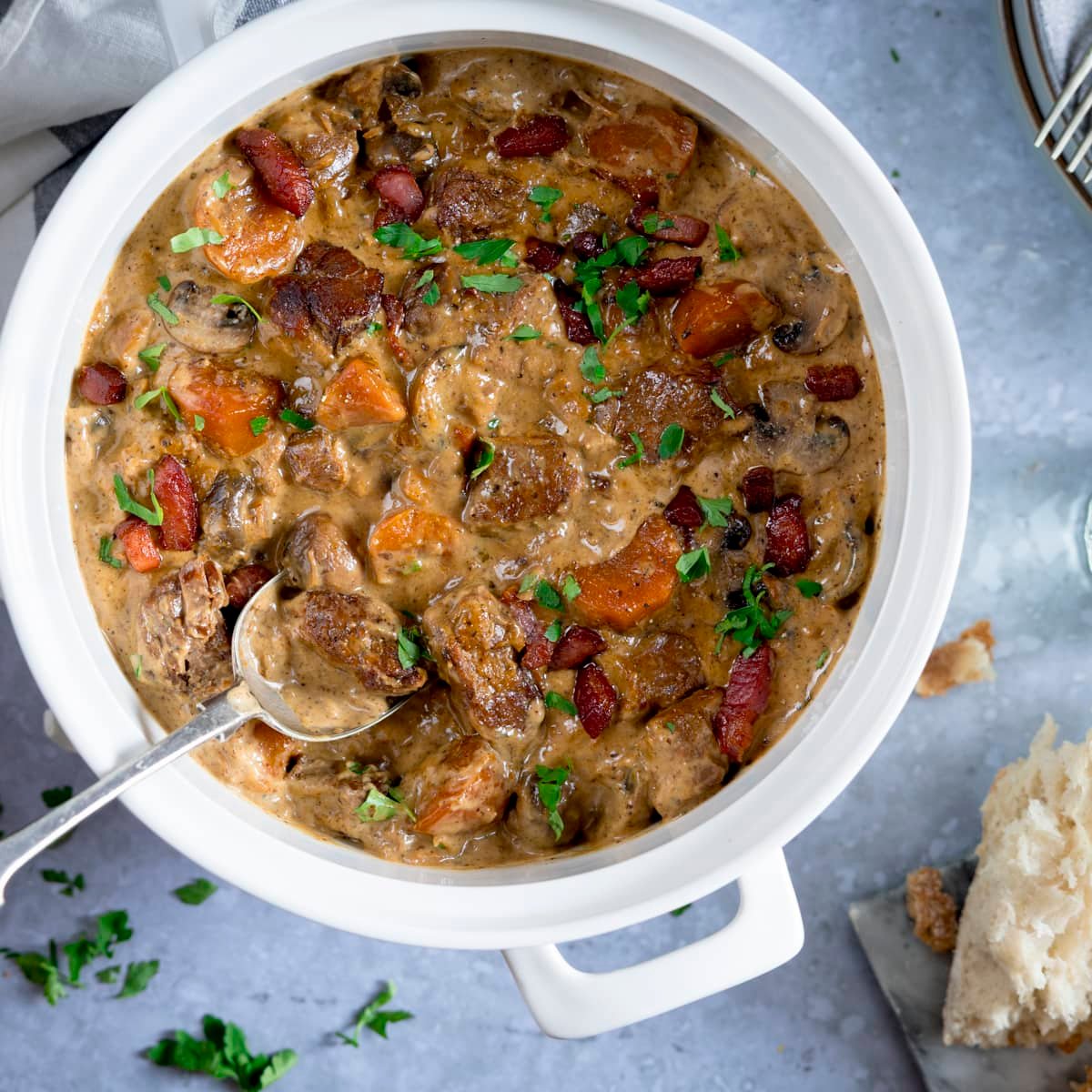 The Big Batch Creamy Chicken and Mushroom One Pan Casserole Recipe:
Creamy Chicken and Mushroom One Pan Casserole
Creamy Chicken and Mushroom One Pan Casserole - hooray for Autumn comfort food!!
Ingredients
5

chicken breasts

chopped into big chunks or strips

9

tbsp

plain/all purpose flour

all purpose flour

1

tsp

salt

1

tsp

black pepper

2

tbsp

vegetable oil

2

tbsp

unsalted butter

3

brown onions

peeled and finely diced

5

cloves

garlic

peeled and minced

1

tsp

dried thyme

½

tsp

celery salt

optional

1

litre

chicken stock

300

ml

milk

2

tbsp

freshly squeezed lemon juice

16-20

chestnut mushrooms

thickly sliced (white mushrooms or baby portabella are good too)

240

ml

double (heavy) cream

**Optional** 3tbsp cornflour/cornstarch

mixed with 5 tbsp cold water – to make a slurry

Small bunch parsley

chopped
Serve with:
Mashed potato

Sprouts

Peas

Sweetcorn
Instructions
Place the chicken in a bowl with 6 tablespoons of the flour plus 1/2 tsp each of salt and pepper. Toss to cover the chicken in the flour and seasoning.

Heat the oil over a high heat in a large frying pan (skillet) and add the chicken. Brown all over (it doesn't need to be cooked through at this point). Remove from the pan with a slotted spoon and put to one side.

Place the butter in the same frying pan and melt over a low-medium heat. Add the onions, garlic, thyme and celery salt and cook for 5 minutes until the onion softens. Sprinkle on the remaining 3 tbsp of flour and stir for a minute (it will be lumpy).

Pour in a splash of the stock and stir, using a whisk until combined. Continue to add in stock, a little at a time, whilst stirring, until all the stock is added and you have a smooth sauce with no lumps (the onions will still be in there though - so it will look a little lumpy because of that).

Add the milk and continue to stir over the heat until the sauce thickens, then add in the lemon juice.

Add the mushrooms, the chicken and the remaining 1/2 tsp of salt and pepper. Place a lid on the pan and simmer gently on the hob for 20 minutes.

**Alternatively you can transfer to a casserole dish at this point. Cover with foil and place in the oven at 175C/350F for 30 minutes**

Remove the lid and stir in the cream, then heat through for a further 5 minutes (place back in the oven if oven cooking).

Remove the lid and test for seasoning. Add a little more salt and pepper if needed.

If you'd like the sauce to be any thicker, then at this point you can stir in the cornflour slurry. Add a little splash at a time, whilst stirring, until you get the thickness you want.

Serve the casserole with vegetables (I like to serve mine with sprouts, peas and sweetcorn) and a sprinkling of parsley.
Recipe Notes
You can make this dish ahead, then cool, cover and refrigerate for a day.
Heat through thoroughly in the oven (covered) at 175C/350F for approx 20-25 minutes. Or heat through on the hob for 10-15 minutes on a medium heat until the chicken is hot all the way through.
Add a splash of cream or milk if needed to loosen it up.
You can halve the quantities if necessary - no change to the cooking times. 
.
Nutritional Information is per Serving WITHOUT Serving suggestion of Mash Potato, Sprouts, Peas and Sweetcorn.
Nutrition Facts
Creamy Chicken and Mushroom One Pan Casserole
Amount Per Serving
Calories 267
Calories from Fat 144
% Daily Value*
Total Fat 16g 25%
Cholesterol 78mg 26%
Sodium 484mg 20%
Potassium 471mg 13%
Total Carbohydrates 14g 5%
Protein 15g 30%
* Percent Daily Values are based on a 2000 calorie diet.