My big batch creamy chicken and mushroom one pan casserole! Perfect comfort food.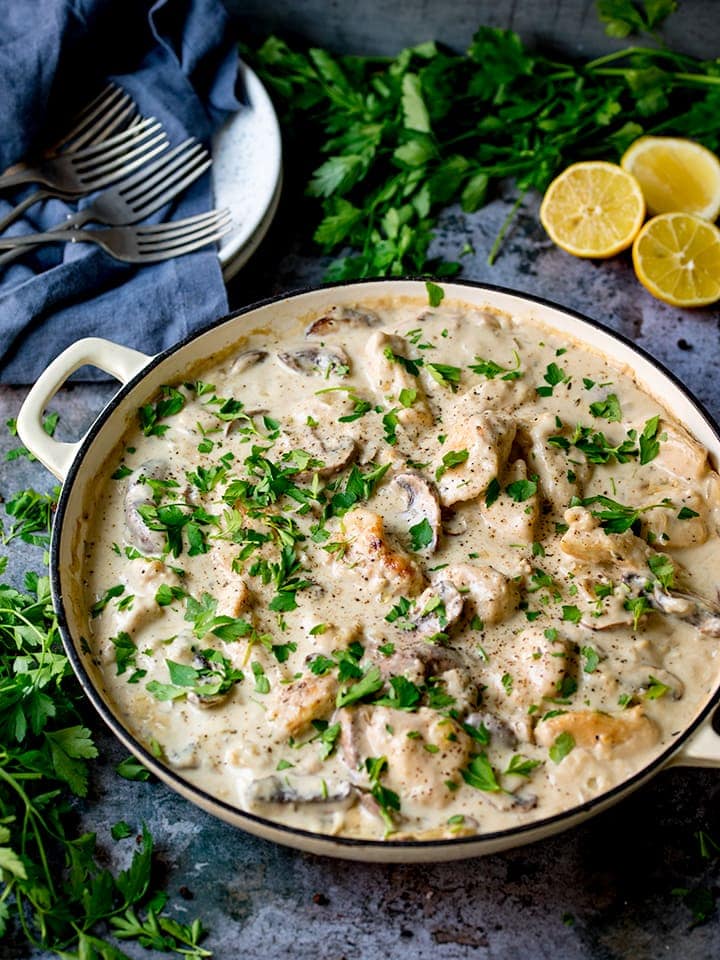 I don't know about you, but I desperately crave creamy sauces and mashed potato whenever the weather is even marginally cold.
This is one of my favourite big batch meals to make because:
It's great for feeding a crowd (easy to make for 10+ people)
You can make it ahead
It's suitable for freezing....
.....which also means you can eat some for dinner and freeze some for a super quick dinner next time
I made this quite a lot when we used to go for our bi-weekly visits to my grandad's. Such lovely memories of all of the family sitting around his little table in the kitchen, sharing a meal and having a good catch-up.  This recipe would easily feed 8 adults and 3-4 kids!
The kids are a bit more grown up now, but we have new little ones in the family. Gracey now plays the mother hen, looking after the smallest ones when we have our family get-togethers. So cute to see them all playing- even though the ages range from 2 to 12.
We start the recipe by coating the chicken in flour and seasoning. Then we fry it in a pan with oil until sealed. Remove from the pan and add a good knob of butter to fry up some onions. Add flour to the onions (this will thicken the sauce), then stir in chicken stock a little at a time until thickened.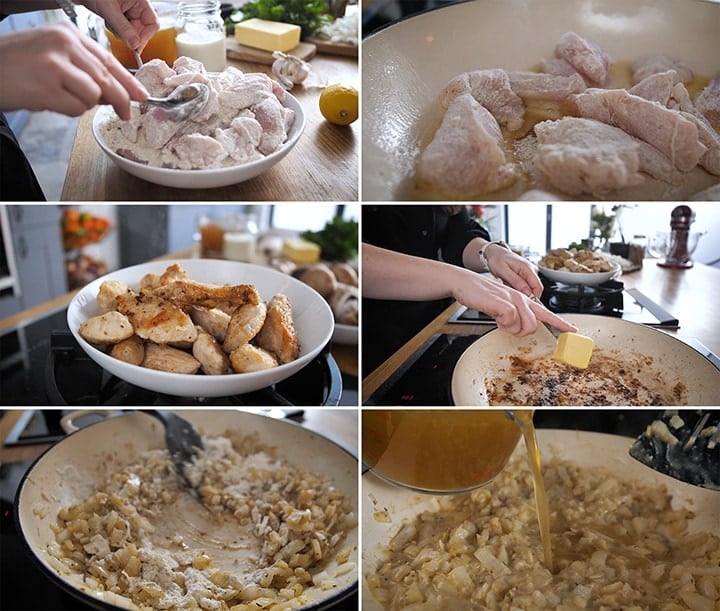 Next we stir in milk and a squeeze of lemon juice. Add in lots of chopped mushrooms, the sealed chicken and some salt and pepper. Then let it simmer for 20 minutes.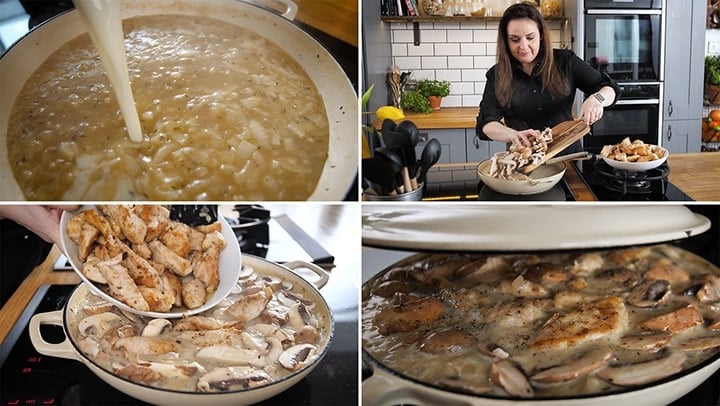 Once it's simmered, stir in the cream to finish it off (if you want it thicker, you can add a little cornstarch slurry too). Then serve with a big pile of mashed potatoes and some greens.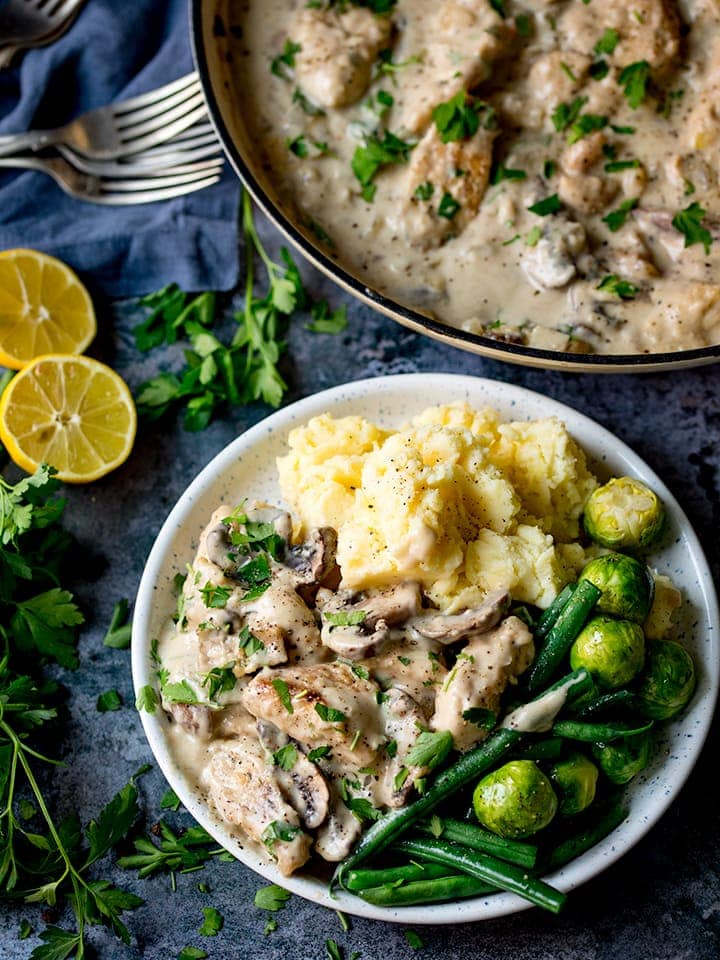 If you're family are anything like mine when it comes to comfort food like this, you should heat lots of 'Mmmms' and chomping noises for the first 5 minutes, before the chatting resumes. Always the sign of a good meal!
When I first published this post back in late 2017 (i've update it this time around with more new photos, tips, process shots and recipe video below), our second site, Living the Blog had just gone live. We got 370 page views on the first full day - which is more than we got in the first TWO MONTHS of Kitchen Sanctuary going live!
We're still trying to grow our second website (whenever we have the time), so if you're interested in blogging, or you're already a blogger, check it out. We have lots of articles on there - including income reports, our top plugins, my timetable, our photo and video equipment, plus lots more.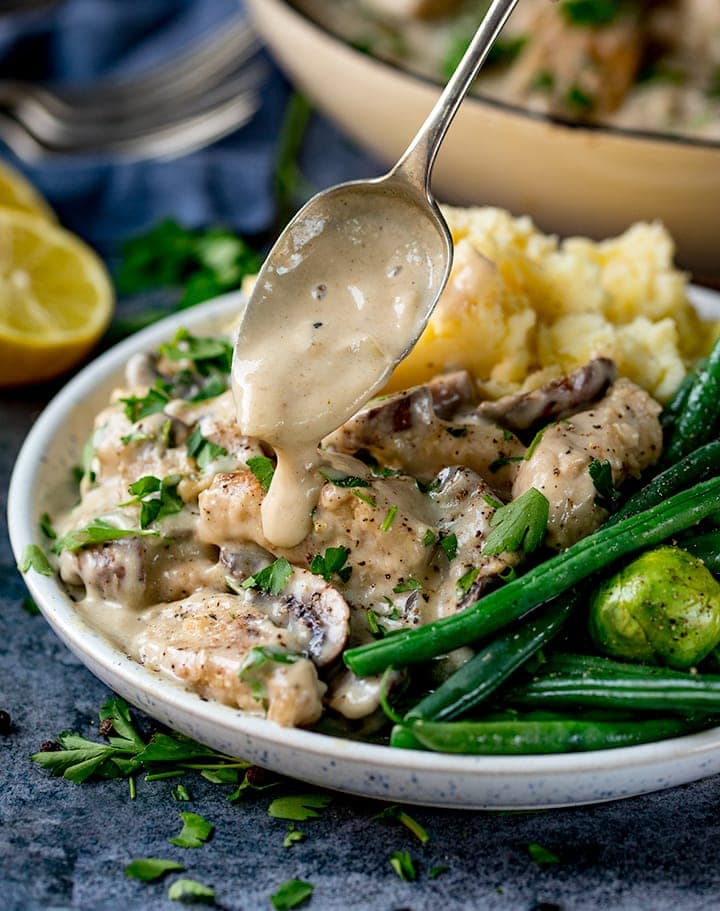 I hope you enjoy the recipe. If you like this one, try my Creamy Pork Casserole or my Chicken and Potato Bake too! Also here are more of my big batch meals.
The Big Batch Creamy Chicken and Mushroom One Pan Casserole Recipe: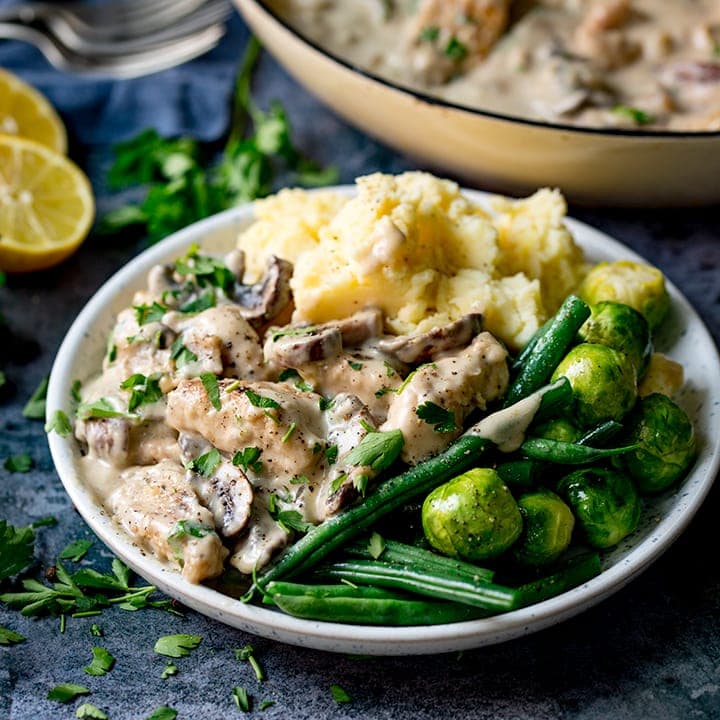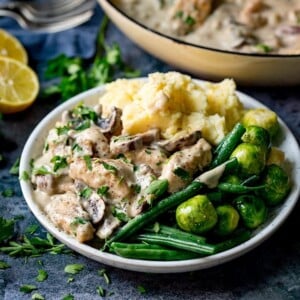 Creamy Chicken and Mushroom One Pan Casserole
My big batch creamy chicken and mushroom one pan casserole! Cook this dish on the hob or in the oven. Make ahead and serve later!
Ingredients
5

chicken breasts

-

chopped into big chunks or strips

9

tbsp

plain/all purpose flour

-

all purpose flour

1

tsp

salt

1

tsp

black pepper

2

tbsp

vegetable oil

2

tbsp

unsalted butter

3

brown onions

-

peeled and finely diced

5

cloves

garlic

-

peeled and minced

1

tsp

dried thyme

½

tsp

celery salt

-

optional

1

litre

chicken stock

300

ml

milk

2

tbsp

freshly squeezed lemon juice

16-20

chestnut mushrooms

-

thickly sliced (white mushrooms or baby portabella are good too)

240

ml

double (heavy) cream

**Optional** 3tbsp cornflour/cornstarch

-

mixed with 5 tbsp cold water – to make a slurry

Small bunch parsley

-

chopped
Serve with:
Mashed potato

Sprouts

Peas

Sweetcorn
INSTRUCTIONS
Place the chicken in a bowl with 6 tablespoons of the flour plus ½ tsp each of salt and pepper. Toss to cover the chicken in the flour and seasoning.

Heat the oil over a high heat in a large frying pan (skillet) and add the chicken. Brown all over (it doesn't need to be cooked through at this point). Remove from the pan with a slotted spoon and put to one side.

Place the butter in the same frying pan and melt over a low-medium heat. Add the onions, garlic, thyme and celery salt and cook for 5 minutes until the onion softens. Sprinkle on the remaining 3 tbsp of flour and stir for a minute (it will be lumpy).

Pour in a splash of the stock and stir, using a whisk until combined. Continue to add in stock, a little at a time, whilst stirring, until all the stock is added and you have a smooth sauce with no lumps (the onions will still be in there though - so it will look a little lumpy because of that).

Add the milk and continue to stir over the heat until the sauce thickens, then add in the lemon juice.

Add the mushrooms, the chicken and the remaining ½ tsp of salt and pepper. Place a lid on the pan and simmer gently on the hob for 20 minutes.

**Alternatively you can transfer to a casserole dish at this point. Cover with foil and place in the oven at 175C/350F for 30 minutes**

Remove the lid and stir in the cream, then heat through for a further 5 minutes (place back in the oven if oven cooking).

Remove the lid and test for seasoning. Add a little more salt and pepper if needed.

If you'd like the sauce to be any thicker, then at this point you can stir in the cornflour slurry. Add a little splash at a time, whilst stirring, until you get the thickness you want.

Serve the casserole with vegetables (I like to serve mine with sprouts, peas and sweetcorn) and a sprinkling of parsley.
✎ Notes
Make Ahead:
You can make this dish ahead, then cool, cover and refrigerate for a day.
Heat through thoroughly in the oven (covered) at 175C/350F for approx 20-25 minutes. Or heat through on the hob for 10-15 minutes on a medium heat until the chicken is hot all the way through.
Add a splash of cream or milk if needed to loosen it up.
.
Freezing:
Make the casserole, then cool, cover and freeze. Defrost thoroughly in the refrigerator and heat through thoroughly in the oven (covered) at 175C/350F for approx 20-25 minutes. Or heat through on the hob for 10-15 minutes on a medium heat until the chicken is hot all the way through.
.
Reducing the quantities:
You can halve the quantities if necessary - no change to the cooking times. 
.
Can I make it in the slow cooker?
I haven't tried this one in the slow cooker yet. If you try it, please let me know how it went. I'll update the notes when I test it using the slow cooker.
.
Nutritional Information is per Serving WITHOUT Serving suggestion of Mash Potato, Sprouts, Peas and Sweetcorn.
Nutrition
Calories:
267
kcal
Carbohydrates:
14
g
Protein:
15
g
Fat:
16
g
Saturated Fat:
10
g
Cholesterol:
78
mg
Sodium:
484
mg
Potassium:
471
mg
Fiber:
1
g
Sugar:
3
g
Vitamin A:
490
IU
Vitamin C:
4.9
mg
Calcium:
71
mg
Iron:
0.9
mg
This post was first published in September 2017. Updated in February 2019 with new photos, process photos, tips and a recipe video.
Equipment:
In order to make this Crispy Orange Beef recipe you will need:
Some of the links in this post may be affiliate links – which means if you buy the product I get a small commission (at no extra cost to you). If you do buy, then thank you! That's what helps us to keep Kitchen Sanctuary running. The nutritional information provided is approximate and can vary depending on several factors. For more information please see our Terms & Conditions.