If you're trying to lose a little holiday weight like me, this healthy slow cooked spicy beef curry is the perfect recipe. This Healthier Slow Cooked Spicy Beef Curry is less than 500 calories including rice!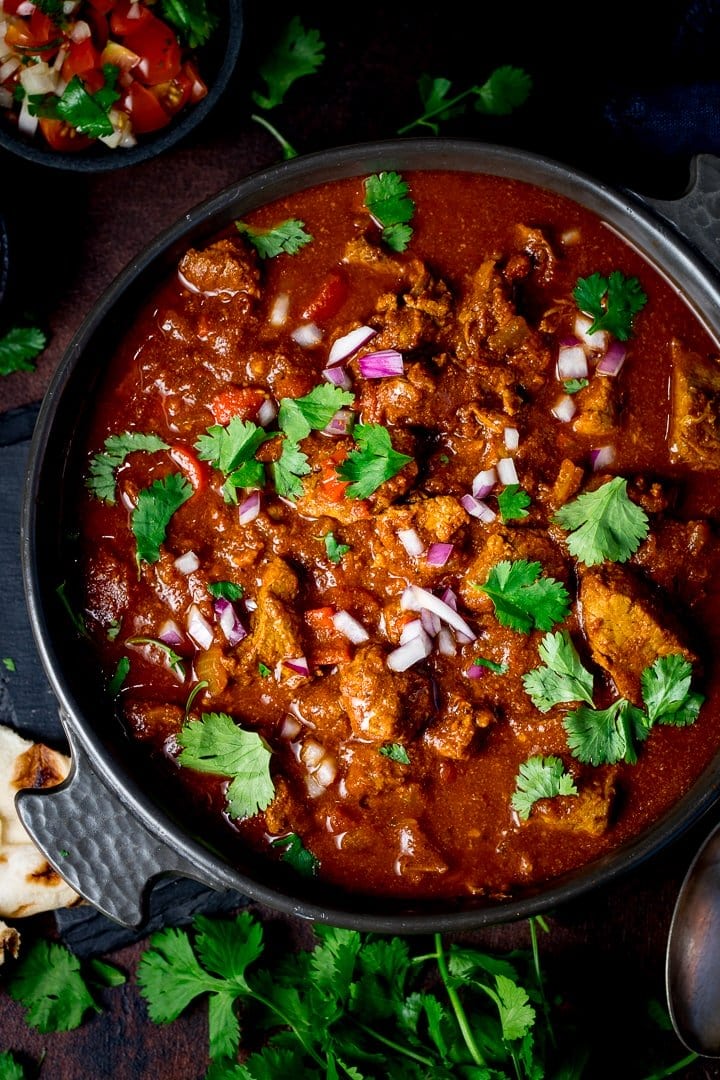 The kids have gone back to school today.  Six weeks of not-enough-sunshine has come to an end, and they marched off to class looking so smart and excited!
I'm now trying to get back to my usual work routine, but it seems so strange writing this with no Phineas and Ferb on in the background.
No kids performing made-up shows.
The cats are sleeping – rather than being dressing in dolls clothes.
No trail of crumbs leading from the fridge to every other room in the house.
I thought I was looking forward to the peace, but I'm not so sure now.
Let's talk about this slow cooked spicy beef curry before I start blubbing all over my keyboard.
It's hot, tasty and healthy! It's also syn-free on Slimming World! You might have seen in my last post that I joined Slimming World last week.  I had my first 'weigh-in' on Monday and managed a 5lb weight loss yay!
There were a few miserable moments during the week – like a 15km family bike ride that concluded with the eating of an apple and a nectarine – instead of a chip-laden pub lunch. Also the visit to a stately home & garden wasn't quite as much fun with a small cereal bar – instead of a big slice of cake and a creamy coffee.
On the whole it's been pretty good though.  Meals like this curry and the chicken pasta dish I posted on Monday have been a success.  We've also enjoyed steak, jacket spuds and homemade soups.
There was a bit of a slip yesterday – my brother-in-laws birthday involved a meal out and some gorgeous lemon drizzle cake.  I made sure I was extra good all day though, so I don't think I did too much damage.
I've also got my cousin's wedding on Sunday, so I'll need to refrain from eating 20 profiteroles……
I'm sure one or two will be ok though. I'll just have to dance them off 🙂
The Healthier Slow Cooked Spicy Beef Curry Recipe: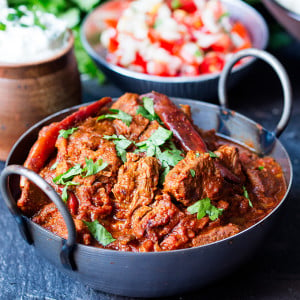 Healthier Slow Cooked Spicy Beef Curry
So tasty, this lighter slow-cooked spicy beef curry is amazing. Less than 500 calories including rice and syn-free on Slimming World too!
Print
Rate
Pin The Recipe For Later
Ingredients
Beef and marinade:
150

ml

fat-free Greek yogurt

1

tsp

salt

1

kg

lean braising/casserole steak

(cut into small chunks)

1

tsp

cumin

1

tsp

coriander

1

tsp

turmeric
Curry:
10

Sprays

Frylight spray

1

large onion

2

tbsp

ground coriander

1.5

tbsp

ground cumin

6

cardamom pods

(sew them onto a piece of thread to keep them together - makes it easier to fish them out later)

1

tsp

turmeric

2

tsp

garam masala

1/2

tsp

freshly ground black pepper

4

dried whole chillies

1

fresh green chilli

(finely chopped)

3

garlic cloves

(peeled and minced)

1

thumb-sized piece of ginger

(peeled and minced)

2

tbsp

tomato paste

500

ml

beef stock

(water plus 2 stock cubes or 2 tsp bouillon for gluten free is fine)

400

g

tinned chopped tomatoes

Juice of 1 lemon
Serve With
Boiled basmati rice

(235g cooked/75g dry rice per person)

1

small bunch

Fresh coriander

roughly chopped
Instructions
Place the beef and marinade ingredients into a medium sized bowl and mix together until everything is combined. I like to use my hands to massage the yogurt into the beef. Cover with plastic wrap and place in the fridge to marinade for 1-2 hours (or overnight).

Place a large frying pan (or the inside of your slow-cooker if it can be used on the hob) over a high heat and spray with the frylight. Add in the beef and cook for 5-6 minutes until sealed. You'll probably notice watery liquid coming off the beef and marinade as you cook. Drain off most of it (otherwise you'll just be boiling the beef). It's fine to leave a little in there though.

Once the beef is sealed, add in the onion and turn the heat down to medium. Stir and cook for 4-5 minutes until the onion starts to soften.

Add in the coriander, cumin, cardamom, turmeric, garam masala, black pepper, whole and chopped chillies, garlic and ginger. Cook for 3-4 minutes, stirring a few times until the spices start to release their aroma.

Stir in the tomato paste, stock, chopped tomatoes and lemon juice. Bring to a simmer, then transfer to your slow cooked and cook on high for 3-4 hours or low for 5-6 hours.

Once cooked, test and add salt and pepper if required. Serve over rice with some freshly chopped coriander.
Recipe Notes
Make some healthy cucumber mint raita:
Grate 1/4 of a cucumber, squeeze out the excess juice and add to 3 tbsp fat-free Greek yogurt, a good pinch of salt and a small handful of chopped mint leaves. Stir and serve.
And how about some chopped tomato and onion salad:
Chop 10 cherry tomatoes into eighths. Chop 1/4 small white onion finely. Mix together with a small handful of chopped, fresh coriander (cilantro).
Can I make this curry ahead?
Yes! you can make this curry, then cool, cover and refrigerate for up to two days. Reheat in a pan until piping hot throughout.
Can I freeze this beef curry?
Yes, any leftovers of this curry can be cooled, covered and frozen. Then defrost overnight in the refrigerator and reheated in a pan (stirring often) or microwave until piping hot throughout.
What cut of meat is best for beef curry?
Chuck steak (braising steak) – comes from the forequarter- Consisting of parts of the neck, shoulder blade, and upper arm.

It's a tough but very flavorful cut of meat. It has a lot of connective tissue, which needs long slow cooking to break down and become tender. Cut into bite-size chunks for this curry.

Silverside (bottom round) – comes from the hindquarter – just above the back leg

It's a leaner, inexpensive cut of meat with little marbling. The lack of fat means it doesn't have as much flavour as chuck steak, but you shouldn't notice that due to the amount of flavour in the curry sauce and the fact the the beef is marinated before cooking. This cut is good for slow cooking, but must be cooked with plenty of moisture/liquid so doesn't dry out and become tough.
Can I make this curry gluten free?
Yes! Make sure you use gluten free stock cubes (I like Kallo Gluten free beef stock cubes) and gluten free tomato paste.
Nutritional info is approximate, based on 6 servings of the curry only - without rice (add 274 cals per serving for rice - based on 75g dry/235g cooked rice per person).
Nutritional Information
Nutrition Facts
Healthier Slow Cooked Spicy Beef Curry
Amount Per Serving
Calories 224
Calories from Fat 33
% Daily Value*
Fat 3.7g6%
Cholesterol 1mg0%
Sodium 427mg18%
Potassium 234mg7%
Carbohydrates 18.5g6%
Protein 29.7g59%
Vitamin A 300IU6%
Vitamin C 20.6mg25%
Calcium 170mg17%
Iron 2.5mg14%
* Percent Daily Values are based on a 2000 calorie diet.
Equipment:
In order to make this Crispy Orange Beef recipe you will need:
Some of the links in this post may be affiliate links – which means if you buy the product I get a small commission (at no extra cost to you). If you do buy, then thank you! That's what helps us to keep Kitchen Sanctuary running. The nutritional information provided is approximate and can vary depending on several factors. For more information please see our Terms & Conditions.