This Thai Prawns With Cauliflower Rice is a super delicious lighter meal, packed with flavour, ready on the table in under 20 minutes AND under 300 cals.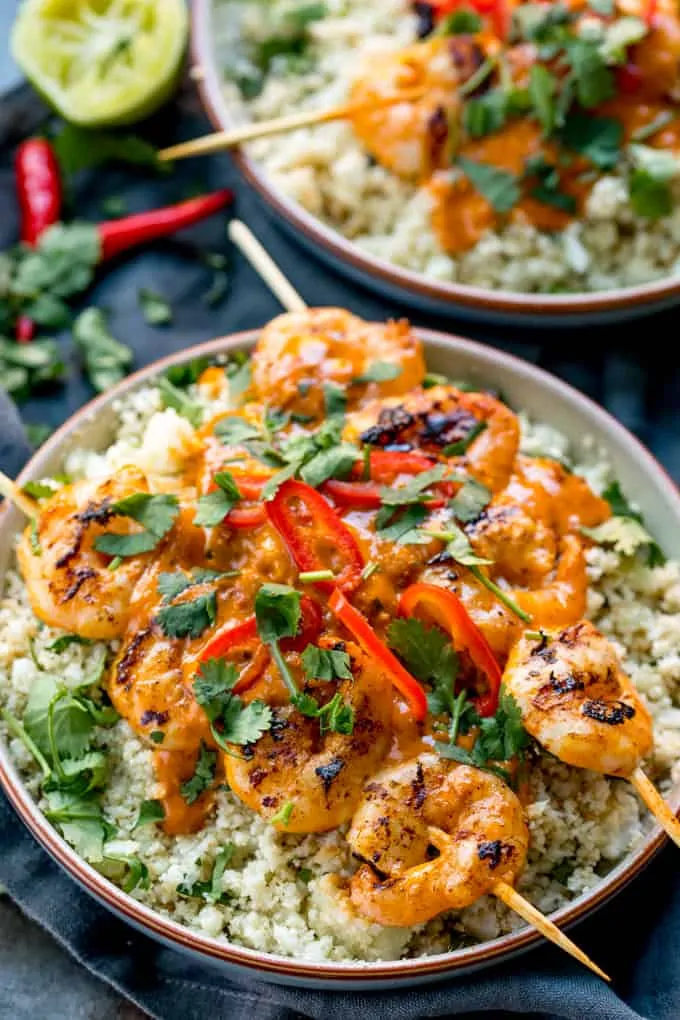 OMG! I first made this recipe back in 2014 whilst I was still working in an office job! It was one of those recipes I hoped would help me not to put on 10 stone when I left the office job and started working 5 foot away from the refrigerator (I succeeded btw - still the same weight as when I left!).
I really wanted to update this recipe, as it's been on the blog so long! The pictures were awful, and it just didn't seem right considering I make this dish fairly often.
So when I started re-shooting this, Chris and I realised it would be a perfect recipe to start off our 20 Minute Tuesdays video series!!
A new series showing you how you can make tasty meals in 20 minutes or less. Check out our first video below and follow along with the recipe. You can subscribe to our You Tube channel here
FYI - I've mostly left the 'chatter' part of this blog post alone - as I like to write snippets of my life in my blog posts. I figured it's nice to leave those bits in there to act a bit like a diary. So here's my post from 2014:
Cauliflower is hugely underrated in my opinion.  Yes, they have a tendency to be a bit boring and stinky when steamed on their own (fine by me with a drizzle of gravy!), but they're so versatile.
Baked with cream and cheese on the side of your roast dinner
Added to a stir fry with garlic and soy sauce
Eaten raw added to salads
As a pizza base substitute mixed with egg and mozzarella (haven't tried this yet – is it good?)
As a creamy sauce substitute.  Lindsay from 'Pinch of yum' does this extremely well here and has even written a book on it!
And finally ……as a really low cal, low carb substitute for rice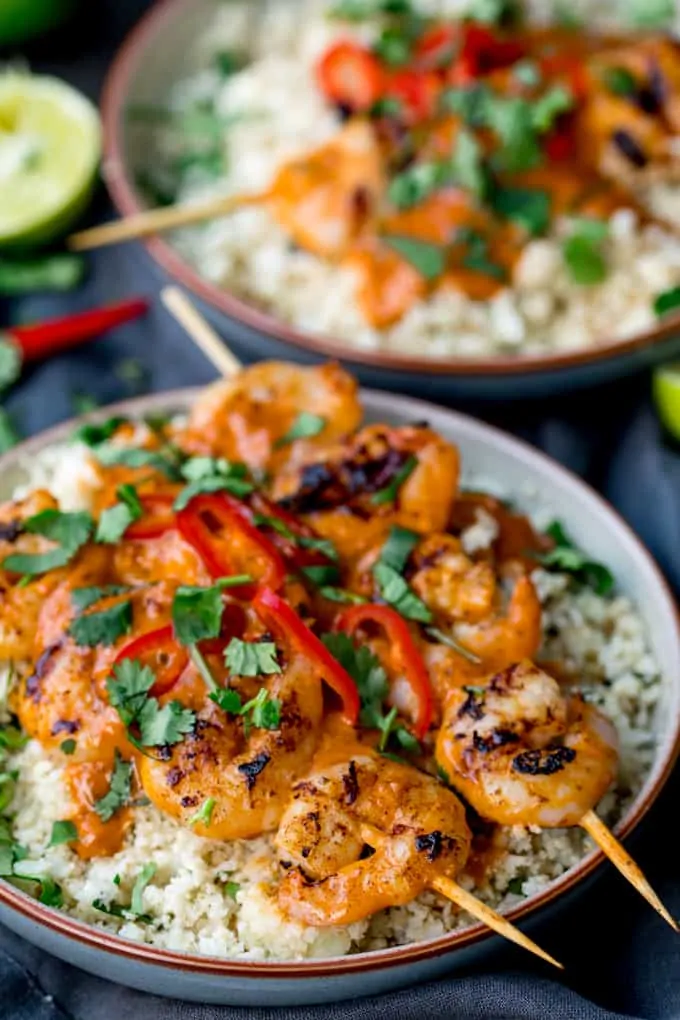 Yes, that's what I'm doing here today.  Ok, it doesn't taste exactly like rice. But it doesn't taste like grated cauliflower either! It's had the 'it's not too bad actually' seal of approval from my wary husband (which is definitely a compliment when it comes to healthy meals).
I've mixed it with a large handful of chopped coriander and a squirt of lime in this recipe, which really lifts the flavour.  Add in the creamy, saucy prawns, and it's hard to believe you've got a tasty, satisfying meal on the table for less than 250 calories! A great option if you're doing the 5:2 diet (which I do occasionally).
It's so good, I made it twice last week.  One of those times was for my mum, who then took the recipe home and fed it to my dad a couple of days later (and he thought it was great too).
I've added this into my 'Skinny Eats' category (check out some of my others such as spicy breakfast eggs or cheesy butternut squash soup<--two more old posts with awful photos - I must get around to updating those too!).  This is definitely a new staple meal to give my diet a bit of balance against the numerous biscuits, cakes and puddings I tend to make.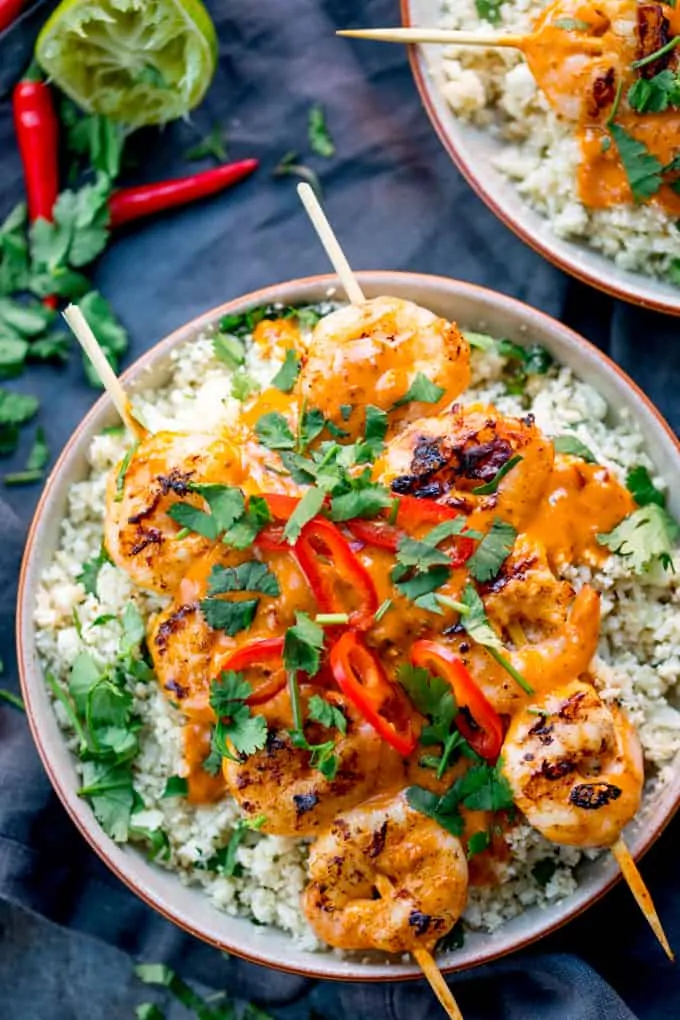 I haven't really talked about it on my blog yet, but I'll be leaving work in a few weeks to give me some more time with the kids, and to spend more time on my blog and other writing interests.  One of my concerns, it that I'll be spending my time in an endless cycle of cooking and eating.  The refrigerator is just too close when I'm at home.  So I need some lighter meals like this to stop myself putting on 10 stone within the first month….
More about me leaving work in a future post, I promise.  Now, onto the recipe.
In this recipe I use this shop bought Thai Curry Paste, however if you wanted to make your own I have done that here for my healthier red Thai chicken curry.
Thai Prawns With Cauliflower Rice Recipe:
Thai Prawns with Cauliflower rice
This Thai Prawns With Cauliflower Rice is a super delicious lighter meal, packed with flavour, ready on the table in under 20 minutes AND under 300 cals.
Ingredients
16

king prawns

-

deveined and washed (approx 160g)

300

g

cauliflower

-

about 1 large head, grated

1

clove

of garlic

-

peeled and minced

1

small

(1cm cube) piece of ginger

-

peeled and finely chopped

40

g

Red Thai curry paste -

I use 'Thai Taste'

50

g

coconut cream

6

tbsps

water

1

tsp

fish sauce -

usually gluten free, but check this if you are gluten intolerant

1

tsp

sugar

20

sprays of one-cal-per-spray cooking oil

Regular bunch of coriander

Juice of 1 lime

Half of a small red chilli

good pinch of salt and pepper
INSTRUCTIONS
Put your prawns on skewers and spray with half of the cooking spray.  Heat up a griddle pan and a large frying pan.

Spray a small pan with two sprays of cooking spray and add in the garlic and ginger.  Cook on a low heat for two minutes.  Add in the Thai curry paste and stir for 30 seconds, then add in the coconut cream, water, fish sauce, sugar and half of the lime juice.  Bring to a gentle bubble.  Take a pastry brush and brush a little of the sauce onto the raw prawns.  Leave on a low heat, and add a little more water if it starts to look too dry.

Spray the remaining cooking spray into the large frying pan and add in your grated cauliflower.  Cook for a few minutes, turning with a spatula to prevent burning.

As your cauliflower is cooking, put the prawns on the griddle to cook.  Cook for about 2 minutes on each side until they turn pink.

Add the coriander, remaining lime juice and a good pinch of salt and pepper to the cauliflower.  Give it all a good stir.  It should be starting to brown just a little bit on a few places which means it's ready.

Dish up the cauliflower between serving places, and top with the prawn skewers.  Drizzle the remaining Thai sauce over the top and sprinkle on the chopped red chillies, then serve!
Video
Nutrition
Calories:
246
kcal
Carbohydrates:
16
g
Protein:
21
g
Fat:
12
g
Saturated Fat:
8
g
Cholesterol:
201
mg
Sodium:
910
mg
Potassium:
632
mg
Fiber:
4
g
Sugar:
6
g
Vitamin A:
3655
IU
Vitamin C:
85
mg
Calcium:
198
mg
Iron:
3.9
mg
Some of the links in this post may be affiliate links – which means if you buy the product I get a small commission (at no extra cost to you). If you do buy, then thank you! That's what helps us to keep Kitchen Sanctuary running. The nutritional information provided is approximate and can vary depending on several factors. For more information please see our Terms & Conditions.