My No Churn Cereal Milk Ice Cream is an easy make-at-home ice cream with all the flavour of cereal milk! No ice-cream maker required!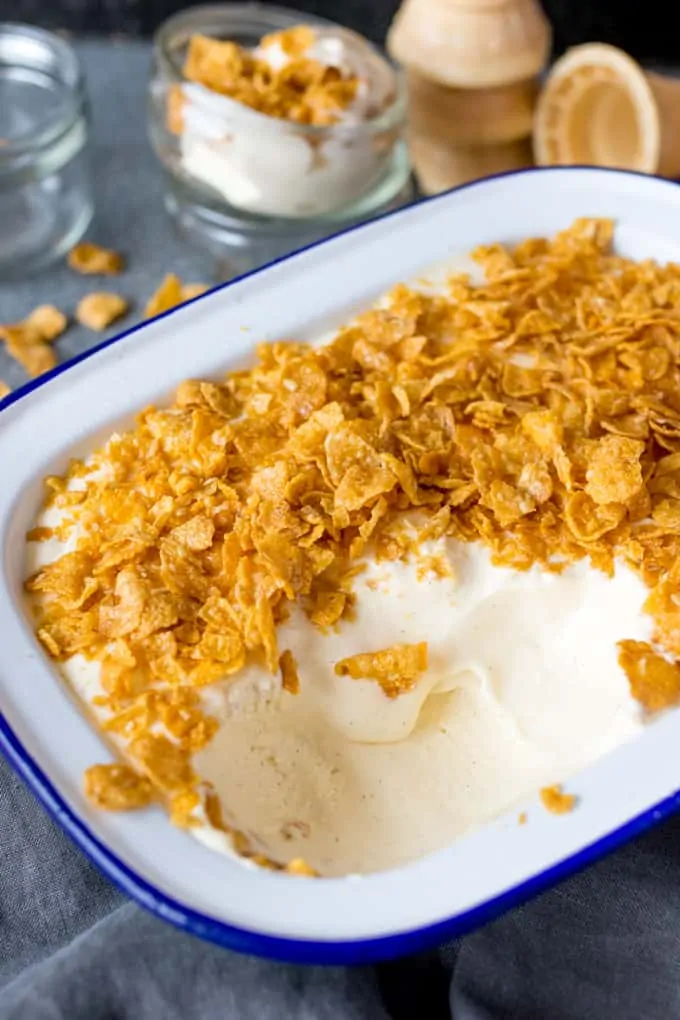 I'm a grown up now, so I really shouldn't be enticed by sugary cereals.
I'm generally pretty good at breakfast time - porridge, homemade granola with fruit, weetabix or a smoothie are the options I try to go for.
But every now and then I'll succumb to a bowl of crunchy nut cornflakes, coco pops or those Nesquick balls (have you seen them? they look like rabbit poops, but they're so tasty!).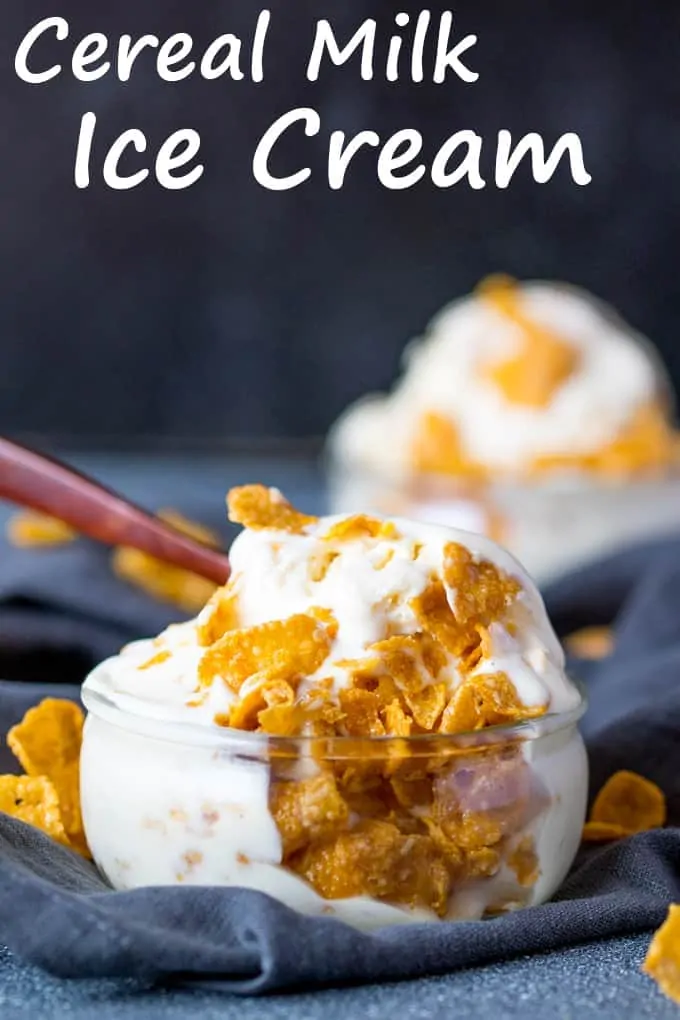 I was reading a foodie magazine the other day and there was an article on Momofuku's cereal milk ice cream.
Have you heard of it? They steep cornflakes in milk, then use that milk to make sweetened soft-serve ice cream.
I want to try it soooo much!
I've used cereal milk before to make ice lollies over on Simply Stacies site - they worked a treat! So I decided to have a go at making my own cereal milk ice cream.
I haven't got an ice cream maker, so my ice creams are always the no churn version (like this strawberry shortbread flavour).
I figured crunchy nut cornflakes would be a good upgrade on regular cornflakes, and boy! It was good!
It tastes amazing eaten on it's own.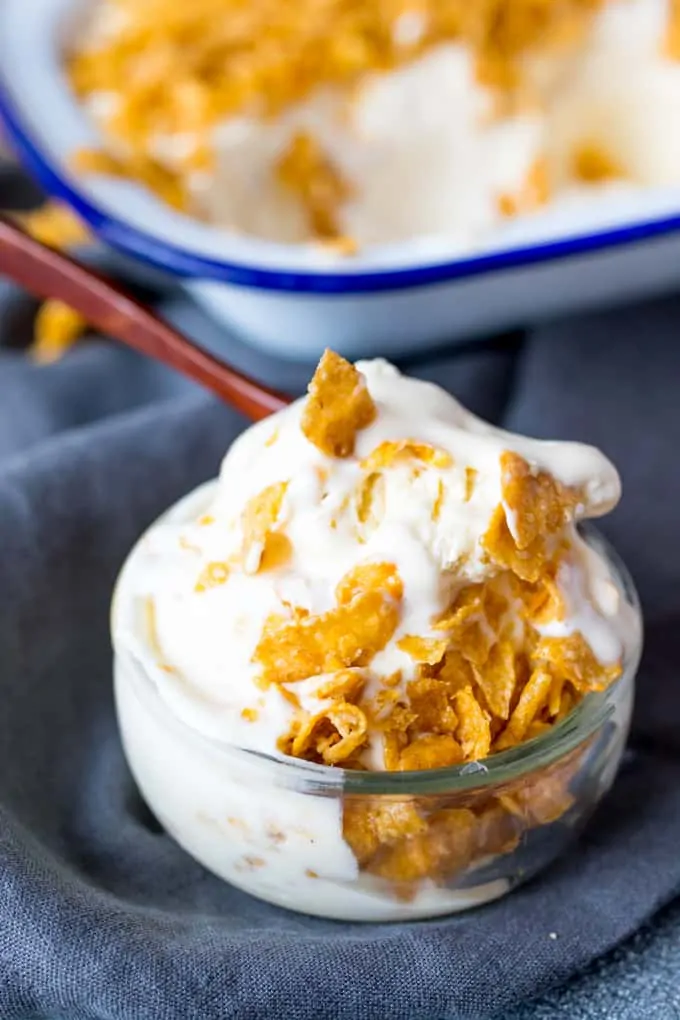 If you want to go one step naughtier though (let's face it, there's nothing healthy in this recipe anyway. Might as well go whole hog!) try serving it with one of those tinned sponge puddings in syrup.
Yeah, I went there.
None of us could move from the sofa for at least an hour after this calorific pud, but it was well worth the two jogging sessions I had to do to ease my sense of guilt!
I'm now trying not to think about making Nesquick rabbit poop ice cream. I'm pretty sure it wouldn't do so well on Pinterest 🙂
The No Churn Cereal Milk Ice Cream Recipe: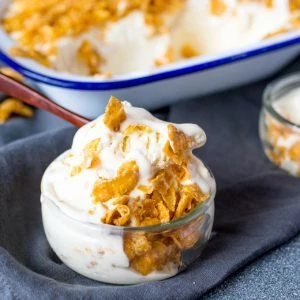 No Churn Cereal Milk Ice Cream
An easy make-at-home ice cream with all the flavour of cereal milk! (Crunchy Nut Cornflake flavour) No ice-cream maker required!
Ingredients
710

ml

double (or heavy/whipping) cream

240

ml

whole milk

135

g

Crunchy nut cornflakes (use a gluten-free variety if required *)

240

ml

sweetened condensed milk

1

tsp

vanilla extract
INSTRUCTIONS
Pour the cream, 90mls (⅓ cup) of the milk and 90g (2 cups) of the crunchy nut cornflakes into a large bowl. Stir together and allow to sit for 30-45 minutes so the cream absorbs the flavour of the cornflakes.

Place a sieve over a large bowl and strain the mixture. It will be very thick, and a lot of the mixture will stick to the cornflakes, so pour half of the remaining milk over the cornflakes (whilst still in the sieve over the bowl) to wash the cornflakes off. Repeat with the remaining milk - pushing the cornflakes down inn the sieve with a spoon to get the maximum amount of liquid out of them.

Discard the soggy cornflakes.

Pour the sweetened milk and vanilla extract into the flavoured cream and whisk using the balloon attachment of a stand mixer or an electric hand whisk until thick (the mix should hold it's shape when you lift the whisk).

Spoon the mixture in a loaf tin or pie tin (or similar freezable container) and sprinkle the remaining cornflakes on top. Place the ice cream in the freezer for at least 3-4 hours (cover with a lid or plastic wrap if freezing for longer).

Take the ice cream out of the freezer about 10 minutes before you want to eat it – to allow it to soften.
✎ Notes
* Although corn is gluten free, regular crunchy nut cornflakes contain barley malt - which contains gluten. 
.
Nutritional Information is per serving (based on getting 10 servings form the recipe).
Nutrition
Calories:
391
kcal
Carbohydrates:
28
g
Protein:
5
g
Fat:
29
g
Saturated Fat:
18
g
Cholesterol:
107
mg
Sodium:
177
mg
Potassium:
199
mg
Sugar:
15
g
Vitamin A:
1415
IU
Vitamin C:
4.2
mg
Calcium:
142
mg
Iron:
4.4
mg