These Soft and Light Brioche Burger Buns are light, not overly sweet.  These Brioche rolls are the perfect vessel for a homemade juicy burger.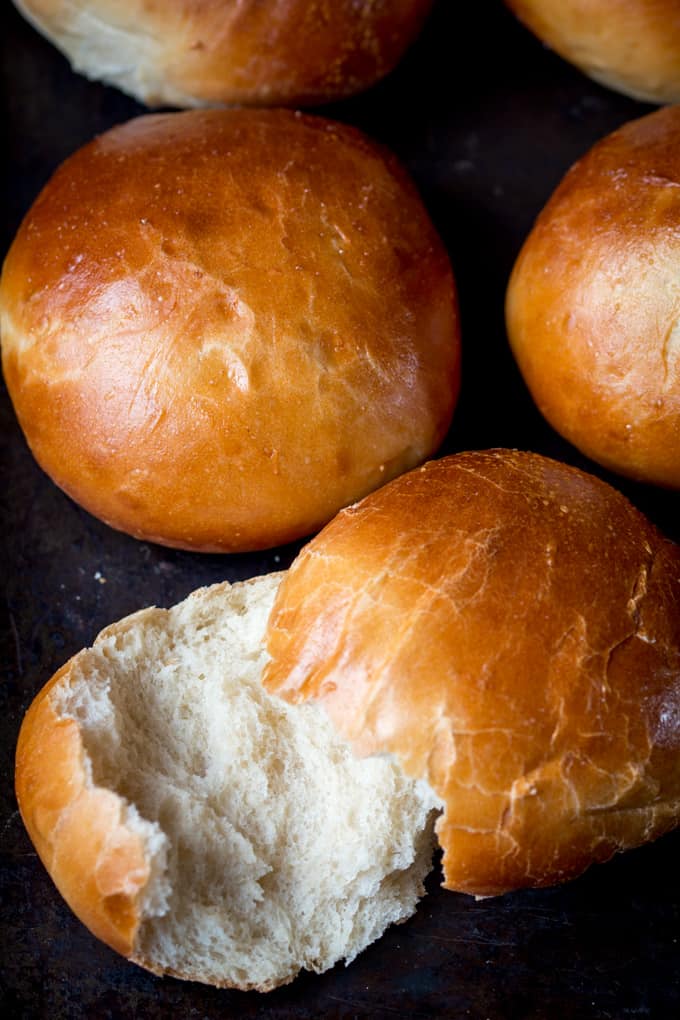 Oh how I love these Soft and Light Brioche Burger Buns! With a good burger OMG! Ok, now I've wiped the drool from my keyboard I'll continue.
More and more often fashionable burger restaurants in the UK are taking the lead from the US and using brioche buns to serve their burgers on.  I've seen it in Byron burger (the classic Byron burger is delicious), Gourmet burger (I could eat a million of their skinny fries with garlic mayo) and Five Guys (hooray! so glad they've finally branched out to the UK).
I love the subtle sweetness of a good brioche. It's got to be shiny, dark golden and soft enough on the outside to wrinkle and squidge when you bite into it.  The inside has of course got to be soft, light and fluffy, but gently toasted to ensure that all of that lovely sauce and cheese doesn't completely sink in.
MY LATEST VIDEOS
I've looked in all the major supermarkets and local bakeries to find these perfect rolls and I can't find them anywhere! Yes, they sell artificially sweet-tasting finger rolls or brioche bread, but they don't even come close to the real thing.
UK major supermarkets hear this! We need decent Brioche burger buns!
Spring is round the corner, and I refuse to have another BBQ season without them.
Since it's probably fairly unlikely that any major supermarket is going to come looking at my little blog, I decided to make some myself.
I've had a few trials (with numerous errors) and then I came across this recipe from The Clever Carrot (I think she originally got the recipe from the NY Times).  I made them, and now I'm hooked.  I have no need to look anywhere else for a Brioche roll recipe.  These Soft and Light Brioche Burger Buns perfect! (thanks Emilie!)
So here's what you need to do.
Mix the yeast with water, milk and sugar, and then leave for 5 minutes until it starts to foam.
Meanwhile mix your bread flour, all-purpose (plain) flour, salt and butter in a mixer, then beat in the yeast mixture along with 1 egg.  Yes, only 1 egg is needed – which is a little unusual with Brioche (usually you'd use at least 3), but trust me, is all you need to get a perfect, light-textured brioche.  Beat the dough in the mixer for 10 minutes and then place in a bowl:

Cover with clingfilm and leave to prove in a warm room for 1-2 hours until doubled in size: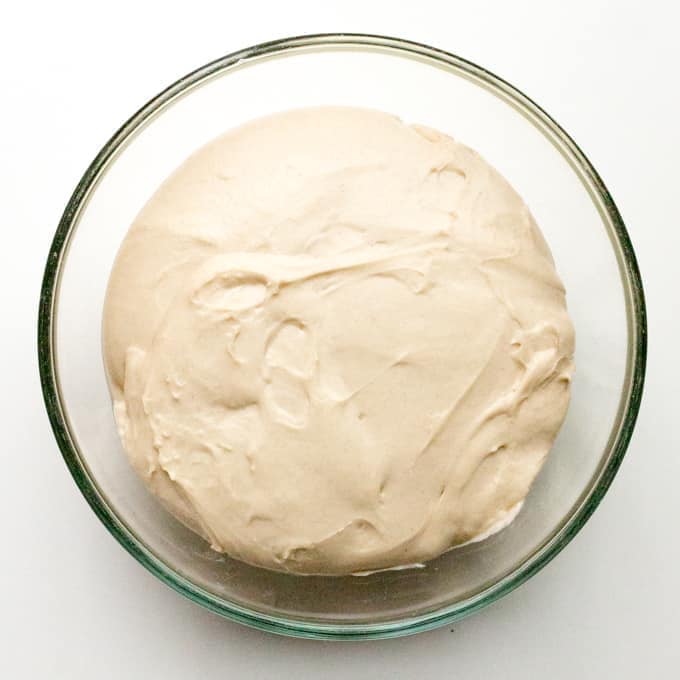 Then knock the air out of the dough on a floured surface and split the dough into 8 pieces.  Roll each one out and place on a baking tray, cover and prove again until almost doubled in size (1.5-2 hours):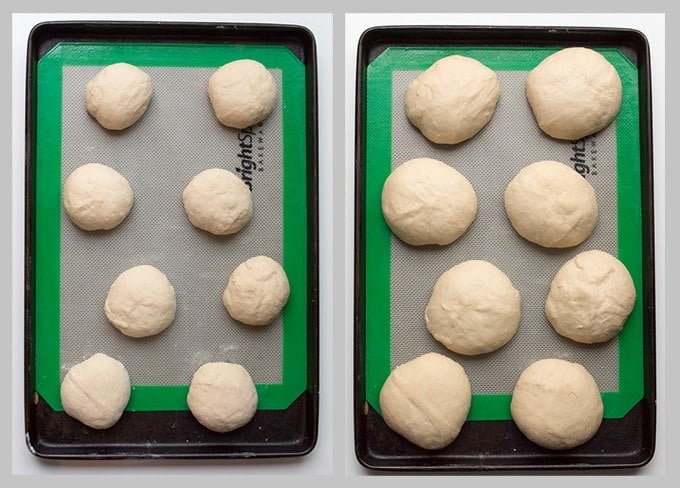 Remove the cover, brush each roll with egg-wash and then bake for 15 minutes until dark golden brown:
Leave to cool and then enjoy (trying not to slather the warm rolls in butter and eat them all before your burgers are ready).
The Soft and Light Brioche Burger Buns Recipe:
Soft and Light Brioche Burgers Buns
These brioche buns are light, not overly sweet, and the perfect vessel for a homemade juicy burger
Print
Rate
Total Time:
4
hrs
45
mins
Ingredients
240

ml

warm water

3

tbsp

warm milk

I used whole milk, but half-fat is fine

2

tsp

dry active yeast

2.5

tbsp

caster sugar

360

g

strong bread flour

60

g

plain/all-purpose flour plus extra for rolling

37

g

butter

softened

1.5

tsp

salt

2

large eggs
Instructions
Place the warm water, milk, yeast and sugar in a jug, give it a stir and leave for 5 minutes until the top of the liquid starts to foam slightly. If it doesn't foam then your yeast isn't active and you'll need to start again with a new tub of yeast.

Place the two flours, the butter and salt into a mixer and mix together using the beater attachment for a minute - until you can no longer see lumps of butter.

Add in the water/yeast mixture and one of the eggs, then beat again (using the beater attachment) for 10 minutes on medium speed. The dough will be sticky, but will come together in a soft, slightly sticky ball towards the end.

Place the dough in a large bowl and cover with clingfilm. Leave to rise in a warm room until doubled in sized (usually 1-2 hours).

Line a baking tray with baking parchment or a silicone mat.

Once the dough has doubled in sized, tip it out onto a floured (all purpose flour) surface and punch the air out of it. Cut the dough as evenly as you can into 8 pieces. I weighed each of mine - they were 97g/3.4oz each.

Pat both of your hands in the flour and then pick up a piece of dough, flatten it slightly in your hands and then put it on the work surface and pull the edges into the centre so you have a rough ball shape. Turn the ball over and gently roll it into more of a ball shape and place onto a large baking tray with the smoothest side at the top. Cup your hands around the sides of the ball and give it a little squeeze to add a tiny bit of height. Repeat with the remaining dough - ensuring there is at least a couple of inches between each ball - as they will expand.

Place the tray in a large carrier bag (or bin bag) - making sure none of the bag touches the dough. If the dough touches it, it will stick. Leave to prove again until almost doubled in size - about 1.5-2 hours.

Preheat the oven to 200c/400f. Whisk your remaining egg with a tsp of cold water.

Take the tray out of the bag and gently brush each of the buns all over the top and sides with egg wash. Make sure you don't have too much egg wash on your brush or it will run down the sides of the buns and pool at the bottom - leaving a crispy-eggy edge to the buns.

Place the buns in the oven and cook for 15 minutes until dark golden brown. Take out of the oven and leave to cool for 5 minutes on the tray, before removing from the tray on cooling further on a cooling rack.
Recipe Notes
These buns are delicious served slightly warm (don't serve them straight from the oven though, as they're still cooking inside as they're cooling, and will be doughy if you eat them hot). They're best eaten on the same day, but will keep until the next day if wrapped in foil or baking parchment and placed in a sealed container at room temperature.
Nutritional Information
Nutrition Facts
Soft and Light Brioche Burgers Buns
Amount Per Serving
Calories 259
Calories from Fat 45
% Daily Value*
Total Fat 5g 8%
Cholesterol 51mg 17%
Sodium 490mg 20%
Potassium 85mg 2%
Total Carbohydrates 42g 14%
Protein 8g 16%
* Percent Daily Values are based on a 2000 calorie diet.
Some of the links in this post may be affiliate links – which means if you buy the product I get a small commission (at no extra cost to you). If you do buy, then thank you! That's what helps us to keep Kitchen Sanctuary running. The nutritional information provided is approximate and can vary depending on several factors. For more information please see our Terms & Conditions.