My Baked Cheesy Potato Croquettes are an easy bite-sized snack or side dish. Mashed potato, stuffed with cheese, coated with breadcrumbs and baked until the cheese melts in the middle.
I've got a little tip for how to get those croquettes lovely and golden, even though they're baked and not fried.
A great way to use up leftover mashed potato!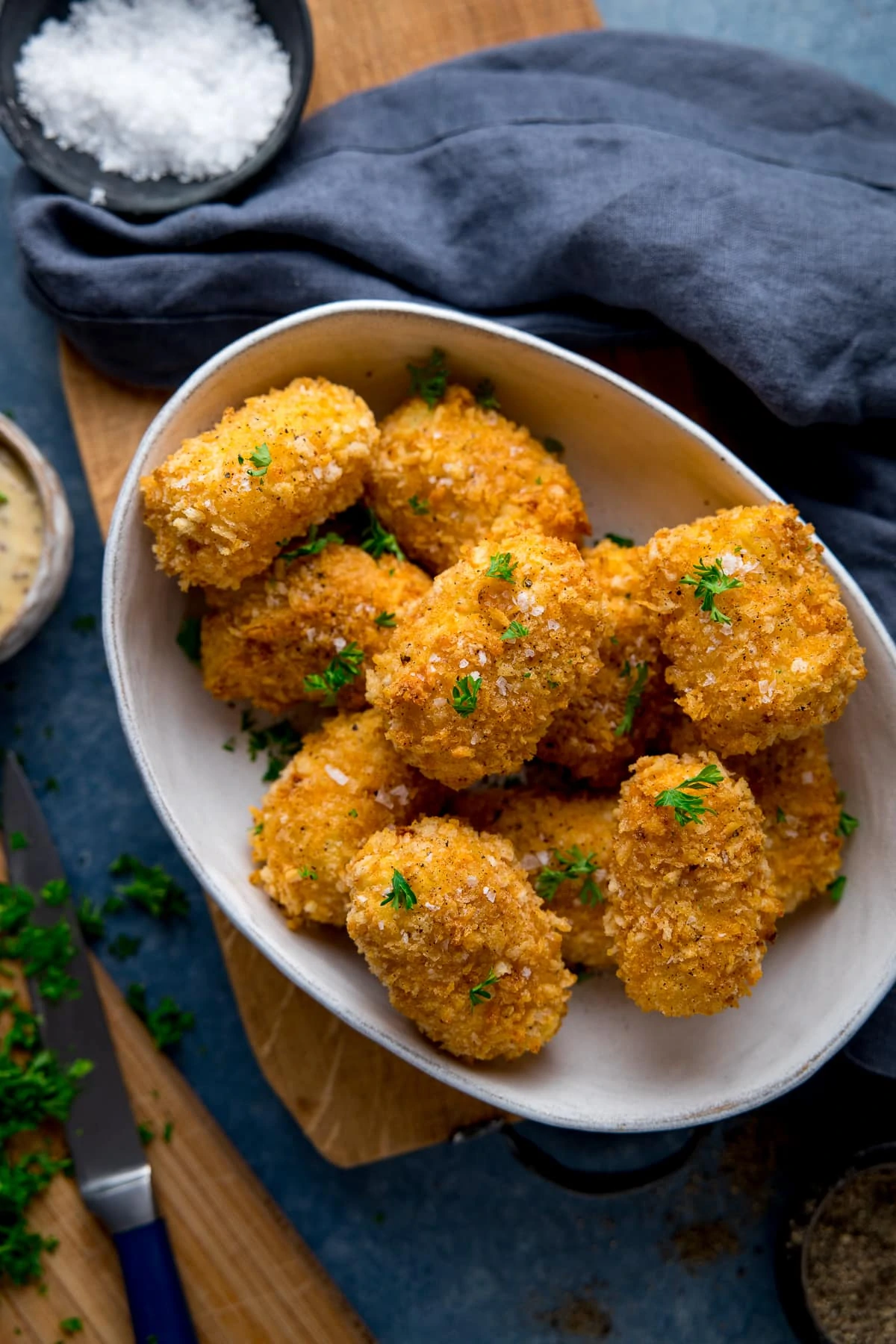 Some simple but totally addictive cheesy snacks for you today!
Crispy bites of mashed potato with oozy, melted cheddar cheese in the middle, covered in crunchy breadcrumbs.  I think I could eat 50 of them...
I like to bake these croquettes because it means you can cook more of them at once, and also prevents that splattery mess you can get with frying foods.
You can still get a lovely, golden crunch without frying breaded food like this - the secret is to add a little oil into the breadcrumbs. Not so much that the breadcrumbs stick together, but just enough so each of the the crumbs has a little bit of oil absorbed.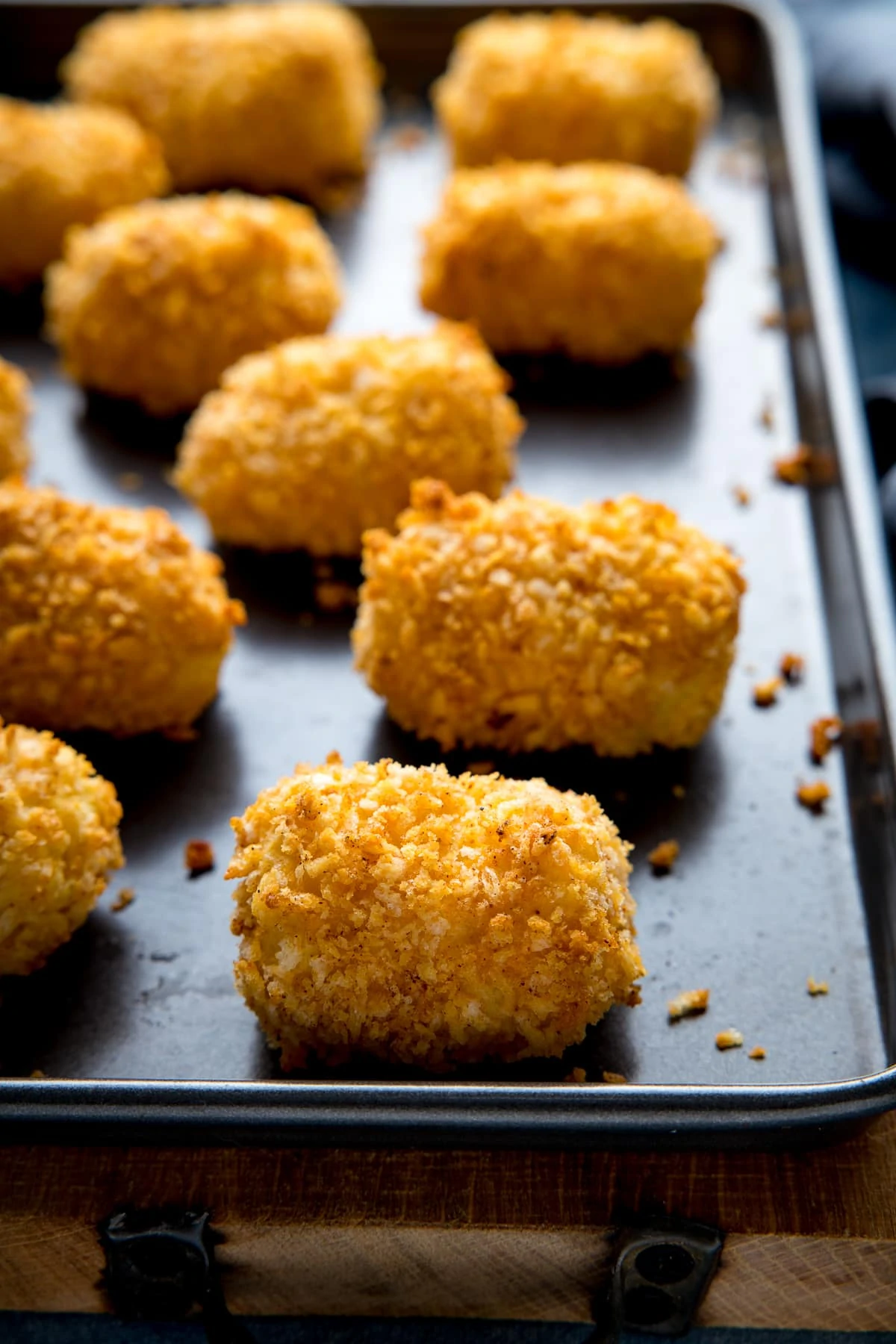 I like to add some smoked paprika to the breadcrumbs too - which enhances the golden colour, but also adds a lovely, delicate flavour.
What do we need?
Leftover mashed potato - it's best if it's chilled
Cubes of cheddar cheese - go for strong/mature cheddar for a deeper flavour
Flour with salt and pepper - to coat the potato
Egg to make the panko stick
Smoked paprika - for a bit of extra flavour PLUS the colour of the paprika helps to make the breadcrumbs more golden upon baking
Vegetable oil - to help crisp up those breadcrumbs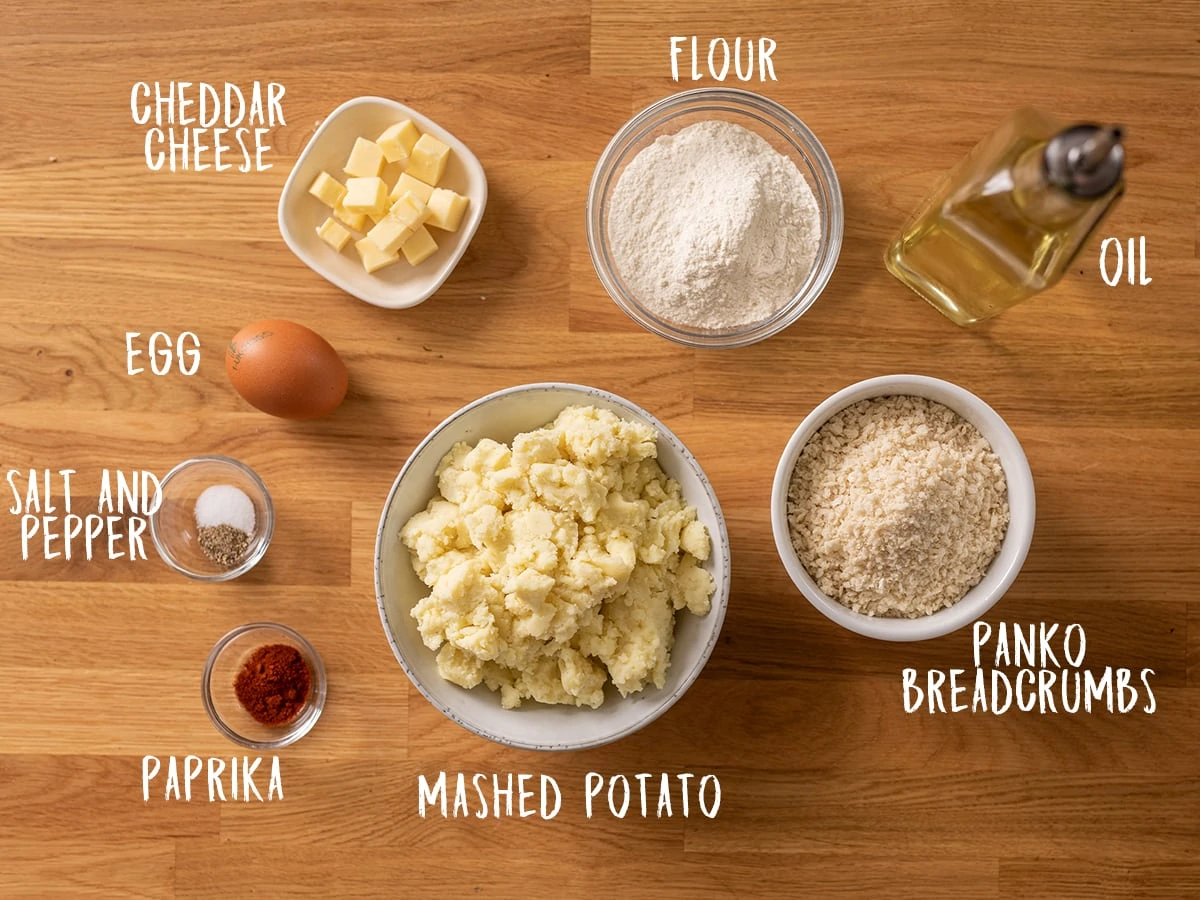 Pro-tip - How to ensure your croquettes maintain their shape in the oven
Mashed potato with minimal (or zero) butter/milk/cream helps to maintain the structure of the croquettes. If you're using leftover mashed potato, this probably means your mash will have cream and/or butter in, so the croquettes will be naturally a little bit softer (still totally doable, but they're better eaten with a knife and fork, rather than as a finger-food).
Chill the mashed potato before using. I start off with chilled mashed potato, and if I have time, I'll put the unbaked croquettes in the fridge for an hour too. Refrigerating them a second time isn't essential, but it does help.
Ensure that after you've coated the potato croquettes in flour that you thoroughly coat them in egg (before rolling in the panko). The egg sets when baking in the oven which forms a light shell - helping to keep the potato from leaking out.
How to make baked potato croquettes
Full recipe with detailed steps in the recipe card at the end of this post.
Take a heaped tablespoon of mashed potato and flatten it in your hand. Place a cube of cheese in the middle and wrap the mashed potato around it. Shape into a cylinder shape.

Dip the croquette into seasoned the flour, then into lightly whisked egg and finally into breadcrumbs that have been mixed with paprika and vegetable oil.

Place on a baking sheet and bake on a high heat for 12-15 minutes until the croquettes are golden.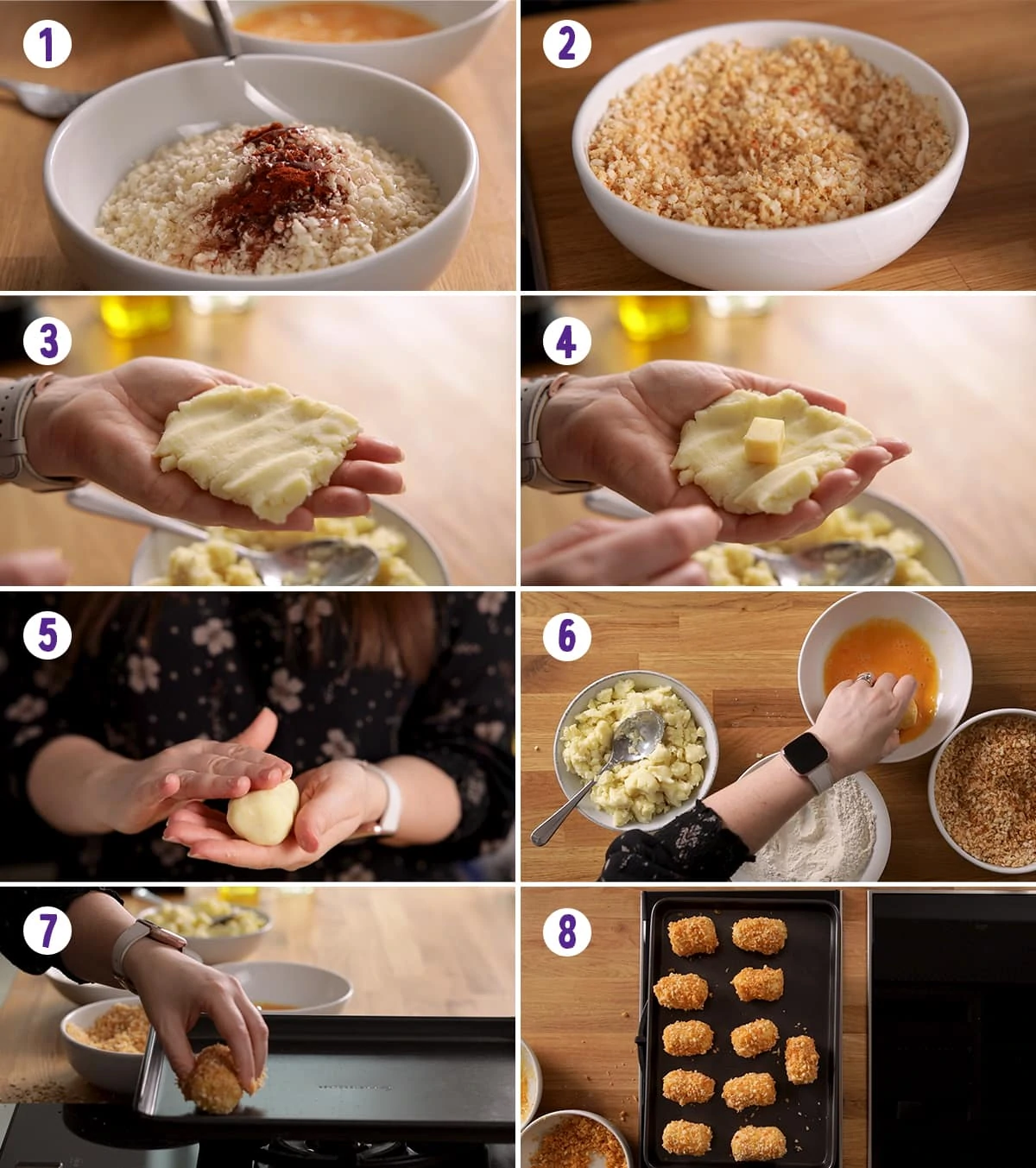 Pro-Tip - ensuring the breadcrumbs are golden and cooked through
The croquettes are only going in the oven for 12-15 minutes, which is just on the cusp of time needed to ensure the coating is crunchy and cooked through. The longer you cook them for, the more the cheese will melt into the mashed potato. This will soften the mash and cause a bit of cheese leakage (and also means the cheese kind of disappears in the mash - you can still taste it, but can't see it).
However, we don't want uncooked-tasting breadcrumbs.
So keep an eye on the croquettes during the last few minutes of cooking, and cook them for as long as possible before the croquettes look like they're just starting to lose their shape a little. Then take them out of the oven right away. 15 minutes baking is best if possible.
The addition paprika in the breadcrumbs will also help the croquettes to look more golden and the addition of oil in the breadcrumbs will help to get the breadcrumbs nice and crunchy.
I like to serve mine with a simple honey mustard mayo (3 tbsp mayo mixed with 1-2 tsp wholegrain mustard and 1 tsp honey).
The kids LOVE them served up with baked beans for dinner.
---
Ingredient swaps
Try adding finely chopped cooked bacon, spring onions (scallions) or cooked chorizo.
Alternatively, try my other croquette recipes:
Love all things potato? Try one of these recipes:
Watch how to make it:
Stay updated with new recipes
***Subscribe to the newsletter to hear when I post a new recipe. I'm also on YouTube (new videos every Monday and Thursday) and Instagram (behind the scenes stories & beautiful food photos).***
Baked Cheesy Potato Croquettes
Baked Cheesy Potato Croquettes - An easy bite-sized snack or side dish made from leftover mashed potato.
Ingredients
2

cups

(450g) leftover mashed potato

-

chilled (mashed potato with minimal cream/butter in is best - see pro tips in the recipe post)

10

x 1.5cm cubes strong cheddar

¾

cup

(90g) plain/all-purpose flour

-

you can use gluten free all-purpose if required

¼

tsp

salt

¼

tsp

pepper

1

egg

-

lightly whisked

2

cups

(100g) panko breadcrumbs

-

or homemade breadcrumbs made from slightly stale bread - use grated gluten free bread if required

½

tsp

smoked paprika

1

tbsp

vegetable oil
INSTRUCTIONS
Preheat the oven to 200c/400f and put a flat baking tray to one side.

Place the flour, salt and pepper in one bowl and mix together

Place the egg in a second bowl and lightly whisk.

Place the breadcrumbs in the third bowl. Sprinkle the smoked paprika onto the breadcrumbs and then drizzle on the oil. Mix together so the the oil absorbs into all of the breadcrumbs.

Take a heaped tablespoon of mashed potato and flatten it in your hand. Place a cube of cheese in the middle and wrap the mashed potato around it. Shape into a cylinder shape.

Dip the croquette into the flour, then into the egg and finally into the breadcrumbs, ensuring the croquette is completely covered. Place on the baking tray and repeat with the rest of the mashed potato.

Ensure there is a little space between each of the croquettes on the tray, then place in the oven for 12-15 minutes until the croquettes are golden. Don't overcook or the cheese will start to seep out and the croquettes will flatten out a little.

Take out of the oven and leave to cool for a few minutes before serving.
Video
✎ Notes
Can I make them ahead?
Yes - you can make up the croquettes, then cover and refrigerate them for up two days. Bake, uncovered, as per the baking instructions in the recipe card.
Can I freeze them?
Yes - although it's best to cook them first, then cool and freeze them. If you freeze them uncooked, then it's likely the potato would seep water during the defrosting stage.
Reheat them from frozen at 180C/350F for 12-15 minutes until piping hot throughout.
Can I fry them instead of baking them?
Yes, heat 4 tbsp of vegetable oil in a large frying pan until hot. Add the croquettes and fry, turning regularly until golden brown.
If you wanted to deep fry them, carefully lower them into a deep fat fryer that's been heated until very hot (180-185°C). Fry for about 3 minutes, until golden brown.
Nutritional info is per croquette
Nutrition
Calories:
183
kcal
Carbohydrates:
24
g
Protein:
6
g
Fat:
6
g
Saturated Fat:
4
g
Cholesterol:
29
mg
Sodium:
169
mg
Potassium:
179
mg
Fiber:
1
g
Sugar:
1
g
Vitamin A:
200
IU
Vitamin C:
9.7
mg
Calcium:
115
mg
Iron:
1.2
mg
This post was first published in June 2015. Updated in July 2020 with new photos, tips and recipe video.
If you're making a party table full of appetizers then you need to try some of these;