Baked Spinach and Goats Cheese Croquettes – a lighter dinner for meatless Mondays! Creamy mashed potato, with butter, double cream and a good pinch of salt. That's the kind of food my dreams are made of!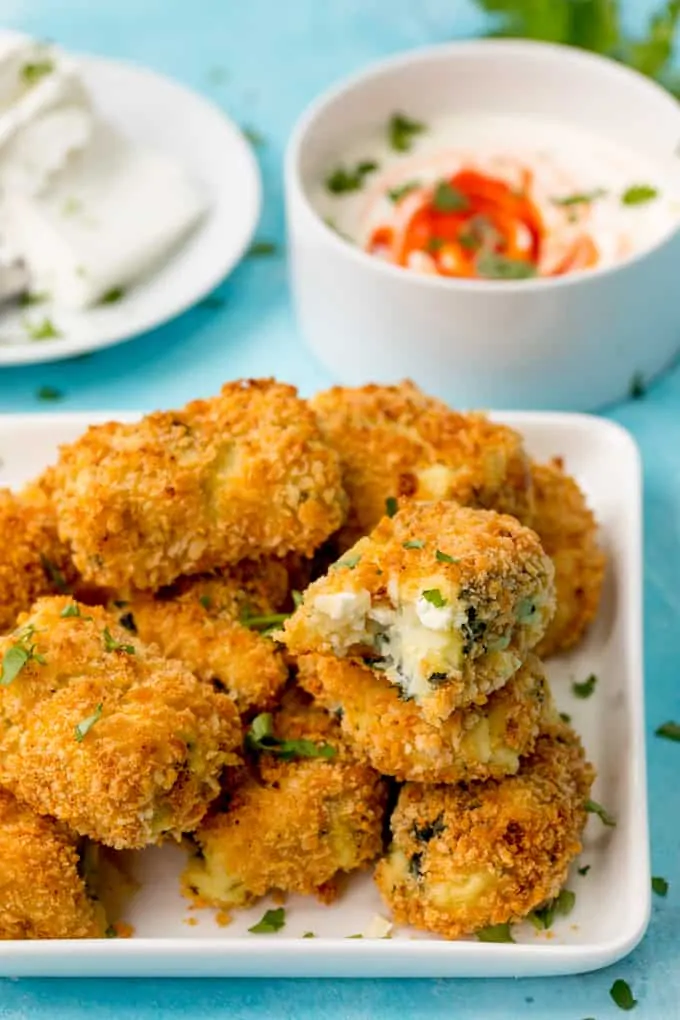 If ever there was a mashed potato fiend, I am that person.
I don't make it all that often, because, to be honest, I could probably go through half a kilo of spuds all by myself.
When I was a student, I used to make a big bowl of mash, then top it with crispy bacon, finely diced raw onion and leftover gravy from the freezer (NEVER throw away a decent gravy!!). I'm drooling at the thought – might have to introduce the kids to that delicacy!
It also can't be beaten when laced with cheese (but I'd skip the gravy – cheese and gravy just isn't right. Unless we're talking cauliflower cheese I suppose – but my cauliflower cheese would always be on the other side of the plate to my gravy).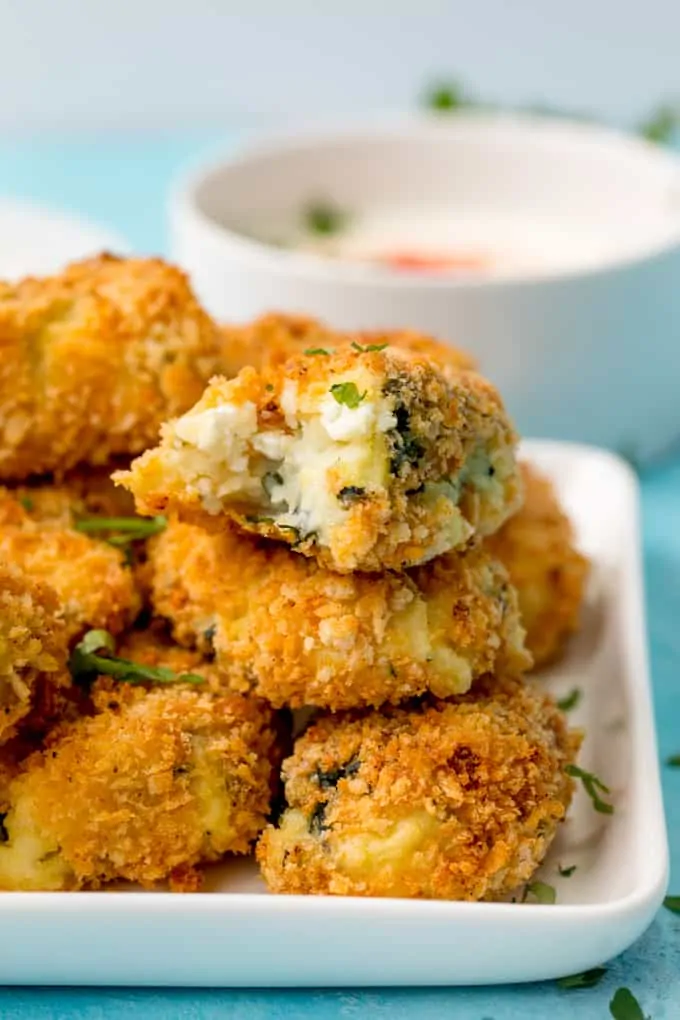 Instead of the cheddar cheese I'd usually add to mashed potato, this one is mixed with creamy goat's cheese and lightly wilted spinach for a slightly tangy flavour.
Rolled in breadcrumbs, then baked until golden and crispy, they make a seriously good lunch (especially dipped in a simple crème fraiche and sweet chilli sauce concoction!).
You can make them gluten free by using fresh breadcrumbs from a gluten-free loaf. Even though gluten free bread isn't usually as tasty as regular bread, you really can't tell the difference when it's used in this way.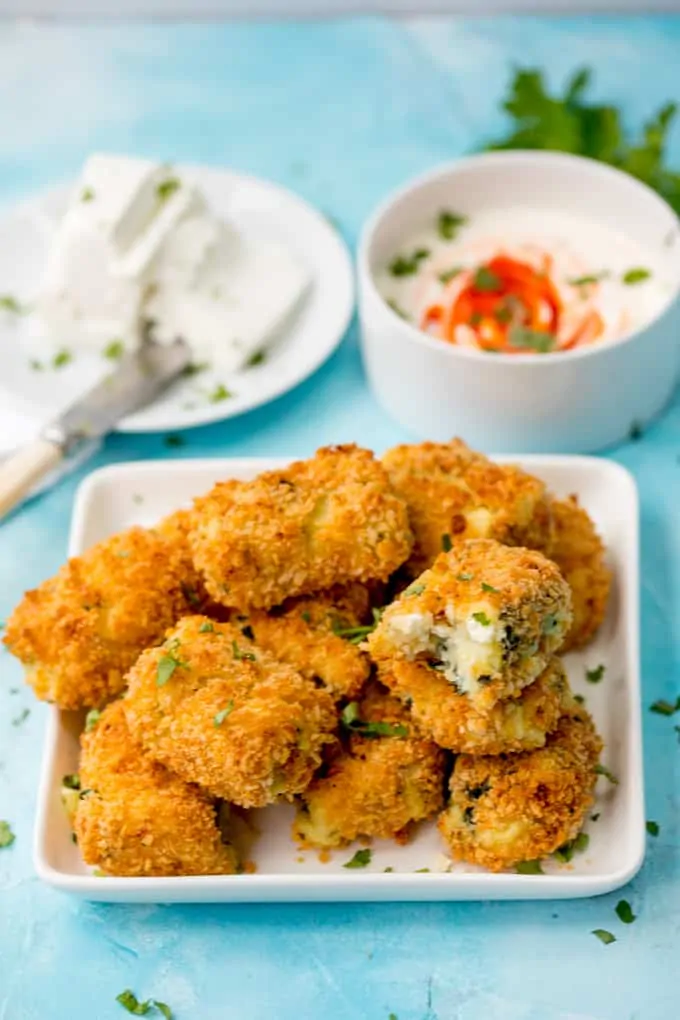 I'm going back to thinking about my student diet now. I did cook a good amount of food from scratch, but there was a lot of cheap/easy store cupboard stuff in there too.
Batchelors Savoury Rice
Blue Dragon Chicken Chilli Noodles
Egg noodles with ¼ jar of sweet and sour sauce (cheapest meal ever!)
Crisp butties (smoky bacon crisps on white bread with lurpak butter)
Ahhh, those were the days - when the closest I got to my 5-a-day was a glass of orange juice and an apple turnover from Tesco.
Did you have any student food favourites?
Here are some of my other croquettes:
 The Baked Spinach and Goats Cheese Croquettes Recipe:
Baked Spinach and Goats Cheese Croquettes
Baked Spinach and Goats Cheese Croquettes – a lighter dinner or appetizer for meatless Mondays! Easily made Gluten Free too!
Ingredients
2

tbsp

butter

75

g

baby spinach leaves

2

eggs

-

lightly whisked

90

g

plain/all purpose flour

pinch

of salt and pepper

125

g

panko breadcrumbs (or homemade breadcrumbs made from slightly stale bread) - use gluten free bread if required

1

tsp

paprika

2

tbsp

vegetable oil

500

g

leftover mashed potato, chilled

100

g

goats cheese, chopped into small chunks
INSTRUCTIONS
Preheat the oven to 200c and put a baking tray to one side.

Melt the butter in a saucepan and add the spinach, cook for 1-2 minutes until wilted, then remove from the heat, cool and chop.

Place the egg one bowl, the flour, salt and pepper in a second bowl, and the breadcrumbs in the third bowl. Sprinkle the paprika onto the breadcrumbs and then drizzle the oil on too. Mix the breadcrumbs, paprika and oil together so the oil absorbs into the breadcrumbs.

Place the mashed potato in a bowl and add the chopped spinach and goats cheese. Mix together until just combined. Take a heaped tablespoon of mashed potato mixture and shape into a cylinder. Dip the croquette into the flour, then into the egg and finally into the breadcrumbs, ensuring the croquette is completely covered. Place on the baking tray and repeat until all of the mixture is used.

Ensure there is a little space between each of the croquettes on the tray, then place in the oven for 15-20 minutes until the croquettes are golden.

Take out of the oven and arrange on a plate, then sprinkle with parsley. Swirl the crème fraiche and sweet chilli sauce together and serve with the croquettes.
✎ Notes
Nutritional Information is per croquette.
Nutrition
Calories:
137
kcal
Carbohydrates:
15
g
Protein:
4
g
Fat:
6
g
Saturated Fat:
4
g
Cholesterol:
30
mg
Sodium:
132
mg
Potassium:
202
mg
Fiber:
1
g
Sugar:
1
g
Vitamin A:
710
IU
Vitamin C:
5.2
mg
Calcium:
45
mg
Iron:
2.1
mg