Creamy cheesy fluffy potatoes with crispy bacon - all baked in a crunchy potato skin. These Stuffed Potato Skins are serious comfort food. Plus I've got TEN more ideas for fillings below.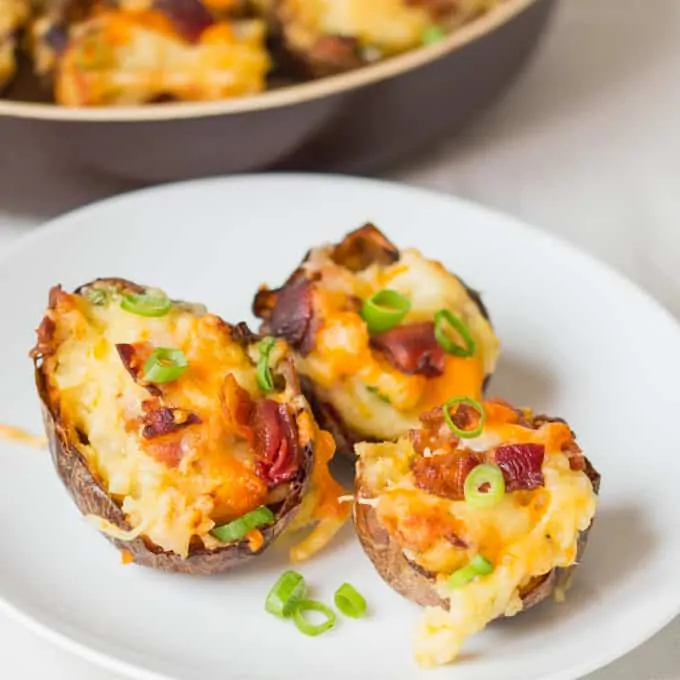 Tell me, do you eat stuffed potato skins with your hands or a knife and fork?
I mean, obviously if you're serving them up with baked beans or something, then forks are the go-to option, but when they're on their own? I wonder if I should just let the kids have their wish of digging straight in there with their hands.
13 years after kid number one was born, and I feel like I'm still having to teach them table manners every time we're eating dinner!
I sometimes wonder if I didn't remind them as often as I do, whether they'd just act like a bunch of apes at a make-as-much-mess-as-you-can tea party.
Anyway, coming back to the stuffed potato skins, these are so easy to make for a weekday dinner.
We start by baking the potatoes in the oven until crisp on the outside and tender in the middle.
Then, carefully slice the potatoes in half and scoop out the flesh into a bowl (I usually hold the potato with a kitchen towel, so as not to burn my hands).
Add butter, cream, salt and pepper and mash together, then stir in crispy bacon bits and grated cheese.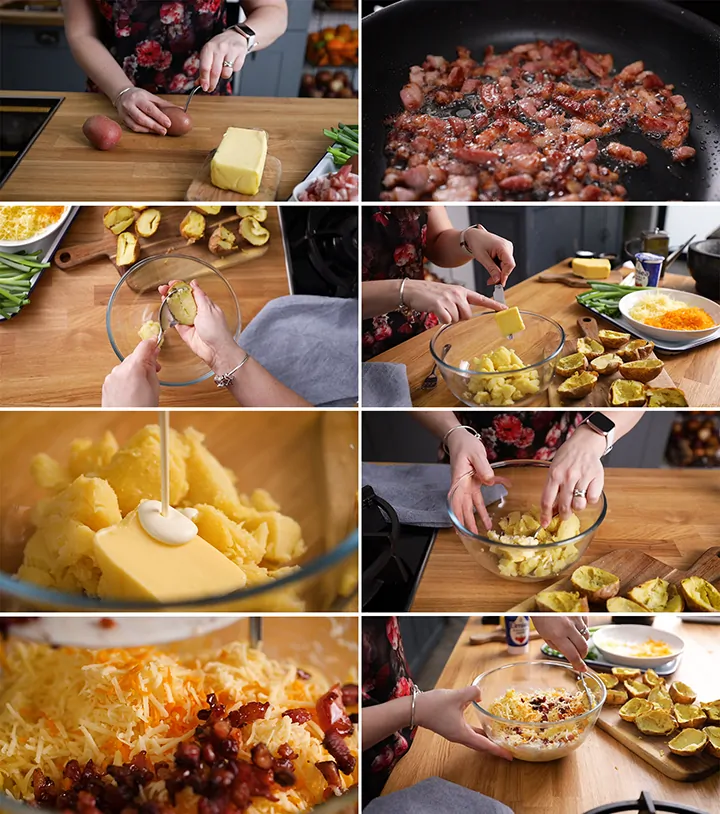 Spoon the mixture back into the potato skins and place on a baking tray.
Sprinkle over more cheese, then place back in the oven for another 10 minutes, until the cheese has melted.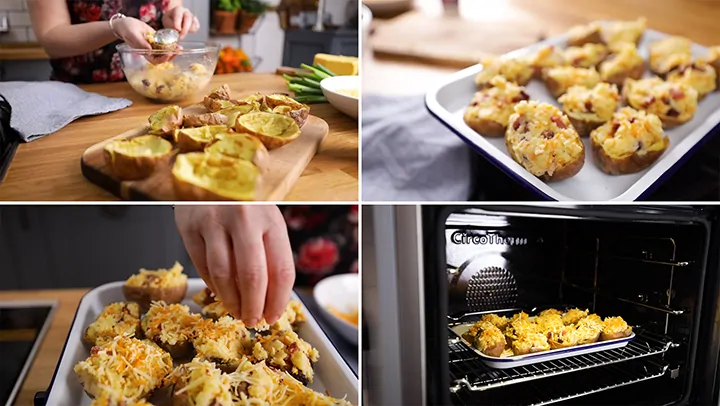 Serve topped with a little soured cream and a sprinkling of spring onions (scallions).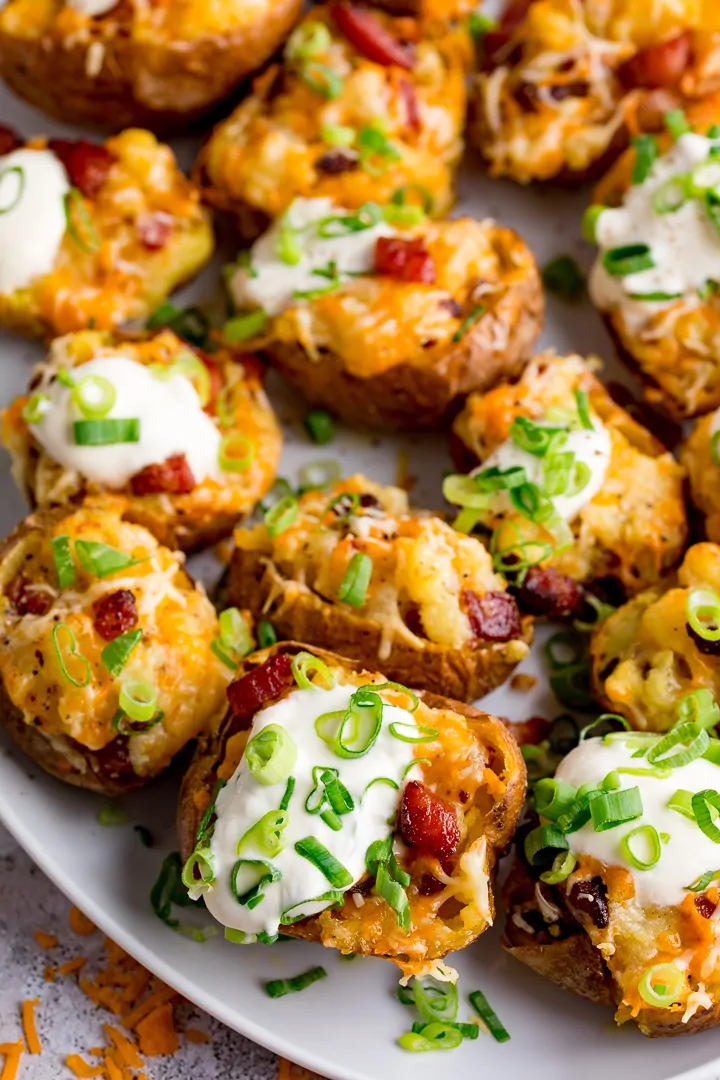 10 more ideas for stuffed potato skin fillings:
Thai Sweet Potato Skins - a spicy sweet potato version with peanut butter, coconut milk and spices. It's accidentally vegan too!
Lasagne-Stuffed Potato Skins - oh yes I've done this one. Whilst making a 4-person lasagne to freeze, I increased the amount of ingredients and stuffed potato skins with the meat and cheese sauce + fresh lasagne sheets. The kids were OVERJOYED!
Egg and Bacon stuffed Potato Skins - a legitimate way to have jacket spuds for breakfast (with a slightly runny egg too)
Philly Cheese steak Potato Skins - with ribeye steak and Gouda (I made a version for CenterCutCook a few years ago here)
Chicken Fajita Potato Skins - use sweet potato again, and mash up with fajita seasoning and garlic, then add cooked chicken pieces, red onion and fresh coriander (cilantro)
Cheesy Tuna Sweetcorn Potato Skins - with cheddar cheese, tuna and tinned sweetcorn - easy peasy.
Cottage Pie stuffed Potato Skins - make the minced beef and gravy part of my cottage pie recipe, then spoon it into the scooped out potato and top with cream mash. Grill until crisp on top.
Cheesy Veg -stuffed Potato Skins with panko topping - boil up small chopped up pieces of carrot, broccoli and green beans for 5 minutes, then stir into the mashed potato with cheese, butter and cream. Top with panko breadcrumbs and bake for 10 minutes until the panko is golden.
Spinach, Sausage, Lancashire cheese Potato Skins - add chopped up cook and drained spinach, and pieces of cooked sausage. Replace the cheddar cheese with Lancashire cheese.
Creamy Garlic Mushroom Potato Skins - fry up sliced mushrooms in butter, add garlic, salt and pepper and cook for a further minute, then stir into the creamy mashed potato. Top with cheese and place back in the oven to melt for 5-10 minutes.
The Stuffed Potato Skins Video:
Love all things potato? Try one of these recipes:
Note - I previously worked with Elmlea to create a video of this recipe for an Instagram post. That video has been re-edited especially for this post. This post has not been sponsored.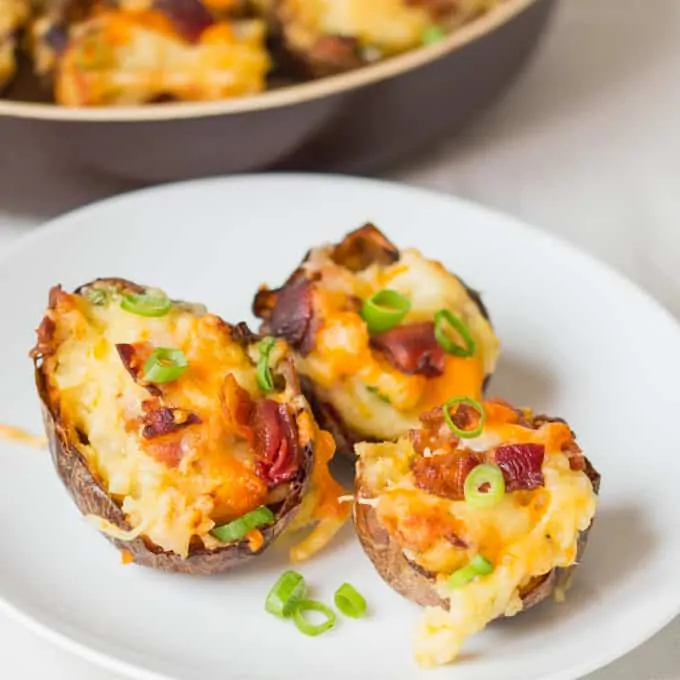 Stuffed Potato Skins
Creamy cheesy fluffy potatoes with crispy bacon - all baked in a crunchy potato skin. These Stuffed Potato Skins are serious comfort food.
Ingredients
8

small floury potatoes - such a Maris Pipers

1

tbsp

vegetable oil

200

g

(7 oz) pancetta cubes (or bacon lardons)

2

tbsp

double/heavy cream

2

tbsp

salted butter

pinch

salt and pepper

175

g

(1 ¾ cups) of your favourite cheese

-

I used a mix of 75% mature chedder and 25% red Leicester, grated

4

tbsp

soured cream

4

spring onions (scallions)

-

chopped
INSTRUCTIONS
Preheat your oven to 190C/375F (fan).

Prick your potatoes with a fork and start them off in the microwave. Put all the potatoes in the microwave and microwave on high for 10 minutes (alternatively you can add 20 minutes to the cooking time in the oven).

8 small floury potatoes - such a Maris Pipers

Put your potatoes in the oven, directly on the shelf and cook for 35-45 minutes until they're crisp on the outside and soft on the inside (you can check this by stabbing a knife into one of the potatoes to see if it slides in easily).

Meanwhile, heat the oil in a small frying pan/skillet over a medium-high heat. Cook the pancetta cubes for 5-6 minutes, until crispy. Remove from the pan.

1 tbsp vegetable oil,

200 g (7 oz) pancetta cubes (or bacon lardons)

When your potatoes are ready, take them out of the oven and chop each of the potatoes in half. Pick up a potato half (using a tea towel to protect your hands) and using a spoon, scoop out the insides into a large bowl. Repeat with the rest of the potatoes.

Add the cream, butter, salt, and pepper to the bowl and mash using a potato masher or a fork until the potato is fluffy.

2 tbsp double/heavy cream,

2 tbsp salted butter,

pinch salt and pepper

Add in the pancetta and cheese (reserving a small handful for sprinkling on top). Mix together.

175 g (1 ¾ cups) of your favourite cheese

Take one of the potato skins and put a spoonful of the potato mix inside. Put the potato in a baking dish and sprinkle with a little of the reserved cheese. Repeat with the remaining potatoes.

When all of the potatoes are stuffed, put them back in the oven for 10-15 minutes (same temperature).

Take out of the oven and serve with soured cream and a sprinkling of spring onions (scallions).

4 tbsp soured cream,

4 spring onions (scallions)
Video
✎ Notes
Make Ahead:
If you want to prepare these baking potatoes ahead, then follow the instructions up to the end of stage 7.
Let the potatoes cool completely, cover and refrigerate for up to two days. When you're ready to cook, uncover and bake in the oven for 20 minutes until piping hot all the way through.
The Pancetta:
Swap out the pancetta cubes for chopped up pieces of crispy bacon. You can use smoked or unsmoked.
The Potatoes:
I like to use Rooster potatoes - which are red-skinned floury potatoes. Any floury potato - such as Russet, Desiree, Maris Piper or Kind Edward will also work great.
Nutritional Information is per Potato Skin.
Nutrition
Calories:
197
kcal
Carbohydrates:
14
g
Protein:
8
g
Fat:
13
g
Saturated Fat:
7
g
Cholesterol:
29
mg
Sodium:
188
mg
Potassium:
489
mg
Fiber:
3
g
Sugar:
1
g
Vitamin A:
249
IU
Vitamin C:
13
mg
Calcium:
128
mg
Iron:
4
mg
This post was first published in August 2014. Updated in 2019 with new photos, video and tips.
More appetizer ideas
If you're after some more delicious appetizers then I've got you covered
Some of the links in this post may be affiliate links – which means if you buy the product I get a small commission (at no extra cost to you). If you do buy, then thank you! That's what helps us to keep Kitchen Sanctuary running. The nutritional information provided is approximate and can vary depending on several factors. For more information please see our Terms & Conditions.