Raspberry and Almond PithiversMy Valentine's Day Cherry Pies. Simple sugar-sprinkled cherry hand pies - a simple but thoughtful gift for your Valentine that he or she is sure to love, and hopefully share with you  😉
I really love using fresh, wholesome ingredients in my recipes.
But sometimes the tinned shop bought stuff rules.
Most of my tinned essentials consist of chopped tomatoes, kidney beans, sweetcorn and tuna fish. So on the whole, not too bad really.
You won't catch me buying:
Tinned stewing steak - reminds me of dog food
Tinned ham - with it's slimy, jelly-like texture (blurgh)
Baked beans with those little sausages in - do those sausages even contain meat?
Tinned cherry pie filling though. Let's talk about that. I use it in a number of my sweet recipes, for example in my Chocolate Cherry Cheesecake Brownies (2 deserts in one)!
Mostly made up of a sweet, thick, starch-thickened sauce, you really have to dig around to find the actual cherries. This kind of thing would normally put me off, but no.
I want to stick my hand in that tin - winnie-the-pooh-style - and dig around in there, scoff those cherries and lick off that 'cherry' sauce afterwards.
It's bad but it's good. Very confusing.
l'm not the only one with this problem. Empty a tin out in a bowl, use some of it for these cherry pies, leave the rest on the side for about 5 hours (because I haven't got round to washing up yet), and I will find Chris with his hand in that bowl when he thinks no-one is looking (true story - happened 6 days ago).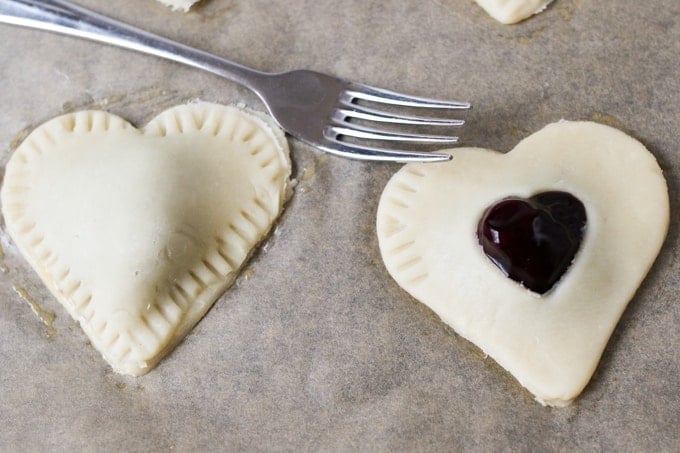 l didn't judge.
So yes, this Valentine's Day Cherry Pies recipe uses tinned cherry pie filling and ready-made pastry. So I'm not sure it's even actually a recipe. I did use egg wash and a sprinkling of demerara sugar too, so maybe I can get away with it?
Make these little hearts for your loved-one to put a smile on their face.
Even better, make them with your kids. Have you ever seen a kid's face light up when you wave some cookie-cutters at them and ask for help?
Yes! Take that Lego (I hate lego) and Ipads! I win!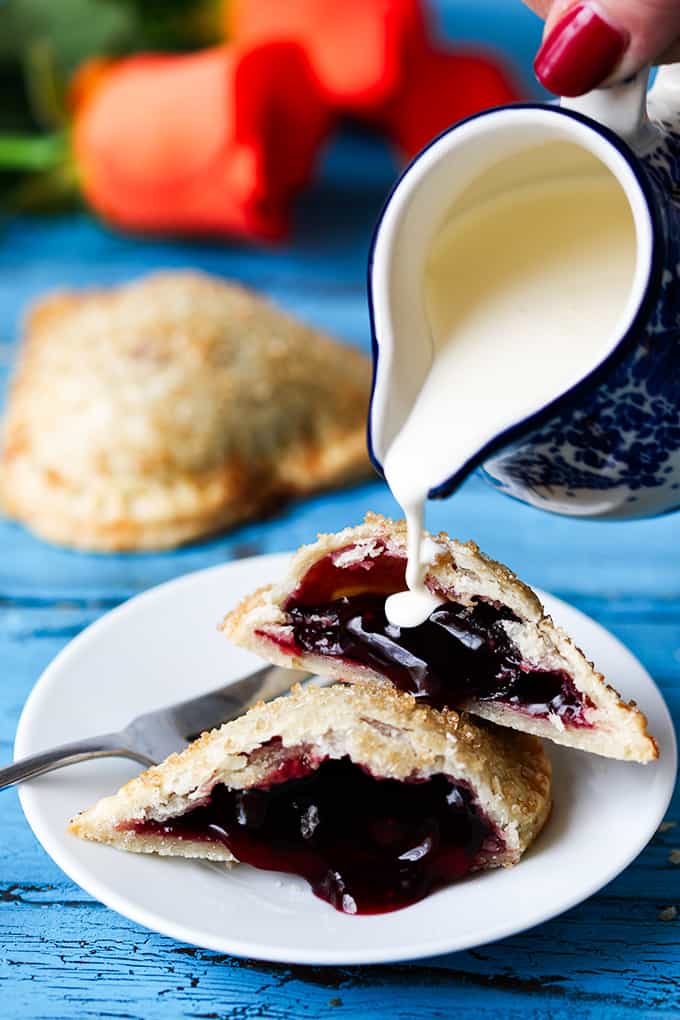 Serve them hot, straight from the oven with a drizzle of double cream.
They taste great cold too - a nice lunchbox treat for your little ones or other half.
The Valentine's Day Cherry Pies Recipe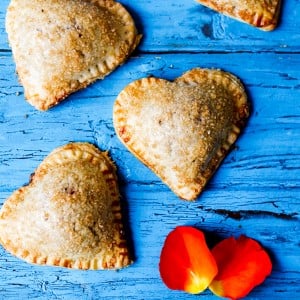 Valentine's Day Cherry Pies
Simple sugar-sprinkled cherry hand pies - a simple but thoughtful gift for your Valentine.
Ingredients
13

oz

(375g) ready-rolled shortcrust pastry (pie crust)

1

egg

-

slightly whisked

½

of a tin of cherry pie filling

3

tbsp

demerara sugar
INSTRUCTIONS
Preheat oven to 200c/400f

Unroll the pastry and cut out heat shapes using a 10cm heart cutter. Re-roll and cut pastry until it's all used up. You should get at least 14 hearts - to make 7 pies

Place half of the hearts on a baking tray lined with baking parchment or a silicone mat.

Use a pastry brush to brush egg wash onto the edges of the pie bottoms. Place a tablespoon of cherry pie filling in the centre of each heart.

Place the other hearts on top (if you wish, you could cut a small heart out of the centre of a few of the tops).

Use a fork or your fingers to seal the edges of the pies, then brush egg wash all over the top. Use a cocktail stick to make 2 or 3 holes in the pies (you only need to do this for the pies that haven't got the little heart cut out).

Sprinkle on the demerara sugar and bake in the oven for 10-15 minutes until golden brown.

Serve warm with cream, or cool by themselves.
✎ Notes
Nutritional Information is per serving.
Nutrition
Calories:
219
kcal
Carbohydrates:
40
g
Protein:
4
g
Fat:
3
g
Cholesterol:
23
mg
Sodium:
268
mg
Potassium:
77
mg
Fiber:
1
g
Sugar:
5
g
Vitamin A:
90
IU
Vitamin C:
1
mg
Calcium:
12
mg
Iron:
1.9
mg