Raspberry and Almond Pithiviers, Golden flaky pastry filled with frangipane and raspberries. They taste great cold or warm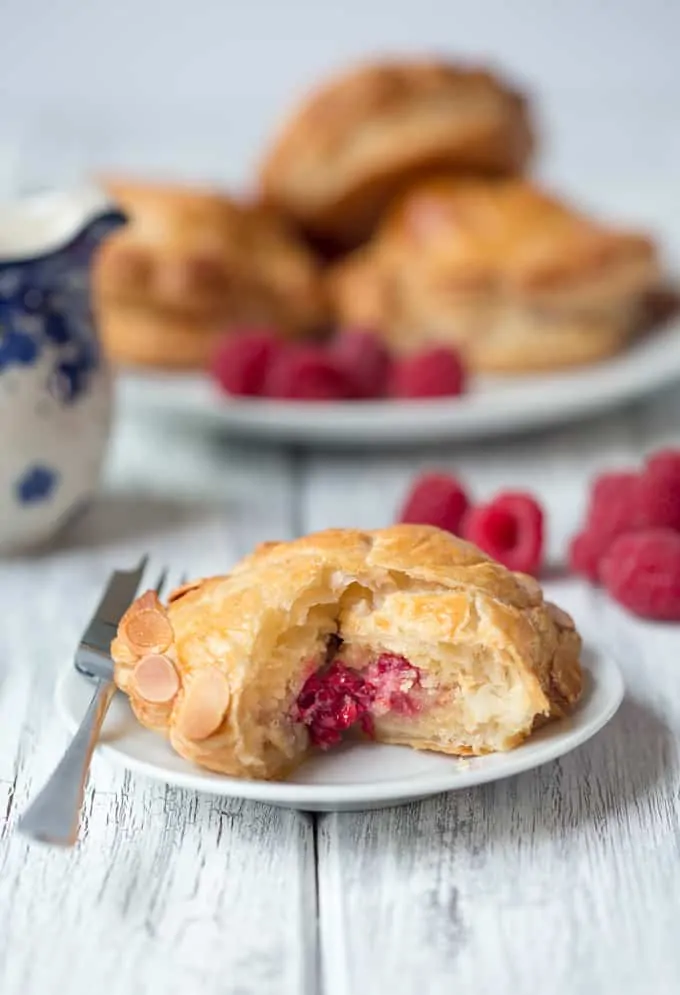 You know when you bite into a dessert, and that first tastes means you suddenly just want everything and everyone else to go away so you can luxuriate in every little morsel?
So you can focus 100% of your attention of that perfect moment of enjoyment? That is what this Raspberry and Almond Pithivier does to you. Juicy, jammy raspberries, encased in soft almond frangipane, further encased in buttery golden pastry.
I'm going to rename these 'anti-social pies'.
Hmmm, that doesn't sound great. What about Bakewell puffs?
No, not great either. Ok, I'll have to stick with Pithiviers - which I still struggle to pronounce. It doesn't matter though. It's not like I need to offer one to anyone. I'll just keep them all to myself.
You may have noticed a few frangipane recipes lately. I'd been working on my Almond Croissant Twists over the past couple of weekends, and each time I looked at the leftover frangipane, I just couldn't bring myself to throw it away. Hence the Chocolate Almond Banana Bread and these little delights. I may have gone up a notch on my belt, but at least I'm not being wasteful 🙂
I used ready-rolled, store-bought puff pastry for these, since I had some in the freezer. Simply a case of laying the pastry out, cutting out four small circles (approx. 6.5cm diameter) and four larger circles (approx. 11cm diameter). You don't need special pastry cutters - just use what you can find around that size. I used my son's fireman Sam glass, and a dipping bowl!
Then smooth a spoonful of frangipane on top of the smaller circles (leaving a small border), top with a few raspberries that have been mixed with a little raspberry jam and cornstarch, top again with more frangipane (to cover the raspberries and prevent leakage) and top with the larger pastry circle. It will be quite a tall mound of frangipane and raspberry that you need to cover with the pastry - which is why the top pastry circle is so much bigger.
Seal the edges of the pastry, and you could also crimp the edges if you wanted to. I did it by placing two fingers on the edge of the pastry, and pulling a line in using the back of a knife - like this: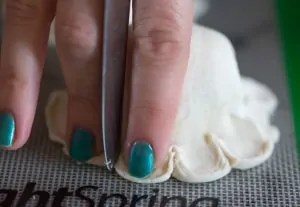 Then just repeat around the whole pithivier.
Brush on some egg wash, and if you wanted, you could decorate the edges with pieces of flaked almond. One almond sliver in each 'fingerprint'.
Then you need to make a little hole at the top of the pithiveir to allow steam to escape, and finally, you could gently score some curved lines to decorate the top. Totally optional.
The pithiviers need about 20 minutes in the oven.
After this, you can take out to cool. They taste great cold or warm and if you can't wait for them to cool down, try pouring on some nice cold cream to cool them down a little straight from the oven...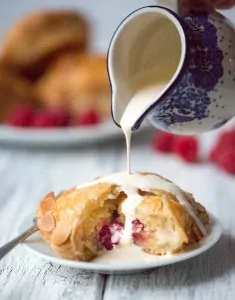 More Pastries
Still hungry for more pastries then check these out:
The Raspberry and Almond Pithiviers Recipe: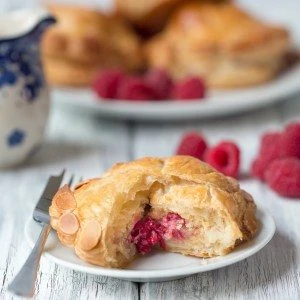 Raspberry and Almond Pithiviers
Raspberry and Almond Pithiviers - Golden flaky pastry filled with frangipane and raspberries.
Ingredients
Plus:
12

fresh raspberries

1

tbsp.

raspberry jam

½

tsp

cornflour/cornstarch

300

g

ready-rolled puff-pastry

1

egg

-

beaten

2

tbsp.

almond slivers
INSTRUCTIONS
Preheat the oven to 200c/400f and line a baking sheet with some baking parchment.

First make your frangipane. Beat the butter and sugar together for a few minutes until light and creamy (you can do this in a mixer or by hand). Add the egg and beat again for a minute. Add the flour, baking powder, ground almonds and almond extract and mix for 2 more minutes. Put to one side.

Place your rolled out pastry on a lightly floured surface (or just leave it on the wrapping it comes in). Cut out four small circles approx. 6.5cm in diameter and four larger circles approx. 11cm in diameter.

Place the smaller circles on the baking tray and spread a tsp of frangipane on each one, leaving a small border.

Gently mix the raspberries with the jam and cornflour. Then pile 3 raspberries on top of each pastry base. Make sure you don't go over the layer of frangipane you've just pasted on.

Top each one 1.5tsp-2tsp more frangipane, and spread it over and around the raspberries - so the raspberries aren't showing. It's a bit of a balancing act, but don't worry too much if you get a bit of the jam sticking out.

Gently place one of the larger circles of pastry on top of one of the mounds. Seal the edges with your fingers and crimp if you want to (see picture). Repeat with the other three.

Give each pithivier a light egg wash, and make a hole in the top of each pithivier using a cocktail stick. Score some lines onto the pastry to decorate if you wish. Decorate the edges of your pastry with the almond slivers. Then place in the oven.

Cook at 200c/400f for 10 minutes, then turn down to 180c/350f and cook for another 10 minutes until golden brown and puffed up.

Take out of the oven and leave to cool slightly before eating.
✎ Notes
These pastries will keep for about a day in a sealed container at room temperature.
.
Nutritional Information is per serving.
Nutrition
Calories:
618
kcal
Carbohydrates:
50
g
Protein:
10
g
Fat:
42
g
Saturated Fat:
14
g
Cholesterol:
114
mg
Sodium:
277
mg
Potassium:
104
mg
Fiber:
3
g
Sugar:
15
g
Vitamin A:
495
IU
Vitamin C:
1.9
mg
Calcium:
66
mg
Iron:
2.7
mg