Looking for a breakfast treat? These Raspberry and Almond Croissants, filled and topped with frangipane are the best!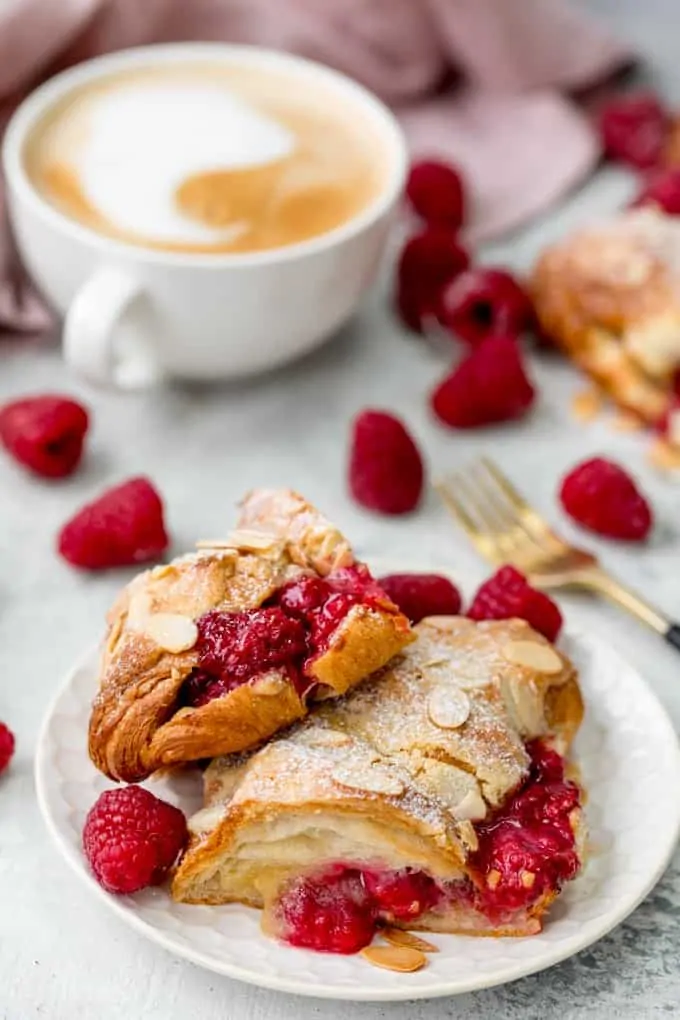 Christmas breakfast idea? Mother's day breakfast idea? Easter Breakfast idea? Any excuse to eat these idea? YESSS!
What's the number one thing you'd buy every time you visited a lovely bakery? Fresh bread? homemade scones? crème pâtissière-filled mille-feuille?
The mille-feuille comes pretty darn close, but for me it would be a warm almond croissants.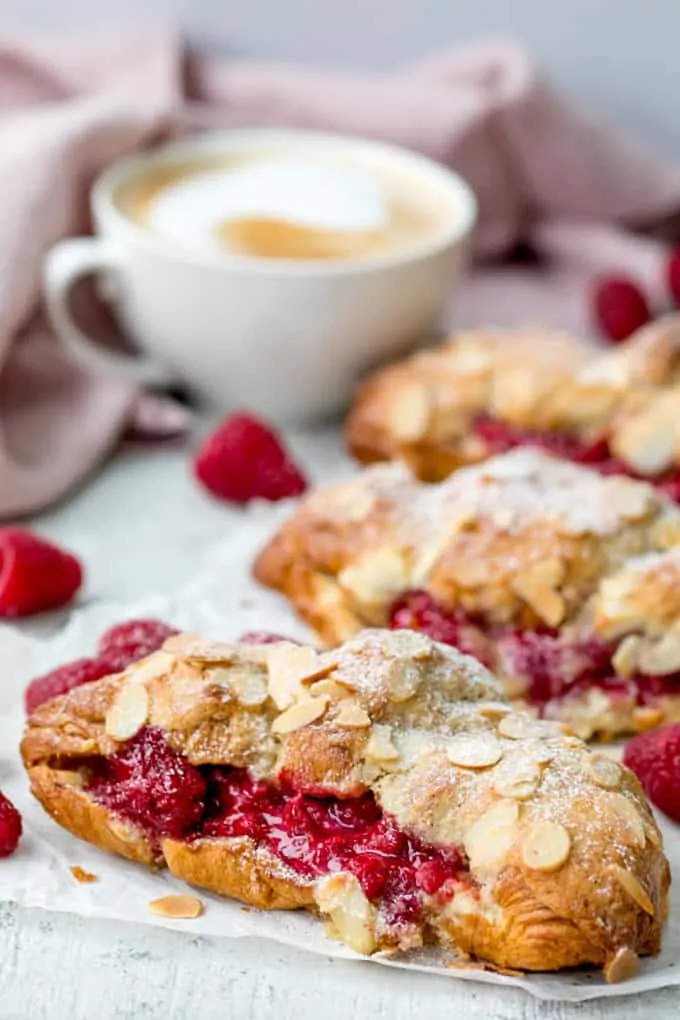 Why is it that whenever you have a hotel breakfast or buy from the shop, almonds croissants are always cold! Croissants, whether almond-filled or not should always be served warm. It should be the law.
Yes, you can buy them from the shop and take them home to re-heat them. But when I'm eating them at a hotel or from a bakery I want to eat them now!! Warm and flaky, filled with that delicious almond paste ????
So if I do see them in the bakery, warm, straight-from-the-oven, I'm buying at least two. Both for me.
Did you know it's super easy to make regular croissants into almond croissants right at home? And if your croissants happen to be a little stale, so much the better. This is the perfect way to save them!!
The croissants are first dipped in sugar-water - just to soften them up a little and make the outside a little crisp. A simple paste made of butter, sugar, egg, ground almonds and almond extract is mixed together (by hand! no mixers needed), then the croissants are stuffed and topped with it.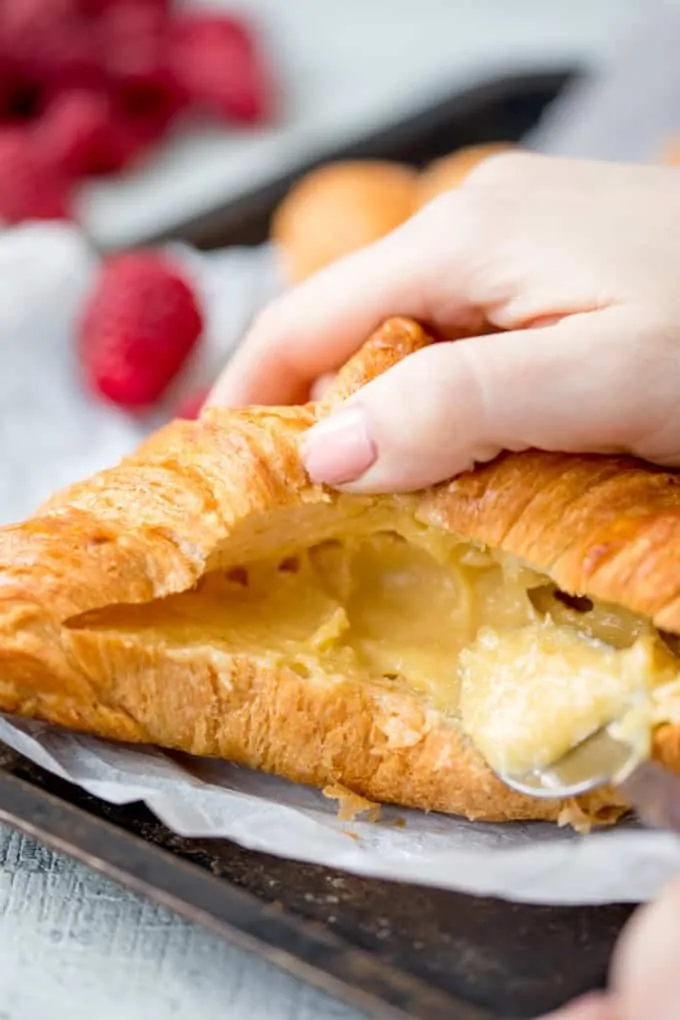 The paste in the centre of the croissants stays soft and gooey, whilst the paste on top firms up to a cake-like frangipane. Throw on a few flaked almonds and top with a little powdered sugar, and you'll have almond croissants that rival any french bakery.
Before going into the oven
Yes, these are the most amazing breakfast, served with a large coffee. But....
If you want to go a step further - maybe for Christmas day breakfast or a special occasion like Mother's day, these almond croissants with raspberry are the ultimate breakfast treat. Luxurious, a little bit different and most importantly, quick to make. 10 minutes to make, 10-15 minutes in the oven and done. You'll be the best mum/husband/son/daughter in the world!
I first made these over at CenterCutCook a couple of years ago, but I couldn't resist sharing with you guys. I've changed the recipe slightly over the years (made this lots of times now), so this is my updated recipe to reflect that.
This is what we'll be having on Christmas morning. Maybe Boxing day too!!!
The Recipe:
Quick Raspberry and Almond Croissants
Looking for a breakfast treat? These Raspberry and Almond Croissants, filled and topped with frangipane are the best! A great Christmas breakfast!
Ingredients
Sugar-water coating:
60

ml

water

2

heaped tbsp

caster, granulated or superfine sugar

1

tsp

vanilla extract
Almond Paste Frangipane:
75

g

ground almonds

4

tbsp

softened butter, cut into small pieces

100

g

golden caster or superfine sugar

Pinch

of salt

1

large egg*

½

tsp

french almond extract
Raspberry Filling:
3

tbsp

raspberry jam/jelly

1

tsp

cornflour/cornstarch

20

fresh raspberries
Also:
4

large Croissants

2

tbsp

flaked almonds

1

tbsp

Confectioners' sugar icing/powdered sugar
INSTRUCTIONS
First make the sugar water coating. Boil the water with the sugar and vanilla extract for 3-5 mins, stirring a few times, until the sugar has dissolved. Turn off the heat, pour into a shallow bowl and let it cool slightly.

Preheat the oven to 175C/350F.

Now make the almond paste/frangipane. Place the ground almonds, butter, sugar

and salt in a bowl and beat with a wooden spoon until fully combined. Add the egg and almond extract and beat again until you get a thick paste. Put to one side.

Place the raspberry jam and cornflour in a small bowl and mix to combine. Carefully fold through the raspberries until coated (the cornflour helps to absorb some of the moisture from the raspberries as they cook, so it's a thick sauce rather than runny raspberry juice that would make the croissants soggy).

Take 4 large croissants and brush them all over with the sugar water, so they're well coated.

Place the croissants on a baking tray and make a horizontal cut in the middle of each one

using a sharp knife. Spoon half of the almond paste inside the croissants. Spoon the raspberry mixture inside, on top of the almond paste - you should have 5 raspberries for each croissant.

Spread the remaining frangipane on top of the croissants and sprinkle on the flaked almonds.

Place in the oven and cook for 12-15 minutes until the almond paste on top of the croissants is golden brown.

Take out of the oven and sprinkle with confectioners' sugar before serving.
✎ Notes
*Note - there is egg in this mixture, which, when stuffed into the croissant is warmed but not fully cooked. So if this is being made for anyone who should not be eating raw eggs, I'd leave the almond paste out of the centre of the croissant, and just top the croissant with it (as the top bit will be fully cooked).
.
Nutritional Information is per serving.
Nutrition
Calories:
643
kcal
Carbohydrates:
70
g
Protein:
11
g
Fat:
36
g
Saturated Fat:
15
g
Cholesterol:
109
mg
Sodium:
389
mg
Potassium:
144
mg
Fiber:
4
g
Sugar:
42
g
Vitamin A:
840
IU
Vitamin C:
4
mg
Calcium:
86
mg
Iron:
2.4
mg