Hooray for two desserts in one with these Chocolate Cherry Cheesecake Brownies! Easily made gluten free!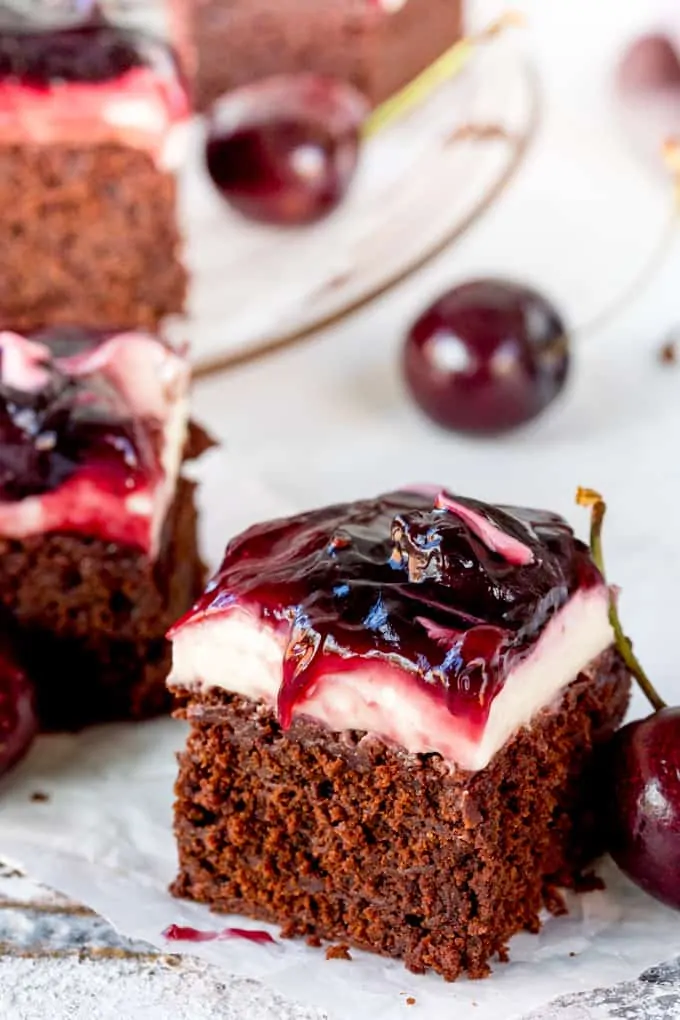 Can I label this as fusion food? Google tells me fusion food is a mixture of different culinary traditions or cultures. Hmmm. I guess that's a no then.
We could maybe go with eclectic. But I HATE that word. Do you have a word that you just hate? No logical reason, you just have an unwavering dislike for it.
Eclectic is that word for me. In fact these are the only two times I've ever written it down. I've even been known to avoid restaurants and bars because they describe themselves that way on their website. Which is pretty strange, because I really like what the word represents - a style that incorporates lots of different sources. A mixture of methods, beliefs, ideas, cuisines, interiors etc.
It's just that word.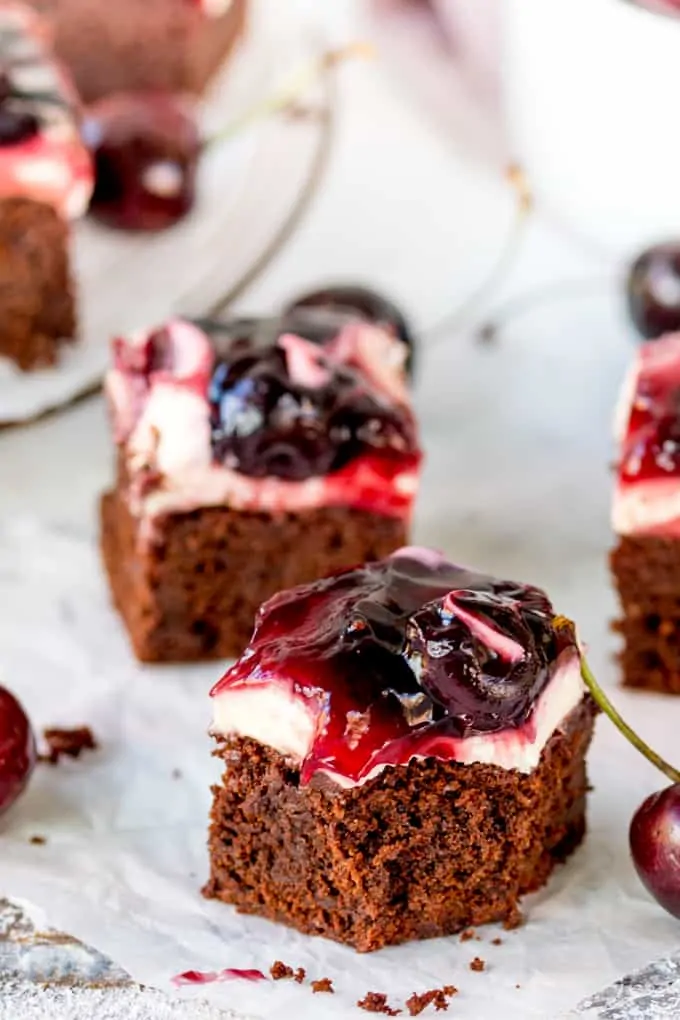 I'm probably crazy, so that's enough about my irrational likes and dislikes. Let's talk brownies. One of my favourite types of cake to make. Easy, delicious, and tastes the same whether it's gluten free or not. I use pretty much the same base recipe in my Ferroro Rocher, Gooey Caramel, Turkish Delight and Bottom-of-the-Chocolate-Box brownies. Works every time.
Fudgy chocolate with a simple cheesecake cream topping, and an even simpler black cherry topping (like, comes out of a tin easy. Sorry, I know we like the homemade stuff usually, but that cherry pie filling is a bit addictive.).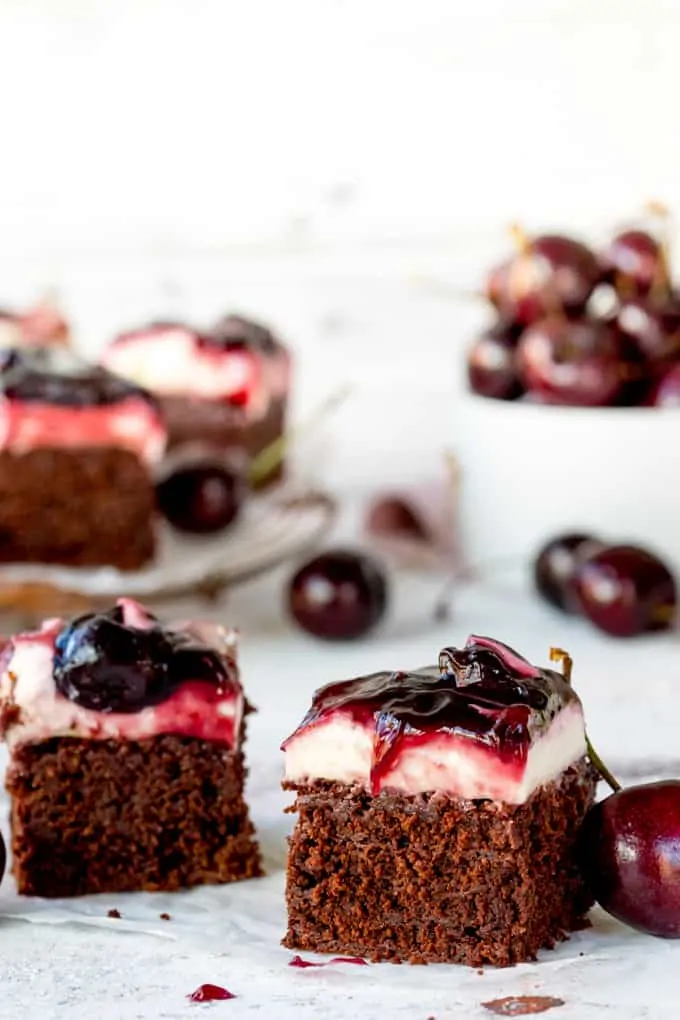 Best served as little bites, I cut mine into 20 pieces. That's 2 pieces each for the kids and 8 pieces each for me and Chris ????
Come on guys, I'm not that bad.
I might let them have a bite of one of my 8 pieces.
The Chocolate Cherry Cheesecake Brownies Recipe:
Chocolate Cherry Cheesecake Brownies
Hooray for two desserts in one with these Chocolate Cherry Cheesecake Brownies! Easily made gluten free! A brilliant party dessert!
Ingredients
Brownies:
150

g

good quality dark chocolate (or 1 cup minus 1 tbsp dark chocolate chips)

180

g

unsalted butter

3

large eggs

265

g

golden caster sugar or superfine caster sugar

60

g

plain (all-purpose) flour (you can replace for the same amount of gluten-free plain flour blend if required)

40

g

cocoa powder

½

tsp

baking powder

60

g

ground almonds (the grainy kind not the flour)
Cheesecake Topping:
240

ml

double (heavy) cream

450

g

cream cheese

185

g

confectioners' sugar, sifted

1

tsp

vanilla extract

pinch

of salt

400

ml

tin cherry pie filling - it needs to be a thick cherry pie filling

-

I use Prince's Black Cherry Fruit Filling
INSTRUCTIONS
Preheat the oven to 180c/350f and line a deep 20cmx30cm baking tin with baking parchment. Leave a little of the parchment overhanging the tray to make it easier to get the brownie out later.

Melt the dark chocolate and butter together in the microwave in 30 second bursts, giving it a stir each 30 seconds (or you can melt in a bowl over a pan of simmering water - make sure the bowl isn't touching the water though). Stir and leave to cool slightly.

Whisk the eggs and sugar in a large bowl using an electric whisk until thick and creamy.

Slowly whisk again, and pour the melted chocolateand butter in. Pour it at the side of the bowl in a thin stream, whisking all the time, so that the eggs don't scramble with the warm chocolate.

When the chocolate is thoroughly mixed in, sieve the flour, cocoa powder and baking powder over the mixture, and then add the ground almonds. Fold into the mix gently, in a figure of eight. This will help to keep the air in.

Pour the mixture into your baking tray, and use a palette knife to ensure it goes all the way to the edges.

Place in the oven to cook for cook for 30 minutes.

Meanwhile make the cheesecake mixture. Add the cream to a large bowl and whisk with an electric whisk, until the cream holds its shape. Add the cream cheese, confectioners' sugar, vanilla extract and a pinch of salt, then whisk again until combined. Cover and refrigerate until needed.

When cooked, take the brownies out of the oven and leave to cool in the tray. When cool, lift the brownie out of the tray using the baking parchment and place on a chopping board.

Spread the cheesecake mixture on top, then dollop on the cherry pie filling.

Carefully cut the brownie in 20 pieces (5 by 4) using a sharp knife.

Serve immediately or cover and refrigerate for up to a day. Take out of the fridge an hour before serving to allow the brownie to soften slightly (as it firms up in the fridge).
✎ Notes
Nutritional Information is per serving.
Nutrition
Calories:
380
kcal
Carbohydrates:
36
g
Protein:
4
g
Fat:
25
g
Saturated Fat:
14
g
Cholesterol:
85
mg
Sodium:
93
mg
Potassium:
172
mg
Fiber:
2
g
Sugar:
25
g
Vitamin A:
785
IU
Vitamin C:
0.8
mg
Calcium:
58
mg
Iron:
1.7
mg