This lemon drizzle cake is so fluffy, zingy and delicious! Drizzled with lemon icing and topped sugar paper flowers it makes a fantastic Easter cake!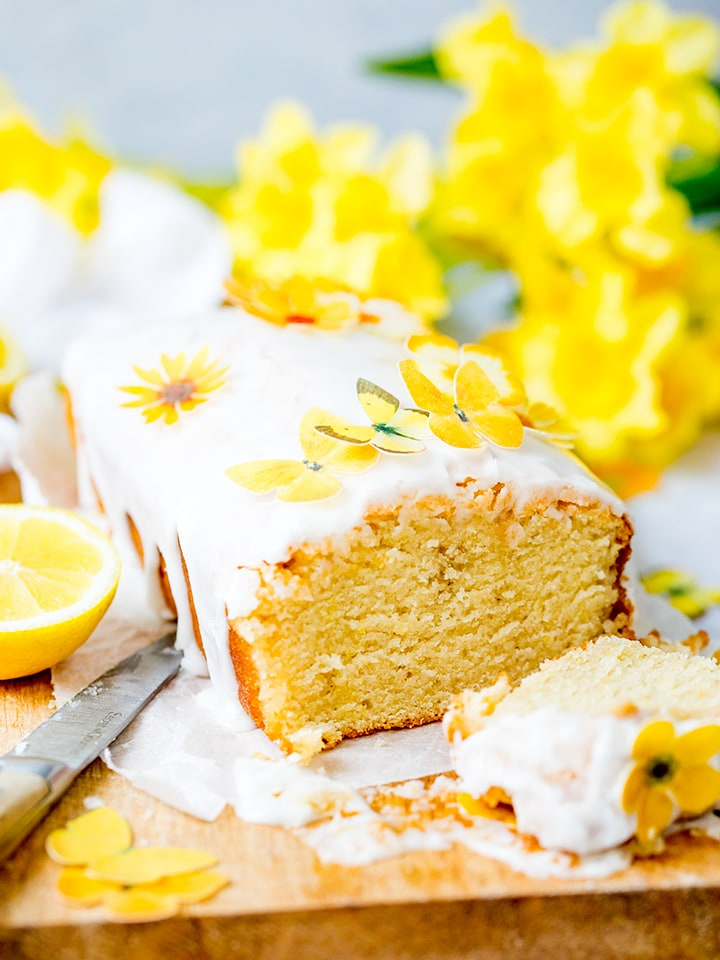 It's been over a week since I posted a recipe, and no, I haven't turned vegan during that time. Chris and I have been celebrating my birthday in New York! More on that later.
This vegan cake came about simply because I didn't have any eggs in.
Since I had soya milk in the fridge, I thought I might as well go all in and make a vegan version!
And let me tell you - the process was not as easy as I expected. It took a little more testing than usual to get it right.
I always find it's the cakes that take more testing. I guess that's why Kitchen Sanctuary has so many savoury recipes! However, I can't resist a lemon drizzle cake. ESPECIALLY if it's been topped with a thick drizzle of icing.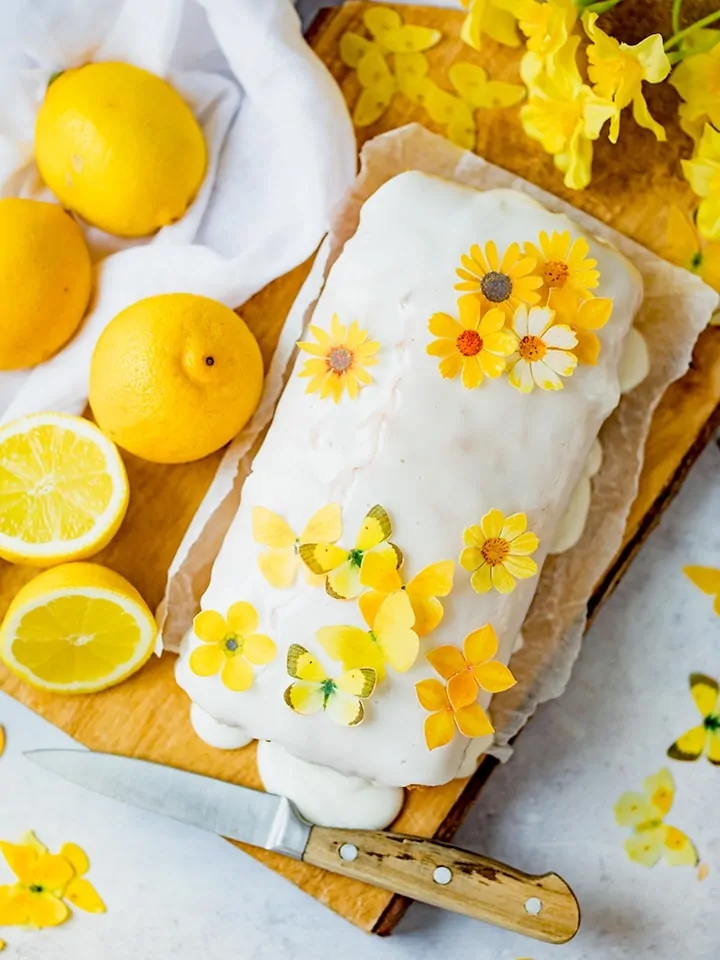 Yes I know - drizzle cakes are traditionally just topped with a simple sugar-lemon solution, but I like my toppings! So this cake has the simple sugar-lemon topping (which sinks into the still-warm cake and makes it beautifully tangy, sweet and moist) AND the sweet lemon-flavoured icing too. Plus a few sugar-paper flowers, because it's nearly Easter and yellow flowers = Easter.
We start by mixing vegetable oil and sugar together in a bowl. Then add lemon zest, flour, bicarbonate of soda, salt and soya milk. Stir together and pour into a lined loaf tin. Place in the oven to cook.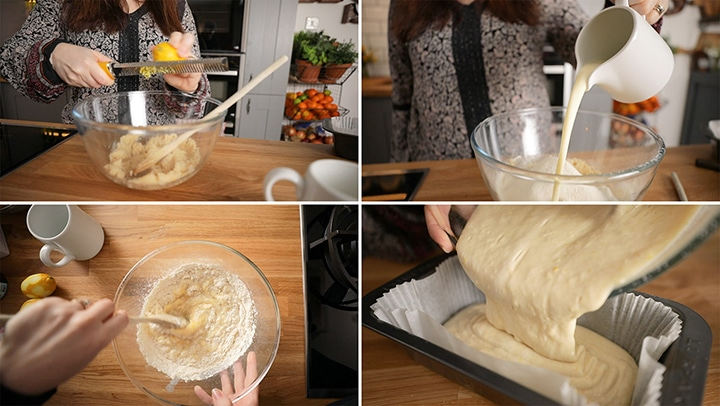 Whilst the cake is cooking, make the toppings. Mix together sugar and lemon juice for the first topping. When the cake is cooked, poke several holes in it (whilst it's still hot) and drizzle over the lemon sugar mixture. Then leave the cake to cool. Next mix the icing sugar with lemon juice to form a thick icing. Remove the cake from the tin and remove the liner, then drizzle over the thick icing. Arrange rice paper flowers and/or butterflies on top.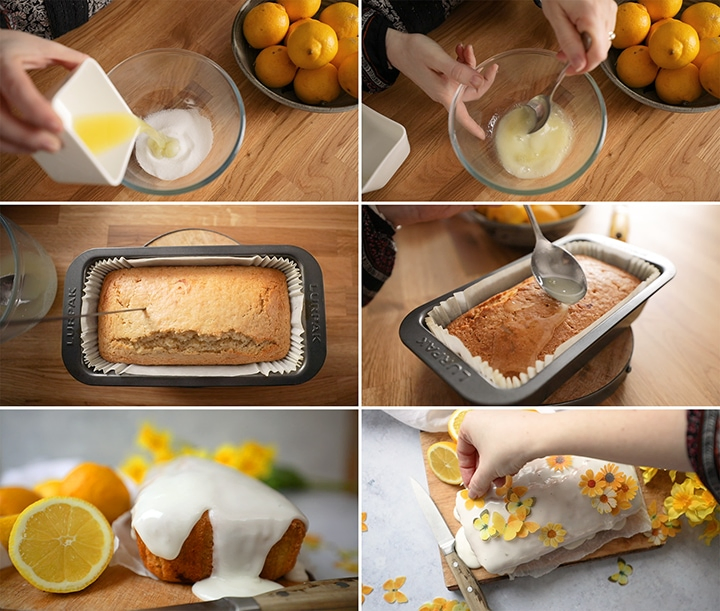 Serve in thick slices: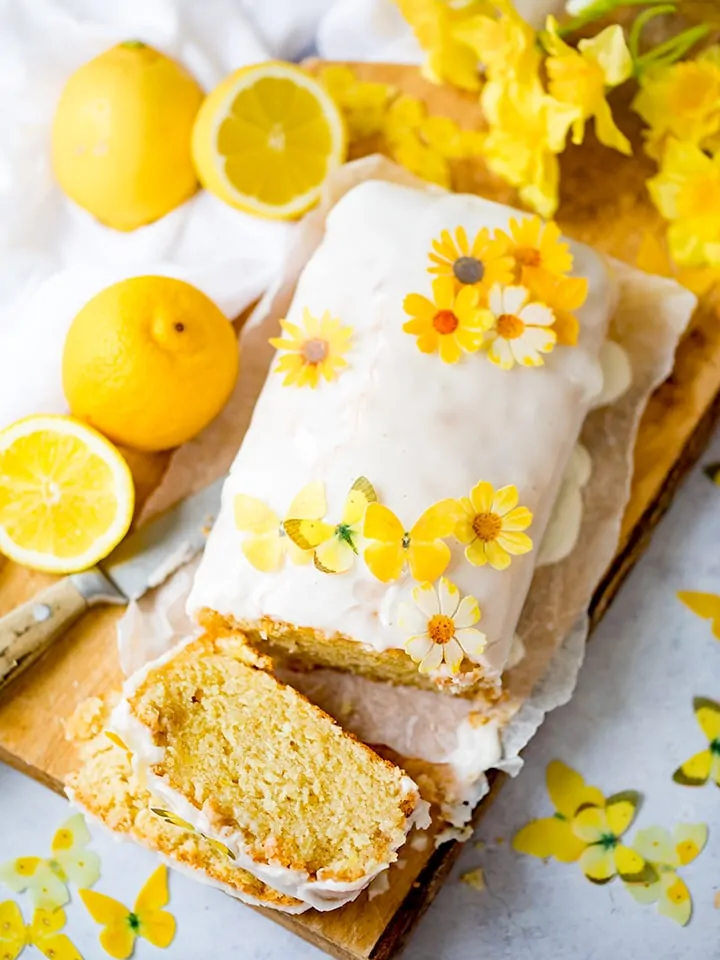 So, New York.
Wow! It was my first time there, and I LOVED it! We went for my birthday. I turned 40 (boo hoo, so old!!), and Chris knows that I'd never forgive him if he tried to surprise me with a party. That's one of my worst nightmares. So instead, I asked him to take me away so I wouldn't have to face anyone when I hit that milestone. We had 5 days of eating, walking, eating, taking in the sights, eating and shopping.
We took lots of video and some photos too, since we tried out quite a few amazing food spots. I'll be writing a full post on it in the next couple of weeks - so you can watch us stuffing our faces in the accompanying video (lucky you!).
Looking for more Easter recipes (note they're vegetarian, not vegan)? For a sweet Easter treat, try my:
The Vegan Lemon Drizzle Cake recipe:
Vegan Lemon Drizzle Cake
This lemon drizzle cake is so fluffy, zingy and delicious! Drizzled with lemon icing and topped sugar paper flowers it makes a fantastic Easter cake!
Ingredients
Cake:
⅓

cup + 1 tsp

(75ml) vegetable oil

1

cup

(200g) caster (or superfine granulated) sugar

Zest of 1 lemon

-

(about 1 tbsp)

2

cups + 1 tsp

(250g) plain (all purpose) flour

1

tsp

bicarbonate of soda

1

pinch

of salt

1

cup less 1 tbsp

(220ml) soya (soy) milk

Juice of half a lemon

-

(about 1 tbsp)
To decorate:
2

tbsp

caster sugar

Juice of 2 lemons

-

(about 4 tbsp)

1 ⅔

cup

(200g) icing (confectioners') sugar

-

, sifted

Rice paper flowers and/or butterflies
INSTRUCTIONS
Preheat the oven to 170C/325F. Line a loaf tin with a loaf liner.

Mix the vegetable oil and sugar together in large bowl. Add in the lemon zest, flour, bicarbonate of soda, salt and milk. Beat together with a wooden spoon to combine. Stir in the lemon juice.

Spoon into the prepared loaf tin and place in the oven for 35-45 minutes until golden and cooked through (you can test this by inserting a metal skewer into the centre of the cake – if it's cooked, it should come out clean).

Take out of the oven. Mix together the caster sugar and 2 tbsp of the lemon juice. Poke several holes in the hot cake and spoon over the sugar-lemon mixture. Leave to cool in the tin. This first topping adds a more intense lemony flavour and moisture to the cake.

Once cool, remove from the tin and remove the loaf liner.

Place the icing sugar in a bowl and add half of the remaining lemon juice. Stir with a whisk until combined. Add more lemon juice as required until you have a thick drizzle.

Spoon the icing mixture over the cake. Arrange rice paper flowers and butterflies on top.

Cut into slices and serve.
Video
✎ Notes
Bicarbonate of Soda:
This recipe uses bicarb, but there's a mistake on the wording of the video - saying 'baking powder' instead. Baking powder will still work (you may find there's just slightly less rise), so don't worry if you used baking powder instead of bicarb.
Lemon juice:
I find it's best to use fresh lemon juice for the best flavour.
Don't be tempted to add more lemon juice to the cake mixture though, as the acid in the lemon reacts with the alkaline in the bicarbonate of soda. The amount in the recipe is enough to give a nice rise to the cake with a fluffy texture. Too much lemon juice (or bicarbonate of soda) can cause too many bubbles to form in the mixture, which will cause the cake to rise too fast. The cake may then sink as the uncooked batter can't support the bubbles.
.
The skewer test:
It's really important to test that the cake is done with a metal or wooden skewer, as this cake can look browned and 'done', but still be uncooked in the middle. 
Insert a skewer into the middle of the cake. If it comes out clean, it's done. If it comes out with raw cake mixture on it, place back in the oven for 5 minutes, then test again. Repeat until fully cooked (you can place foil on the cake if it starts to look too brown).
.
Can I make it ahead?
Yes. Once the icing has set, placing in an airtight container at room temperature, and it will keep for approx. 3 days.
.
Can I freeze it?
Yes, drizzle on the sugar-lemon mixture, but NOT the icing. Then cool, wrap in foil and freeze for up to a month. Defrost in the refrigerator, and once defrosted, drizzle on the icing before serving.
.
Can I make it with regular milk?
Yes, you can replace the soya milk with regular semi-skimmed (half-fat) or full fat milk. Of course it won't be vegan any more then.
.
Can I make it gluten free?
I haven't tried to make a gluten free version of this, but I have a great recipe for a gluten free orange drizzle cake (not vegan).
.
Can I make it with lime or grapefruit instead?
Yes, for a lime version, simple replace the lemon with the same quantity of lime. For a grapefruit version, try this vegan grapefruit drizzle cake I did for Neff.
.
Nutritional information is per slice.
Nutrition
Calories:
279
kcal
Carbohydrates:
53
g
Protein:
2
g
Fat:
6
g
Saturated Fat:
5
g
Sodium:
18
mg
Potassium:
95
mg
Sugar:
35
g
Vitamin A:
70
IU
Vitamin C:
4.9
mg
Calcium:
47
mg
Iron:
1.1
mg
Some of the links in this post may be affiliate links – which means if you buy the product I get a small commission (at no extra cost to you). If you do buy, then thank you! That's what helps us to keep Kitchen Sanctuary running. The nutritional information provided is approximate and can vary depending on several factors. For more information please see our Terms & Conditions.