A chocolate lover's dream! This Easter Chocolate Caramel Egg Mille Feuille (chocolate vanilla slice) ticks all the boxes for Easter Dessert!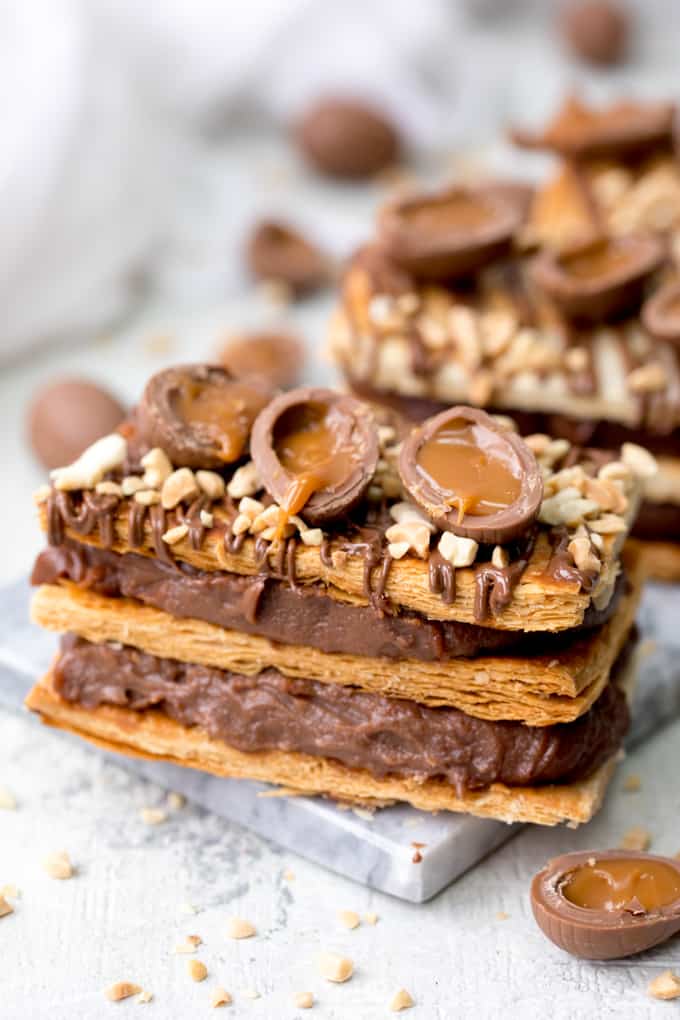 I love a good mille feuille (although I always feel silly trying to pronounce it - 'Mill Foy' right?). I tend to stick with calling it a vanilla slice, and I've made the classic version lots of times (don't know why I haven't put it on the blog yet, I'll have to get on that one).
But here's my Chocolate Mille Feuille.
Chocolate crème pâtissière layered with sweetened pastry and finished with a drizzle of Nutella (I had to go there), chopped hazelnuts and mini chocolate caramel Easter eggs!!
Adding Chocolate eggs on top definitely makes it an Easter Dessert...
So how do you get that layered, crunchy pastry layer?
It took me a bit of trial and error, but I found it best to use ready-rolled puff pastry. Simply place it on a baking tray, give it a good dusting with icing sugar (confectioners' sugar), then place some baking parchment on top and place another tray on top. Add something a little weighty too, such as a pan.
This will help to keep the pastry relatively flat and uniform, but you'll still see the layers when you cut the pastry.
The chocolate crème pâtissière (ok, chocolate custard), is quick and easy to prepare, but beware, it's really moreish. I just wanted to pour the leftovers over a bowl of  sliced banana and re-live my childhood.
Oh, by the way, this chocolate vanilla slice is ridiculously calorific! It's also pretty huge - so if you want lower that calorie amount at all, you can definitely chop it into smaller pieces: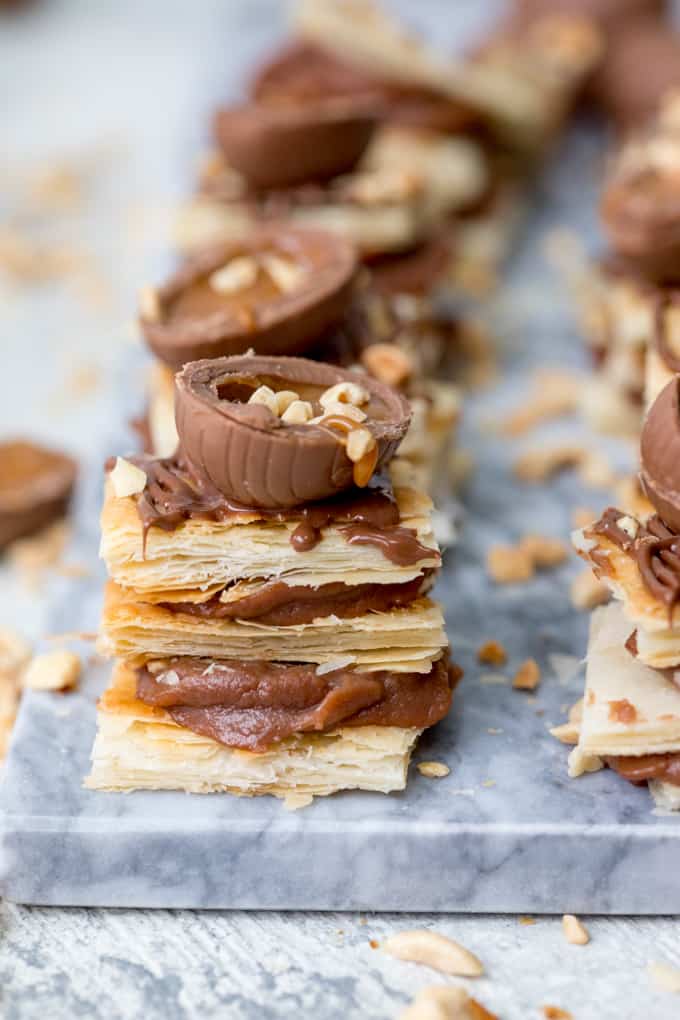 So how's life treating you guys?
I've been suffering with a horrendous cold for the last week. I didn't move much at the weekend, but I managed to soldier on through the week, shooting pictures and videos, then totally flaking out at the end of each day.
The kids have been off for the past two days (snow days), thoroughly enjoying the snow and watching excessive amounts of Netflix whilst Chris and I have been working.
I had to cancel my personal trainer on Tuesday because the thought of doing anything more energetic than walking up the stairs gave me a coughing fit.
We finally managed to get a session in this morning, at 6:30am, after walking around to my training buddy's house in the freezing wind and snow. I don't think I've ever wanted to get out of bed less in my life, but I'm glad it's done, and will kick my butt into getting back on track again.
The Easter Chocolate Caramel Egg Mille Feuille Recipe: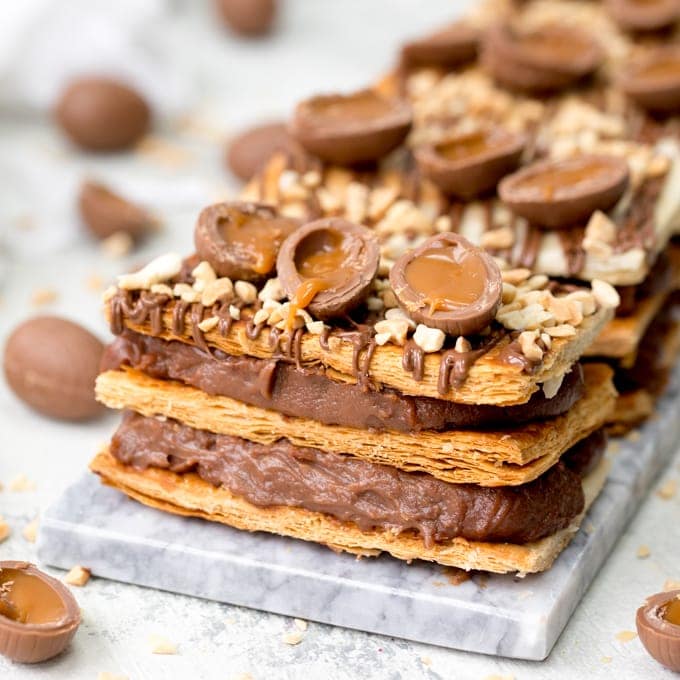 Easter Chocolate Caramel Egg Mille Feuille
A chocolate lover's dream! This Easter Chocolate Caramel Egg Mille Feuille (chocolate vanilla slice) ticks all the boxes for Easter Dessert!
Ingredients
Pastry
2 x 320g

sheets of ready rolled puff pastry

-

defrosted

4

heaped tbsp icing/powdered sugar
Chocolate creme patissiere
480

ml

whole

-

full fat milk

100

ml

double/heavy cream

1

tsp

vanilla extract

50

g

cornflour/cornstarch

5

egg yolks from large eggs

140

g

caster sugar

40

g

unsalted butter

155

g

dark (70%+ cocoa) chocolate

-

broken into chunks
Topping:
3

tbsp

Nutella

3

tbsp

chopped roasted hazelnuts

9

mini caramel-filled chocolate eggs

-

I used galaxy caramel mini eggs, sliced in half
INSTRUCTIONS
Start with the pastry. Preheat the oven to 200C/400F. Line a large baking tray with baking parchment. Unroll one of the pastry rolls and place on the prepared tray. Sprinkle 2 tbsp of icing sugar (confectioners' sugar) on top, and smooth it all over the pastry with your hands. Place another sheet of baking parchment on top, then place a second baking tray on top (same size as the first). Place a small oven proof pan on top to weigh the top tin down.

Place in the oven and cook for 23-30 minutes until the pastry is a dark golden brown (check after 23 minutes, and if not golden, place back in the oven (you can take the pan off at this point) and continue to check every few minutes. Remove from the oven and repeat with the second pastry roll.
I like to cook my pastry in two batches, as it cooks more evenly (and I haven't got 4 same-size trays!).


Once cooked, allow the pastry to cool, then cut into approx 11.5cm x 7.5cm rectangles. You should get 9 rectangles from each pastry sheet (18 altogether). This will make 6 mille feuille. You can cut the pastry into small pieces if you wish, just make sure you have a number that is divisable by 3, as you want 3 layers of pastry in each mille feuille.

Now make the chocolate creme patissiere (chocolate custard). Add the milk, cream and vanilla extract to a large pan. Heat until just before boiling point (don't let it boil).

Meanwhile, in a large bowl, mix the cornflour, egg yolks and caster sugar. Add a splash of the hot milk to the egg mixture and whisk in quickly. Continue to add, a splash at a time, stirring with the whisk afterwards, until all the milk is incorporated.

Give your pan a quick clean to remove any milk residue, then add the milk mixture back into the pan. Heat on a medium heat (don't let it boil), stirring with a whisk all the time until the custard is very thick. It will thicken quite suddenly after a few minutes. Turn off the heat and add in the butter and broken up chocolate. Allow to melt for a minute, then stir until the chocolate and butter melts completely.

Pour the custard into a bowl and allow to cool for 5 minutes, then place some clingfilm directly on top of the custard - so it's touching all of the top of the custard - and leave to cool completely (this prevents a skin forming on the custard). If you're making the custard in advance, you can place in the fridge once cooled until you're ready to use it.

Now it's time to assemble. Place 6 of the pastry slices on a serving tray/board. Spoon the chocolate custard into a piping bag with the end cut off (so it's got approx 1cm opening).

Pipe a layer of custard onto the pastry. Place another piece of pastry on top, pipe a second layer of custard on. Top with the remaining pastry - so you have 6 mille feuille altogether, each with 3 layers of pastry and 2 layers of custard.

Warm the Nutella up in the microwave for a few seconds, then drizzle or pipe the Nutella over the mille feuille. Sprinkle on the chopped hazelnuts, then top each mille feuille with 3 halves of chocolate caramel egg.

Serve immediately, or refrigerate and serve within a day.
✎ Notes
Nutritional Information is per Chocolate Mille Feuille. This is a very high calorie (and large) dessert, so feel free to cut in half or even into thirds to reduce the calorie amount.
Nutrition
Calories:
1385
kcal
Carbohydrates:
123
g
Protein:
25
g
Fat:
87
g
Saturated Fat:
35
g
Cholesterol:
498
mg
Sodium:
407
mg
Potassium:
498
mg
Fiber:
5
g
Sugar:
48
g
Vitamin A:
1070
IU
Vitamin C:
0.3
mg
Calcium:
130
mg
Iron:
8.7
mg